Welcome to the latest edition of China Tech Express! Today we're going to take a look at ByteDance's work on a new e-commerce app. We'll also talk about Douyin's plans for an IPO in New York or Hong Kong, as well as some juicy e-commerce live streaming records. Let's get started!
1. ByteDance working on an e-commerce app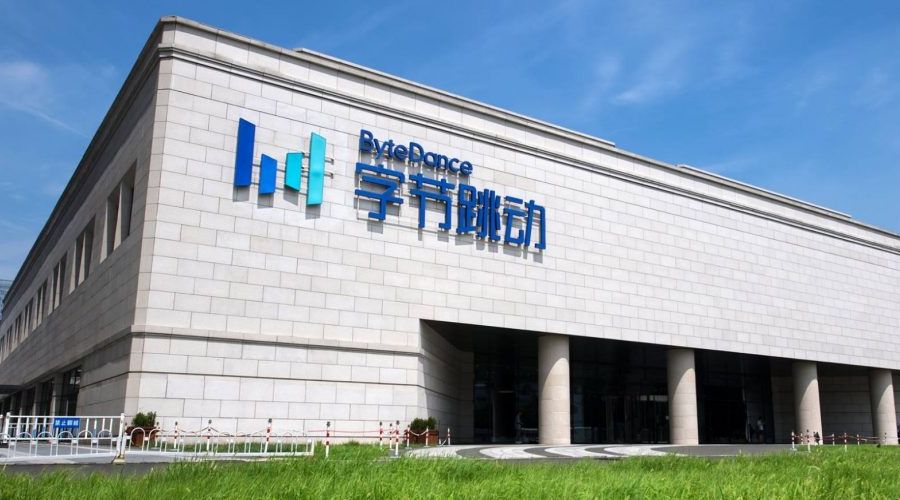 ByteDance is looking to expand its presence in the e-commerce space with a dedicated e-commerce app. The company has invested a lot into its e-commerce efforts recently, by adding new shopping features to its main app Douyin and also by launching its new payment method called Douyin Pay.
Now it looks like the Douyin e-commerce division is planning to develop a standalone e-commerce app, which signals that the company is very serious about e-commerce in China. Zeyu Kang, president of Douyin's e-commerce division, said that the management team is looking to expand the business with this app, based on previous practices used on Douyin.
With e-commerce being so big in China, it's understandable why ByteDance is looking at a dedicated app. Plus, the company can leverage the massive traffic from its major apps Douyin and Toutiao, and drive towards this new app to bring their e-commerce ecosystem to a full circle. Plus, this could help ByteDance compete against what is basically known as the final boss of e-commerce in China, Alibaba.
Read more about ByteDance's plans for a new e-commerce app on 36kr.com (Chinese).
2. Douyin is considering an IPO in New York or Hong Kong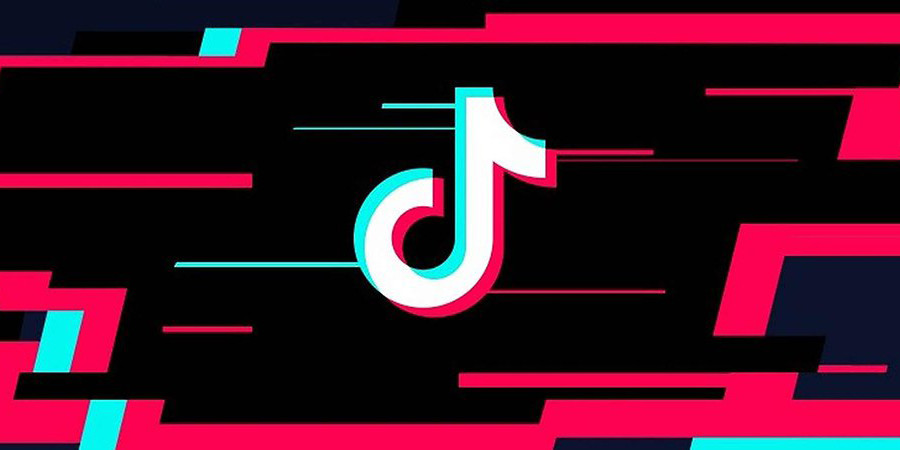 ByteDance is looking into launching an initial public offering (IPO) for its flagship app Douyin. Whether it's in New York or Hong Kong this remains to be seen, but this could see ByteDance's valuation reach close to $400 billion, almost three times as much as its March 2020 valuation of $140 billion after its series C fundraising.
Douyin isn't the company's first or only business going in this direction, as ByteDance has also been considering Toutiao, China's #1 news app for an IPO in Hong Kong or Shanghai.
The fact that this news comes after Bilibili's $2 billion HKEX listing and Kuaishou's $5.4 billion IPO (and about $9 billion in revenue last year) is both encouraging and is offering some clearer benchmarks around Douyin's market value. Keep in mind that Kuaishou has about 300 million DAUs, while Douyin reached over 600 million DAUs last year.
Read more about Douyin's potential New York or Hong Kong listing on SCMP.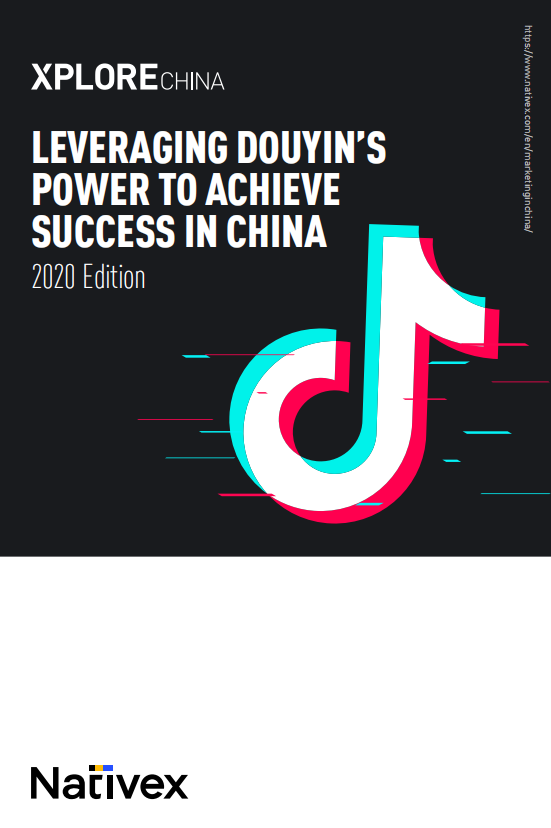 Douyin is China's largest short-form video platform. Find out how you can leverage its massive reach and powerful features to run successful mobile marketing campaigns in China.
1
DOWNLOAD EBOOK
⟶
3. Live stream sales hit new records in March
Speaking of e-commerce, March was a great month for this sector. China's top 50 e-commerce live streamers generated over $3 billion in sales last month. These sales happened across China's main e-commerce platforms, with 21 of these top 50 live streamers being on Kuaishou, 17 on Taobao, and 12 on Douyin.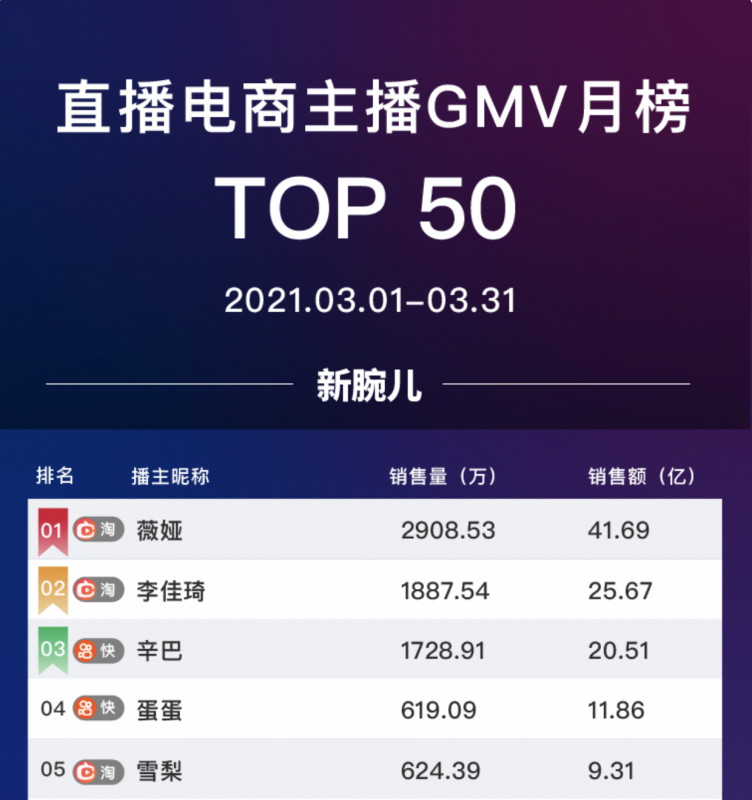 Top 5 live streaming hosts in terms of GMV across Taobao, Kwai, and Douyin
Among the most popular live streamers in March we had some familiar faces including Viya (1st place) and Li Jiaqi (2nd place) – you might remember our partnership with Li Jiaqi from last year. The main types of products to drive these impressive sales numbers were mainly clothing & beauty products, consumer electronics, and smart devices.
Kuaishou saw the highest number of e-commerce live streamers in this top 50 mainly thanks to their wider reach, as they tend to cater towards China's emerging markets outside of tier 1 & 2 cities, with beauty and clothing products being the most popular. Taobao launched a so-called "red packet campaign" on March 21st, where it gave away coupons worth $30 million and Douyin launched a campaign called "Never Close Down" and a new shopping feature in March.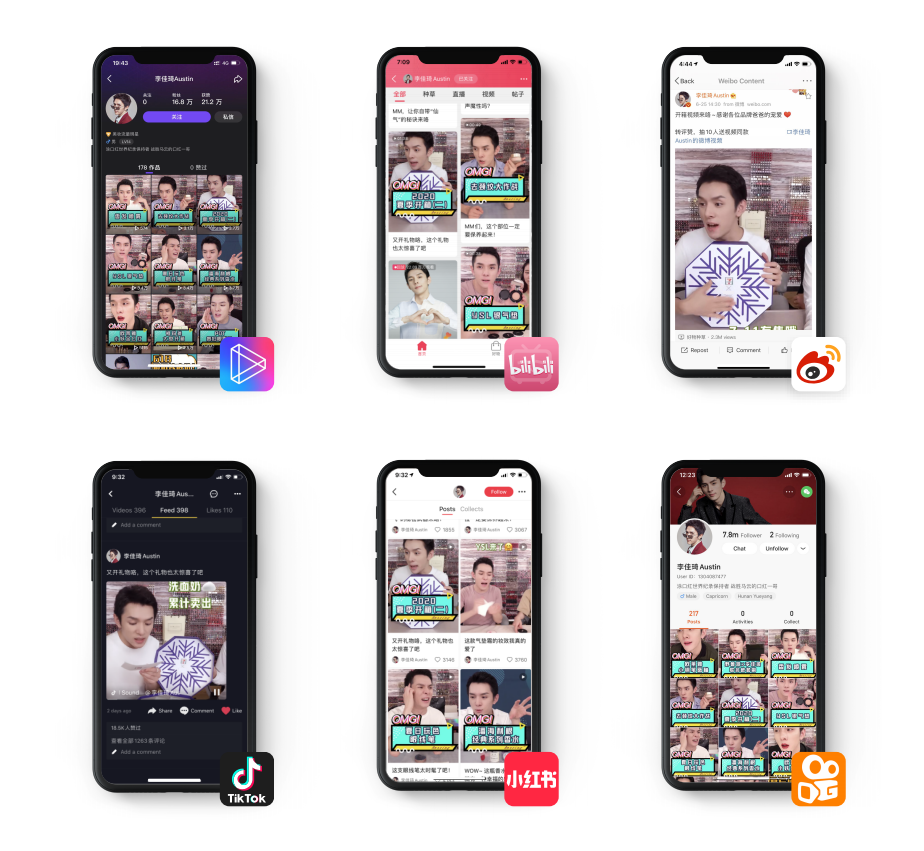 Li Jiaqi running his live streaming sales across different platforms;
See how we used the power of KOLs to help our partners achieve success
The fact that e-commerce live streaming is posting new record numbers in March shows that this is far from a temporary fad, so KOL marketing will be an increasingly important tool for marketing success in China.
You can read more about the live streaming sales records in March on 36kr.com (Chinese).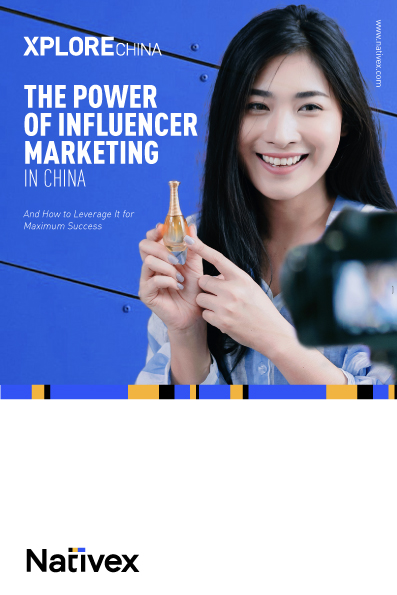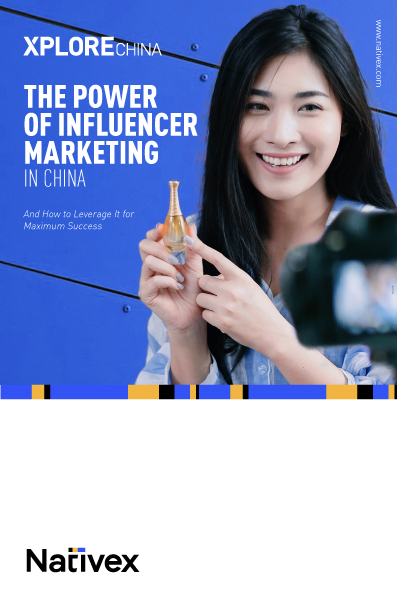 If you're looking to use influencers to achieve sustainable growth in the world's largest mobile market, contact us today and we'll create a KOL marketing strategy tailored to your budget and needs.
1
CONTACT US
⟶
Looking to launch your campaigns in China?
China's massive mobile market provides some incredible opportunities for advertisers around the world. All you need is the right partner – and we believe we can be that partner. At Nativex, our cross-cultural team has an unparalleled understanding of the Chinese mobile market – we are the team behind the XploreChina solution.
We are an authorized ad service provider for major media outlets including Bytedance (Douyin, Toutiao), Baidu, Tencent (WeChat), Bilibili, Zhihu, and more. If you're looking to get your advertising campaigns into the world's largest mobile market, get in touch with the Nativex team today and we'll take your marketing ROI to the next level.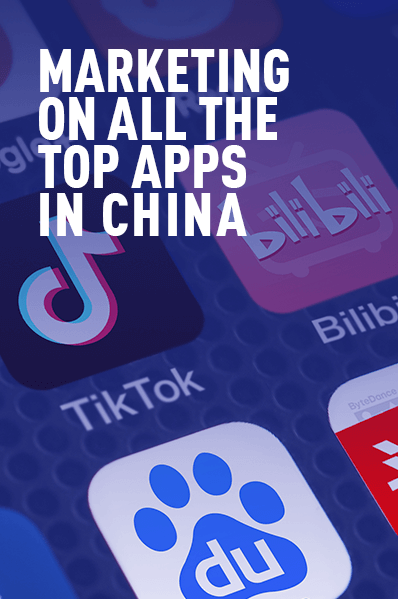 Looking to reach the largest mobile audience in the world? We'll help your campaigns get in front of hundreds of millions of users!
1
CONTACT US
⟶