The online beauty brand LOOKFANTASTIC® has quickly grown from its European roots to become a global success story. It has more than 22,000 beauty products across its online store, which are shipped worldwide to fashion fans and beauty lovers in over 200 countries.
MAC, Kérastase and Yves Saint Laurent are just some of the iconic beauty brands that make up the LOOKFANTASTIC® website; the success of their online platform has seen revenue share grow 40% year-on-year over the last four years.
Nativex recently partnered with LOOKFANTASTIC®, to help promote the brand to China's demanding and fashion-conscious consumers, in an e-commerce market which is hugely competitive.
As part of LOOKFANTASTIC®'s wider digital growth strategy, the brand has developed 30 localised sites in as many languages. These sites helped to attract over 10 million visits per month in 2017; 71% of visits were from international shoppers.
Reaching consumers in China requires a different approach
LOOKFANTASTIC® already has a presence in China through its local-language website. However, one of the challenges faced by western brands in China is the fact that almost all shopping is done on mobile – meaning a different approach is required.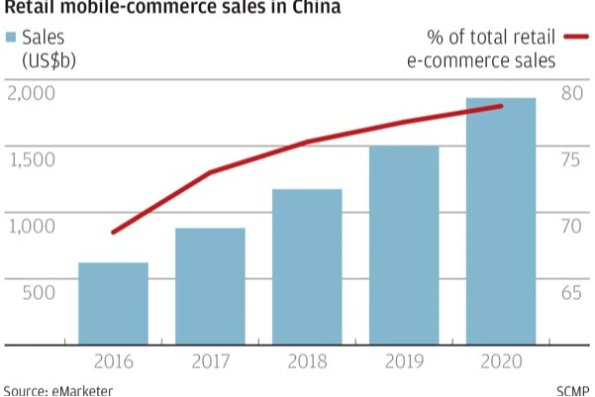 As this chart from eMarketer shows, mobile shopping accounts for 80% of all ecommerce in China. The biggest mobile shopping platform is Alibaba's Tmall, which has more than 500 million monthly active users and about 60% of all online sales in China. 
However, as many overseas beauty brands already have dedicated Tmall stores (cosmetics and beauty products are the third most popular product category after clothing and baby products, LOOKFANTASTIC wanted to look at alternative strategies where they faced less competition.
Defining LOOKFANTASTIC®'s audience in China
LOOKFANTASTIC® approached Nativex to help them stand out in what is an incredibly competitive market in China and reach its target consumers. 
LOOKFANTASTIC® has seen such impressive growth over the last few years because it knows its audience. While the European-based brand has been catering to western tastes for years, though, Chinese audiences have different expectations when it comes to beauty products.
Research needed to be done, therefore, to make sure campaigns were as optimised as possible in regard messaging, targeting, platform, delivery method and many other factors.
Eventually we were able to zero in on LOOKFANTASTIC®'s ideal audience in China. Younger white-collar females from Tier 1 and 2 regions, who have money to spend and a unique taste in beauty products. People fond of product quality, and those who are happy to try niche brands.
Part of our conclusions were based on recent demographic research from QuestMobile, which found that females in China below the age of 35 had higher online consumption desire than older women.
41.5% were also happy to spend between 200 – 1,000 yuan on a transaction, compared to just 17.8% of female consumers who were happy to spend 1,000 yuan or more on a transaction. This also helped LOOKFANTASTIC® to decide which products would best suit our ad campaign.  
Similarly, QuestMobile's data showed the key product characteristics female Chinese consumers look for. Product quality was the most important factor at 58.6%, with price next at 54.2% and the brand itself at 53.8%. The product being 'trendy' was also important to 52.5% of consumers.
The livestreaming space in China, and its advertising potential
Livestreaming ecommerce is growing at a phenomenal rate in China.
A KPMG and Aliresearch report launched in October 2020 shows that, in 2019, the total market value of livestreaming ecommerce was 433.8 billion yuan ($ 66 billion), growing 210% YoY.
We took a serious interest in livestreaming ecommerce for ad delivery in the planning stage. It's a popular advertising method amongst LOOKFANTASTIC®'s target demographic.
18.6% of female consumers watch livestreams on ecommerce platforms, up 3.3% on the previous year. 18.3% of those are aged under 24 (up 2.6% on the previous year) while 19.6% are aged 25-35 (up 3.7% on the previous year).
Choosing the right advertising platform for LOOKFANTASTIC®
LOOKFANTASTIC® had already built its own mini-store on WeChat, offering products that aren't available on saturated competing platforms such as Taobao. WeChat has a steadier and higher volume of active users compared to Douyin, Kwai and Taobao; by starting a mini program shop, too, we could display price advantages, niche brand advantages and showcase exclusive products easily.
WeChat also offers multiple in-app promotion channels which can be shared over chats, which helps to catch as many users as possible. Users also take on the role of KOC (Key Opinion Consumer), sharing product opinions in 'Moments' or group chats – again, amplifying brand reach.
While mini programs are not commonly seen as livestreaming platforms, they're gaining traction amongst brands and shoppers for their flexibility. Brands can be creative with their stores and developers can implant whatever app they wish on it.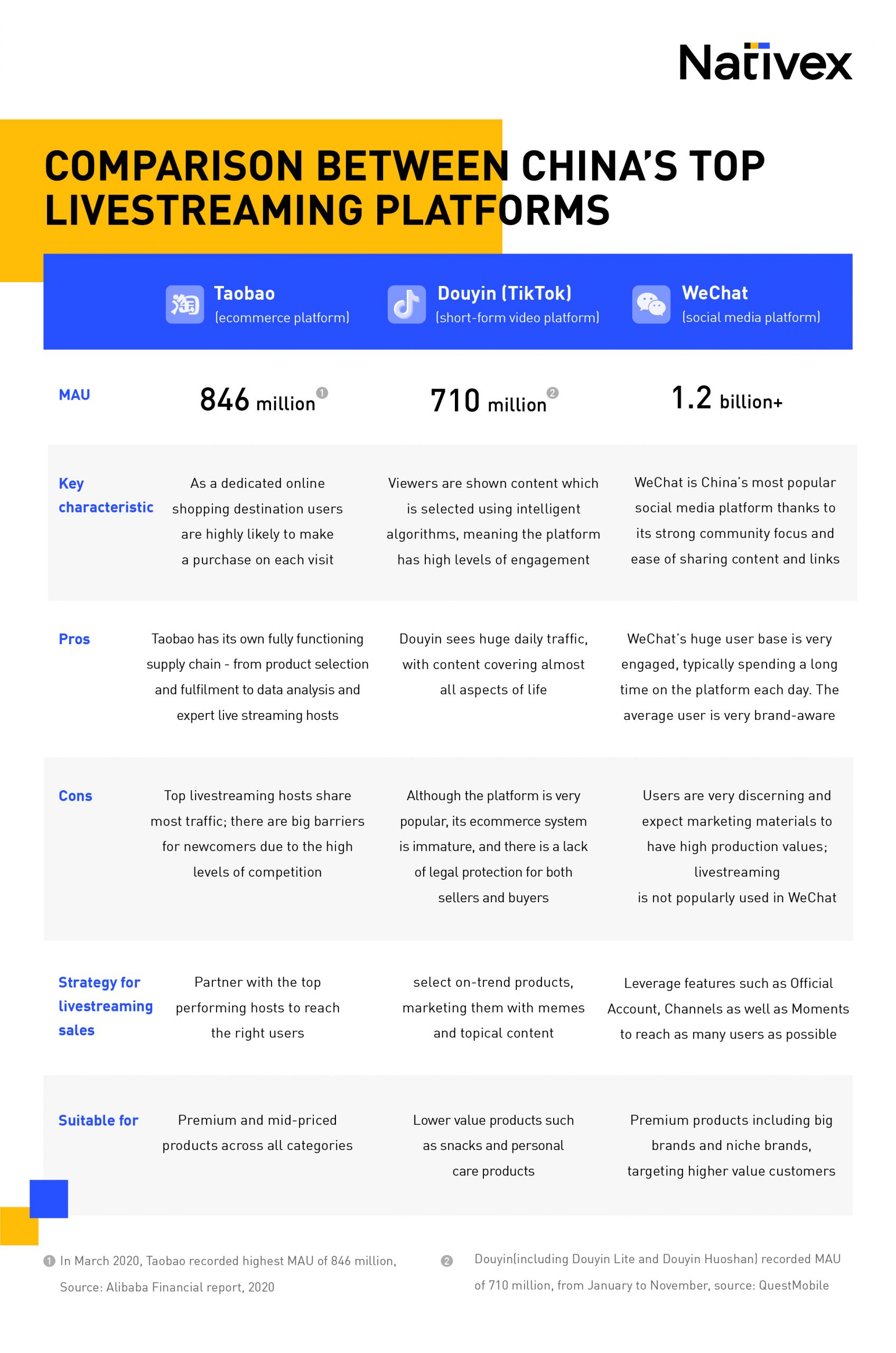 With the right approach, too, brands can also easily amplify their message on WeChat over official accounts, group chats and mini programs, helping them see visible results in traffic conversion rate, user acquisition and merchandise sold.
Nativex's LOOKFANTASTIC® livestreaming campaign in China
With the mini-store already in place, our focus needed to be on how to connect it with the desired audience, which we decided to do via a livestreaming campaign. We wanted to do something different to position LOOKFANTASTIC® as a niche brand and appeal to fashion-conscious consumers, while also helping the brand to achieve considerable GMV as well as better user acquisition results. 
A big advantage of livestreaming is that consumers are able to immediately buy the products featured in the stream, so the conversion rates are very high.
From product selection, event pre-launch, event design, to traffic conversion, Nativex carried out an effective plan to drive a high, visible ROI for LOOKFANTASTIC®.
Nativex strives to demonstrate visible returns for our partners. Event duration, watch time, quantity of active users, transaction volume and engagement rate are closely-monitored key performance indicators during each and every campaign.
When considering livestreaming ecommerce campaigns, we find that a high conversion rate comes from a strong product selection strategy complemented by engaging, localised content and an adaptable operation plan.
Choosing the right products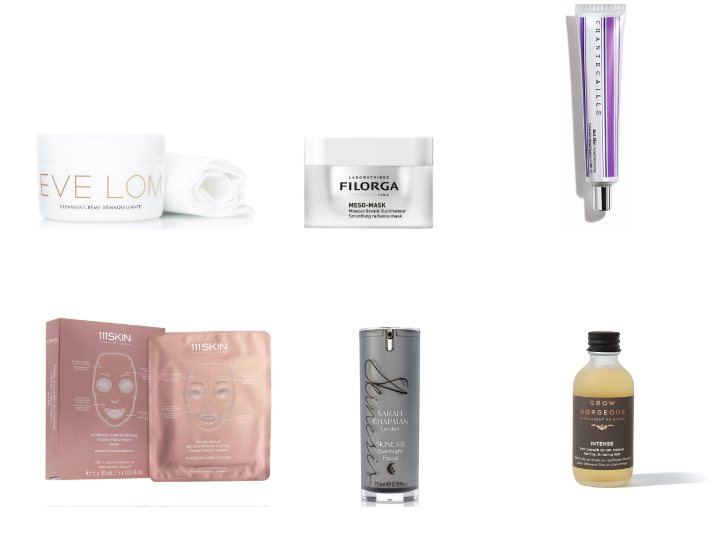 For our WeChat livestreaming campaigns, we chose a mixture of 'trendy' and 'niche' products available at LOOKFANTASTIC®.
Trendy products were a driving force for sales volume, while niche products were promoted as exclusivity products. These products would be showcased by the hosts on our livestreams.
With different trendy and niche products targeting different customers, it allowed us to fully amplify LOOKFANTASTIC®'s commercial reach and increase the chances of completed transactions.
Promoting LOOKFANTASTIC® in a holistic way
We wanted to show LOOKFANTASTIC® as an example of a creative brand experimenting with livestreaming and group chats successfully, in a holistic way, to build strong online shopping communities and audiences.
It's a commonly-used strategy; however, a lot of brands don't approach group chats well. Our approach was to plan content for active and inactive VIP WeChat users, and encourage them to engage new users by participating in livestreams.
To make this approach more visible and drive traffic, the mini program was stickied on the LOOKFANTASTIC® website and the official account. Key Opinion Leaders (KOLs) who specialised in beauty products were also invited to host livestreams.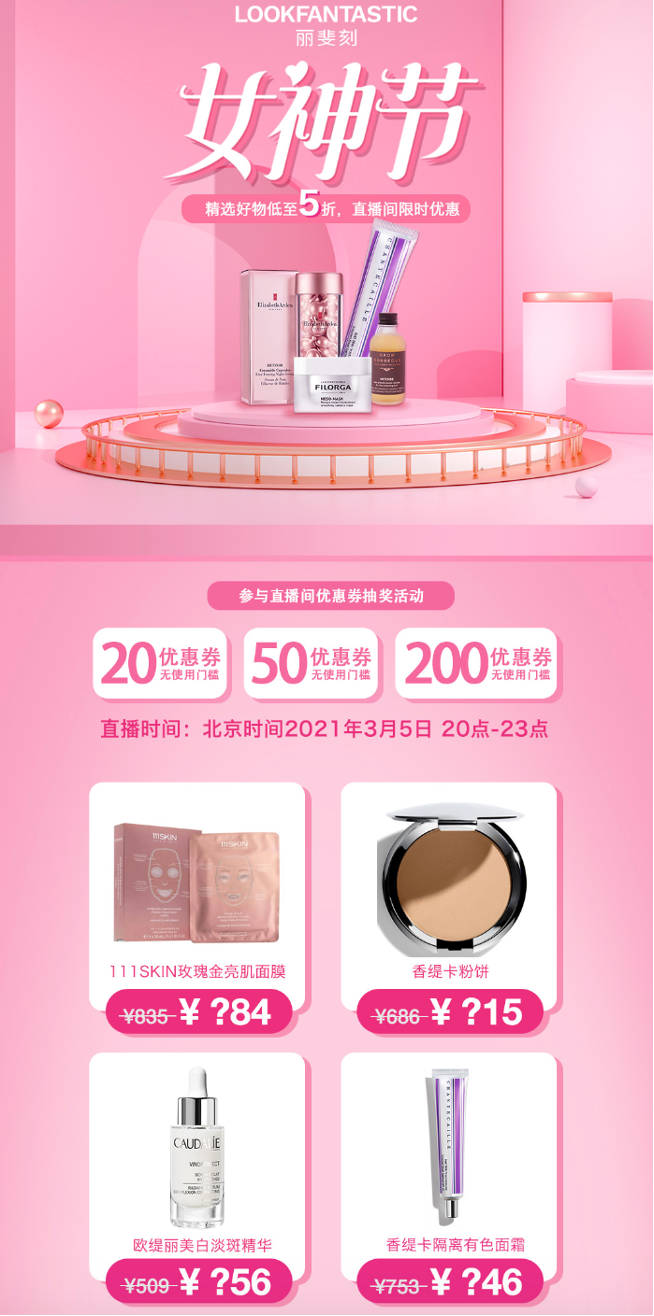 Targeting the right audiences with content optimisation
Content plays a key role to maintaining interest and increasing conversions during a livestream.
For that, we designed, created and optimised scripts for livestream hosts to utilise that were specifically written to drive high conversion rates.
Audience interaction is also key to converting a viewer's initial interest. In this case, meme creatives and interaction sessions were embedded in the livestream, while coupons and time-limited sale offers were sent to participating audiences.
Analysing each and every livestream
Livestreaming doesn't end when the host turns the camera off.
Livestreaming content doesn't have to be live to be useful – livestreams were recorded so audiences could play them back at a later date, with active links added within streams to continually drive transactions after the event.
After livestreaming, we analysed user data and tracking data to assess user behaviour, in order to further segment audiences for LOOKFANTASTIC®. This also allows us to further optimise future campaigns for better results.
Conclusions we drew from the event included leveraging news strategies, such as avoiding the peak livestreaming hour, and further utilising a product selection strategy to further boost transactions.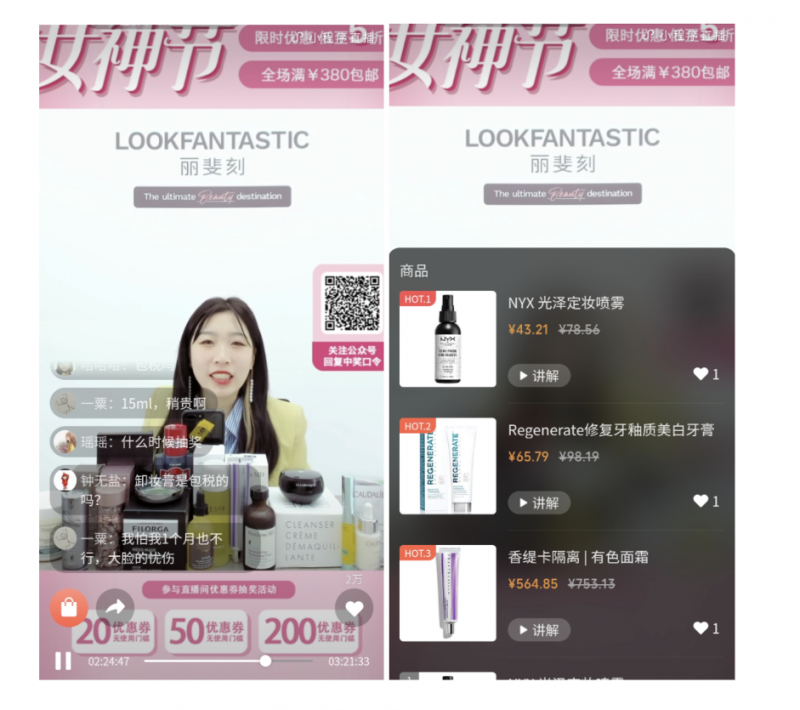 Conclusion
Our campaign for LOOKFANTASTIC® was successful, and helped the brand reach out to the key demographics across China they wished to advertise to most.
Our livestreaming campaign was a great success, attracting an audience that was 88% female, drawn from our target demographics. The majority of these viewers were aged 25-39, with most visitors based in Guangdong, Jiangsu, Beijing and Shanghai. 
By attracting a large number of female consumers from Tier 1 cities and provinces, we were able to amplify LOOKFANTASTIC®'s brand and products to the most valuable Chinese customers to their wider growth strategy.
What's more, we were able to deliver these demographics without competing against livestreaming rivals on more established ecommerce platforms such as Taobao.
What can we learn from this case, besides marketing strategies?
The answer is in our WeChat ebook, which digs deep into WeChat's ecosystem.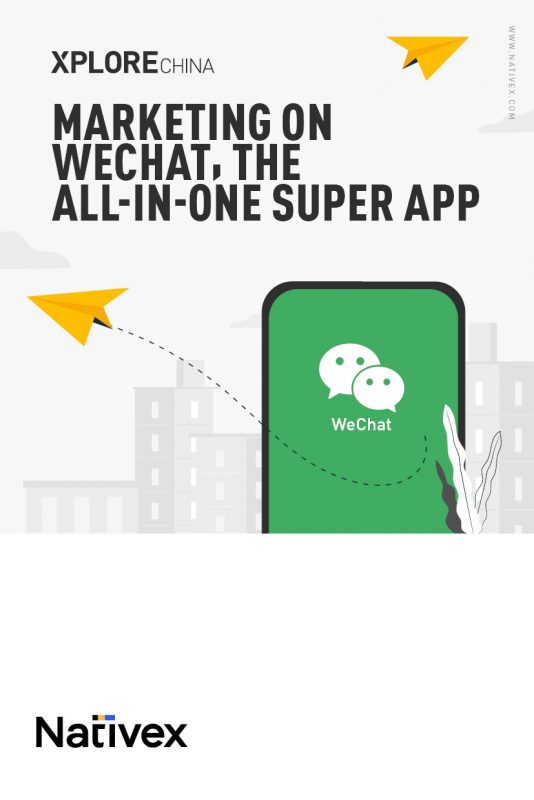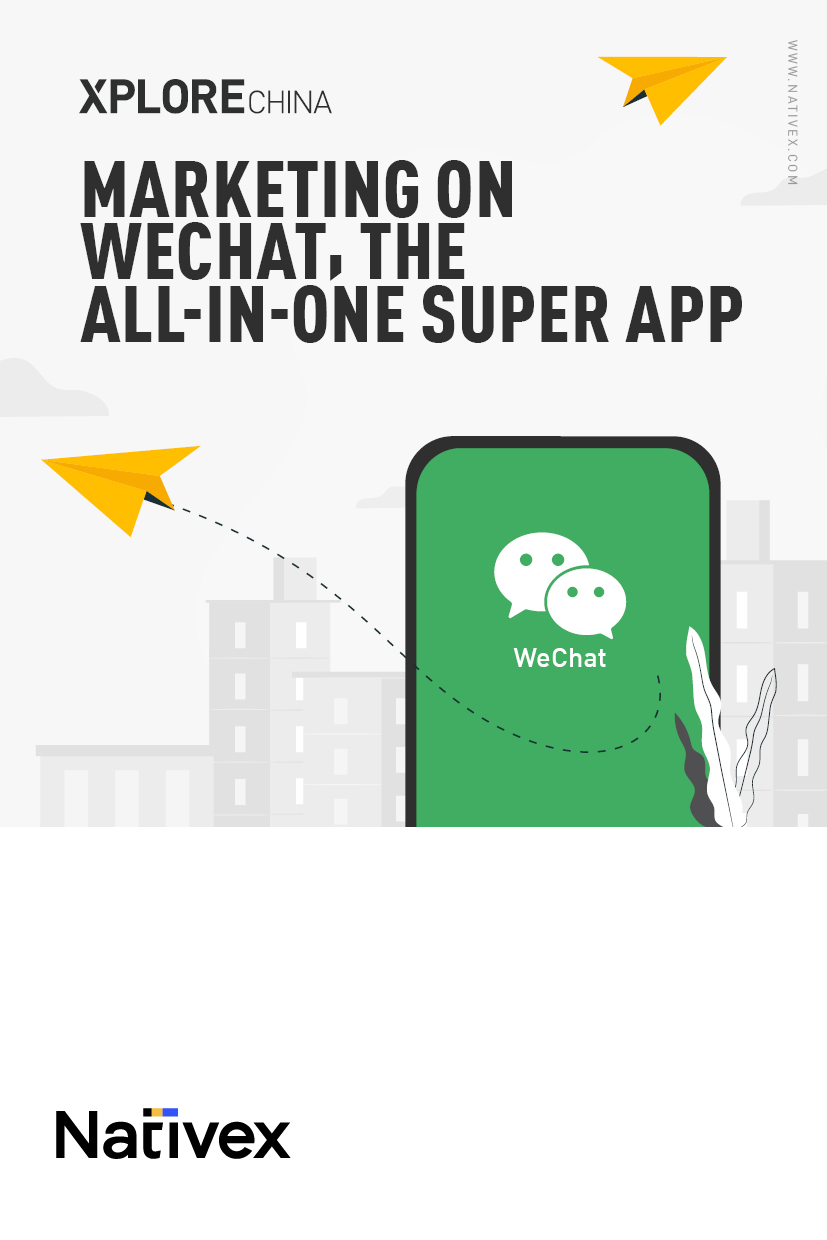 Check out our latest ebook where we take a look at China's number 1 super app, WeChat, and how to leverage it successfully across your campaigns.
1
DOWNLOAD EBOOK
⟶
This case study also suggests that mini programs are the next 'blue sea' in Chinese ecommerce.
As we've shown, mini programs are powerful, extremely customisable and can be used as a destination for marketing campaigns just as well as stores on Taobao. With unlimited ways for mini programs to be developed, a creative presence on WeChat is likely to be the next high-growth opportunity for brands.