Interested in buying traffics in China? Leave us a message here!
Bilibili is one of China's hottest emerging video platforms and its recent surge has shown a new side to China's video landscape. How can advertisers leverage Bilibili's presence in China and ensure their campaigns get the right users at scale? Let's have a look.
Table of contents:
1. Bilibili is the YouTube of China
Bilibili is a video sharing platform based on user-generated content, particularly around gaming, animation, and comics. The platform was launched in 2010 but saw a massive surge in the last few years, going from about 50 million monthly active users in 2017 to over 100 million by June 2019. 
Bilibili has managed to expand outside its starting verticals (anime, comics, games) and is now an entertainment powerhouse. The platform has added support for ecommerce, technology, and lifestyle content, which helped it become a mainstream platform with massive advertising potential.
If we compare China's major video platforms with the ones in the West, then YouTube would be the closest to Bilibili in terms of users, features, and functionality. Like YouTube, Bilibili focuses on user-generated content and building communities around certain topics. Unlike YouTube, however, Bilibili has pioneered an innovative community feature called bullet comments. This allows users to leave a quick comment on a video they're watching – the comments basically shoot from the side of the screen, hence the name "bullet comments." Another similarity to Western video platforms is its live streaming service which is basically China's alternative to Twitch.tv.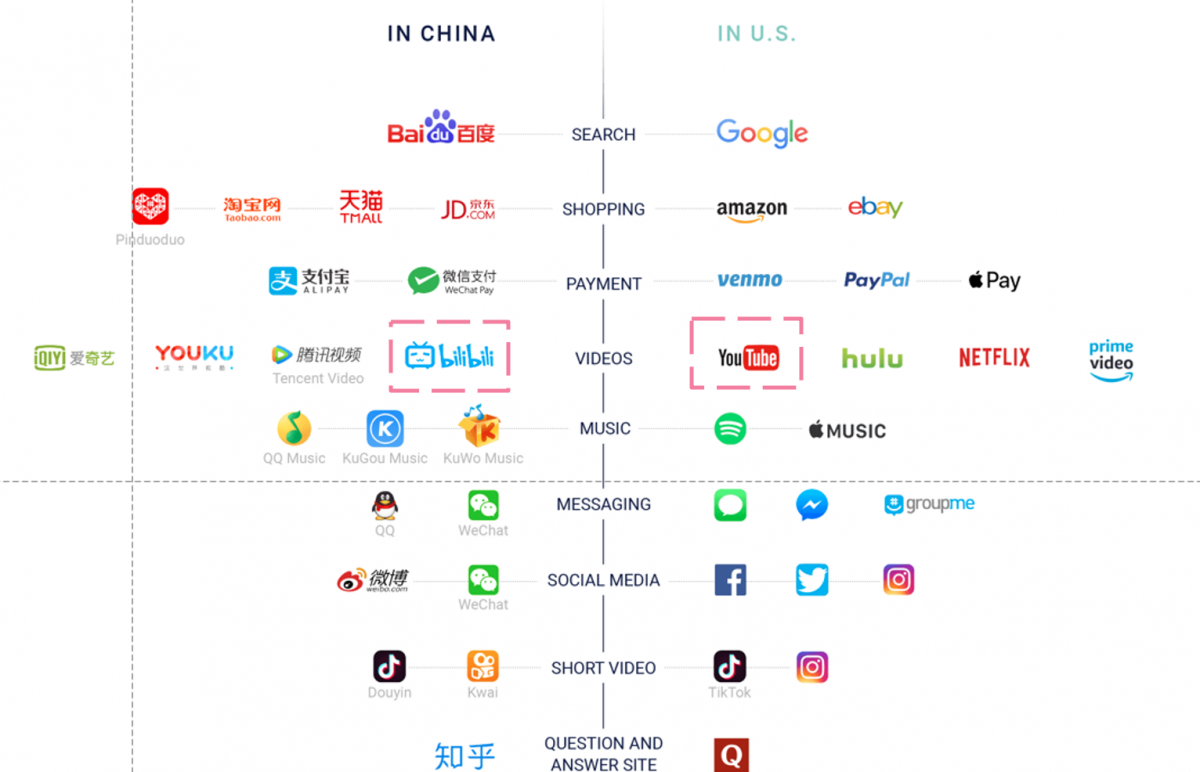 Bilibili is basically China's YouTube
2. Bilibili is growing at an incredible rate
The number of users has grown rapidly over the last few years, and that has made advertisers pay attention to it. And it wasn't just volume: Bilibili backed this impressive user growth with some strong financial results as well.
According to Bilibili's Q4 2019 financial results, the company managed to generate $288.4 million in total net revenues, a 74% increase compared to the same period in 2018. Not only that but if we look at monthly paying users (MPUs) we see the number has actually doubled in Q4 2019.
Here's a quick look at some key user-related stats from Bilibili's Q4 2019 financial results:
130 million total MAUs (40% year-on-year growth)

116 million mobile MAUs (46% year-on-year growth)

38 million DAUs (41% year-on-year growth)

8.8 million MPUs (100% year-on-year growth)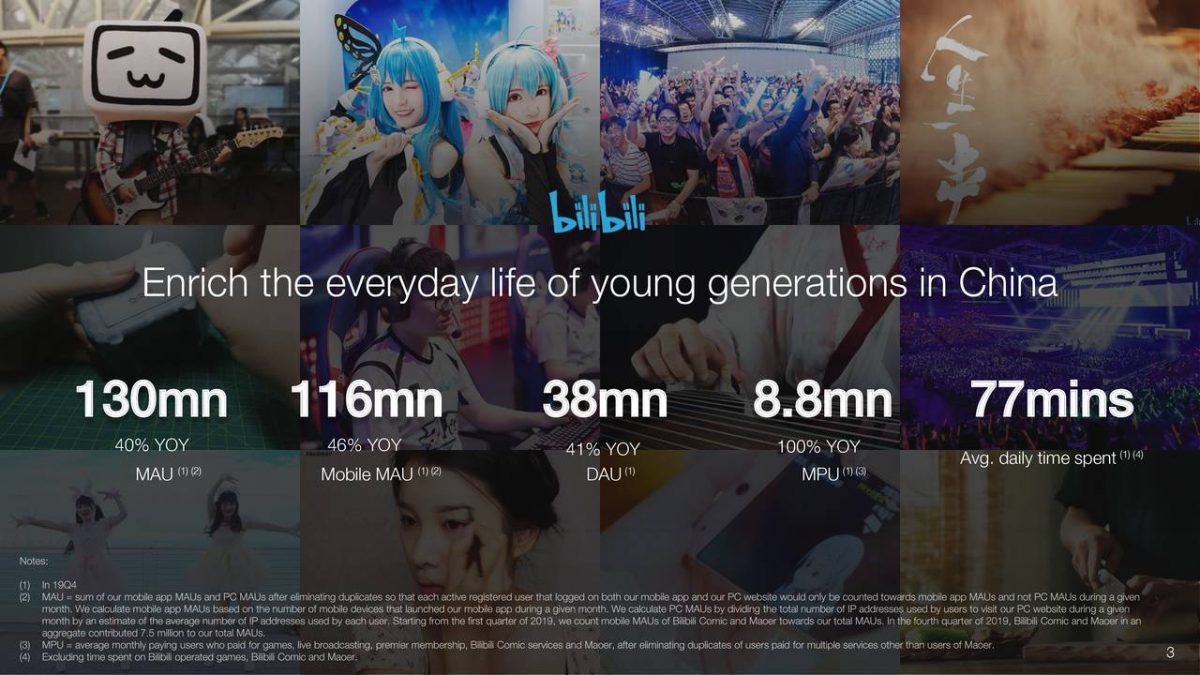 Some of the key Bilibili stats from their Q4 2019 financial results.
3. Bilibili is rapidly branching into new areas
This expansion has caught the attention of advertisers and Bilibili is now a coveted destination for the video advertising market in China. Bilibili's advertising revenues in 2019 were $117.4 million, representing a 76% year-on-year growth and most of this increase came from brand and performance-based advertising.
Bilibili is also in a unique position from an investment point of view, as it has backing from both Alibaba and Tencent, who own 7.2% and 13.3% stakes, respectively. On top of that, Bilibili has recently announced that Sony bought a 4.98% stake in the company.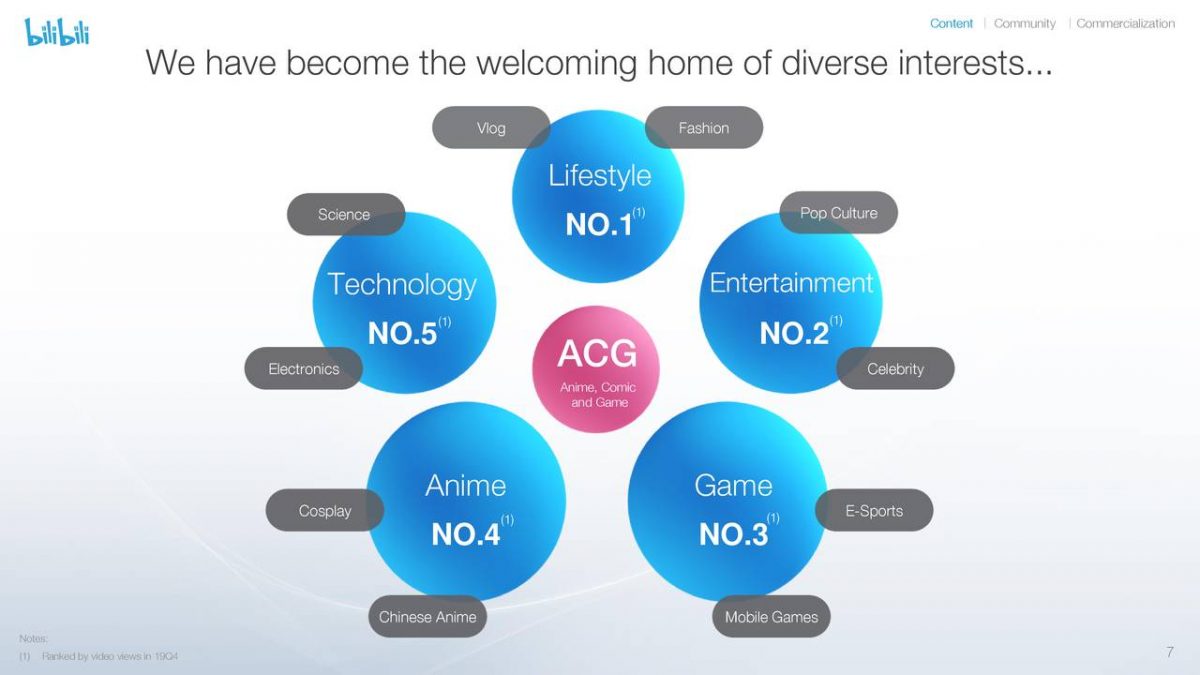 Bilibili is huge for AGC, but it's become more than that.
4. Bilibili has higher user loyalty, here's why
So what makes Bilibili so special and why do users flock to it? There are several reasons for that.
First of all, Bilibili's focus is on Gen Z users, who represented 59% of China's online entertainment market in 2019. This segment is looking to grow to 66% of that market over the next three years.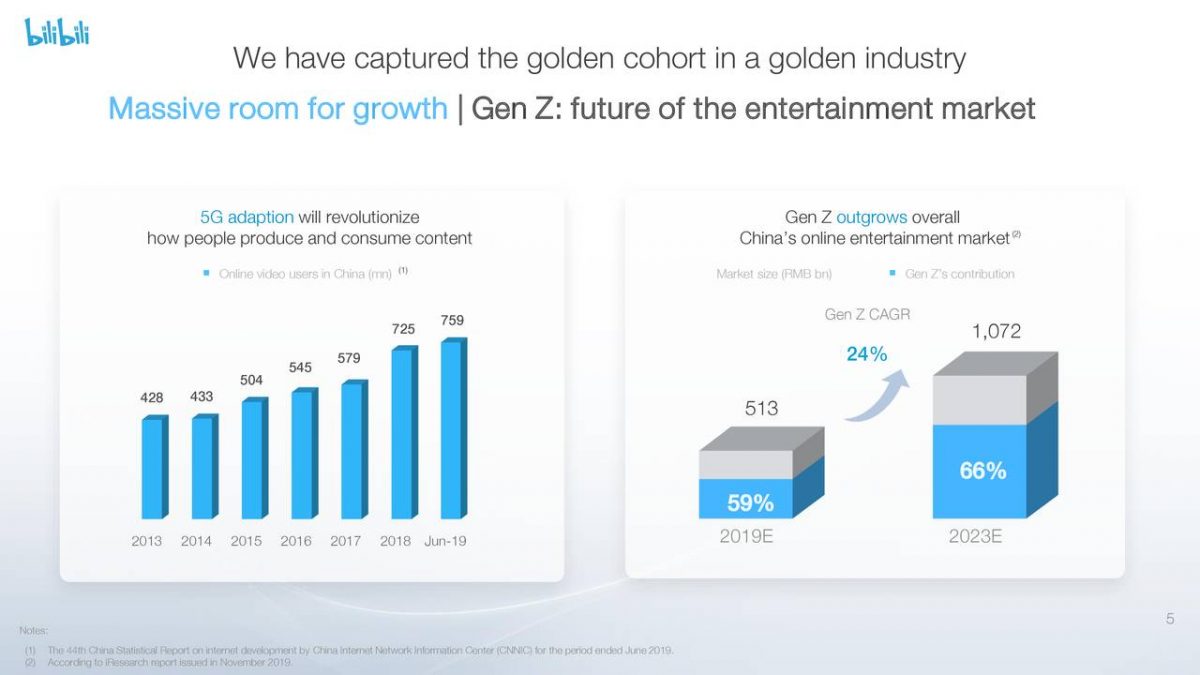 Gen Z is Bilibili's future and that future looks bright.
Secondly, its content platform relies on user-generated content. With over 1 million content creators and over 2.8 million monthly video submissions, Bilibili has a steady stream of high-quality content that keeps its community coming back for more. As content creators develop their own communities, the entire platform grows as a result. Speaking of communities…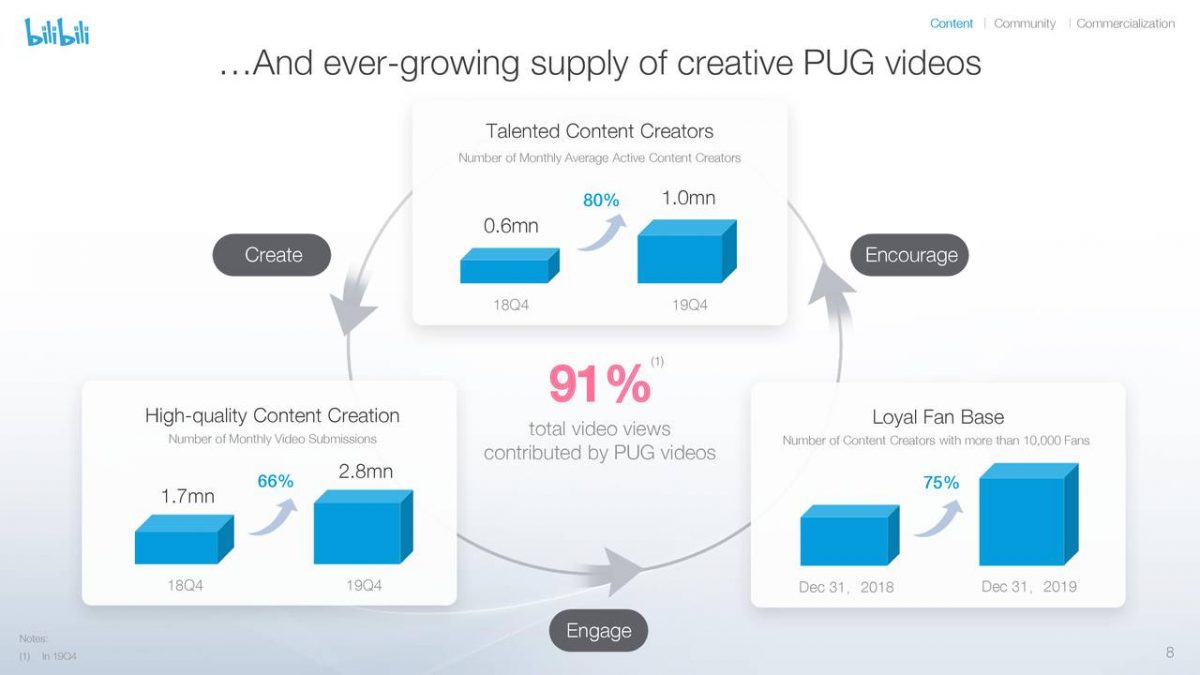 High-quality content, talented content creators, and loyal fans: Bilibili's recipe for success
Finally, Bilibili's communities, which are highly engaged and sticky. How engaged? Bilibili has had an 80%+ 12-month retention rate according to their Q4 2019 results. Bilibili's focus on creating and supporting anime/comics/gaming communities has paid off and they are now some of the most engaged and loyal communities in the world. Unlike platforms like TikTok that rely heavily on algorithms that push viral content to increase and maintain engagement, Bilibili uses the power of its communities to achieve this goal.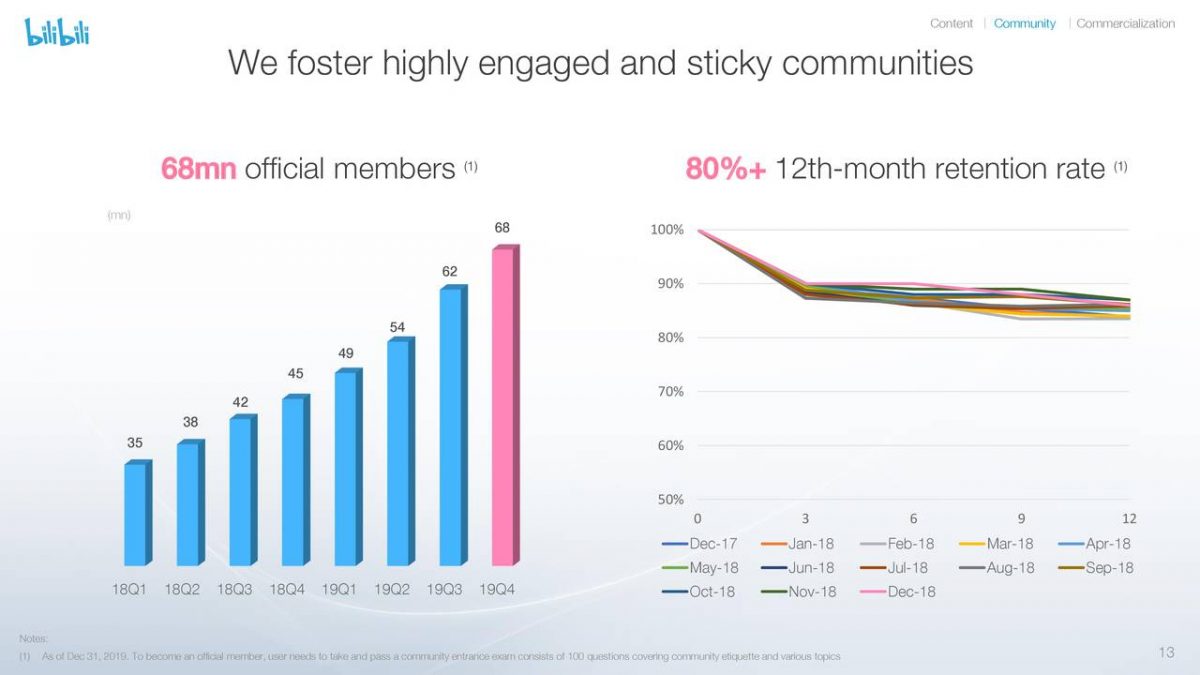 Bilibili users are more likely to come back the next week, month, and even year.
5. UGC, bullet comments, and good UX are driving young users to the platform
With its focus on Generation Z users, Bilibili managed to position itself as the voice of younger users. In fact, its New Year Gala live-stream generated over 44 million views in one day thanks to Gen Z-friendly content from KOLs, surpassing the TV-led New Year gala (33 million).
So what makes Bilibili such an attractive platform for these younger users? User-generated content (UGC) seems to be one common theme. Can, a 21-year-old student is herself a content creator on the platform. "I prefer Bilibili because I can watch interesting videos from people with similar interests and that inspires me to create my own content. I like that I have a platform dedicated to that," she says."
Another thing that Gen Z users like is the so-called "bullet comments". 20 year-old student Haojing says she sticks around because of that: "I think Bilibili's bullet comments are really funny and that makes it stand out compared to other video platforms." 
Bilibili's user experience is another thing that stands out, as its navigation and recommendation system provide users with the content they actually want to watch. Qingyun, a 25-year old marketer, says she logs in to Bilibili on a daily basis because of that and the bullet comments: "I personally think Bilibili has a better user experience and the content they provide is relevant to me. Plus, the bullet comments are really good."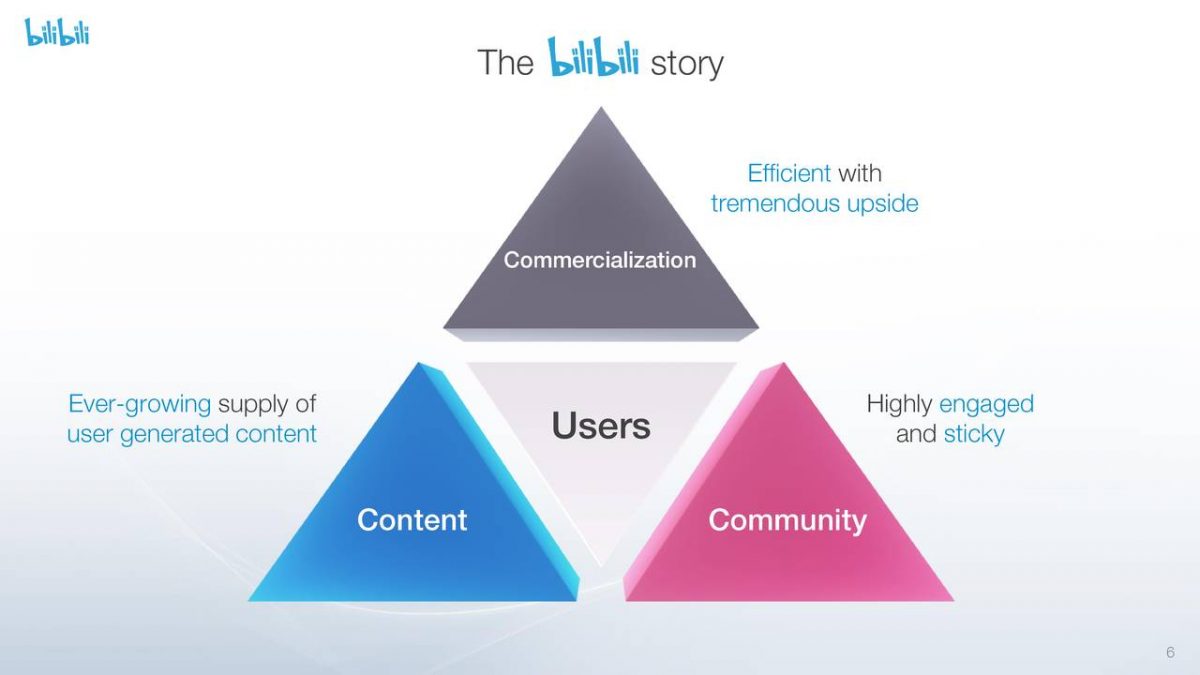 Bilibili's commercialization opportunities are based on a solid foundation of high-quality content and highly engaged communities
6. Bilibili has a massive presence in China and you can leverage it with Nativex
Bilibili has managed to diversify its revenue streams over the last few years. While mobile gaming was pretty much its only source of revenue in 2017, that has quickly changed and we've seen three main categories show impressive growth: advertising, live streaming, and ecommerce.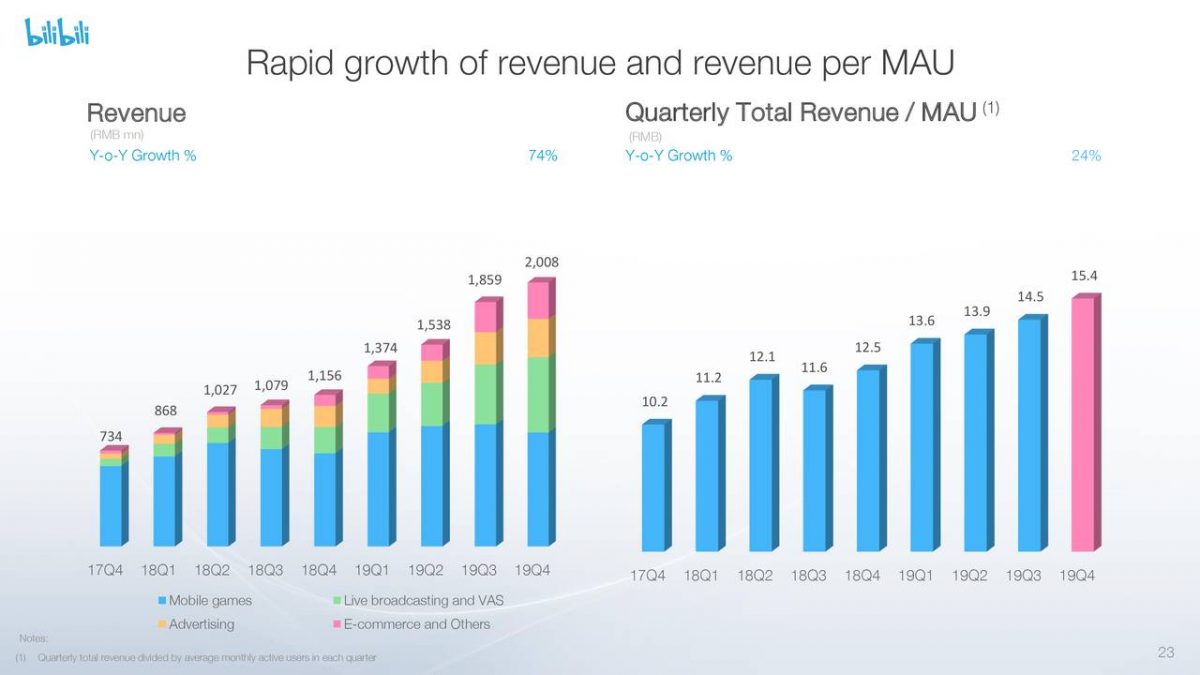 Advertising is one of Bilibili's key revenue streams and it's growing stronger
For advertisers looking to use Bilibili to target China's mobile ecosystem, we have some good news: we can help you with that. We are a certified and core ad agency for Bilibili and our solid expertise of the Chinese mobile ecosystem means we know exactly how to make the best of this platform and help your campaigns generate the ROI you're looking for.
With Bilibili expanding outside of ACG, this has opened major opportunities for advertisers. Not only that, but Bilibili's strong focus on communities allows advertisers to target the audience that is right for their product. Also, the optimization process is different: rather than casting a wide net and narrowing down until you find the right users, you can leverage Bilibili's communities based on the interests that match your criteria to reach the right audience.
We have the media buying experience, the unique creatives and the knowledge of the Chinese regulatory ecosystem. Bilibili is quickly becoming one of the biggest video platforms in China, so get in touch with us today and let's talk about how we can take your campaigns to the next level.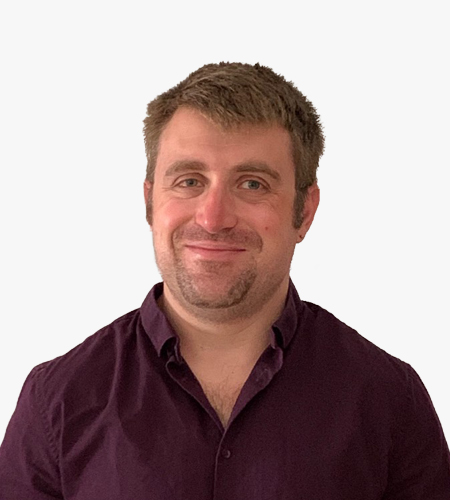 Ilya Gitlin
Head of Sales, EMEA
Ilya Gitlin is Nativex Europe's Head of Sales and is an industry veteran with over 10 years of experience in the mobile gaming sector. Ilya's focus is on helping mobile game developers maximize their revenues in the APAC market and his strong industry knowledge has been crucial to the expansion of Nativex in the EMEA region.