In case you've missed it, we've previously talked about launching and growing in China's Android ecosystem. One of the key things we mentioned in our previous article was the fact that there is no Google Play in China, but there are more than 400 Android app stores available.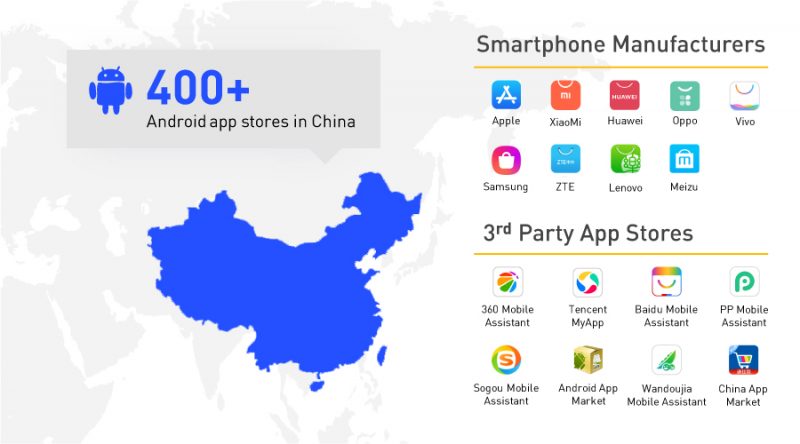 A quick look at China's Android ecosystem. Source: XploreChina Android Solution
With so many app stores to choose from, finding the ones that are right for your goals is more important than ever. This is why we spoke with our Chinese Android Market expert Stephanie Wang and we focused on three main topics:
What are China's top Android app stores?

What are some key things about China's biggest Android app stores?

What are some predictions for China's Android market in 2021 and beyond?
Don't forget that if you need any help launching and growing your app in China, our XploreChina Android Solution is exactly what you need.
Learn more about our XploreChina Android Solution
1. What are China's top Android app stores?
When looking for the best Android app stores in China, distribution volume is of course a crucial element. Finding the biggest Android app stores translates to reaching the biggest Android audience in China, so it's a great starting point if you're looking to launch your Android app in China.
What's interesting is that even though there are over 400 Android app stores available, the top 10 Android stores in China combined have about 90% market share. However, given China's massive online user base, even niche Android app stores can have MAUs in the millions. Let's take a look at the 10 biggest Android app stores in China: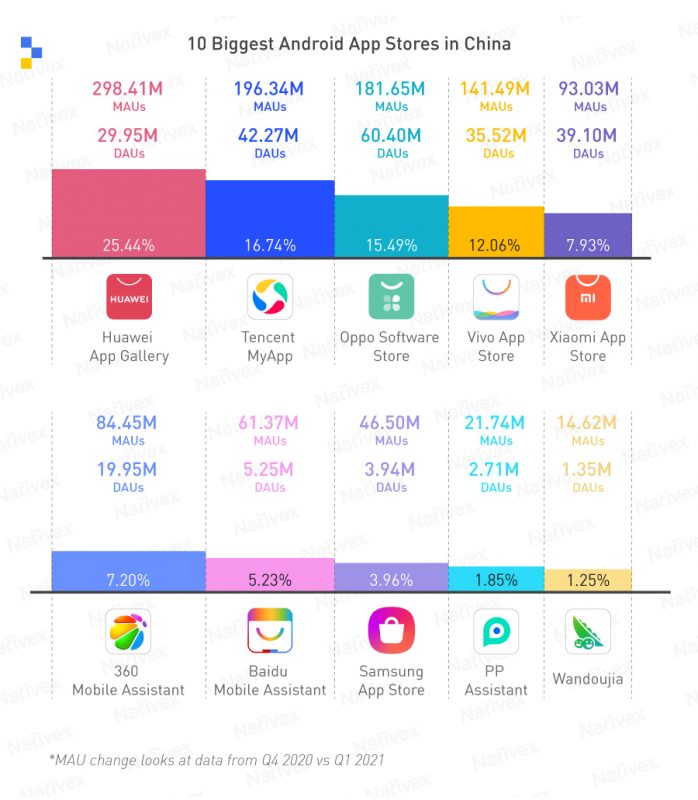 2. What are some key things about China's biggest Android app stores?
Now that we've looked at the stats behind China's biggest Android app stores, it's important to know more about some of their key features, along with other things you might need to keep in mind before deciding to launch there. After all, you want to make sure you find the app stores that are most likely to fit your goals, and sometimes a large distribution volume isn't enough.
To get a better understanding of what the top 10 Android app stores in China have to offer, what you can get from working with them, and what to expect from launching there, we put together the following:

3. What are some predictions for China's Android market in 2021 and beyond?
Navigating China's complex Android ecosystem might take some time if you're trying to launch without a partner or without the right Android solution, but it can be extremely lucrative. When looking at the latest facts and stats about China's Android market, it's also important to look at the most important trends and see what the market will look like in 2021 and beyond.
To get a better understanding of what we can expect to see from the Android ecosystem in China, we spoke with our Android expert Stephanie Wang – here's a quick look at some of the most important trends to look for in the near future:
China's Android population will continue to grow.

More than 80% of China's mobile consumers are on Android

and that number will likely be uncontested for the foreseeable future. This will make Android a solid and valuable platform in China for both global and domestic developers.

Android data security and privacy practices will be stronger.

The increased scrutiny from Chinese regulatory bodies will result in better data security and data privacy practices. Android developers who will be able to protect user data could see significant gains in the near future. All Chinese user data will only be stored in China, leading to developers building or using data servers located in mainland China.

Android users will become more valuable.

The percentage of paying Android users is forecasted to continue an upward trend. At the same time, Android users will gradually navigate towards better product experiences, so Android developers who build quality apps and features should see significant growth in the future.

Pay attention to HarmonyOS.

Huawei's new operating system called HarmonyOS

could have a significant impact on the restructuring of China's Android app stores. While it might not compete with Google's native Android operating system in the short term, HarmonyOS could become a decent option in a few years but it's difficult to say at the moment.
Introducing: the XploreChina Android solution
Now that you know a bit more about the biggest players in the Chinese Android ecosystem, it's important to find the right local partner. This is why we've launched the XploreChina Android Solution, to help you find success in this market with minimal effort.
From required documentation to launching, app management, and monetization our end-to-end implementation process ensures you get all the support you need, every step of the way. Our team will help you stay up to date with the latest regulations & app store insights, as well as the latest user trends & behaviors.
Our Android solution is part of the XploreChina initiative which also includes:
China Top Media Solution

: your gateway to China's incredible mobile media landscape. As a certified ad service provider, we provide unparalleled reach across major media platforms including ByteDance, Tencent, Baidu, Alibaba, and Kuaishou. Our media buying solution is backed by our transparent, real-time dashboard via the multi-channel media buying tool XMP and complemented by our premium creative studio TopWorks, for a comprehensive media buying experience.

KOL Marketing Solution

: the answer to running successful influencer campaigns in China. Working with over 40,000 Key Opinion Leaders (KOLs) and more than 20 Multi-Channel Networks, including ByteDance's KOL agency XingTu, means we have the scale and range to provide the influencer mix that is right for you.
As the only China-based agency equipped to offer acquisition, monetization, and creative services at scale and across multiple verticals, we believe that our revamped XploreChina initiative will help you thanks to our wide range of customized solutions. If you're looking to make your way into China's massive mobile market, get in touch with the Nativex team today.