Welcome to our latest edition of the China Top Media Insider. Today we're going to take a look at Alibaba's financial results for the previous 2020 quarter. We'll also look at and Douyin's expansion in the social commerce space, as well as Kuaishou's latest product update and its first non-Chinese esports partner. We have a lot to cover today so let's do this!
1. Alibaba June quarter 2020 financial results surpassing expectations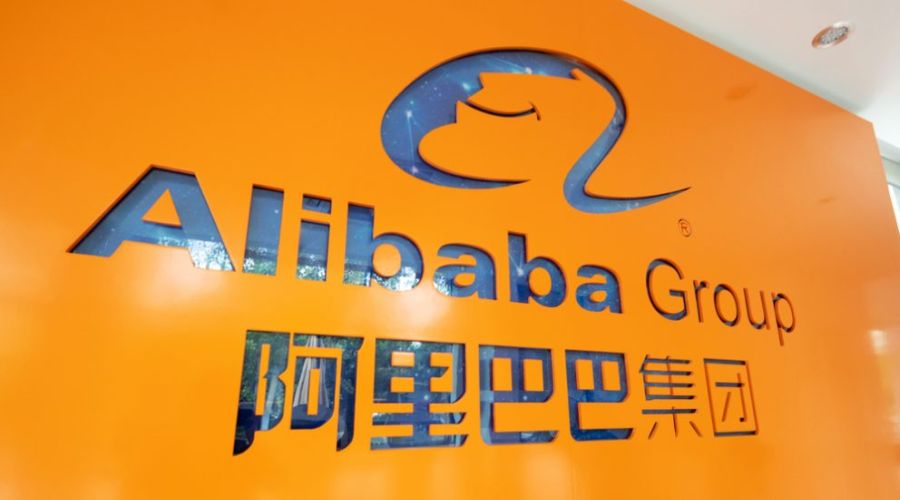 Alibaba Group recently announced its financial results for the quarter ended June 2020, with a 34% year-on-year revenue growth to over RMB153.75 billion ($21.76 billion), surpassing market expectations of RMB148.05 billion. Income from operations also showed growth, up 42% year-on-year to RMB34.70 billion ($4.91 billion). One of the main reasons for this growth was the company's core ecommerce business recovering amid the COVID-19 pandemic. To put this growth in perspective, even with the RMB7.7 billion ($1.1 billion) loss recorded in the previous quarter, Alibaba made RMB14 billion ($2.04 billion) more than Tencent, whose Q2 2020 financial results were also surprisingly strong. It's worth noting that Alibaba and Tencent are the 6th & 7th most valuable brands in China.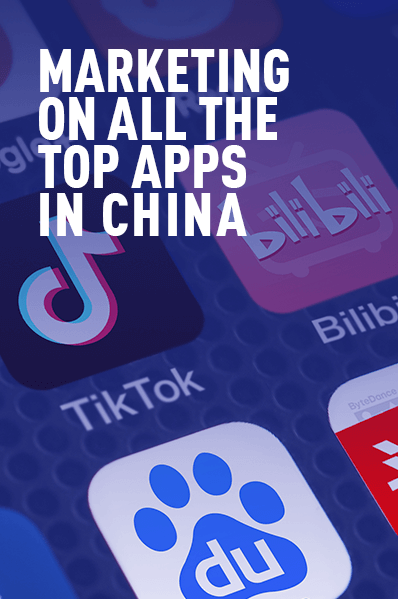 Looking to reach the largest mobile audience in the world? We'll help your campaigns get in front of hundreds of millions of users!
1
CONTACT US
⟶
"Alibaba delivered excellent results this past quarter. We were well positioned to capture growth from the ongoing digital transformation, which has been accelerated by the pandemic, in both consumption and enterprise operations," said Daniel Zhang, Chairman and Chief Executive Officer of Alibaba Group in a press release. 
You can read more about this on IResearch.cn (Chinese).
2. Douyin expanding its social commerce presence with a new partnership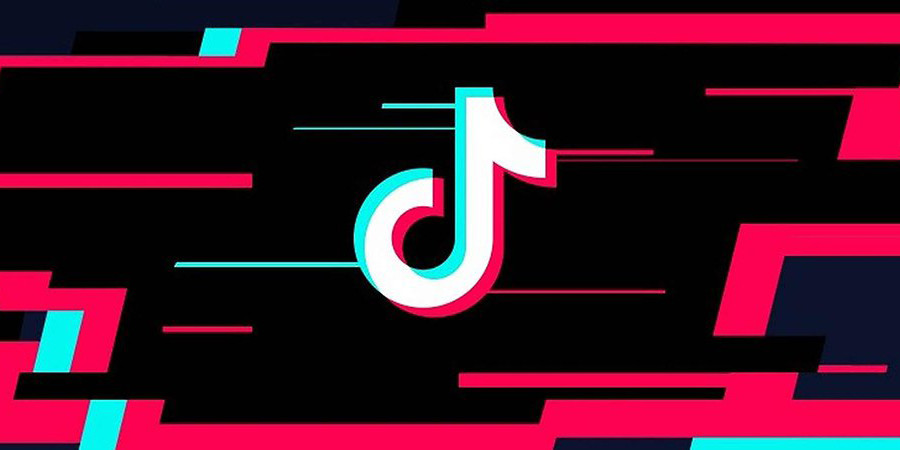 China's short-form video giant Douyin is strengthening its position in the social commerce space. After we mentioned that Kuaishou made an ecommerce deal with JD.com and then it opened a new live streaming ecommerce HQ, Douyin has announced it has partnered with Suning.com, one of China's largest retailers.
While this partnership looks like an arms race in China's incredibly lucrative social commerce ecosystem, it will be interesting to see what this means for similar partnerships like the one between Kuaishou and JD.com, but also what potential impact this will have on the online shopping giant Taobao. One thing is clear: more and more tech companies in China are looking to grab a slice of the social commerce pie. You can read more about this on IResearch.cn (Chinese).
3. Kuaishou unveils new look, slogan, and product features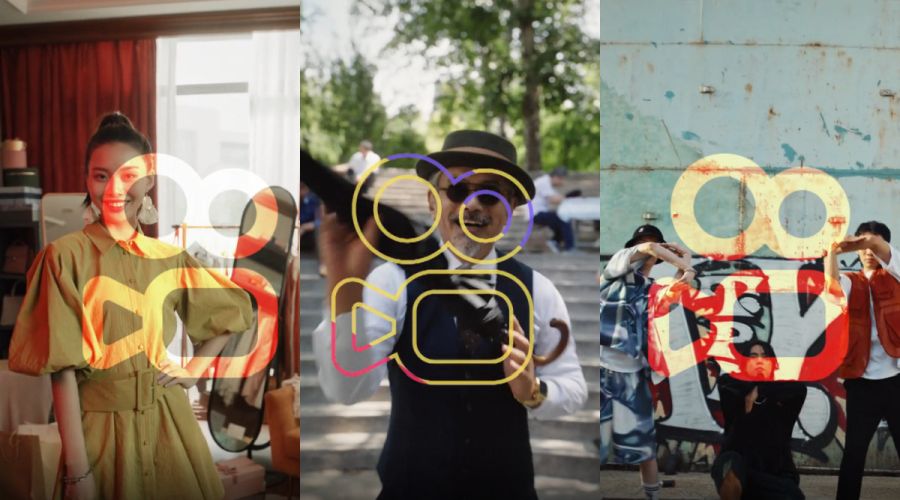 Speaking of Kuaishou, the company has just refreshed its brand logo and slogan. The new logo retains its famous video camera icon but now has a more modern look. According to a Kuaishou statement, "this combination of classic elements and modern graphics shows a richer meaning and value. The "infinity" symbol on the upper part represents the multiple worlds and the infinite connections, and the camera on the lower part represents the world video." The slogan has also changed slightly, from "seeing every kind of life" to "embracing every kind of life".
Another important change is version 8.0 which comes with some significant product updates. One key change is the ability to browse content in either single-column or double-column views.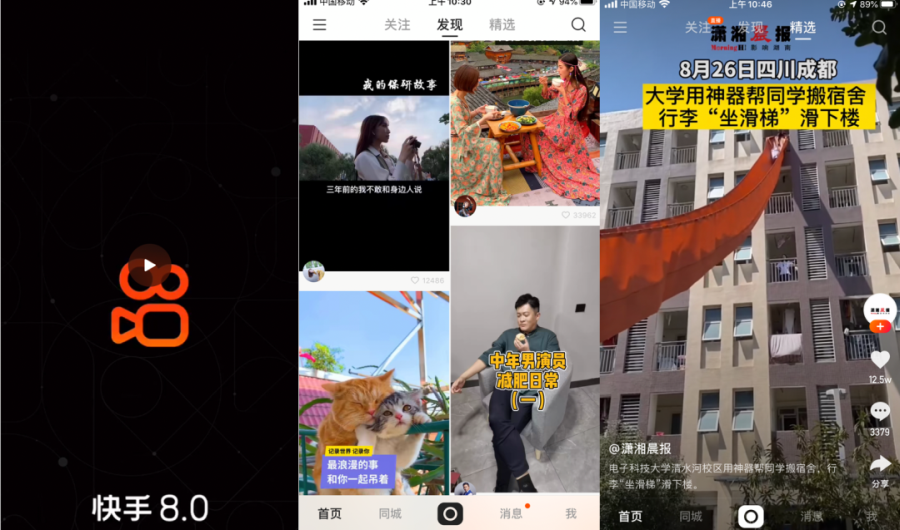 The single and double column views
The new version now also has support for 1080p video upload and playback, which goes hand-in-hand with the drop in 4G data plan costs and China's rapid commercial 5G growth.
Read more about this on Morketing's WeChat channel (Chinese).
4. Kuaishou partners with major esports team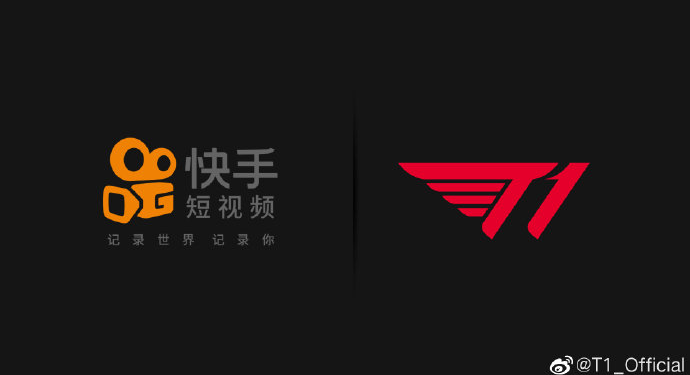 Short-form video giant Kuaishou has recently signed a partnership deal with South Korean esports organization T1. The partnership means that Kuaishou will be the official short-form video partner and will provide exclusive content.
What makes this partnership special is that this is the first time that Kuaishou is branching out to form partnerships with non-Chinese esports organizations, signaling a potential push into other markets as it looks to become a global short-form video giant. T1 is one of the most famous esports organizations in the world, with top-performing teams across popular esports including League of Legends, Fortnite, Dota 2, Overwatch, and more.
You can find more details about this partnership on EsportsObserver.
Looking to launch your campaigns in China?
China's massive mobile market provides some incredible opportunities for advertisers around the world. All you need is the right partner – and we believe we can be that partner. At Nativex, our cross-cultural team has an unparalleled understanding of the Chinese mobile market – we are the team behind the XploreChina solution.
We are an authorized ad service provider for major media outlets including Bytedance (Douyin, Toutiao), Baidu, Tencent (WeChat), and Alibaba (UC). If you're looking to get your advertising campaigns into the world's largest mobile market, get in touch with the Nativex team today and we'll take your marketing ROI to the next level.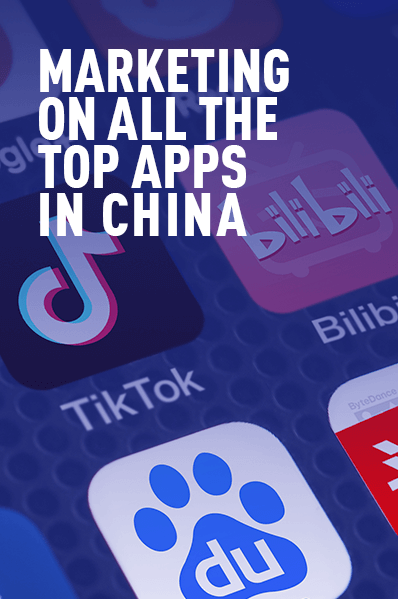 Looking to reach the largest mobile audience in the world? We'll help your campaigns get in front of hundreds of millions of users!
1
CONTACT US
⟶