Welcome to the latest edition of China Tech Express! Today we're going to talk about a new report focused on Kuaishou's male user base. We'll also talk about a QuestMobile report detailing the latest KOL trends in China, and we'll see what the top buzzword on Bilibili is. Sounds interesting? Read on!
1. New report on WeChat Mini Programs shows strong growth in 2021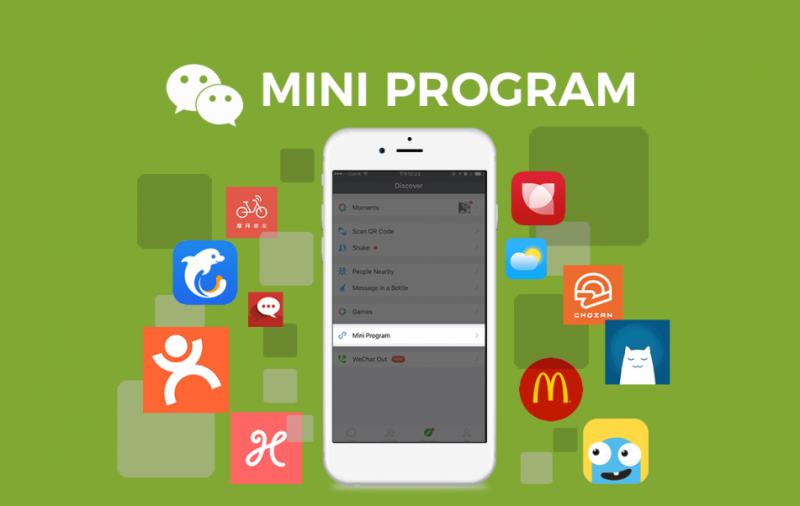 WeChat's Mini Program team recently held their yearly public presentation called "the WeChat Public Lecture", outlining WeChat's mini programs and their growth in 2021.
The WeChat team shared some interesting numbers around WeChat's Mini Program activity in 2021, here are some stats from their presentation:
The total number of mini programs available grew to 450 million in 2021, up from 400 million in 2020

The number of active mini programs increased by 41% year-on-year

Average mini program daily usage saw a 32% year-on-year increase

Mini program payment service users grew by 80%

The number of mini programs with transactions increased by 28%

The total number of mini program developers surpassed 3 million
The WeChat Mini Program team has also revealed how they are working with hardware manufacturers to better integrate mini programs into daily life by connecting them to household appliances.
At the same time, data intelligence company QuestMobile, which recently released their 2021 KOL report, posted some more stats around WeChat's mini programs – here are a couple interesting ones, you can find more on QuestMobile: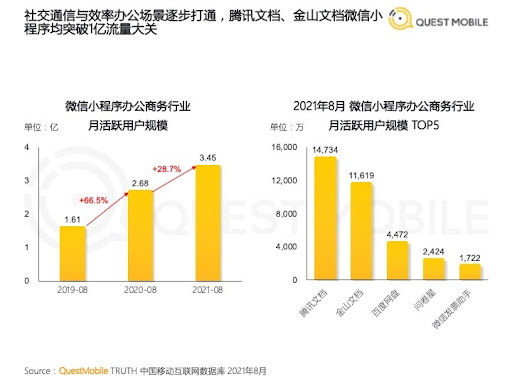 Left: number of WeChat mini programs designed for office work; right: top 5 WeChat mini programs by MAU with Tencent Document ranked 1st and WPS Document ranked 2nd
WeChat mini programs have shown strong results in 2021 and are looking to continue growing in 2022. You can find more WeChat mini program stats on Baijiahao (Chinese).
2. Douyin launches its new "Learning" section
China's biggest short-form video platform officially unveiled a new section on its app called "Learning", dedicated to posting a wide range of educational content. To help users get content tailored to their needs, the Learning section includes a number of tags that users can select when first visiting this section on their app – this includes finance, art, history, geography, animals, music, and more.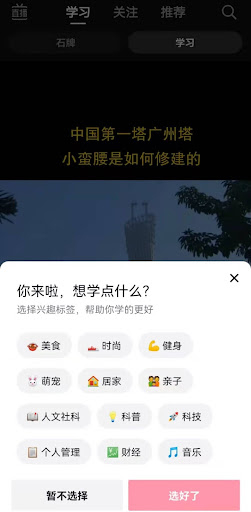 A look at Douyin's new Learning section and its tags
This new Learning section aggregates educational videos from content creators on its platform, helping users find more relevant content while giving content creators additional exposure from their work being featured on Douyin.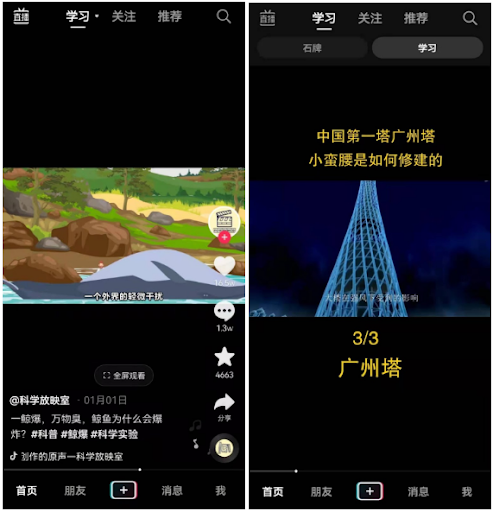 Left: educational animated video about whales; right: short clip about the architecture of Guangzhou's Canton Tower
Short-form educational videos have become extremely popular on Douyin, with their top 100 videos being watched by over 450 million users in the last month alone. Also, educational content on Douyin has grown 74% year-on-year according to Douyin's 2021 Knowledge Content Data Report. In fact, this type of content has accounted for over 20% of the platform's total views last year.
This type of educational content is popular on other platforms as well. For example, Bilibili's founder Chen Rui said in June 2021 that educational content accounted for 45% of the platform's total number of views. Topics like social sciences, animals, food, and science were the most popular, with the latter growing the fastest.
You can find out more about Douyin's new Learning section on Jiemian.com (Chinese).
3. Chinese regulatory bodies release internet algorithm recommendations regulations
The Cyberspace Administration of China, Ministry of Industry and Information Technology, Ministry of Public Security, and the State Administration for Market Regulation recently released the "Regulations on the Administration of Algorithm Recommendations for Internet Information Services".
This new set of regulations is set to come into effect from March 2022 and it comes after China's new Personal Information Protection Law came into effect. According to the Cyberspace Administration of China, the goal is to regulate algorithm recommendations across China's websites and apps so that they can help with protecting user data privacy and security, as well as fight against misinformation, among other things.
Users will also need to be informed that websites and apps use algorithms and they will need to be able to choose whether to use an algorithm or not – in other words, to view content that is not based on user data or preferences.
You can read more about the new algorithm regulations on Jiemian.com (Chinese).
Looking to launch your campaigns in China?
China's massive mobile market provides some incredible opportunities for advertisers around the world. All you need is the right partner – and we believe we can be that partner. At Nativex, our cross-cultural team has an unparalleled understanding of the Chinese mobile market – we are the team behind the XploreChina solution.
We are an authorized ad service provider for major media outlets including Bytedance (Douyin, Toutiao), Baidu, Tencent (WeChat), Bilibili, Zhihu, and more. If you're looking to get your advertising campaigns into the world's largest mobile market, get in touch with the Nativex team today and we'll take your marketing ROI to the next level.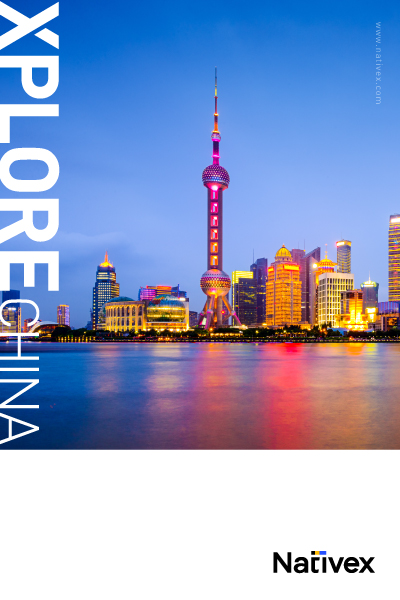 XploreChina is your one-stop mobile marketing solution designed to help you achieve success in the Chinese market.
From acquisition to monetization and creative services, we can help you at all lifecycle stages with a wide range of tools and solutions.
1
CONTACT US
⟶