"APAC Market Spotlight" is a series of Nativex articles that provide an in-depth analysis of the mobile ecosystem, user behavior, and popular mobile apps in Southeast Asia, South Korea, and Japan. The series will focus on these three major territories in the Asia-Pacific region and examine new trends around mobile app media buying in Asia.

Mobile technology is being adopted at an accelerating pace by millions of users across Southeast Asia. At the front and center of this immense growth are mobile apps – which then brings us to the question of how to best harness them in order to develop a digital strategy tailored for the region. For businesses looking to expand into the region, here's a useful guide on the top apps that Southeast Asian mobile users are currently using that can help to better direct marketing strategies. 
Mad for Apps
Southeast Asia has really accelerated the growth for all things mobile – and the evidence is apparent everywhere. Technology has enabled millions of Southeast Asian users to access the internet, some for the very first time in their lives. A recent Google study revealed that some 150 million Southeast Asians will turn 15 over the next 15 years, which works out to be 10 million people joining the "mobile age" every year.  
Users in the region are one of the most engaged in the world, spending significantly more time on the mobile internet than their global peers. A great majority of interaction with the internet occur through apps, with users virtually living all of their online lives on apps such as Facebook, Twitter, Instagram, and YouTube. The plethora of new apps has also driven the development of e-commerce in the region, and these include giants such as Grab, Gojek, and Lazada, just to name a few. 
For brands, developing a mobile app strategy is key to gaining a strong foothold in a nascent region that possesses a huge potential for growth. However, the multitude of apps available in each specific market can make it quite difficult for brands to strategize an advertising campaign that checks off all boxes. This can be additionally challenging especially for those who are not familiar with the types of apps that are widely used by mobile users in the region. 
Are you looking to launch your mobile marketing campaigns in Southeast Asia? Get in touch with the Nativex team today and we'll show you how to achieve success in this highly lucrative market.
1
CONTACT US
⟶
Most popular app types in the region
The increase in demand for convenience, value, and access to services, especially to those living in big cities, have resulted in a surge in the usage, and reliance, on e-commerce and ride-hailing apps – with notable companies such as Grab and Gojek taking the lead. The growth for these two sectors has been particularly robust in the last five years: e-commerce users rose to 150 million in 2019 from 49 million in 2015, while ride-hailing active users grew nearly five times to 40 million in 2019, from 8 million in 2015.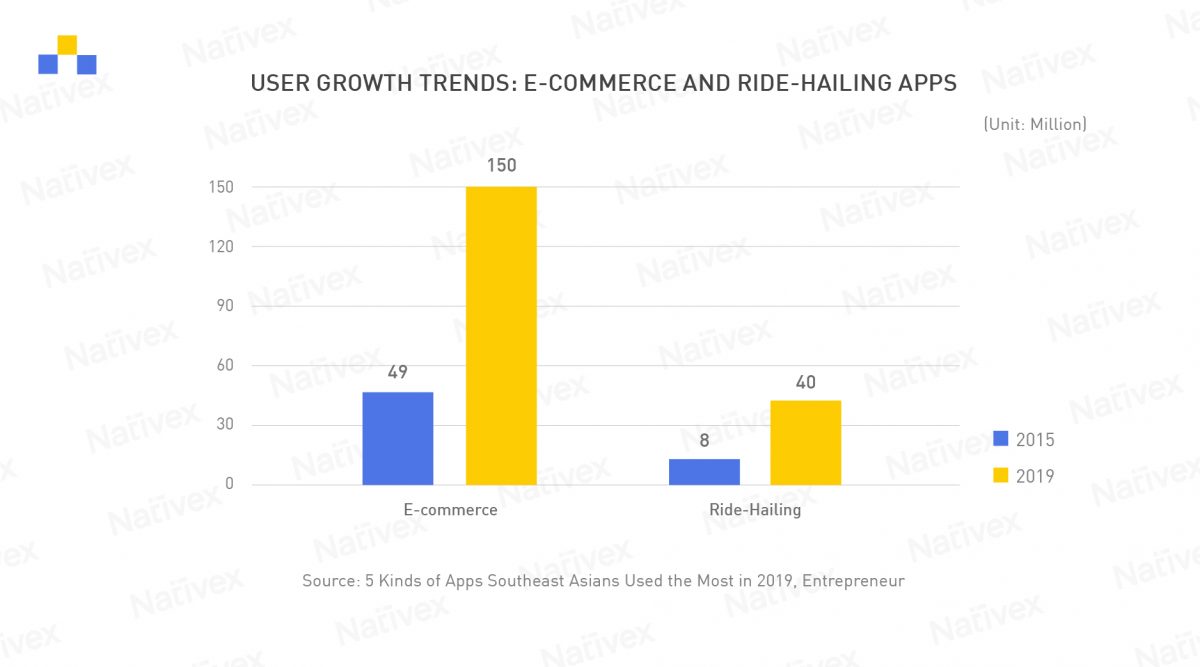 Also gaining momentum are the food delivery apps, due to the convenience that they are able to offer to the rising middle-class population. Services such as FoodPanda, Deliveroo, Gojek, and GrabFood are current leaders in the food delivery space. Similarly, online shopping platforms including Lazada, Shoppee, and Tokopedia are also on the rise, and users are not only using them to purchase big-ticket items such as electronics, but also for everyday items such as groceries, personal items, and clothing. It is estimated that for every $2 spent, approximately half would be spent online – and this number is well poised to increase as users develop an increasing reliance on apps to fulfill their lifestyle needs and wants. 
Beyond service-based apps, users in the region also rely on apps to consume online content and for entertainment. Google Trends have reported that queries for subscription video streaming brands like Netflix and Viu have grown more than five times in Malaysia, and seven times in the Philippines and Singapore over the last four years, hitting all-time peaks in 2019. Gaming platforms, such as Mobile Legends, Garena, and PUBG Mobile have also continued to remain popular among mobile users in the region, a trend made possible by increasing access to affordable data. 
While social media apps such as Facebook and Instagram remain central to the mobile experience of most users in the region, the uptick in short-form videos as a preferred mode of content has also since led to the popularity of apps such as TikTok, and BIGO Live. These apps, together with messaging apps such as WhatsApp and LINE, form the basis on which users are able to communicate, keep in touch with their communities, and consume content – therefore allowing these apps to continuously top the charts in terms of daily active users. 
Top apps per category 
E-commerce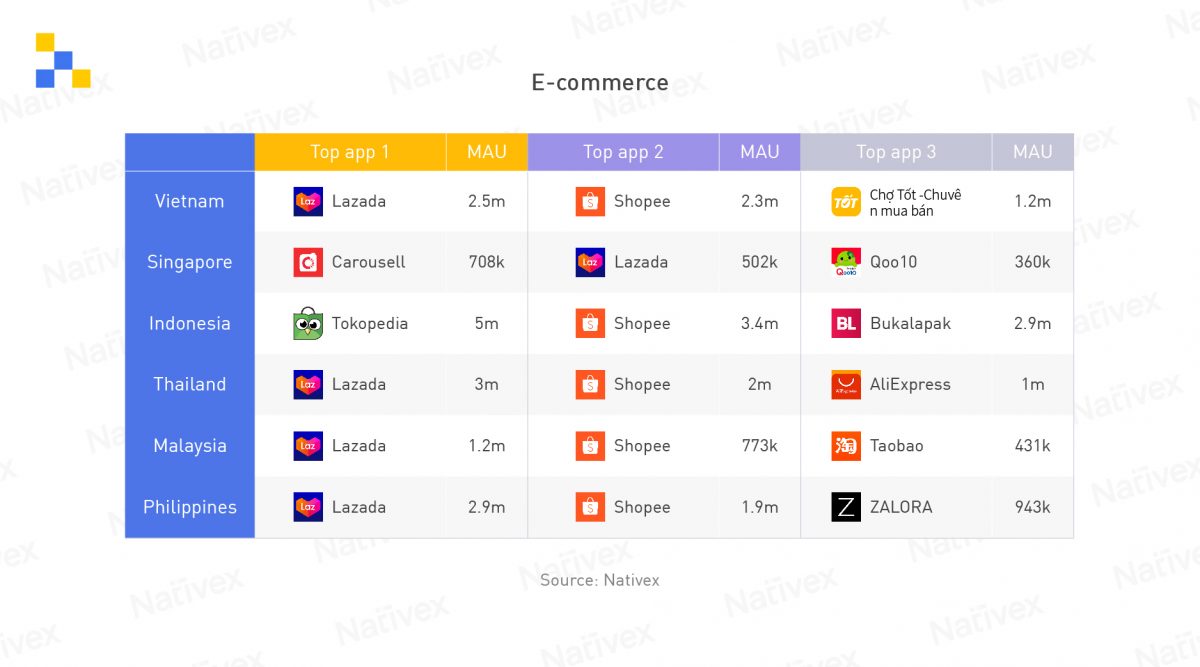 While there are hundreds of e-commerce players in the region, the chart above denotes that some apps are emerging as potential winners. Based on the number of monthly active users alone, Lazada appears to lead its rivals as the most visited platform, especially in countries such as Vietnam, Thailand, Malaysia, and the Philippines. The Singapore-backed, Alibaba Group-owned company works primarily on a dual-business model: where they sell inventory to customers from its own warehouses and a marketplace model that allows third-party retailers to sell their products through Lazada's site. 
Neck-and-neck with Lazada is Shopee, which has the second-highest number of monthly active users specifically in countries like Vietnam, Indonesia, Thailand, Malaysia, and the Philippines. A Singaporean e-commerce platform headquartered under Sea Group, Shopee evolved from a consumer-to-consumer business model to including a business-to-consumers hybrid model. In addition to offering a wide selection of products to consumers, Shopee has also increased its brand awareness with their partnership with celebrities including Korean girl-band Blackpink, and global football icon Cristiano Ronaldo. 
Interestingly, we also observe the emergence of local players, such as Tokopedia in Indonesia and Qoo10 in Singapore, whose success is perhaps attributable to their keen knowledge of the local markets. This enables them to conceptualize a successful localization strategy that reflects their deep knowledge of the local market – allowing them to take on e-commerce giants such as Lazada and Shopee.
Ride-hailing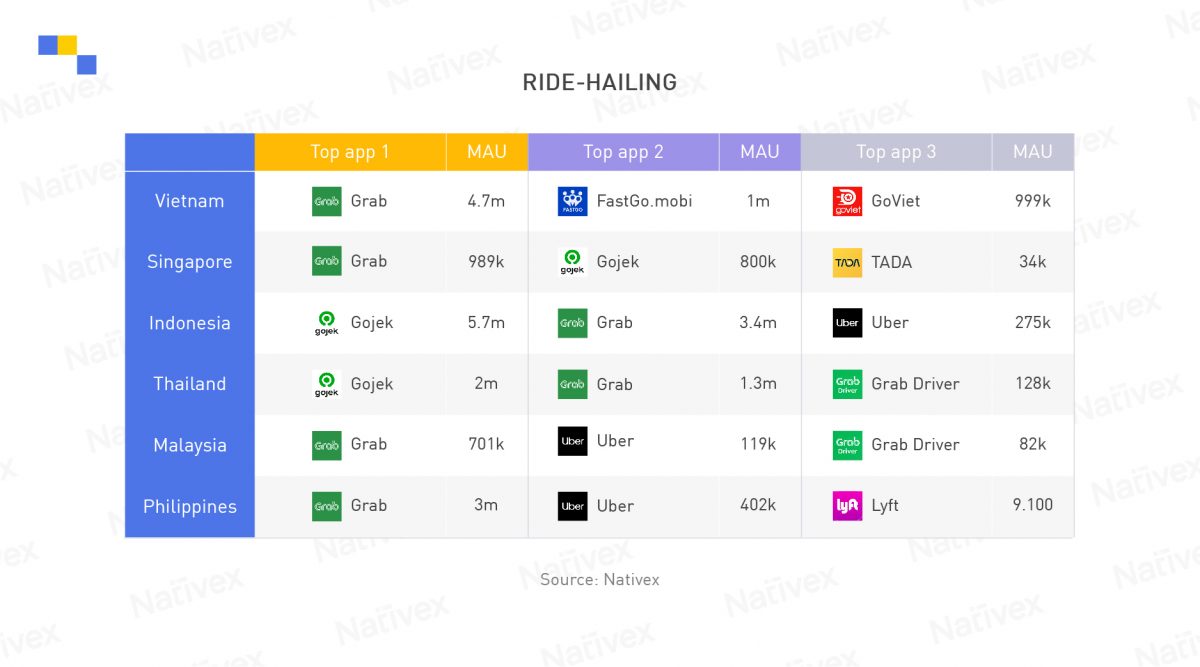 The internet economy in the region has grown at an unprecedented pace to reach $100 billion in 2019, and ride-hailing is the second top area contributing to this growth. Demand for ride-hailing services in Southeast Asia has exploded, with the number of active users growing five times to reach more than 40 million today, from just eight million five years ago. In Southeast Asia, ride-hailing apps have become an integral part of daily life for millions, especially those living in big cities in countries such as Singapore, Thailand, Vietnam, Indonesia, Malaysia, and the Philippines.
Across the board, super-apps Grab and Gojek generally have a strong presence across these key markets in Southeast Asia, due to the convenience and value they offer users with their various services. For example, private ownership of cars in countries such as Singapore, Malaysia, Indonesia, and Thailand is costly, making ride-hailing an attractive alternative mode of transport for users. Hence, it comes as no surprise that the ride-hailing landscape is dominated by these two apps, with several other smaller, local players helping to fill the gaps in the demand for such services. 
Food delivery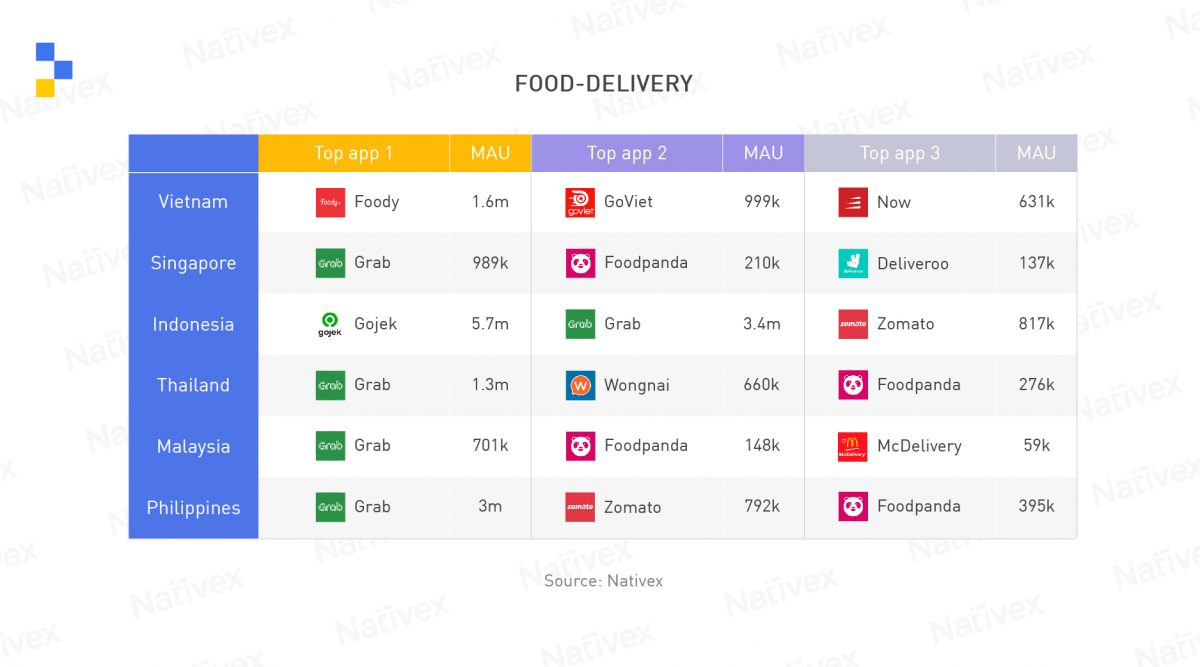 Grab is currently the top food delivery app, cementing its position as the preferred app for mobile users to fulfill their food needs in countries such as Singapore. Thailand, Malaysia, and the Philippines. Their triumph is hardly a surprise – Grab's strong presence in the region as a ride-hailing service allows it to leverage its already large user database to compete with food delivery "pure plays" such as Foodpanda and Deliveroo. 
As the food delivery industry is poised to accelerate in growth, the field is bound to be even more hyper-competitive moving forward, and food delivery players are gearing up by working to diversify their offerings. From the launching of ghost kitchens, a professional food preparation and cooking facility that is set up for the preparation of delivery-only meals, to expanding the delivery service to include groceries, food delivery players are upping their game, and users can definitely see more features to be rolled out in the next few years. 
Conclusion
Apps will play an even more central role in mobile users' lives, and no doubt, mobile apps represent an opportunity for serious user growth. Having covered the general landscape of mobile in Southeast Asia and the general behavior of mobile users in the region, having an understanding of the types of apps that are popular among users in the region can help in conceptualizing an effective advertising plan that can help achieve branding objectives. Look out for our next article in the series on app engagements as we dive deeper into how users are engaging with different types of apps!
If you're looking to achieve success in Southeast Asia's mobile market, then make sure you contact the Nativex team today. With a wide range of mobile marketing solutions available, our team can help global brands and advertisers reach their audiences in Southeast Asia and other key markets around the world.