"APAC Market Spotlight" is a series of Nativex articles that provide in-depth analysis of the mobile ecosystem, user behavior, and popular mobile apps in Southeast Asia, South Korea, and Japan. The series will focus on these three major countries in the Asia-Pacific region and examine new trends that will hit the APAC mobile market in the future.
The Japanese mobile industry has seen various developments recently, from intensifying competition among video services to integration announcements from major services like Yahoo and LINE. In this column, we will take a look at the current status of smartphone usage in Japan, as well as some major industry trends in this market.
Rate of Smartphone Ownership in Japan is about 70%
According to the Communications Usage Trend Survey released in 2020 by the Ministry of Internal Affairs and Communications, personal smartphone ownership in Japan is 67.6% as of 2019. In particular, the rate of smartphone ownership for people in their 20s to 30s is over 90% and while this decreases as age increases, the ownership rate for people in their 60s is still high at 64.7%. Overall, smartphone ownership in Japan has seen significant growth over the last few years.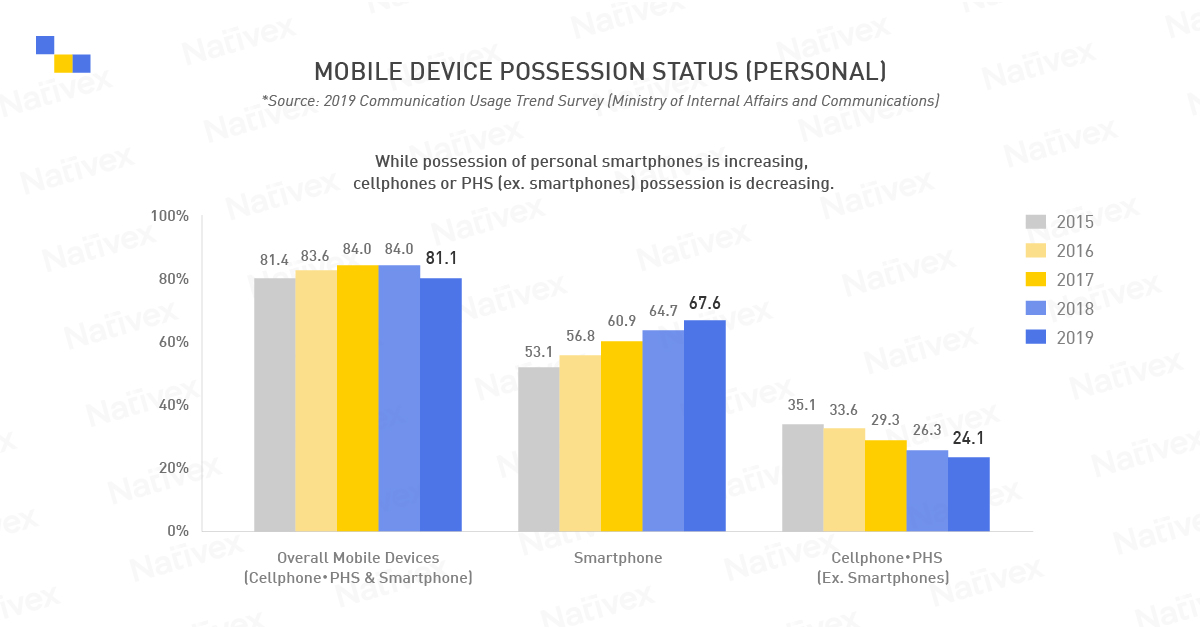 Japanese Smartphone Usage Time Increased by 22%
Under these circumstances, Nielsen Digital reported that in 2019, the daily average usage time of smartphones in Japan was 3 hours and 46 minutes. This number has increased by 42 minutes since 2018, with the usage breakdown being 92% for apps and 8% for web browsers.
Along with increased time spent in apps, the number of apps being used has also gone up. The average number of apps used at least once a month is 34.6, up 13% since 2018. The number of apps used daily has also gone up and is now at around 8.8, 10% higher since 2018.
In terms of app category usage, entertainment has seen the biggest increase, likely influenced by the expansion of TikTok as well as the increased number of users for webtoons and mobile games. New primer apps and payment apps in the "E commerce" and "Finance" categories have also seen user volume growth.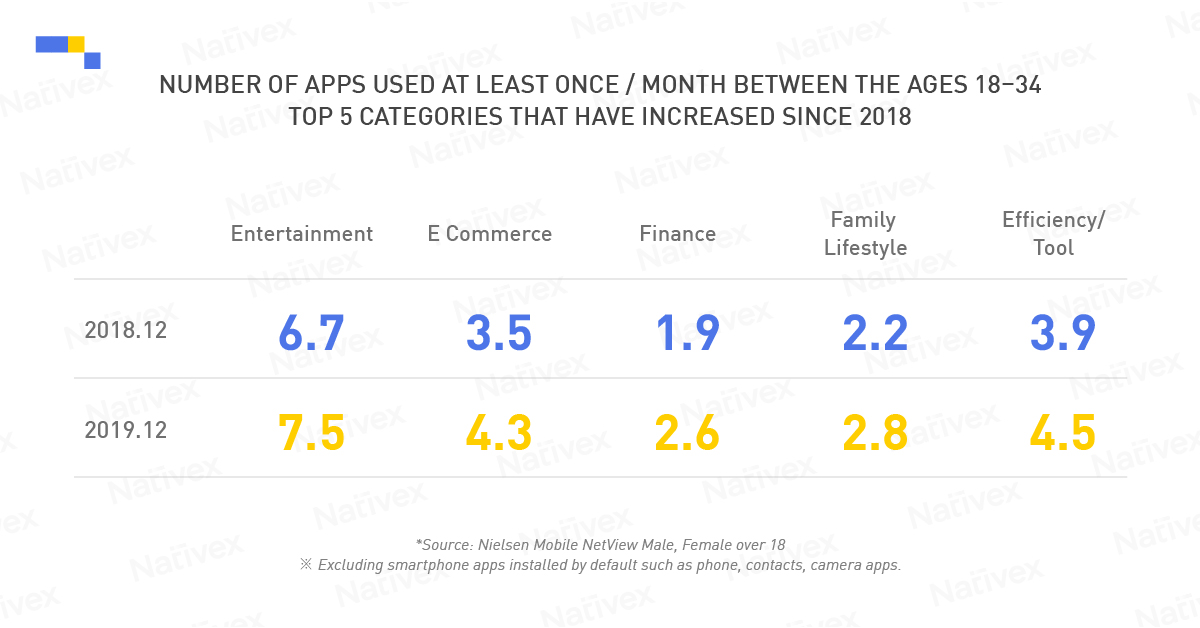 Video-Related Apps Are the Most Popular
The popularity of video content is shown in the app rankings. According to App Annie, the following were the top 10 most downloaded apps in Japan in 2019.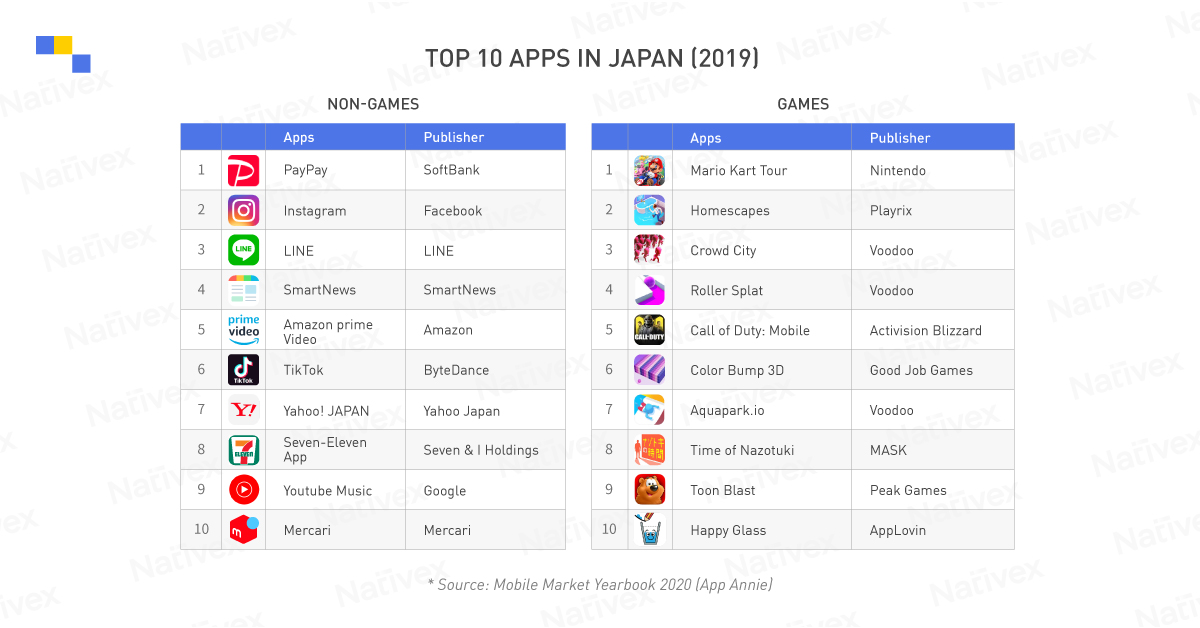 One thing to note is that among daily life apps like instant messaging or news apps, video related apps like Amazon Prime Video (5th) and TikTok (6th) have made the most significant progress. Amazon Prime Video, in particular, has moved up 9 places from where it was in 2018, showing that videos are becoming an essential part of Japanese users' lives.
In the first half of 2020, a new trend caused by Covid-19 has emerged. According to Adjust, between January and April 2020, the number of new app installs increased by 23% and the number of sessions increased by 44%, hitting a peak in April – this is likely because of the state of emergency that was declared earlier in April. However, the number of new Covid-19 infections in Tokyo reached a new peak in early August, so the number of app installs and sessions might continue to increase as a result.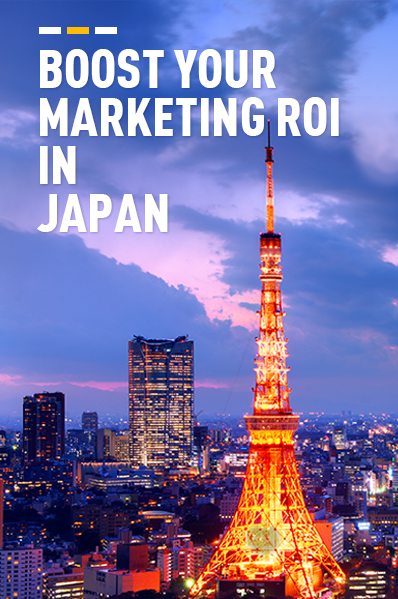 Are you looking to launch your mobile marketing campaigns in Japan? Get in touch with the Nativex team today and we'll show you how to achieve success in this highly lucrative market.
1
CONTACT US
⟶
Competition between Video Services Is Intensifying
According to Impress R&D, 60% of video services are used either by using smartphones on their own or by connecting smartphones to other devices. The percentage of PC video users has dropped 15 points since 2015 and while more people are watching videos on multiple devices, doing this via smartphones seems to have become an established viewing method.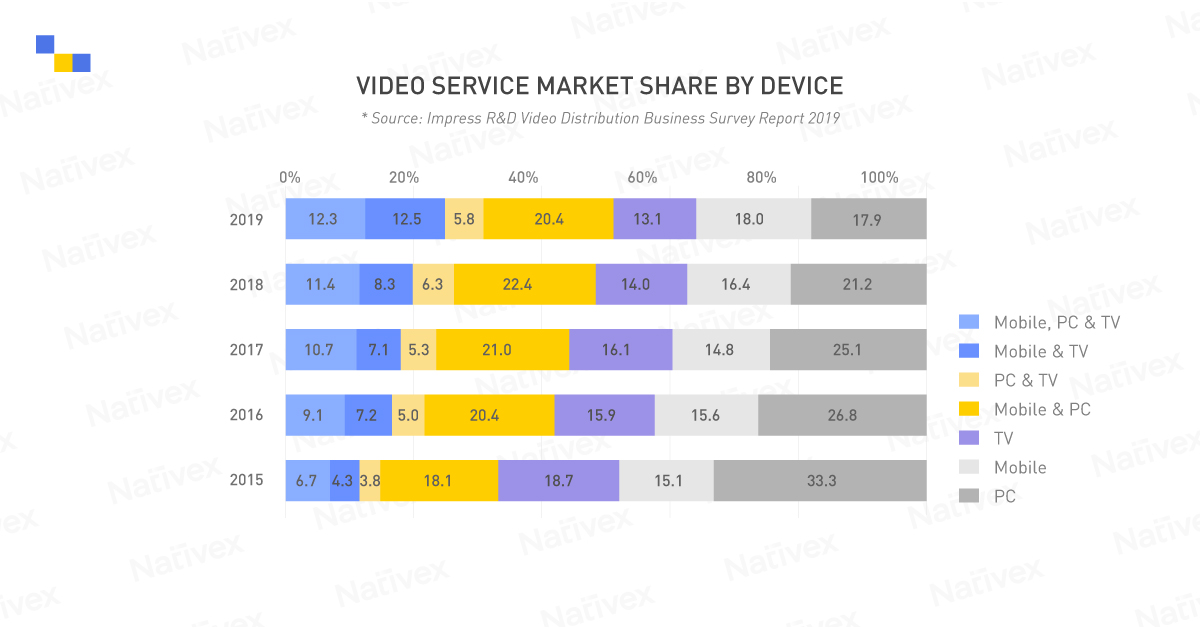 In 2019, popular video services such as Disney DELUXE & Apple TV+ were launched in Japan, which caused the competition for market share between them and previously launched services like Netflix, Amazon Prime Video, and TVer to become more intense than ever.
Netflix has over 3.66 million users in Japan according to data from Q1 2020, but Amazon Prime Video is becoming an increasingly attractive option as it allows users to enjoy both music and videos when they become Amazon Prime subscribers. Amazon Prime Video offers original content, good quality English dramas, pop music from HBO and more, making it a strong Netflix competitor.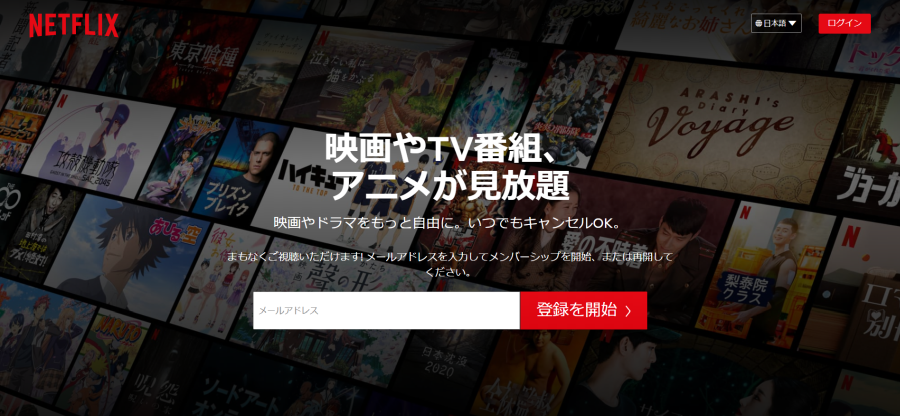 Image source: NETFLIX
Next, we will talk about how Apple became a rising force in the area of video distribution services. As you might know, the iPhone has over 50% of the smartphone market share in Japan, so Apple started providing Apple TV+ in November 2019 at an affordable monthly rate of 600 YEN (approximately $5.50). Another big launch was Disney+ by Disney, which partnered with NTT DOCOMO and launched in June 2020. 
Competing against the popularity of these global companies are the Japanese broadcasting companies. TVer, established by the TV broadcasting companies in the metropolitan and Kinki area, has reported over 25 million app downloads as of March 2020. Hulu, which is funded by Japan TV and Yomiuri TV has reached over 2 million members as of March 2019. There is a flood of video services coming from other broadcasting companies who launched their own services, including FOD (Fuji TV On-Demand) and NHK On-Demand, as well as Abema TV by CyberAgent and TV Asahi.
According to a survey on the recognizability and usage rate of video services conducted by NTT Docomo Mobile Society Research Institute in January 2020, YouTube usage was the no.1 free video service with with 62.3% market share, while Amazon Prime Video was the top paid video service (16.5% market share).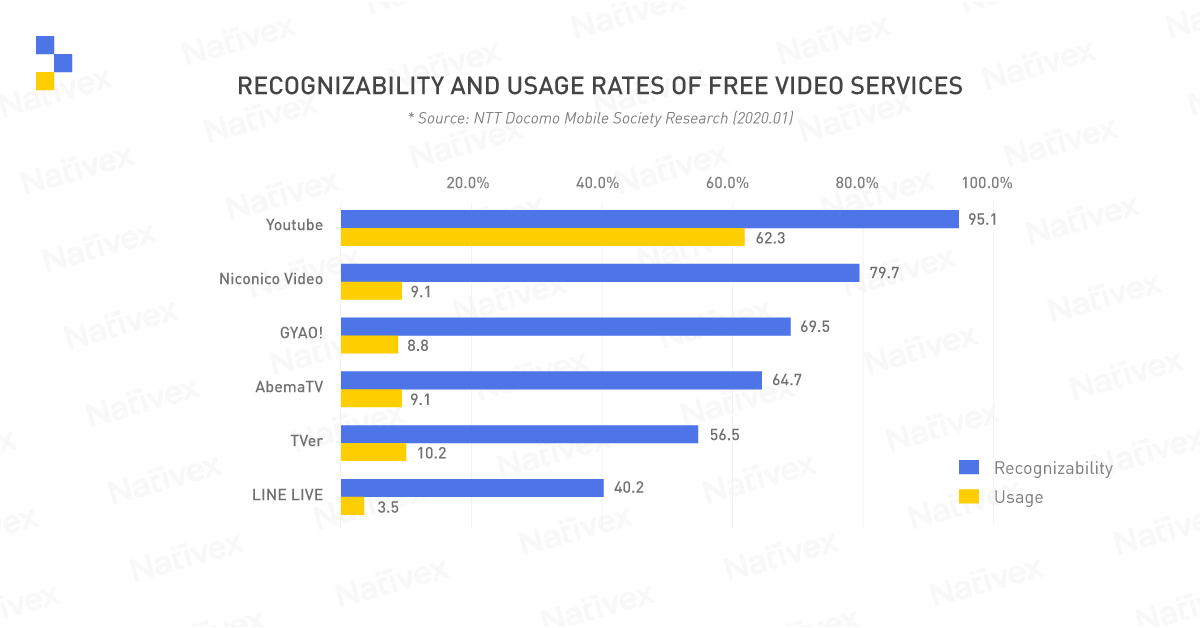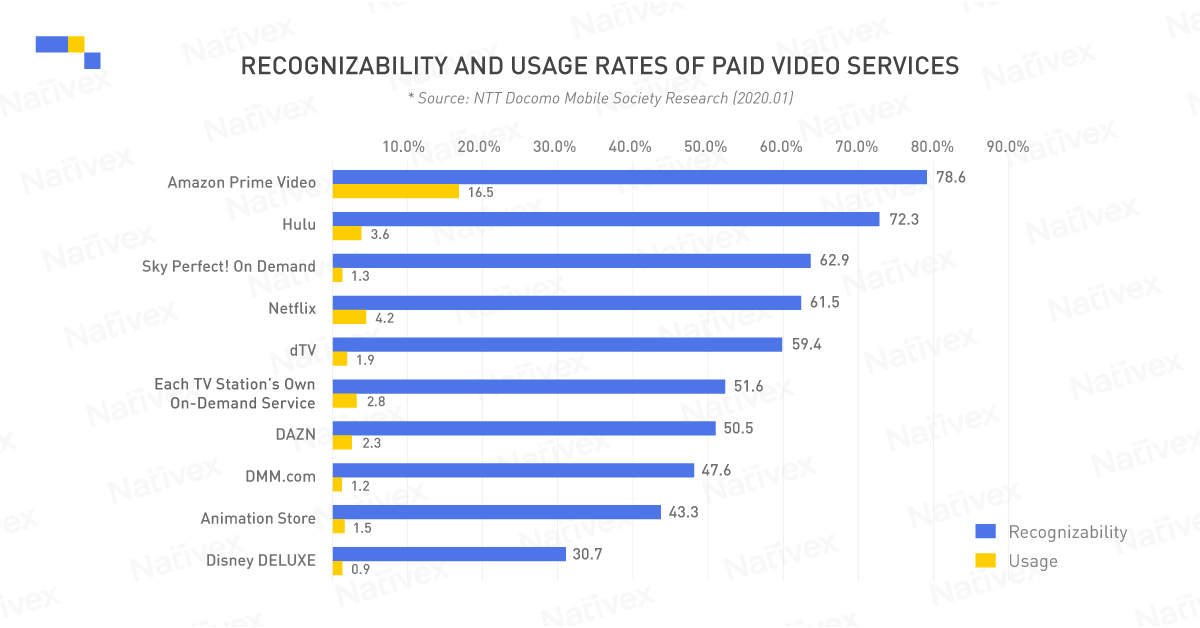 The Yahoo! & LINE
Integration
The announcement of the integration between Yahoo, operating Yahoo! Japan, and LINE has been one of the biggest news in the Japanese mobile industry. This was enough to overpower the shock from the news that Yahoo! took over the online clothing mall ZOZO to make it their affiliate two months before.
LINE has about 80 million users and Yahoo! Japan has about 50 million users, so this integration gave birth to Japan's largest tech company with over 100 million members using search, e-commerce, instant messaging, payments and more. The integration seems to have come from a sense of threat coming from giant tech companies like GAFA (Google, Apple, Facebook, Amazon) from the US and BATB (Baidu, Alibaba, Tencent, ByteDance) from China. 
In the field of mobile payments which has become highly competitive in Japan, the integration between Yahoo!'s PayPay and LINE's LINE Pay is getting a lot of attention. For context, PayPay is integrated with over 1.7 million affiliate stores and LINE Pay users are able to use their smartphones to make mobile payments at any PayPay affiliate. The business integration is scheduled to be completed by October 2020 and both companies have expressed that they will consider specific future plans after the integration is complete – needless to say, users are waiting in anticipation to see what kind of benefits this integration will bring.

Image source: LINE
Mobile Advertising Spend is 3 Times Bigger Compared to Desktop
Let's talk about the Japanese digital advertising industry.
Dentsu Group's three companies have reported that in 2019, the online advertising spend in Japan was 1.66 trillion YEN, or $15.57 billion. By device, mobile advertising spend represented 75.9% (1.2623 trillion YEN or $11.82 billion) of the overall spend, massively higher than desktop advertising which had the remaining 24.1% share (400.7 billion YEN or $3.75 billion).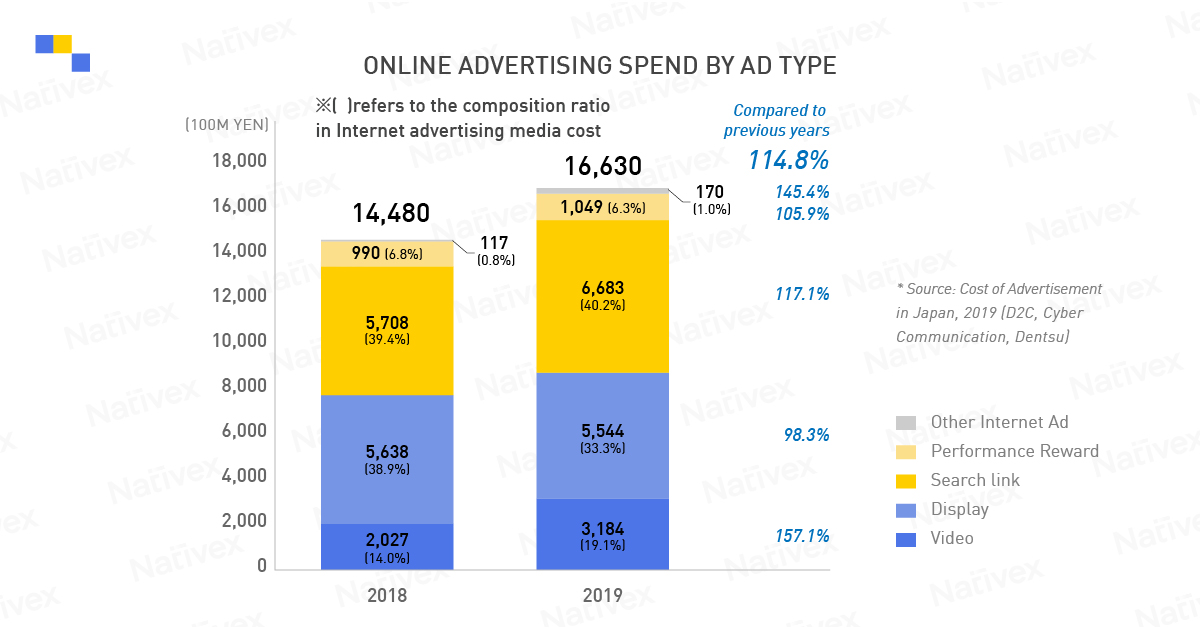 In terms of advertising formats, video showed the most growth at 318.4 billion YEN ($2.98 billion), representing a 157.1% year-on-year increase and 19.1% of total ad spend. Video advertising is expected to reach 359.7 billion YEN ($3.36 billion) by the end of 2020, representing a 113% year-on-year increase.
According to a recent Dentsu report, programmatic ads account for 80% of total online advertising revenue, with video ads showing the most growth. As they are expected to see further growth, advertisers need to make a conscious effort to ensure brand safety and avoid brand damage by running legitimate ad campaigns.
Conclusion
The next-generation communications standard, 5G, has finally launched in Japan in the spring of 2020. Thanks to its ability to send data 100 times faster than the current communications standards, 5G will be allowing people to enjoy a wide range of content including VR (virtual reality), AR (augmented reality), and high-quality videos on their smartphones easier than ever before.
Not only that, but there is a lot of anticipation in terms of use cases other than smartphones, such as self-driving cars and remote medical care. In the initial stages, 5G stations will be operating in several areas of Japan but are expected to be deployed across the entire country within two years; this will fundamentally change our lives. By then the way we use our smartphones might change as well, but how exactly, that remains to be seen.
If you're looking to achieve success in Japan's advanced mobile market, then make sure you contact the Nativex team today. With a wide range of mobile marketing solutions available, our team can help global brands and advertisers reach their audiences in Japan and other key markets around the world.