Kuaishou is one of China's most popular short-form video video apps that you should know about. In this article, we'll dive deeper into the question "What is Kuaishou?" and explore how app marketers and brand specialists can make the most of the video platform.
We'll also give you a handful of stats, facts, and other ideas about Kuaishou, and why users return to the platform day after day. After all, Kuaishou has amassed a large and loyal user base to which brands should try to reach. With this guide, you can begin marketing on the platform almost instantly.
What is Kuaishou?
Kuaishou is a video app that has emerged as a popular alternative to Douyin. To date, the platform is the second largest video app in China with over 376 million daily active users (DAUs) that spend over two hours a day on the app, on average. At this scale, Kuaishou offers a massive audience that businesses can tap into.
Comparisons are often made between Douyin and Kuaishou. While they do have similarities — namely in their short-video-focused offering, Kuaishou has found popularity by centering around life-oriented, down-to-earth, not-so-aspirational content.
But beyond what Kuaishou provides to its users, the platform also offers compelling promotional opportunities for brands. Here are just three reasons why:
As a platform focused on e-commerce marketing, Kuaishou seamlessly integrates with major Chinese e-commerce giants such as Taobao, JD, and Tmall, resulting in an impressive 3x to 5x higher conversion rate compared to Douyin.
Kuaishou's engaged community is built on meaningful relationships. This enables small businesses to enjoy a broader reach and higher user engagement.
Brands can also leverage Kuaishou's live streaming feature to showcase and sell products in real time while engaging directly with their audience.
Who Uses Kuaishou?
According to Kuaishou's 2023 interim financial report, "average DAUs on the app were 376 million" and average monthly active users (MAUs), "were 673 million, representing a year-over-year increase of 8.3% and 14.8%, respectively." But that's size, who uses Kuaishou?
Many sources report a balanced gender ratio, with users roughly split 55% male and 45% female.
Kuaishou users tend to be aged 35 and under, with the majority falling in the 25-and-below age range, followed by the 26-35's.
Users have diverse occupations, including students, farmers, white-collar workers, entrepreneurs, content creators, and cultural professionals.
Because of this diverse mix, content tends to be straightforward, reflecting various levels of society. However, the platform became famous for focusing on portraying real rural life.
What Do Users Like About Kuaishou?
According to Octavia, an active Kuaishou user, "Kuaishou is a delightful pastime for users to unwind and relieve stress after work." While younger Kuaishou users are drawn to content that makes them cringe, older users "share content related to hobbies such as chess, calligraphy, and painting."
One user, Gude, says "I feel like I am able to see a bigger world" with Kuaishou. Another user, Xinzhong Liao, describes Kuaishou as having a richness of content "far beyond your imagination. You can simply look up a place's name and see the lifestyle of that place. There are all sorts of people in it."
On content, Kuaishou is well-known for its grounded feel. According to Iris, a frequent user of Kuaishou, "Kuaishou's content focuses on ordinary individuals, making the overall platform richer in content." This is further extended into the products sold on Kuaishou livestreaming, which are "very affordable, making it a preferred choice for shopping."
How Does Kuaishou Generate Revenue?
According to Kuaishou's financials for the period of H1 2023, the company made ¥53 B (RMB). The report states that "online marketing services and live streaming contributed 51.8% and 36.4%, respectively, to the total revenue. The other 11.8% came from other services."Kuaishou's business model revolves around providing a platform for content creators and consumers to engage in entertainment, learning, and social interactions. The app is a social platform based on short videos and live content. As such, the traffic it attracts is monetized from online marketing services, live streaming rewards, and e-commerce integration.
Online Marketing Services
Kuaishou's online marketing services include advertising services and "Kuaishou Fans Headlines". Advertising services help third-party ad agencies, brands, retailers, and other advertisers to reach target audiences and increase ROI.
Livestreaming
Kuaishou's livestreaming revenue mainly comes from selling virtual items. Users exchange virtual items using Kuaishou Coins and then reward these items to live streamers.
E-commerce Integration
Kuaishou combines short videos with e-commerce, using content to build user trust and facilitating transaction conversions through live streaming.
How Can Marketers Make the Most of Kuaishou?
Kuaishou offers a distinct offering of different direct advertising formats. One is "Kuaishou Fans Headlines," a product aimed at users who want to promote their videos on the platform. Fan Headlines are suitable for increasing video exposure, gaining more fans, and meeting promotion goals. Users who create Kuaishou videos and want to promote them can pay to activate promotion on the app through Fan Headlines.
For brands, there are many more options to take, from collaborating with influencers to organically marketing on a certified business account, or purchasing ad space.
Traditional Advertising on Kuaishou
Businesses can leverage paid advertising to boost their promotional efforts. This includes display ads, newsfeed ads, and discover ads, which can be transformed into short video clips and banners. These ads can direct traffic to desired destinations such as account profiles, e-commerce stores, or external websites.
Each advertising solution can be targeted to users based on their demographic, allowing for effective promotion. Here are a few examples of what that could look like:
In-feed video ads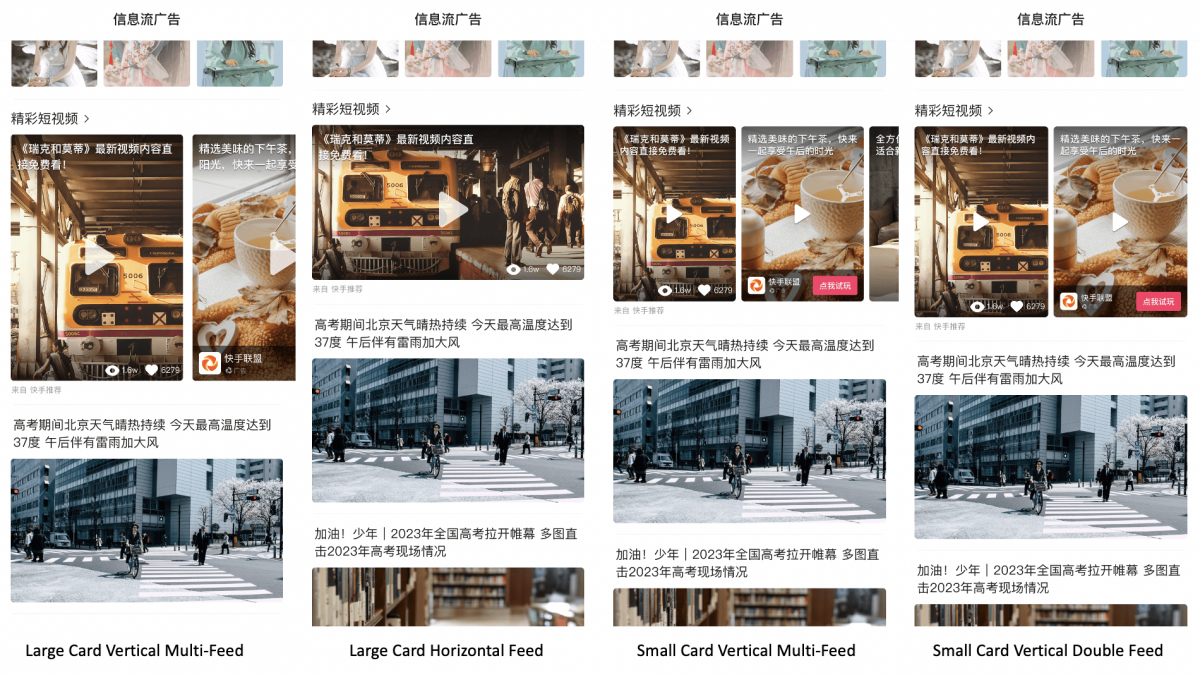 Splash screen Ads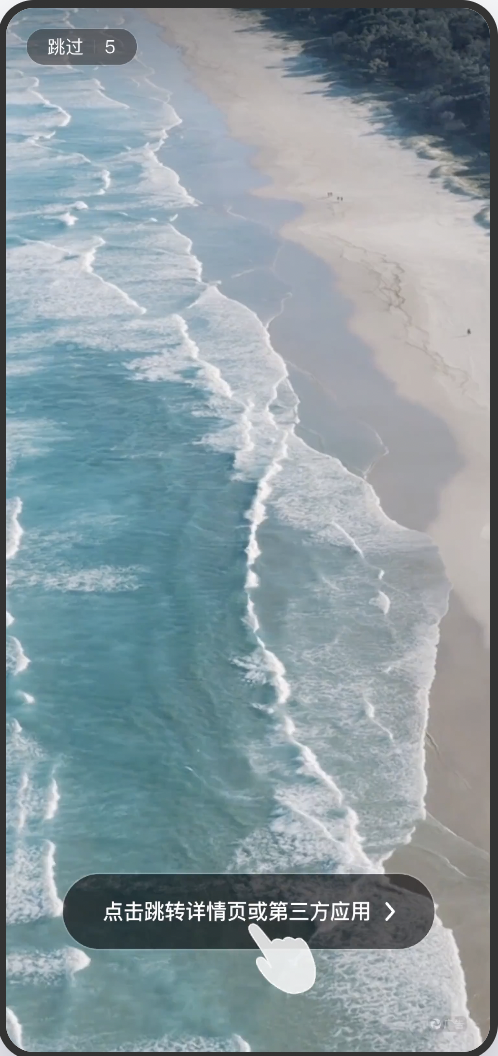 Full-Screen Video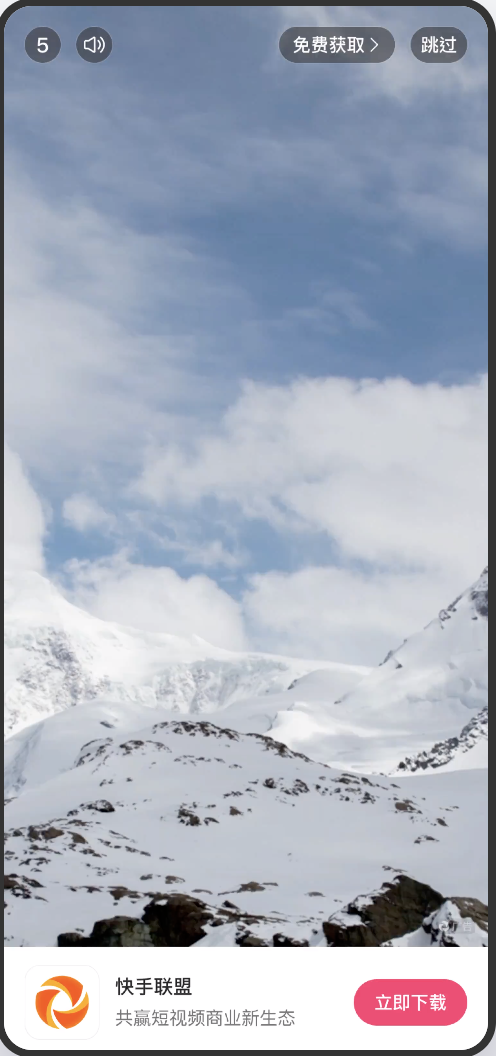 How to Create Appealing Content on Kuaishou?
Content is crucial to organic promotion on Kuaishou. There is no set answer for what kind of content Kuaishou users like to watch. However, content that resonates with people, creates contrast, and keeps innovative is popular and more appealing to an audience.
In addition to content, cover images and titles also have a significant impact on traffic. When creating cover images, consider including more video information and creating a greater visual impact. Ensure the main subject of the cover is complete and easily recognizable and choose the most dramatic frame from the video.
Titles need to be concise and interactive, and using contrasting font colors with the background can make them stand out even more.
Collaborating with Influencers and KOLs on Kuaishou
Star Magnet is Kuaishou's official influencer marketing platform. Star Magnet connects advertisers with Kuaishou key-opinion leaders (KOLs) and provides business services to meet marketing needs. Star Magnet allows marketers to view influencer-related data. It also provides information about Kuaishou influencers' short videos and livestreaming pricing, as well as recent influencer data and tag information.
To help marketers use the platform, Star Magnet offers two further products: Star Video and Star Live.
Star Video
Advertisers can choose influencers based on their promotion needs. After receiving a brief, influencers can customize short videos to help advertisers achieve their marketing goals. Star Video supports three marketing objectives: e-commerce promotion, app downloads, and brand promotion.
Star Video content covers both public and private domains. Private domains include the influencer's profile and users' follows, allowing for precise user engagement. Public domains cover Kuaishou's massive public domain traffic pools, including Discovery, Featured, and Topic pages.
Star Live
Star Live allows advertisers to choose influencers based on their promotion needs. After receiving a brief, influencers can livestreaming to help advertisers achieve goals such as live commerce, app downloads, and lead collection.
Star Live supports both dedicated and mixed live streaming. Dedicated live streaming means the influencer provides services exclusively for a single advertiser in their live stream, which includes dedicated live commerce or marketing promotions with links for this brand. Mixed live streaming allows an influencer to serve multiple brands within a single live stream, such as mixed live commerce.
Market on Kuaishou with Nativex
As one of the first agencies to become an official Business Marketing Partner with Kuaishou. This means that Nativex can help partners leverage Kuaishou's enormous user base to reach their marketing goals. With our support, we can generate the ROI you're looking for.
As Kuaishou continues to grow, new opportunities appear on the platform. And Kuaishou could hold the right audience for you. Reach out to us and get your first (or next) Kuaishou campaign flying with Nativex.
Want to learn more about the China marketing ecosystem? Take your pick from our guides on what is Bilibili, and what is Xiaohongshu? Keep your eye on the blog for more posts as they're released.