WeChat is the most-used app in the world. But how did it reach the top spot? And what makes it special? This super app requires a deep dive to get an answer to the question "What is WeChat?"
In this article, we'll explore why WeChat is an indispensable platform for marketers and users alike. We'll also give you a handful of tips, stats, and tricks about marketing on WeChat. After reading, you'll be able to pick up and market to an enormous WeChat audience effectively.
What is WeChat?
WeChat began as a simple messenger app back in 2010. But the app quickly gained vast popularity, and has since grown into what is known worldwide as the first "Super App" (practically speaking, the only one of its kind).
In fact, WeChat is a must for every Chinese citizen. The app allows users to make payments, message each other, arrange logistics, play games, and much more. That's why, as of June 2023, WeChat boasts an astounding 1.33 billion monthly active users (MAUs) — 135 million fewer than the entire population of China. Asking the question "who uses WeChat?" becomes practically redundant in the face of this huge user base.
WeChat is also responsible for Mini Programs — apps that run within the app. Whether it's booking a taxi, ordering coffee, scanning documents, or conducting surveys, the WeChat Mini Program provides a comprehensive array of services. Today, there are over one million Mini Programs available for WeChat, with dozens of successful businesses thriving off of the main app. Moreover, the Mini Program runs smoothly on both Android and iOS, reducing development costs and enhancing efficiency.
WeChat also boasts a mobile payment and digital wallet service, WeChat Pay, enabling users to transfer money, make payments, and even use public transportation. With its wide array of features, WeChat has cemented its place as a versatile and indispensable platform.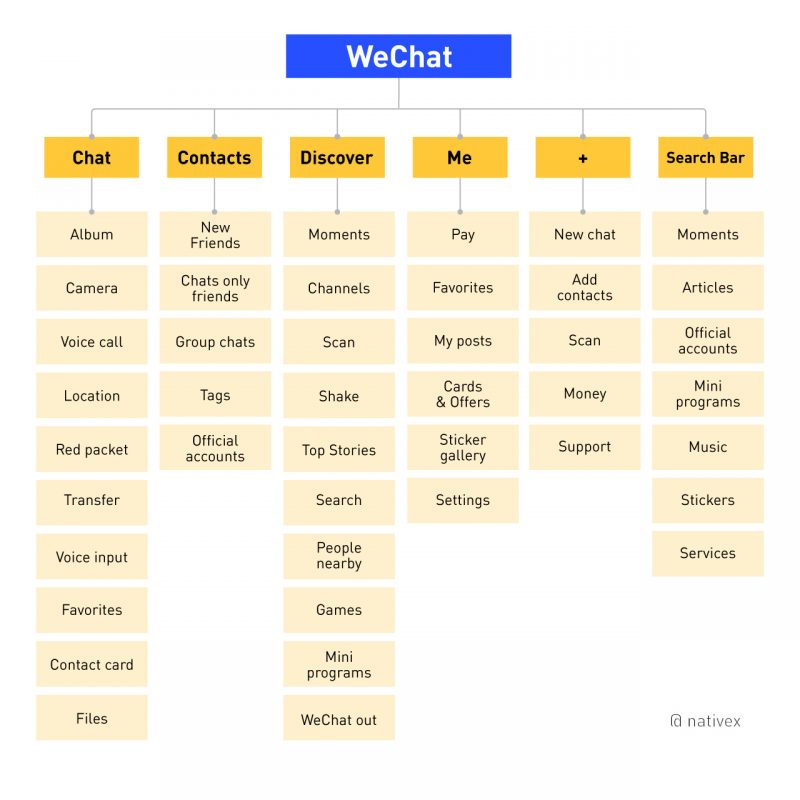 What Do Users Like About WeChat?
Users report various different reasons for coming back to WeChat day after day. The main sentiment is that it's necessary for life in China. For example, one user states "WeChat includes everything I need. I can pay with WeChat Pay, and can do almost everything with Mini Program, including retrieving vaccination records, doing a poll, and making morning coffee orders."Marketing professional Octavia highlights that "WeChat is deeply intertwined with the entire Chinese domestic market ecosystem, offering unparalleled daily convenience." Government agencies, educational institutions, healthcare facilities, financial institutions — virtually any service or brand you can think of — have established official accounts on WeChat.
These accounts not only update news regularly but also offer users a shortcut menu for functions such as making appointments, checking credit scores, and seeking answers to common queries. Even street vendors display their WeChat Pay QR codes at checkout counters.
Another user, Ruiyi Zhou says, "WeChat offers diverse functions. Its mobile portability aligns well with people's current communication needs."
WeChat's fundamental role is as a messaging app. In this category, the app excels. In addition to emojis, WeChat has a sticker library and also encourages users and artists to craft personalized memes as emojis or artwork, adding a playful touch to conversations among friends.
In addition to messaging, WeChat user Iris also mentions that, "WeChat is an incredibly potent real-time social networking app. I connect with my friends and family through WeChat." WeChat offers regular call and video call functions, making it easier for users to chat with their friends and family anywhere and anytime. While mobile phones offer similar features, they often come with additional charges, and using the integrated functions in WeChat is a quicker and more convenient way.
How Does WeChat Generate Revenue?
According to Tencent's most recent financial statement, WeChat, "revenues increased by 11% year-on-year to ¥149.2 B RMB for the second quarter of 2023." The app generates revenue in multiple ways:
50% of revenue is generated through "Value-added Services " (VAS).

17% is generated through online advertising.

32% is generated from FinTech and Business Services.
Nailing down every service would be a mammoth task, such is the scale of WeChat's revenue operations. But, to speak of ads, Tencent sees improving "demand for Video Accounts advertising" as central to their growing revenue streams. Let's look at how marketers should be taking advantage of WeChat's advertising platform.
How Can Marketers Make the Most of WeChat?
WeChat is a massive opportunity for marketers. But how can they make the most of this platform? In this section we'll cover the different advertising opportunities on WeChat brands can utilize to reach WeChat users. If you're thinking "what is WeChat, again?" scroll to the end for more information.
WeChat's Advertising Opportunities
WeChat offers a wealth of advertising opportunities for businesses looking to reach their target audience effectively. However, three primary types of advertising stand out: banner ads, moments ads, and Mini Program ads. Each is designed to engage users in impactful ways. Time to list those out:
WeChat Banner Ads
Banner ads strategically target users with a demonstrated interest in specific products or services. Similar to traditional website banner ads, WeChat banner ads appear at the bottom of articles, redirecting traffic to business accounts, external links, or store pages. With WeChat articles being a prominent source of information for users, the significance of banner ads within these articles continues to grow for brands and publishers.
The banner ads include four formats: in-article ads, footer ads, exchange ads, and Pre-roll video ads.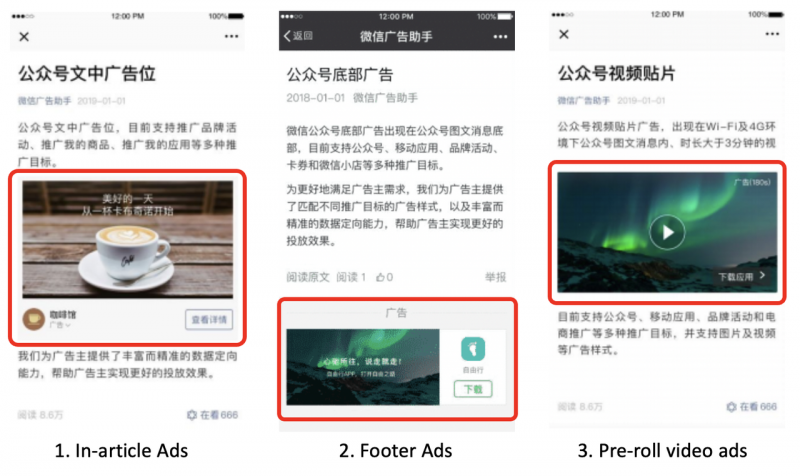 In-article Ads
In-article ads are displayed in the middle of the text content, just like native ads. WeChat's advertising system matches the most suitable advertisement to display to users based on the targeting of the ad creatives and the user profile of the reader.
Footer Ads
Footer ads are located at the bottom of an article.
Pre-Roll Video Ads
The pre-roll videos appear in WeChat articles and before the videos. They can have a duration of over 5 minutes.
Exchange Ads
This is a model in which advertisers and publishers mutually select and freely establish advertising collaborations through the WeChat Advertising Platform. The creative is presented at the end of an article.
WeChat Moments ads
WeChat Moments ads are a powerful tool that can capitalize on the frequency with which users check their Moments feed. These in-feed ads provide high exposure that drives traffic to official accounts, store pages, or external links. The typical format includes the brand's name and profile image, a concise description, a link to an HTML5 webpage, and up to six pictures or 15 seconds of video. In practice, this looks like the example below: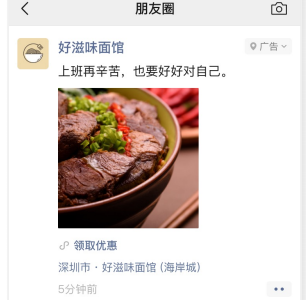 According to Octavia, the benefit of these ads is that "users can see their friends' engagement under a Moments ad. For example, if a celebrity is featured in the ad, I can see friends who are fans of him/her commenting on the ad." This type of unique engagement draws users in effectively.
WeChat Mini Program ads
WeChat Mini Program ads have rapidly gained popularity among Chinese brands and digital marketers. By leveraging the efficiency and user-friendly nature of Mini Programs, advertisers can deliver their messages directly to their target audience, capturing attention and driving engagement.
There are four types of ad placements, namely Banner Ads, Incentive Ads, Interstitial Ads, and Grid Ads.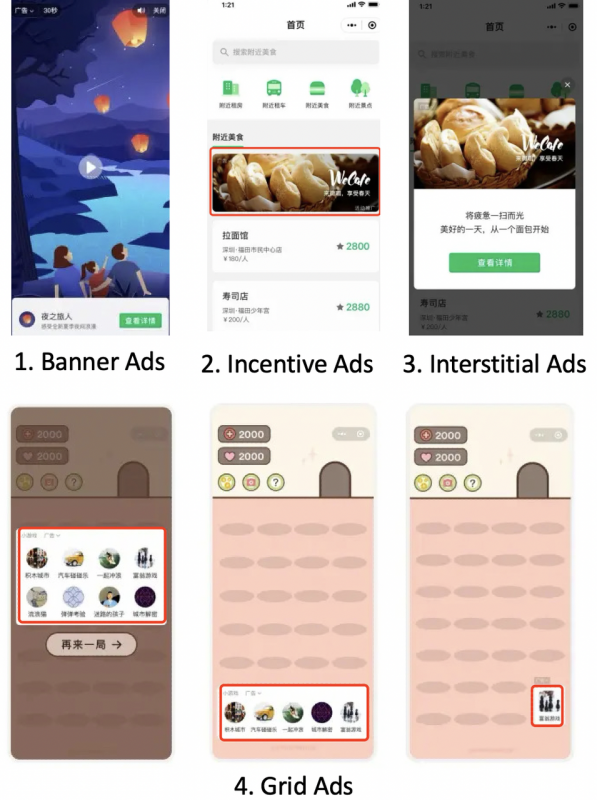 Banner ads appear on home pages, and the display position is determined by publishers.
These ads require users to complete video views or scroll through a page. Such ads grant rewards (i.e. extra life for a game, or points) to users after they close the ad page. There are two main formats: incentive video playback and incentive click-through.
The interstitial ad will automatically be displayed when users trigger it, and users can close the ad at any time.
This is currently supported only by WeChat Mini Games. The actual display position of the ad is determined by the publisher.
WeChat offers advertisers a massive array of options. But with all that choice comes challenges that sometimes need more guidance. Still stuck on "What is WeChat?" Well, Nativex can help.
Why Marketing on WeChat With Nativex Makes Sense
As WeChat maintains its status as an essential daily tool for millions of Chinese users, there are major opportunities for advertisers seeking to expose their brand in China. If you want to start marketing on WeChat, get in touch with Nativex. As a global ad agency for Tencent Marketing Solutions (the first of its kind) we know exactly how to make WeChat work for our customers.
By working with us, you get instant access to some exclusive benefits, including localized creatives and exclusive platform insights. With our support, you can reach the ROI you're looking for on WeChat.
Want to learn more about the China marketing ecosystem? Take your pick from our guides on what is Bilibili, what is Xiaohongshu, and what is Kuaishou. You can keep your eye on the blog for more updates as they happen.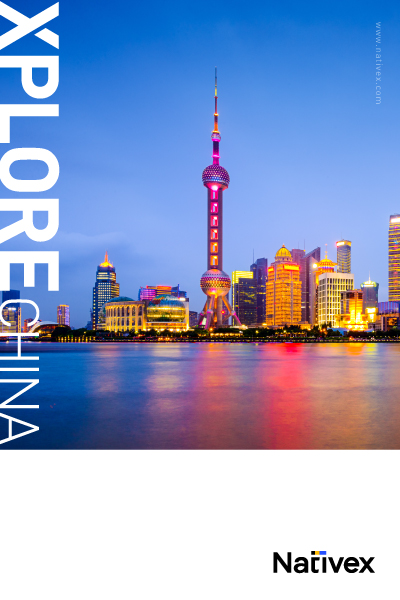 XploreChina is your one-stop mobile marketing solution designed to help you achieve success in the Chinese market.
From acquisition to monetization and creative services, we can help you at all lifecycle stages with a wide range of tools and solutions.
1
CONTACT US
⟶