What happens when you combine fast internet speed, early 5G adoption, and strong mobile spending power? You get one of the world's strongest mobile markets: South Korea. In our latest ebook called "APAC Market Spotlight: South Korea", we take an in-depth look at this incredibly lucrative region, its mobile commerce trends, as well as its top media platforms – spoiler alert: they're quite different from the Western mobile ecosystems.
South Korea, a truly mobile-first country
As the first country in the world to implement commercial 5G, South Korea has always been ahead of the curve when it comes to tech. Add to that a smartphone ownership of more than 90% and it's easy to understand why South Korea is a mobile-first country in the truest sense of the word and why global advertisers consider the country a prime destination for their growth strategies.
Another thing that makes South Korea an incredibly lucrative destination for global advertisers is the fact that its capital Seoul is a real technology hub. As we previously mentioned in our article about the mobile landscape in South Korea, Seoul houses at least 70% of the biggest companies in the country. Imagine just how easy it then becomes for global advertisers to launch and grow when everything they need to do business is basically located in one city and its surrounding areas.
Let's take a quick look at some market stats:

Source: "APAC Market Spotlight: South Korea" ebook
More than just Android and iOS
While in most regions you'd see the eternal iOS vs Android battle, South Korea has a third player in this race for mobile supremacy: say hello to the One Store. As a native Android-based app store created by Korean telecom giants SKT, KT, LGU+, and Naver, One Store is a relatively recent addition to South Korea's mobile ecosystem but with almost 20% of the country's mobile market share.
With Google Play being the major platform in South Korea, the One Store represents a decent alternative for Android-based app stores, both for users and advertisers. This new store is basically the answer to Google's in-app payment fee policy and it's looking to grow quite a bit in the near future.
Source: "APAC Market Spotlight: South Korea" ebook
Mobile commerce is massive in South Korea
The COVID-19 pandemic has had an incredible impact on global e-commerce trends, with mobile commerce gaining the most in the last year as the world's population shifted their online spending habits towards their smartphones. This trend is particularly noticeable in South Korea, where you have a combination of tech-savvy mobile users and strong spending power.
Mobile shopping is extremely common in South Korea, with 89% of males and 95% of females actively participating. The country's biggest mobile shoppers are represented by the 20 to 50 year-olds, making Millenials and Gen Z the best target audiences for global advertisers looking to find success in South Korea.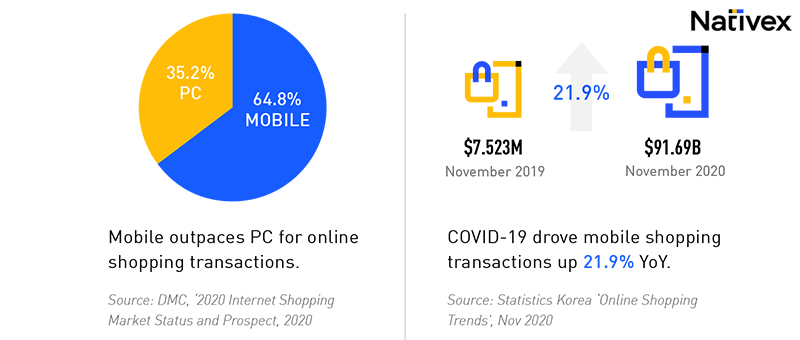 Source: "APAC Market Spotlight: South Korea" ebook
What else is in this ebook?
Our ebook covers a lot of information that should help any advertiser reach their target audience in South Korea, including:
An in-depth look at South Korea's social media landscape

The impact that COVID-19 had on South Korean users' mobile habits

Key mobile trends in South Korea and the growth of mobile commerce in the market

South Korea's top media platforms how to leverage the country's tech giants
If you're interested in achieving tangible ROI in South Korea, then make sure you download your free copy of our ebook today!
Free Ebook: APAC Market Spotlight: South Korea
Looking for more free ebooks? Then make sure to check the Nativex Ebooks section for more in-depth, quality content designed to help your marketing strategies generate visible returns.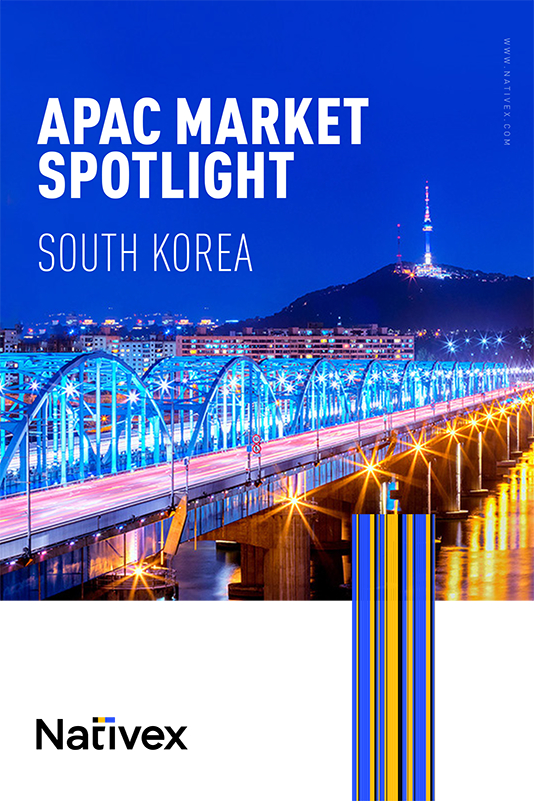 Looking to boost your marketing ROI in South Korea? Download our fre ebook to learn more about Korean market trends, its user profiles, and how to run successful campaigns in this region.
1
DOWNLOAD EBOOK
⟶