What is Douyin? Well, it's by far China's largest video platform, making it one of the most popular apps in the world. With Douyin, ByteDance, the company behind the app, has created a platform where creativity, fun, and marketing mix together for a more fun approach to video content.
As of today, the app is home to over one billion users. With such a vast audience, brands must consider Douyin the best place to turn for their first marketing campaigns in China. Douyin's advertising options allow brands to share great content instantly without needing to build a following. Douyin also gives brands a deep e-commerce toolset that improves product exposure for those looking to grow in China.
If you want to advertise on Douyin, don't get stuck at the sign-up page. Use this Nativex guide to get the lowdown on Douyin and find out how to get the most out of this extremely popular video app.
What is Douyin?
Douyin is a video app known for its short, fun, and imitatable content. Users love Douyin because they don't need to search for content — it comes to them. The app tracks whether a user watches each video in full or if it's skipped after a few seconds. Every input is a data point: the next video that appears in a user's feed is shown based on that user's prior actions.
Though most people use the app to watch videos for entertainment, many users have also discovered how simple it is to make and share videos. To help them create content, Douyin produces new tools for creators to experiment with, including filters, audio samples, and more. Video is also used in a social way: users can engage with other users with "response" videos or by creating "duets."
For brands, Douyin offers the opportunity to reach a massive audience in a variety of ways.
Brands can harness the full range of Douyin features to reach their potential customers effectively. Given Douyin's status as the leading content platform in Chinese social media, it's a primary source of daily information for many. Brands can leverage diverse ad formats, such as takeovers or in-feed ads, to enhance awareness.

By collaborating with influencers, brands can further solidify consideration among potential customers, while features like live-streaming and shop functionalities aid in conversions. This closed-loop approach boosts efficiency and offers easy tracking and optimization opportunities.

Yikai Li, General Manager, Nativex
Who Uses Douyin?
Let's break down some popular stats about Douyin:
Douyin is popular with pretty much everyone, but Gen Z is its largest user demographic. According to Statista, one in every three Douyin users is under 26 years old.
Although Douyin began with more female users, it now has a balanced gender distribution.
Most Douyin users live in cities.
User interests include fashion, beauty, and "keeping it real."
Given the youthful nature of Douyin, income levels are relatively lower. That said, users still love to shop on the platform.
29% of Douyin users users are early adopters of new products. They are receptive to trying new things.
51% of Douyin users don't mind advertising if it means they receive good content in return.
Douyin has amassed over 750 million DAUs.
Users average a daily usage time of 1.89 hours per day.
D7 retention rate amounted to 84% as of March 2020.
What Do Users Like About Douyin?
Each user has their own reason behind using Douyin day after day. But one easily identifiable trend for Douyin's popularity is just how entertaining the app is. One user states, "I started using Douyin out of boredom, but gradually, I discovered many fun videos on it. Sometimes, when I'm feeling down, I'll scroll through Douyin and come across some amusing videos that instantly lighten my mood."
Others, such as xxd1994, suggest that "Douyin allows me to use my fragmented time without feeling idle, and some of the short videos are genuinely entertaining." Users also find that Douyin puts them in touch with limitless possibilities. Another user says that, "For some people, I think Douyin indeed serves as a means to broaden their horizons. My family members use it to watch dance videos, learn financial tips, explore book recommendations."
What Is the Difference Between TikTok and Douyin?
Though comparisons are rife, TikTok and Douyin are distinct entities. They do not operate under the same structures and data ecosystems.
They also have significant differences in how each app caters to the tastes of the markets in which they operate. Douyin has a refined algorithm that targets the Chinese consumer, just like TikTok does in global markets.
Regarding features, Douyin has several tools that you won't find anywhere else. Let's dive in to see the differences between TikTok and Douyin.
What's Special About Douyin?
Content designed to provide useful information. Lifestyle tips and skill-based content: cooking tutorials, dance routines, makeup transformations, etc
The in-app store enables seamless social commerce. Users can purchase products with just a few clicks without leaving the app. With this, short videos, livestreaming, KOL marketing, and in-app purchases often coincide and work well together.
KOLs on Douyin usually feature products on their "product recommendation" page and links to the Tmall or in-app Douyin store on their profile.
Advanced facial recognition technology allows quick video discovery based on faces/expressions.
Livestreaming is hugely popular, driving engagement and sales through influencer partnerships and instant in-app purchasing.
Algorithms favor large, established accounts, giving brands an advantage in reaching mass audiences.
Demographics skew slightly older than TikTok, with a more diverse mix of educational and practical lifestyle content.
Mini-programs and flagship stores allow for integrated e-commerce functionalities far beyond TikTok's capabilities.
What Makes TikTok Different?
Art-based content, where creators use editing tools and filters to produce stunning visuals with high production value
Livestreaming is TikTok's hidden feature that isn't used as popularly as on Douyin. Users of TikTok lean more towards interacting with their followers rather than promoting objects through TikTok livestream videos.
The influencers of TikTok have no access to the "product recommendation" feature. They can only mention the sponsored products in their bio with an attached link.
Caters to young Gen Z users mostly interested in entertainment, arts, and music content
Users cannot shop in-app and rely on linking to external sites for e-commerce
Features self-narrated videos with high production value and creative editing
Influencer collaborations rely on mentions in captions and bios rather than in-app stores
More limited in terms of advanced e-commerce functions compared to Douyin's robust features
Features like Duets and Stitch encourage community collaboration and user-generated content
Lower time spent on the app per day compared to Chinese users' heavy engagement on Douyin
How Does Douyin Generate Revenue?
We've answered the question: "What is Douyin?" Now, the more important question is: "How does the app generate revenue?" Let's explore five methods of revenue generation behind the success of Douyin.
Advertising
With immense traffic comes the ability to monetize through advertising. As such, it's no surprise that Douyin generates 80% of its revenue from ads. We go into more detail on what those ads look like later in this article, but as of today, most brands will have a presence in some capacity advertising on Douyin.
Brand Partnerships
Douyin engages in advertising partnerships, primarily through TopView ads and Brand Takeovers. Here's one example from Pepsi:
E-commerce
Douyin's comprehensive e-commerce platform enables users to buy products featured in videos without leaving the app. This integration benefits brands by offering direct sales and personalized marketing through Douyin's algorithm, and Douyin profits from these brand partnerships.
Some businesses also conduct sales over live streams by embedding links in live broadcasts. This makes it easy for viewers to convert to purchasers.
Livestreaming
Livestreaming on Douyin is a real-time video broadcast where users can engage with content creators, watch live performances, and interact through comments and virtual gifts, creating an interactive and immersive viewing experience within the Douyin app.
Livestreaming also generates revenue without the e-commerce component. Douyin takes a portion of revenue from virtual gifts, subscriptions, and "Douyin Coins" sent by viewers to their favorite creators.
Other Revenue Streams
Douyin also supports a highly competitive 'local service business' which, according to the South China Morning Post, "reached a gross merchandise volume (GMV) of over 100 billion yuan (US$13.9 billion) in the first half" of 2023.
How Can Marketers Make The Most of Douyin?
With the question "What is Douyin?" behind us, let's look at how marketers can really leverage the app to reach an audience, make a splash, and generate conversions. There are a handful of ways to make the most of Douyin to effectively market in China, including building a content brand, direct advertising, and influencer marketing.
Along the way, our Nativexperts share their insights on how to maximize returns with intelligent strategies and tactics.
Branded Content
With its extensive user base, Douyin presents a credible opportunity for companies looking to boost brand awareness.
However, a winning Douyin marketing strategy revolves around creating captivating and relatable content that elicits emotions, whether it's joy, surprise, or even curiosity. This is difficult to do. But it is a necessary part of marketing in Douyin. Marketers need to know how to leverage Douyin's algorithm. If this is done well, you amplify your reach, ensure higher visibility, and increase the likelihood of growing your brand.
"Content is king" is a popular saying on Douyin. Identify relevant audiences interested in specific content and target those that best match your brand. Curate your content to cater to the tastes of your audience. While sometimes content can go viral, it often has a short lifetime value.

Jennifer Zhang, Senior Client Growth Manager, Nativex
To harness the algorithm, you need to understand that it is primarily based on completion rate, likes, comments, followers, and shares (in order of importance). We recommend keeping the video duration to about 10 seconds, with 7 seconds being ideal, to enable users to quickly watch your video and increase the completion rate of your content.
Account positioning is crucial. This will guide the type of content you publish. Meanwhile, consistency of both what you produce and when you produce will help your followers stay focused, whereas posting random videos can lead to a disorganized account with a diverse range of followers. A focused follower base not only enhances the effectiveness of your content but also creates better opportunities for monetization in the future.
Douyin revolves around short, captivating videos. Utilizing trending music or soundtracks is an excellent way to craft visually engaging and creative content that immediately grabs the users' attention within the first few seconds. Additionally, integrating popular trends, challenges, and hashtags can significantly boost your content's discoverability on the Douyin platform. Collaborating with Douyin influencers who resonate with your brand's values and target audience can further amplify the promotion of your products or services to a broader and more engaged audience.

Jamie Zhang, Director, Client Growth, Nativex
Direct Advertising
There are a variety of advertising formats on Douyin, including TopView Ads, In-feed Ads, Native Ads, and more. Let's cover each in detail.
1. TopView Ads / Brand Takeover
TopView Ads is an unmissable ad, delivering a high-impact, full-screen video that introduces your brand when users open the app. Although it does not support any form of targeting, it offers extensive reach to help boost your brand exposure. Images, GIFs, interactive, or videos up to 60 seconds are supported, and users can tap on an interactive element to access HTML5 content, in-app pages, or deep links associated with your brand.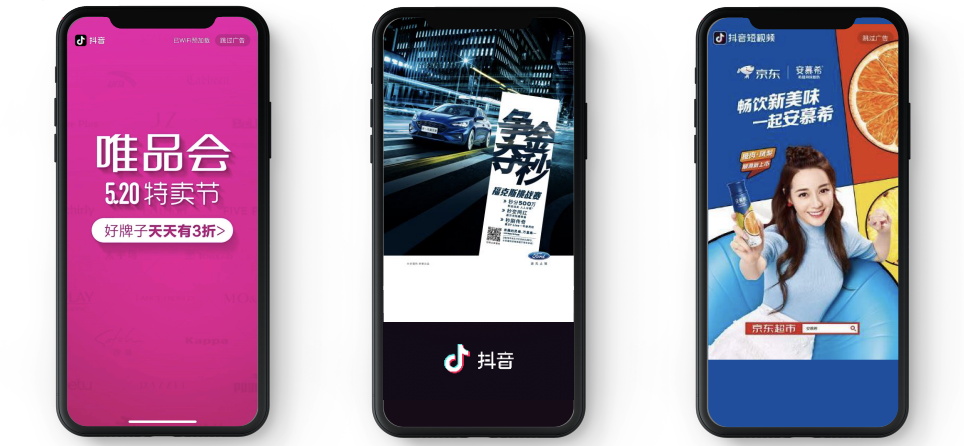 2. In-Feed Ads
In-feed ads are the most common format in Douyin. They are integrated into the "For You" feed, appearing as users scroll through. It includes multiple CTA functionality, which identifies it as an advertisement and can redirect users to a landing page, app download page, and more. This format also offers targeting capabilities, allowing you to optimize engagement and click-throughs. Users can like, comment, share, and follow.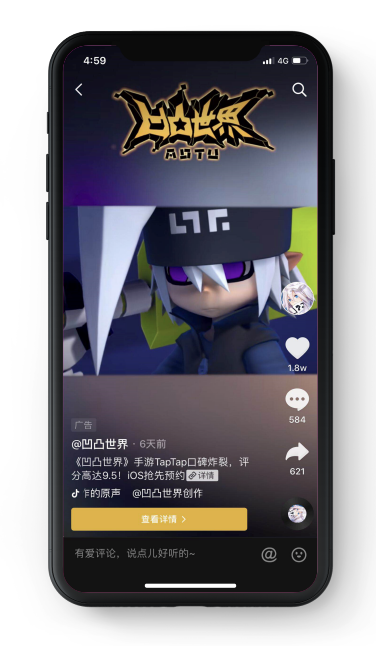 3. Native Ads
Like In-Feed Ads, Native Ads appear as users scroll through their feeds. However, this format is integrated seamlessly into the viewer's "For You" feed, making it look like any other video on the platform. This makes the format seem more authentic and can help brands grow organically, as Native Ads combine paid traffic with organic traffic.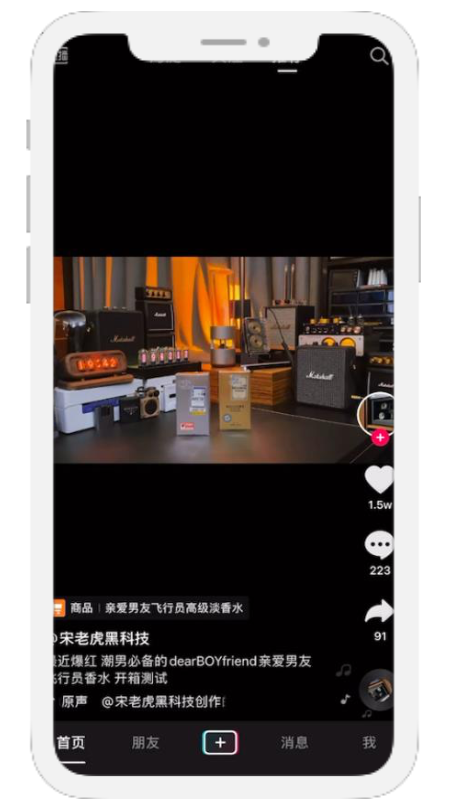 4. Search Ads
Search on Douyin in a growing trend in China. These ads only appear when users search related keywords, allowing brands to be seen through keywords related to their business. Search ads can be displayed in a combination of videos and images to boost effectiveness. While it can be a bit more expensive compared to other formats, these tend to attract higher-quality traffic.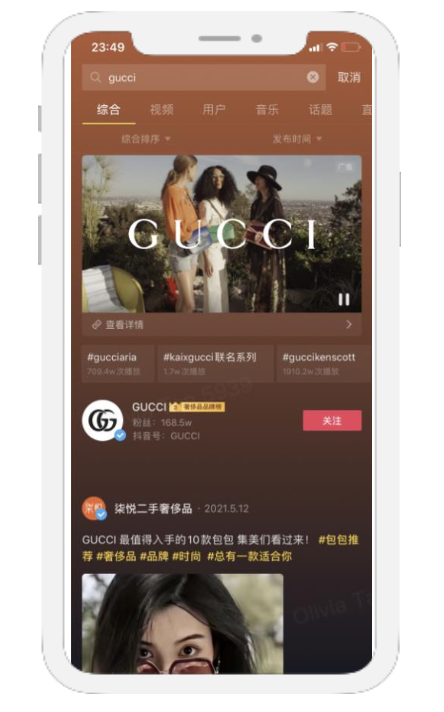 5. Livestream Ads
Whether boosting awareness, driving engagement, enhancing conversions, or more, livestream ads allow brands to get creative with their content. Livestream ads on Douyin are offered in 3 different ways:
TopLive

Similarly to TopView Ads, TopLive ads direct users to a livestream upon launching the app.

FeedsLive

Similarly to In-Feed Ads, FeedsLive appears in users' feeds in the form of a preview of the livestream.

VideoLive

VideoLives utilizes in-feed video ads that direct users to livestream ads.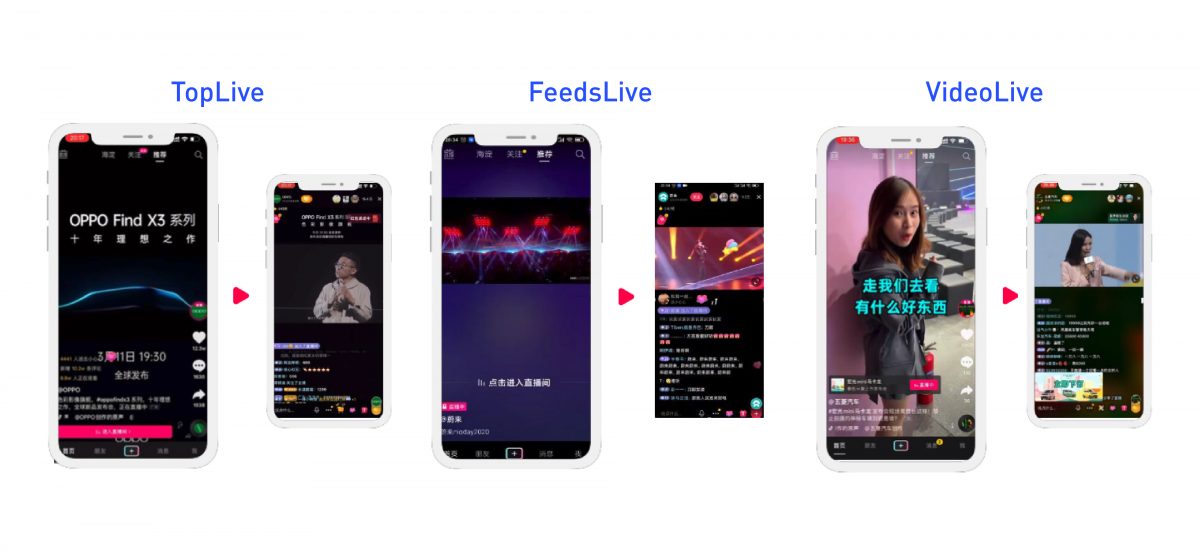 Why You Should Livestream:
– Brands now prioritize livestreaming for sales, surpassing the importance of organic content. Livestreams serve a dual purpose: they provide content for your business account and enable immediate ROI through product sales.
– Influencer marketing remains crucial, and collaborations with influencers' livestreams to boost sales continue to be effective.

Yikai Li, General Manager, Nativex
6. Branded Hashtag
These ad formats are focused on promoting apps, games, and brands by encouraging user-generated content and are particularly effective for community building. It has the potential for mass exposure and turns your audience into brand ambassadors. Depending on the product or service you are selling, this type of ad might be more or less effective.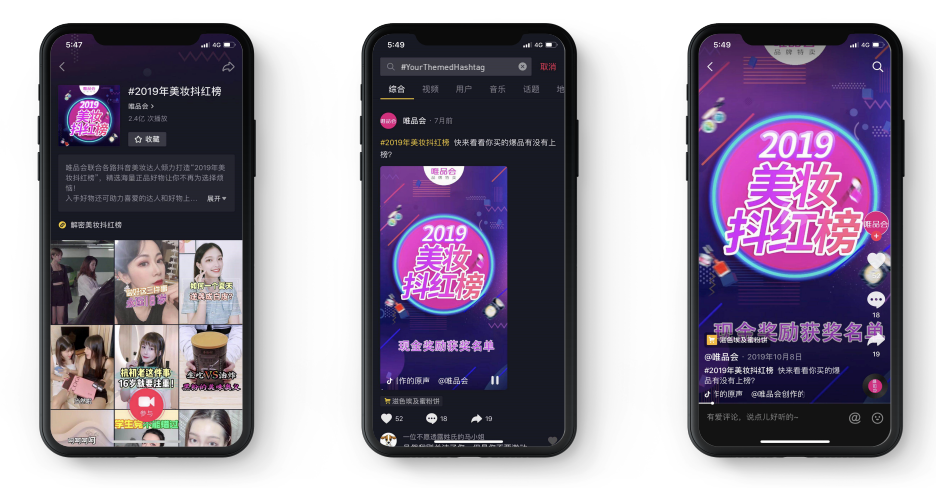 7. More Variations
We've covered several key ad formats, but there are still many more to explore. In addition to these formats, a wide range of supplementary features can enhance your engagement, boost conversions, incorporate branded effects, and more. You have plenty of options to tailor your campaign to align with your specific requirements perfectly: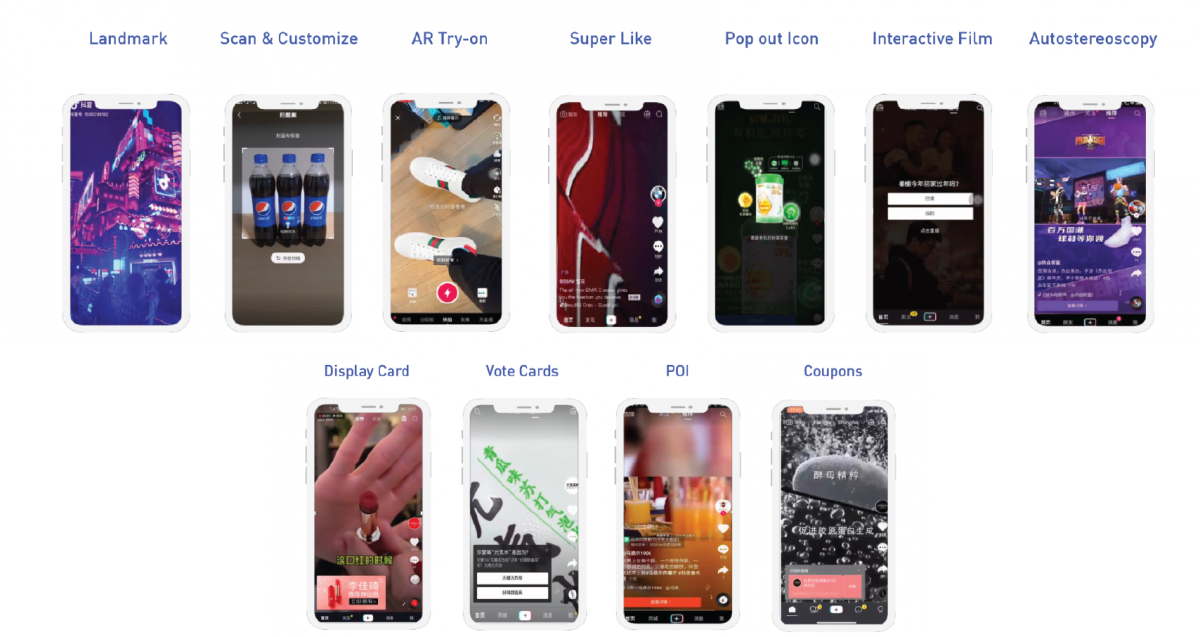 Direct Advertising Tips:
– Investing in Douyin's paid ads not only allows you to reach a broad audience but also lays the foundation for monetization, which can be further leveraged for diverse advertising and marketing solutions across the platform.
– Leverage advanced targeting tools to precisely tailor your audience segments, capitalizing on Douyin's distinctive user demographics for more effective and relevant content delivery.
– Treat Douyin as an irreproducible platform, recognizing that its unique ecosystem and user behavior require tailored content and strategies that can not be directly replicated from other social media platforms.

Jennifer Zhang, Senior Client Growth Manager, Nativex
Influencer Marketing
With so many ad formats to choose from, creating an effective advertising campaign can feel overwhelming. TopView ads, In-Feed ads, Native ads, etc. – each has its own best practices and key performance indicators.
Even more distinct is influencer marketing. Influencers, more commonly known as key opinion leaders (KOLs) in China, are considered one of the best ways to market in China.
To begin working with influencers, you need to create an account on Douyin's influencer marketing platform, "Juliang Xingtu" (巨量星图). After you are set up, you can begin to identify influencers based on your product's selling points. The platform can assist you with that, as can Nativex.
Douyin is an entertainment-focused platform. Capturing users' attention with concise and appealing selling points is vital. In fact, your ad needs to address five criteria to succeed:
Address demand.
They are easy to understand.
Require low levels of decision-making.
Offer direct benefits.
Be short and be fun!
Beyond the brief, running an influencer campaign requires real insight into your users.
Here's how we used our influencer marketing expertise to execute an integrated KOL marketing strategy on Douyin for Facetune2:
– Carefully selected top influencers that fit Facetune2's brand.
– Produced high-quality ad creatives with the KOLs highlighting the app's features and ran in-feed ads.
– Provided full influencer management and campaign support.

This strategic approach allowed Facetune2 to:

– Achieve 12M+ views and 580K video likes.
– Become a top 10 photo & video app and one of the 50 most downloaded apps in the country.
– Improve conversion rates 3X and reduce CPIs by 30%

By leveraging our knowledge of China and influencer marketing solutions, we were able to drive impressive performance for Facetune2's launch.
E-commerce Opportunities
Douyin also integrates e-commerce features into the platform. Brands can establish business accounts on the app and link their online stores or create dedicated flagship stores on Douyin.
Either way, using Douyin's e-commerce features enhances exposure and drives conversions. As such, the popularity of such e-commerce strategies is rising. An increasing number of brands are embracing them to tap into Douyin's vast potential for growth and success, such as in this case study below for "The Lipstick King."
A Japanese skincare brand aimed to promote a special product line in China, available in convenience stores. They sought to build brand awareness, emphasizing high-quality yet affordable products. Here are the strategies we used:
– KOL Partnership: Collaborated with Li Jiaqi, "The Lipstick King," China's top beauty streamer.
– Unboxing Live Stream: Utilized the 618 Shopping Festival for a 5-hour unboxing session on Taobao.
– Product Showcase: Li Jiaqi highlighted the product and discussed features, exceeding the average showcase duration.
– Short Video Marketing: Promoted product features during the Dragon Boat Festival, driving engagement to the brand's Weibo page.
– Multi-Platform Coverage: Extended product exposure through multiple platforms, including Douyin.

This resulted in:

– Li Jiaqi's partnership generated 20 million views and 120,000 engagements.
– Substantial sales boost, achieving the brand's objectives.

This Douyin e-commerce campaign effectively increased product visibility, reputation, and sales in China.
What is Douyin? It's The Foundation of Your Next Campaign With Nativex
As an official Douyin agency partner, Nativex understands the platform inside and out. Our expertise lies in leveraging Douyin to effectively engage Chinese audiences, often requiring a different creative approach to those in the West.
We can develop and execute innovative Douyin campaigns that align with your branding and target key demographics. This includes conducting market research to identify your ideal audiences and their preferences, creating culturally relevant content, managing influencer partnerships, optimizing hashtag targeting, and analyzing performance data.
Our creative team, TopWorks, specializes in adapting branding elements and campaign concepts to be visually appealing and meaningful for Chinese consumers. We also provide consulting on things like tone of voice and messaging that will resonate locally.
Whether your goal is to increase brand awareness, acquire new users, or drive product sales, we have the Douyin expertise and marketing tools to meet your needs in China. Our data-driven approach means we're constantly refining strategies and creatives based on results. Get in touch to learn more.
Want to learn more about different social media app marketing in China? Look no further than our series of posts, including What is Bilibili?, What is Xiaohongshu?, What is Kuaishou?, What is WeChat?, and What is Weibo? Keep an eye on the blog for new content as it's released.
Ready To Grow Your App In China?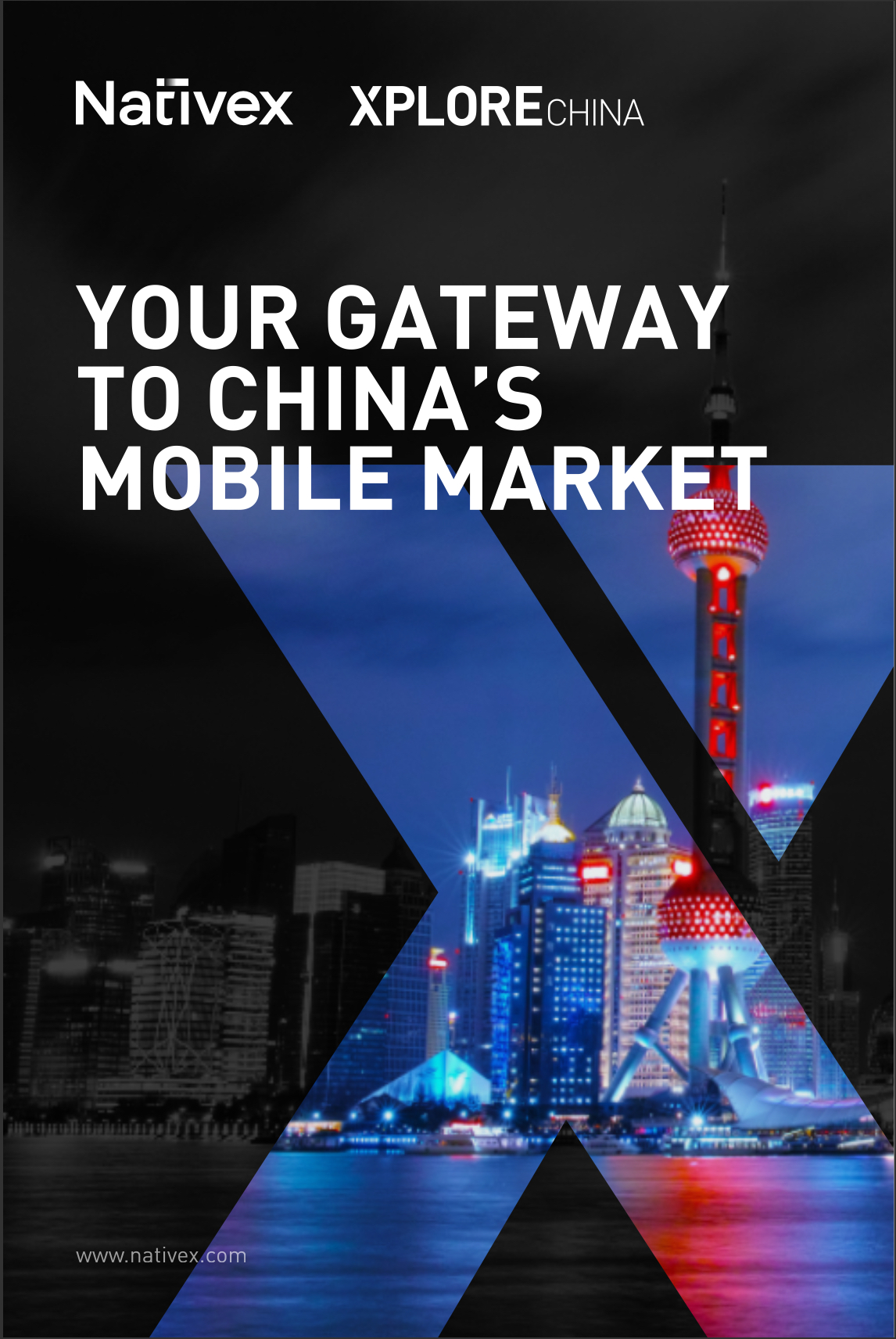 China is home to the largest mobile market in the world. In this eBook, we take a look at how Nativex can help you bridge the cap and successfully run your advertising campaigns in the region. Learn more about our media buying solutions, our influencer marketing expertise, creative production, and more.

DOWNLOAD HERE
⟶
About Nativex
As a leading player in global digital marketing, Nativex maintains close partnerships with global media platforms. These collaborations span top media platforms such as Google, Meta, TikTok for Business, and Apple Search Ads, as well as emerging traffic platforms like Weibo, Petal Ads, Kwai for Business, and mid-to-long-tail media featuring CPI, CPE, and CPM models. Contact the Nativex team today to start your journey to success!