Brazil stands out as an exciting frontier in the constantly evolving realm of global digital marketing. With its status as the largest economy and a population powerhouse in South America, the Brazilian market brims with immense potential, drawing the attention of countless brands and developers in search of fresh opportunities and expansion. In this highly competitive landscape, Kwai emerges as a formidable marketing solution, presenting limitless prospects for those looking to tap into the Brazilian market.
The Brazilian Market: A Thriving Landscape for Growth
At the beginning of 2023, Brazil boasted a total population of 215.8 million, with a striking 87.7% residing in urban areas. This rapid urbanization has given rise to a substantial consumer demographic, with over half falling into the high/middle-income bracket. The convergence of a sizable consumer base, swift urbanization, a rich tapestry of social cultures, and a flourishing trade economy has firmly established Brazil as an enticing market for marketers eager to broaden their business horizons.
Internet Ecosystem: Social and Livestreaming
Brazil is the leading internet market in South America, with over 181.8 million users and an impressive internet penetration rate of 84.3%. Furthermore, as the world's fifth-largest mobile phone market, it is anticipated that smartphone usage will surge to reach a remarkable 90% by 2025.
Brazilian internet users exhibit remarkable social media savvy, dedicating nearly 4 hours daily to various social media platforms and engaging with over eight platforms monthly. Of notable mention, Kwai captures a substantial portion, accounting for one-fourth of their daily social media usage time.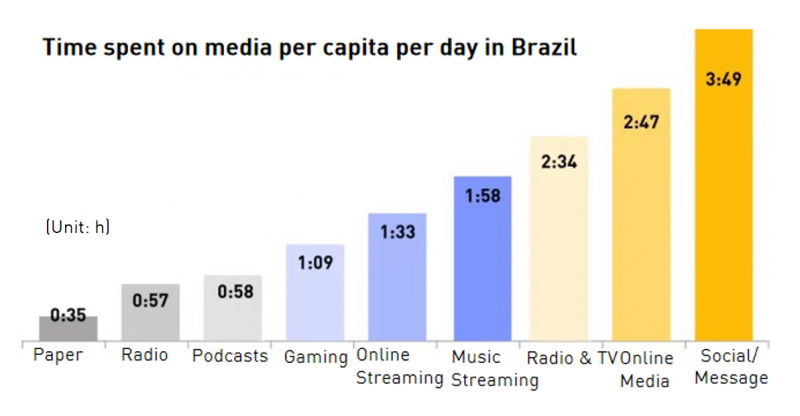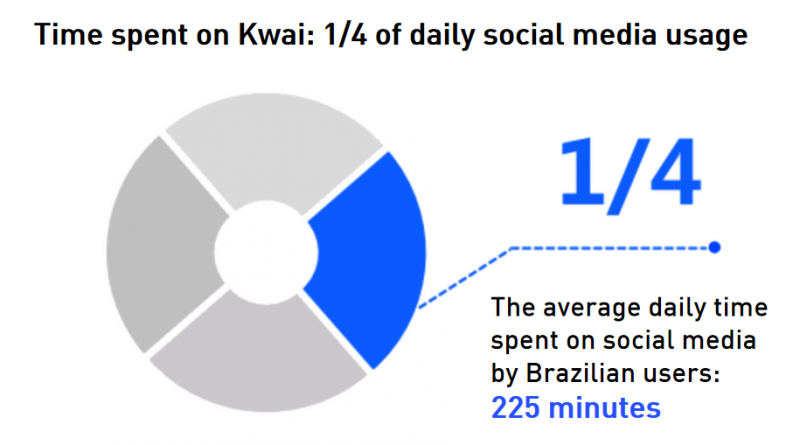 Source: Deloitte Digital Media Trends 2022 ; Data.ai State of Mobile Report 2022 ; GWI Brazil 2022 ; Newzoo Brazil Digital Report 2022 ; eMarketer Latin America Social Network Users 2022;Statistics 2022
A young digital population makes Brazilian users receptive to new content forms such as live streaming. As a result, the number of hours spent on live streams in Brazil has soared, with a growth rate of 34%. That's 1.5x the global average.
It is also worth highlighting that Android still dominates in Brazil, claiming an 86% market share, whereas iOS only accounts for 14%. This shows why Brazil developers should prioritize their services' Android compatibility.
Source: Deloitte Digital Media Trends 2022; Datareportal Brazil Report 2022
Based on statistics from the Kwai for Business platform, Brazilian users show a preference for consuming entertaining, popular, and vlog-related content.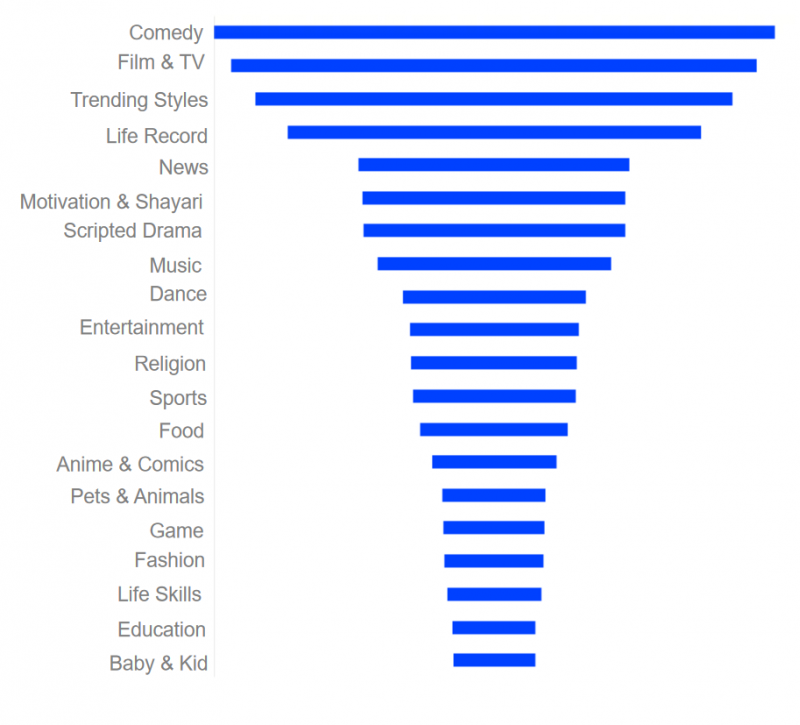 Popular Apps: Games, Social Networking, eCommerce
Games
Brazil's gaming landscape is a force to be reckoned with, boasting 94.7 million gamers and annual sales totaling an impressive $2.3 billion. This solidifies its position as a pivotal player in the global gaming market, currently ranking as the tenth-largest worldwide and unrivaled in Latin America. Notably, mobile games reign supreme in Brazil's gaming arena and are poised for continuous growth in the foreseeable future. Of particular interest, gambling and board games have established a legitimate presence in the Brazilian market.
The Brazilian gaming community stands out for its youthfulness and a slight female majority, with nearly 60% of users between the ages of 18 and 34 and 52% female. Regarding game genres, according to Mobvista's "2023 H1 Chinese Mobile Games Go Global White Paper," the distribution of top-revenue mobile game categories in Brazil during the first half of 2023 unfolds as follows:
Match games have the largest share, accounting for approximately 20% of the market. Popular games like "Candy Crush Saga," "Gardenscapes," "Royal Match," and "Fishdom" have gained significant traction in Brazil.

Simulation games come next, comprising around 16% of the market. Games like "Roblox," "Township," and "Hay Day" have garnered considerable popularity among Brazilian players.

Additionally, there is a significant inclination to invest in other game genres, such as shooting, strategy, sports, and action in Brazil.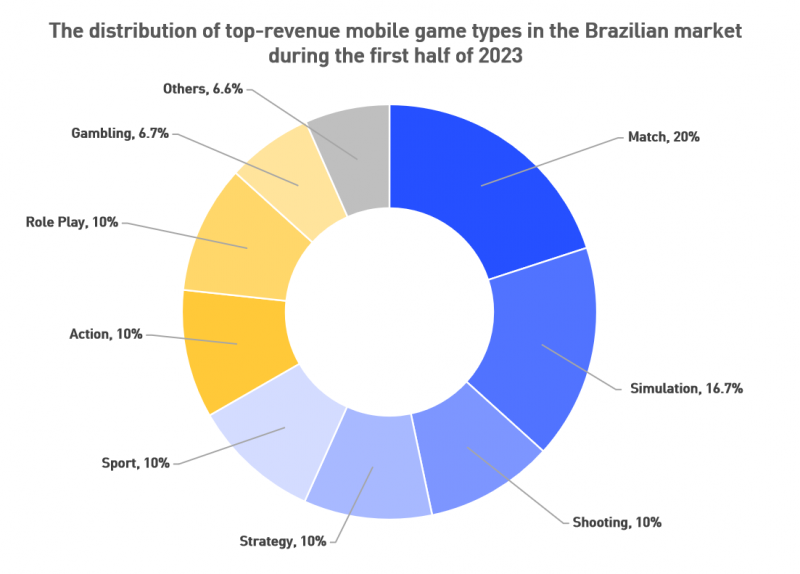 Source: Sensor Tower
While the sheer volume of game downloads in Brazil might be impressive, it's worth noting that the willingness of its users to pay for games is relatively low. Statista suggests that in 2021, 45.4% of local mobile game users in Brazil were "zero pay" users, and its overall ARPU was also well below the world average. This trend can largely be attributed to the complexity of payment systems in the country. Nevertheless, payment in Brazil is gradually becoming digital and more user-friendly, which is bound to bring new opportunities for potential growth in its gaming market.
Social Networking
Beyond the realm of mobile gaming, messaging and video apps have garnered significant traction in Brazil, surpassing a remarkable 900 million downloads in 2022. These are closely followed by fintech, entertainment, and photography apps in terms of popularity. Interestingly, on the iOS platform, photography apps claim the second most downloaded category.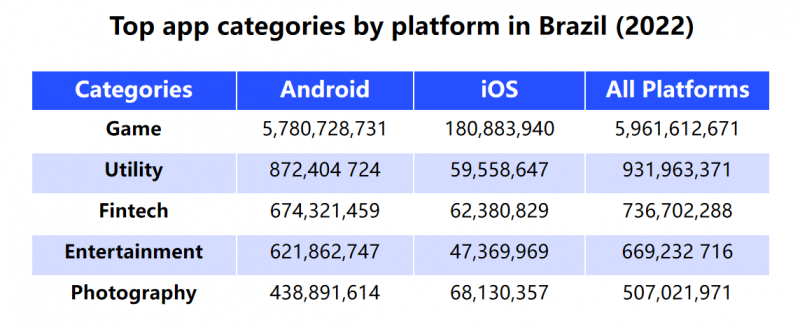 Source: Apptopia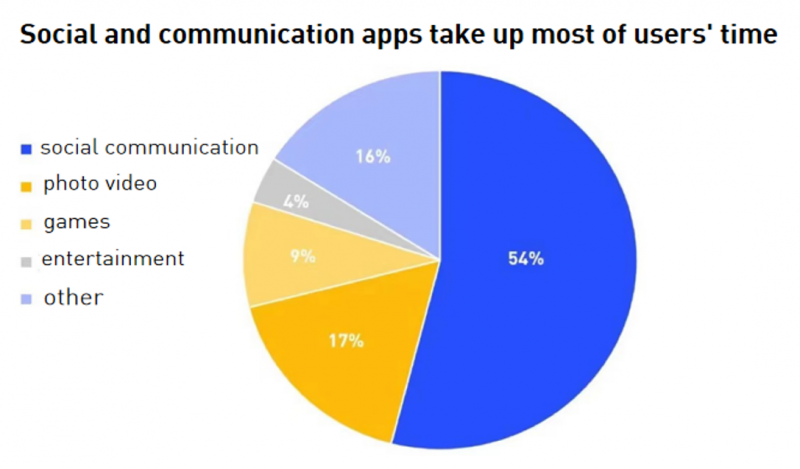 Source: Data.ai 2022 ; GWI 2022
In addition to the surging popularity of entertainment and photography apps, finance apps have emerged as a prominent and fast-growing category in Brazil. In 2022, fintech apps experienced a remarkable growth rate, recording a year-on-year increase of 33%. This upward trajectory has extended into 2023, with sessions in January 2023 marking a 13% rise compared to January 2022.
Brazilian users have readily embraced fintech apps buoyed by regulatory policies that foster innovation and provide digital banks with the latitude to harness key technologies for business expansion. Among the standout names in this burgeoning sector is Nubank, now recognized as the world's largest digital bank, along with Creditas, PicPay, and C6 Bank, all enjoying substantial popularity among Brazilian consumers.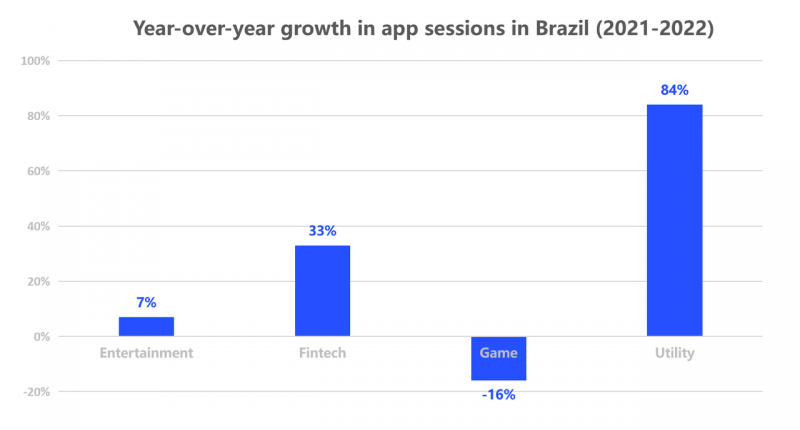 eCommerce
Brazil is the largest and most developed eCommerce market in Latin America, ranking tenth worldwide in terms of sales with considerable potential for further development. By 2025, Brazil is expected to lead the world in retail eCommerce sales growth, surpassing the US and Japan.

Source: Statista 2022
The high penetration rate of smartphones has been a key driver behind the robust growth of eCommerce in Brazil. More Brazilian buyers have turned to cross-border eCommerce platforms, marking a new trend in shopping habits. Regarding payment methods, digital payments are gaining traction, with the shift most evident among GenZ users.
Utilizing Kwai's Advertising Opportunities to Boost Growth in Brazil
With an average of 45 million monthly active users in 2022, accounting for approximately 20% of the total population, Kwai has established itself as the leading platform in Brazil in terms of daily user engagement and offers a massive audience for businesses to tap into. In the Brazilian market, Kwai has a relatively balanced gender ratio, with 51% male users and 49% female users. Regarding the age structure, most users fall into the age group of 25 years and above, accounting for 77% of the total. Such users have stable occupations and incomes and can make purchases and engage in paid activities on the platform.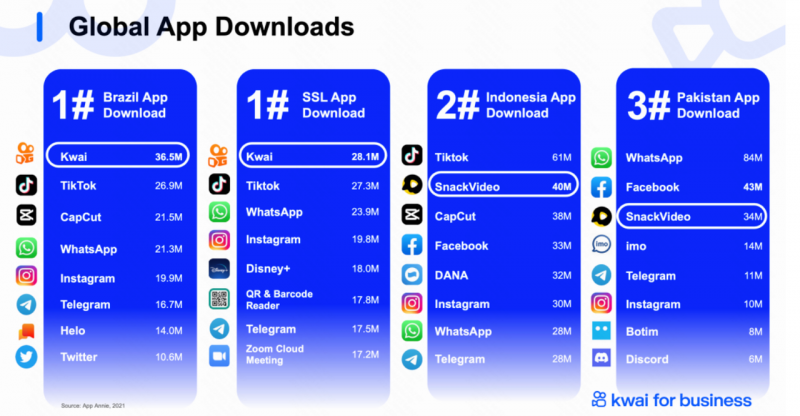 For advertisers interested in Brazil, Kwai for Business provides a platform to help them thrive by tapping into Kwai's growing user base. With services such as splash ads, news feed ads, hashtag challenges, magic tags, and official account certifications, Kwai for Business specializes in helping brands and developers navigate the whole process of "awareness-attraction-action-recommendation-private traffic" and meet multiple growth targets such as exposure, conversion, and engagement.
A great example would be the game "The Ants" marketing campaign in Brazil. To make it thrive in the Brazilian market, Nativex launched a hashtag challenge in partnership with Kwai to inspire User Generated Content (UGC) to help the game go viral on social media and win over local users.
This hashtag challenge was well-received and, as a result, saw 450,000 UGC of various forms from online participants. The total views exceeded 400 million, which is no small feat for a hashtag challenge. Discover more details about this success story here.
Get More from Kwai in Brazil with Nativex
For advertisers seeking to leverage Kwai for their campaigns in Brazil, Nativex is here to help. As a certified and integral ad agency for Kwai, our deep-rooted knowledge of the Brazilian mobile landscape positions us to maximize the potential of this platform. With our expert guidance, you can achieve the ROI you desire. We offer immediate access to a range of exclusive advantages, including tailored creative solutions, early access to emerging features, and privileged insights into the platform. Get in touch with us today and start your Kwai campaign in the Brazilian market with Nativex.