Esports may not be an Olympic event any time soon, but don't discount it happening at some point in the future.
The International Olympic Committee and the Global Association of International Sports Federations (GAISF) actually came together to discuss the prospect of it as an Olympic event in June 2018, but eventually hit an impasse over issues such as licensing and the violent content in some games.
Nicolas Besombes, an Esports advisor for the GAISF, also raised the issue of actually defining what Esports is, as the term is currently being applied to almost any game that has a PvP component.
He raised the issue of how something that is currently so fragmented can be brought under a single organisation, as other sports are: "Behind this term Esports, actually it's so many communities, so many cultures. No one is the same, it's really a very heterogeneous ecosystem."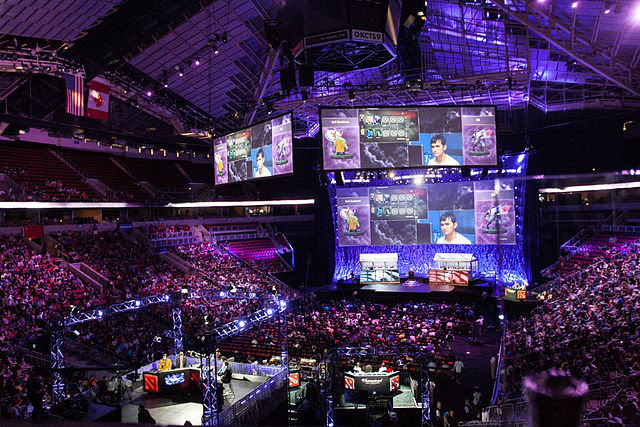 Credit: Jakob Wells under CC BY-SA 4.0
So even while it may be a while until somebody gets a gold medal for their performance on League of Legends, the very fact that Olympic committees are coming together to discuss its potential shows the phenomenal global growth of the medium and its growing global influence.
According to data from Newzoo, the global audience growth for Esports is booming. They expect the total audience for 2019 to reach 443 million (up 12.3% year-on-year), rising to 495 million in 2020 (up 11.7% year-on-year).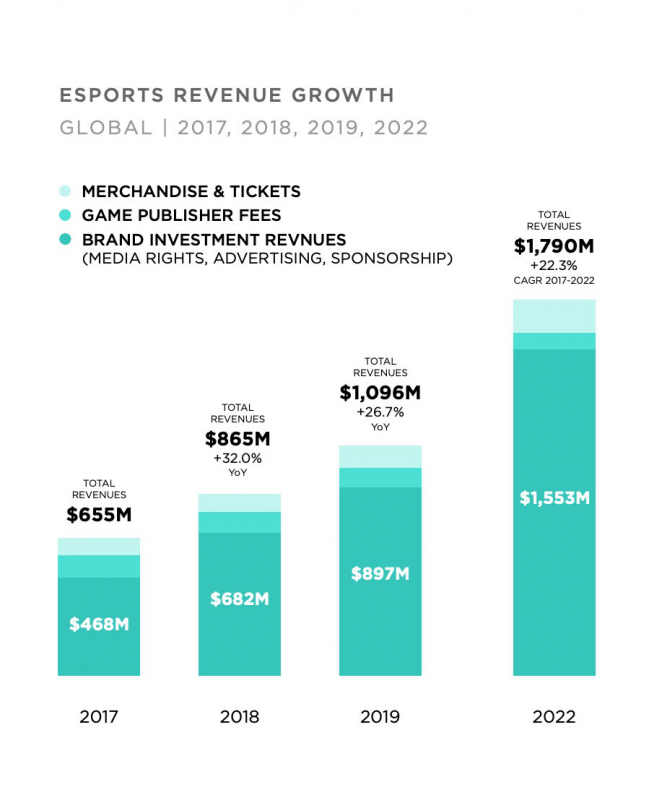 Credit: Newzoo
And, according to Newzoo's Global Esports Market Report 2019, nowhere is the genre more popular than in China, which they estimate will have the most Esports enthusiasts in 2019 with 75 million people.
The medium is so popular in China, in fact, that even the education system is adapting to give students a competitive advantage.
Esports in China likely to have a lucrative future
Earlier in the year, the China National Bureau of Statistics added Esports into its national '2019 Sports Industry Statistics' for the first time in its history, which essentially classifies Esports as a 'professional sports performance event'.
Around the same time, Esports organisation Royal Never Give-Up (RNG) started a programme that would see them visit six Chinese universities to promote the industry, raise awareness of it amongst Chinese students and identify and nurture eSports talent.
Also, in April, the state-run People Esports announced it was partnering with Tencent Esports, with an aim to develop a new esports ecosystem that will support and provide stability to the sector and help it grow.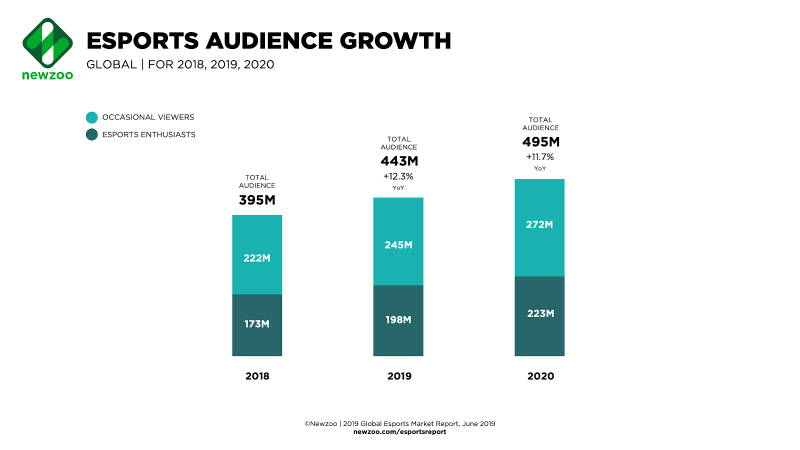 Credit: Newzoo
Alibaba, Huya and DouYu (which is backed by Tencent) are just some of the other Chinese tech giants who are looking to make big gains in the burgeoning Esports industry, whether that's through active on-stage participation, providing live streaming services, or other.
It's not hard to see why; in September 2019, a report from the World Federation of Advertisers and consumer insights agency 2CV showed that advertisers are set to invest heavily in Esports across APAC in the future.
The report, 'Gaming Demystified: Unlocking brand growth opportunities in video gaming', suggests that 32% of senior marketers say they have invested in Esports in the last 12 months. Their data suggests that figure will rise to 78% in the near future.
Starting them young
Senior marketers are also anticipating a 50% year-on-year growth in investments to Esports marketing channels. With Esports still a relatively new global craze, it's no exaggeration to say having a solid national Esports infrastructure could work wonders for a country and its economy.
With approximately half of the country's population avid gamers, it's little wonder that China is encouraging its students to follow a career path around Esports.
So, how is the country's educational system helping? As well as initiatives from bodies such as RNG, the Ministry of Education has also worked to add eSports and gaming into higher education and vocational training curricula.
Two universities, for instance – the Communication University of China and the Sichuan Film and Television College – are offering majors related to Esports, while other schools are offering vocational programmes surrounding Esports management and others.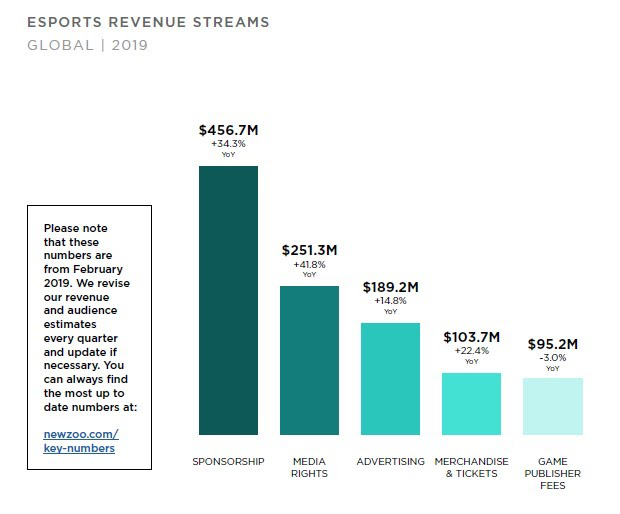 Credit: Newzoo
The option to study Esports, classing it as a national sport, the state partnering with Tencent, awareness programmes visiting universities… All of these measures are coming together at once to solve what the Ministry of Human Resources believes it has actually identified as a serious issue facing the country.
In June, the Ministry published a report warning that, with demand for Esports professionals rising at such an incredible rate, China may actually face a shortage of talent to the tune of 2 million over the course of the next five years.
The same report, though, makes for encouraging reading for Chinese students looking to enter Esports professionally. It highlights that 86% of Esports professionals can earn double or even triple the average local salary.
What does the future hold for Esports in China?
Another important takeaway from the report is that only 15% of positions in the Esports industry are saturated and that, as well as needing 2 million gamers over the next five years, China will also need to fill 1.5 million technical and administrative positions over the next decade.
China's hoping that its recent efforts in education and classifying Esports as a professional sport will boost the country's already impressive Esports record, and build the Esports infrastructure China needs for the future.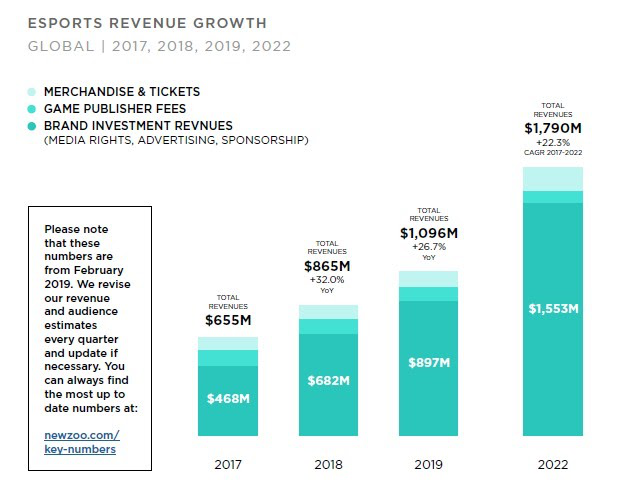 Credit: Newzoo
They'll be hoping for reactions similar to that of Beijing resident Liu Xingkai. The 23-year-old recently discussed his plans to quit his job in finance to move into the Esports industry, telling the paper: "I admit that at the very beginning, games were just entertainment for me.
"But over time I came to love the industry, which is more interesting than the work I currently do. It's not about playing games, but instead it's a sporting event… Esports now has official recognition, just like swimming and table tennis. Also, a professional Esports gamer will receive intense training."
China's approach to Esports is an open one, with the country planning ahead to make sure that they're a leading light in any future success and growth the Esports industry may have while other nations seemingly sit on their hands.
And with that will come other opportunities across the globe; from gamers looking to work in the country's Esports industry, to players looking to compete, advertisers looking to talk to new audiences on live streaming platforms, and many other advantages.
Looking to advertise in China or enter the market? Mobvista can help you to achieve sustainable growth in the world's largest mobile market. Get in touch today to find out more!