China was the first major market to slowly reopen and ease its lockdown restrictions, paving the way for a gradual return to what we could call "normal". Following a year of incredible growth for the mobile gaming industry globally, the question on everyone's mind is: will the growth phase continue?
We've recently released a new ebook called "China Mobile Games Report H1 2021" where we partnered with leading third-party mobile measurement and marketing technology company Reyun to get a better understanding of the Chinese post-lockdown mobile gaming ecosystem. If you haven't read it yet, you can download it for free here:
Free ebook: China Mobile Games Report H1 2021
Some of the areas we focused on in particular were around user acquisition trends, which game categories performed well, as well as the impact of iOS 14.5, among other things. Here's what we found.
More games ran UA campaigns in H1 2021
According to data from Reyun, H1 2021 saw a consistently higher number of games running UA campaigns each month compared to H1 2020. At the same time, around 6,700 new mobile games entered the Chinese UA market, which corresponded to a 44.5% growth rate, 13% lower compared to the same period last year.
One thing is important to note: even with the gradual decrease in traffic due to Chinese users slowly ending their "stay at home" phase, overall traffic was still 6.25% higher in Q1 2021 compared to the same period last year. At the same time, China's mobile gaming market saw its actual sales revenue maintain steady growth, despite a small dip in the number of total active users caused by the return to work.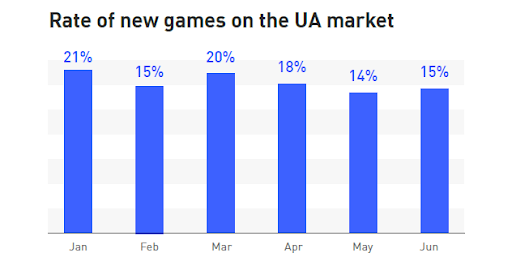 Source: China Mobile Games Report H1 2021
iOS 14.5 had an impact on UA performance
With Apple's iOS version 14.5 launched earlier this year, advertisers were concerned about the impact it would have on their campaigns. With over 30% of all iOS devices upgraded to 14.5, 32% of which limited IDFA tracking, brands and advertisers in China saw a predictable decrease in UA campaign performance.
One thing is still true though: Android is still the dominating OS in China, with over 80% of the market share.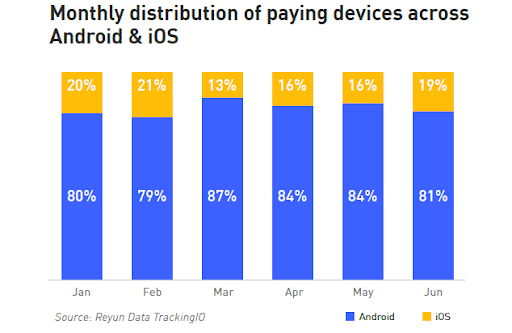 Source: China Mobile Games Report H1 2021
RPGs dominated the ad spending charts
Looking at mobile gaming ad spending trends, RPGs, casual puzzles, and simulation were the top 3 gaming categories in H1 2021. RPGs, in particular, had 35.7% of the total ad spend, far above all other genres. In fact, these top 3 categories accounted for approximately 65% of the mobile gaming ad spend in China during H1 2021.
Another interesting thing to note is that while simulation games and shooters remained relatively steady in terms of ad spend, MMOs saw the biggest drop and were no longer in the top 10 on the ad spend charts.
Source: China Mobile Games Report H1 2021
News platforms were the preferred game advertising media
News platforms – and vertical news platforms like Toutiao – saw significant growth in terms of market share for gaming advertisers, overtaking short-form video apps like Douyin, which were the second-highest media platforms in terms of creative sets. Reading platforms found their place among popular media types for the first time, while browsers remained relatively steady.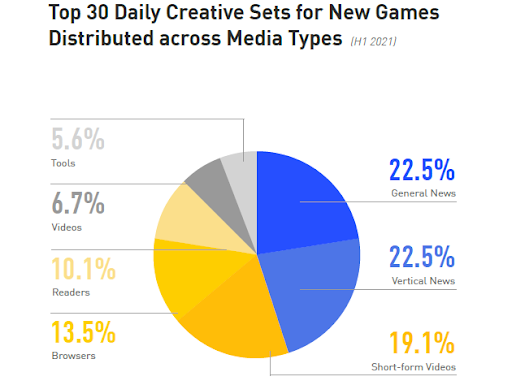 Source: China Mobile Games Report H1 2021
In terms of creative formats, both video and static image formats saw growth rates of approximately 90%. However, video remained the leading format with over 70% of the mobile gaming ad content in H1 2021.
What else is in this ebook?
This ebook is packed with the latest facts and stats around China's mobile gaming market. On top of the insights mentioned above, here's what else you can expect to find in our ebook:
App usage trends across China's mobile user base

Chinese gaming user base growth rates versus sales revenue

Ad spending trends and distribution across main gaming genres

Ad creative trends for new and existing games across media types
If this sounds interesting, then make sure you get your free copy below:
Free ebook: China Mobile Games Report H1 2021
XploreChina: Your gateway into the largest mobile market on the planet
As the only China-based agency equipped to offer acquisition, monetization, and creative services at scale and across multiple verticals, we believe that our revamped XploreChina initiative will help you thanks to our wide range of customized solutions. If you're looking to make your way into China's massive mobile market, get in touch with the Nativex team today.