China's top media landscape is unlike anything else in the world, so how can global brands and advertisers use these platforms to generate sustainable campaign ROI?
We recently spoke about China's Android landscape as well as the biggest Android app stores in China, so now it's time to talk about China's top media ecosystem: what it looks like, how it differs from the West, and what you can do to ensure your campaigns are optimized for the world's largest mobile market.
It's no secret that China's mobile ecosystem is completely different from its western counterpart. With no platforms like Facebook, Google, Twitter, or Instagram, among others, this makes it challenging or even intimidating for global brands and advertisers looking to launch their campaigns in China. This is why we spoke with our China Top Media experts, part of our XploreChina team, in order to help you get a better understanding of this ecosystem and help you find sustainable growth in China's massive mobile market.
What are China's most important top media platforms?
When it comes to starting your mobile campaigns in China, it's important to look at the biggest and most famous top media platforms available – remember, global platforms like Facebook or Google have been replaced by local tech giants.
From an advertiser's perspective, using China's top media platforms has two key benefits:
Massive audiences: 

these platforms are used by most of China's 1B+ mobile users on a constant basis

High-quality traffic: 

users on these platforms have higher LTV compared to other platforms
Looking at the most popular top media platforms in China, there are some that stand out immediately and should be front of mind for any brand or advertiser targeting China's huge mobile population. For example, super apps like WeChat, short-form video apps like Douyin and Kuaishou, video apps like Bilibili and iQiyi, news apps like Toutiao, or China's biggest search engine, Baidu.
Let's take a look at some of China's biggest and most important top media platforms.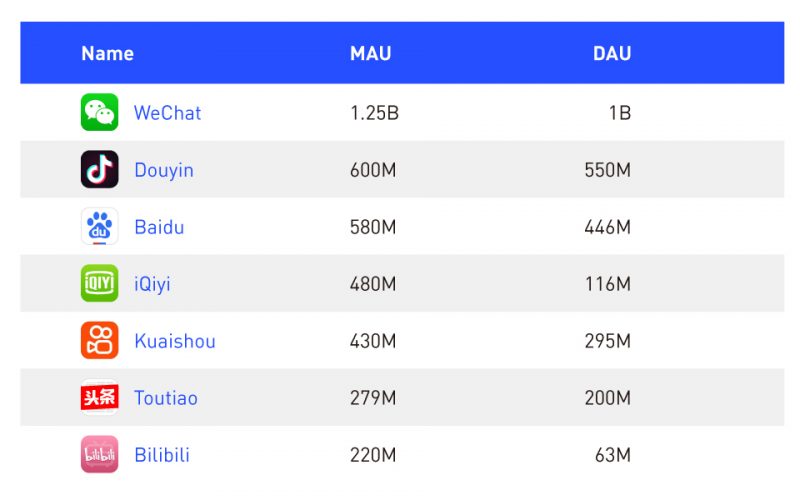 Tips on running successful campaigns on China's top media
Launching and growing your campaigns across China's top media platforms can be difficult if done alone, as each of these platforms has its own rules and processes – this is why partnering with a local agency that understands the local landscape can be extremely profitable.
So how can you run your campaigns the right way? We spoke with our China Top Media experts and we have 4 tips to make your launch easier and better:
1. Pick the right top media platform for your goals
While it might be easy to simply look at the platforms with the biggest share of MAUs/DAUs, it might not be the most optimal way forward. Once you have a clear understanding of your campaign goals, you need to see which platforms have the audience you're looking for.
When it comes to choosing the right top media platform, there is no "one size fits all" approach. Instead, you should look for criteria like age, gender, location, spending power, online habits, and more, when deciding which platform is right for you. For example, if you're looking to target Gen Z users, you should know that over 80% of China's Gen Z users are on Bilibili. Other platforms popular with Gen Z include Kuaishou, where 33% of its users are aged 21 – 30, and Douyin, where 48% of its users are under 30. In fact, this is the strategy that Lightricks used for its successful launch in China: the Lightricks app Facetune2 used Douyin to get 3x conversions and 30% lower CPIs.
Whether it's demographics, online habits, spending power, or anything else, China's biggest media platforms have something that will match your goals. Hopefully, the major platforms we've indicated above will be a good starting point.
Here's a look at some of the top media platforms in China, along with their user profiles and suitable categories for advertisers: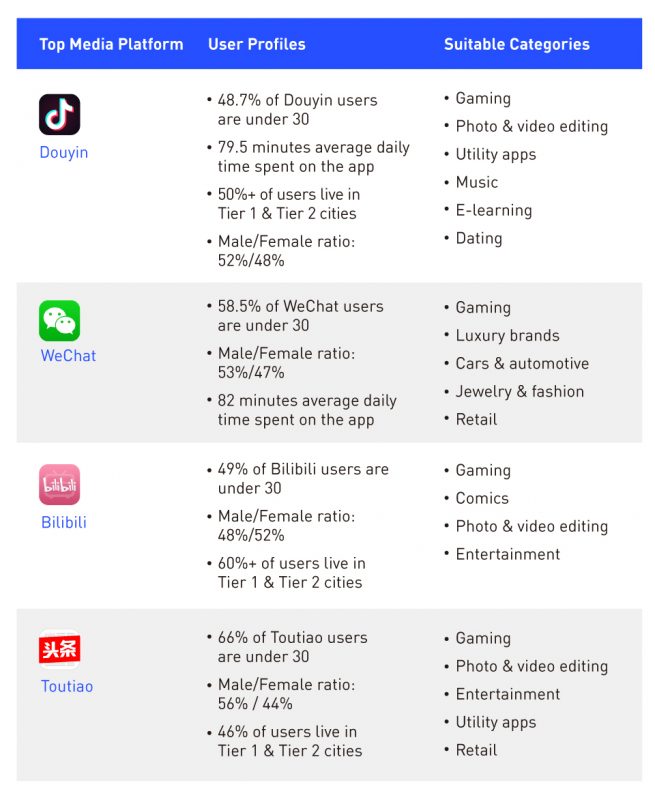 2. Focus on localization
One common mistake we've seen many times from global brands or advertisers trying to launch in China was using a "one size fits all" approach, simply because a certain campaign style performed well in a different market. China's mobile users are very particular about their tastes, but one thing is for sure: the best way to reach your Chinese audience effectively is to localize your campaigns. Localizing ad creatives is especially important for gaming, but it should be done regardless of the app category.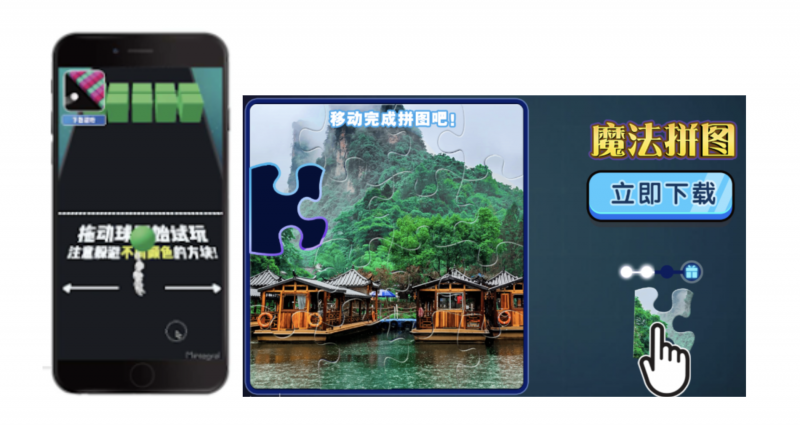 Localizing the language to explain the core gameplay mechanics. Left: how to move the ball to navigate the field; right: how to move the missing piece to complete the puzzle. Source
When we say localization, we don't simply mean translating copy – ad creatives play a huge role in your campaign success and things like using local customs, actors, or anything in-between is crucial to your campaign success.
According to Mindworks data, localized interactive ads contributed to 37% to 77% of user acquisitions in China, for early to late-stage promotional campaigns, respectively. Another example is the popular K-Pop app Choeaedol, which got over 100,000 MAUs thanks to its localization efforts which included translations and product optimization to line up with Chinese users' habits. 
3. Work with local partners
In order to navigate China's regulatory system, partnering with local agencies can be extremely beneficial. You won't have to spend a significant amount of time and resources trying to learn the legislation because there are local players in the market that already possess that knowledge and can guide you in the right direction.
But it's not just about helping with the rules and regulations. Local agencies have a better and more intimate understanding of the Chinese mobile population. By offering solutions and consultancy around areas like localization, top media recommendations, budget planning suggestions and more, it's clear why working with local partners can have a significant impact on your campaign ROI.
Here are some things to keep in mind with regards to China's regulatory system for mobile advertisers:
1. China's digital media platforms are expected to comply with government regulations and take an active role in enforcing content moderation; this includes:
Conducting real-time content monitoring and storing users' data for no less than six months;

Implementing the real-name registration and verification policy. Platform users need to provide information about their real identities before they can post any content, and platforms are required to verify users' identities based on unique institutional codes (for institutional users) and government-issued identity cards (for individuals);

Establishing user-reporting, rumor-debunking, and blacklisting mechanisms. The blacklisting requirement mandates platforms to add users who have seriously breached relevant laws and regulations to a 'blacklist' and to enforce suitable punishment (e.g. closing their accounts, banning them from re-registration); 

Building the user-grading-and-classification management system. 'Grading' means that if users are found to have breached certain rules, then their credit grades are downgraded and the services they can use are limited accordingly. 'Classification' means that, for services such as group chats, platforms need to classify them into different categories according to factors including the size of the groups and the content areas (e.g. political, economic, or entertainment).
2. Gaming advertisers require copyright software certification and ISBN documentation
3. Chinese private online news and information providers are only eligible to apply for a news-republishing license and/or a platform service license, rather than a news-gathering-and publishing license, which is reserved for state-controlled news organizations and their controlled subsidiaries.
One important thing to note here: just like anywhere else, rules and regulations can and will change in China. This is why it's especially important to work with a local partner – they will be up to date with the latest regulations and they will be able to guide you in the right direction.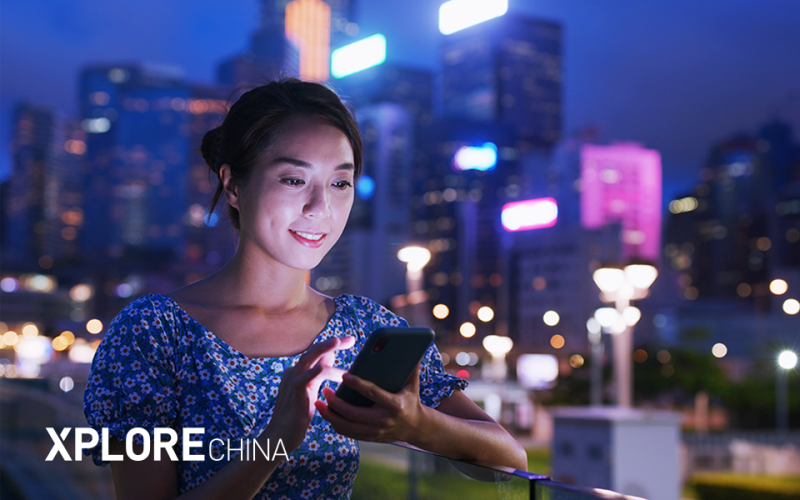 4. Measure, analyze, optimize
We know just how important campaign data is, but another equally important thing is understanding that data and making the right decisions. When it comes to running campaigns, it's extremely important to go for what we'd like to call a "measure-analyze-optimize" approach
Measure your campaign results to have a good idea of your KPIs

Analyze the results your campaign produced to see what worked and what didn't

Optimize your future campaigns by using the data from your previous campaigns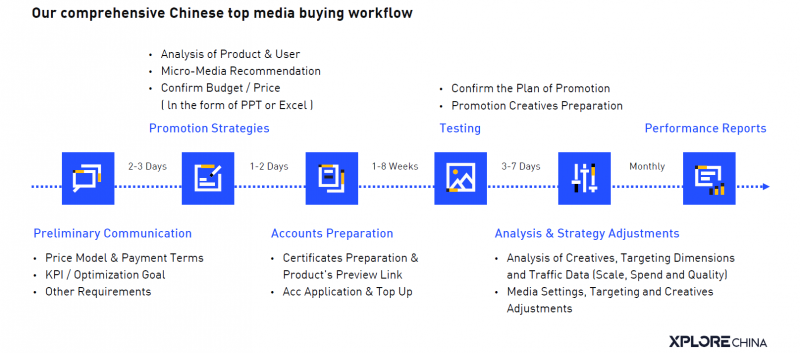 A look at the Nativex media buying workflow.
Source: XploreChina China Top Media solution
Introducing: China Top Media Solution by Nativex
In order to maximize your campaign ROI in China, we've launched the China Top Media solution, part of our XploreChina initiative. As your gateway to China's incredible mobile media landscape, our China Top Media solution is backed by our transparent, real-time dashboard via the multi-channel media buying tool XMP and complemented by our premium creative studio TopWorks, for a comprehensive media buying experience.
Our China Top Media solution is part of the XploreChina initiative which also includes:
Android Solution

: your key to China's massive Android market. From required documentation to launching, app management, and monetization, our end-to-end implementation process ensures you get all the support you need, every step of the way. Our real-time Android dashboard, combined with our strong knowledge of the market provided by our local experts, means you are always up-to-date with the latest regulations & app store insights, as well as user trends & behaviors.

KOL Marketing Solution

: the answer to running successful influencer campaigns in China. Working with over 40,000 Key Opinion Leaders (KOLs) and more than 20 Multi-Channel Networks, including ByteDance's KOL agency XingTu, means we have the scale and range to provide the influencer mix that is right for you.
As the only China-based agency equipped to offer acquisition, monetization, and creative services at scale and across multiple verticals, we believe that our revamped XploreChina initiative will help you thanks to our wide range of customized solutions. If you're looking to make your way into China's massive mobile market, get in touch with the Nativex team today.