"APAC Market Spotlight" is a series of Nativex articles that provide in-depth analysis of the mobile ecosystem, user behavior, and popular mobile apps in Southeast Asia, South Korea, and Japan. The series will focus on these three major countries in the Asia-Pacific region and examine new trends that will hit the APAC mobile market in the future.
Countries in the Asia-Pacific region (APAC) share many similarities, but upon closer inspection, they have vastly different online ecosystems and user behaviors, not to mention different languages and cultures. This edition of the APAC Marketing Spotlight series will help you understand the characteristics of the Korean mobile market, a so-called "tech nation", and compare it with other Asian countries.
The whole nation is connected by mobile
The Korean digital tech industry is a highly concentrated one, with virtually all major consumers and developers located in one city – that is, Seoul. A joint survey by the Ministry of the Interior and Safety and the Korea Exchange (KRX) showed that 50% of the country's entire population lives in the Seoul Capital Area and at least 70% of its listed companies are headquartered in Seoul, Incheon, and the Gyeonggi region. 
Such geographical characteristics might seem natural to Koreans, but they are particularly more appealing to foreigners. The concept of having most digital services concentrated in the capital city (Seoul, in this case) is easier to understand if you compare Korea to other APAC countries, as they use a similar approach. China, on the other hand, is a vast market but because major manufacturing sites and consumer markets are scattered all over the country, any company that wants to enter the market should increase its share gradually, from first-tier cities to second-tier and so on. In other countries like Singapore, there is a great deal of activity among investors and consumers, but only a few developers. In Seoul, on the other hand, everything you need to do business is located there. It's fair to say any service that has become popular in Seoul has performed well in the Korean market in general.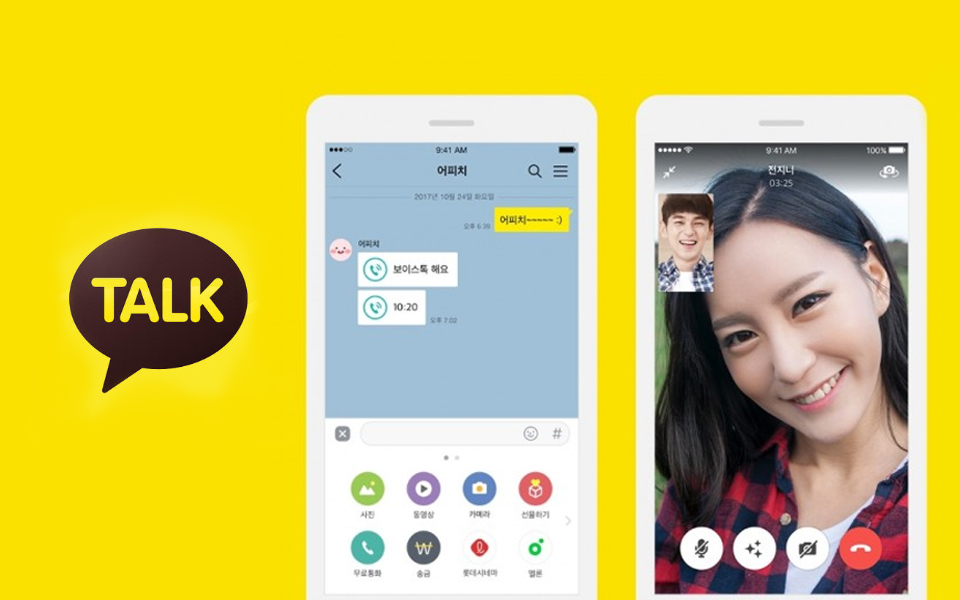 Source: KakaoTalk
Another enticing feature of the Korean market is its high mobile Internet usage. The 2019 Internet Usage Survey conducted by the Ministry of Science and ICT and the Korea Internet & Security Agency shows that 91% of the country's population aged 3 years and older are Internet users, with 94.9% of them using their smartphones to connect to the Internet. Also, 96.3% of all mobile Internet users in Korea use instant messenger apps like KakaoTalk. In other words, the whole nation of South Korea is connected by mobile Internet 24/7. It's worth noting that this is a market where once a service becomes well-established, it is very likely to be used by the entire nation.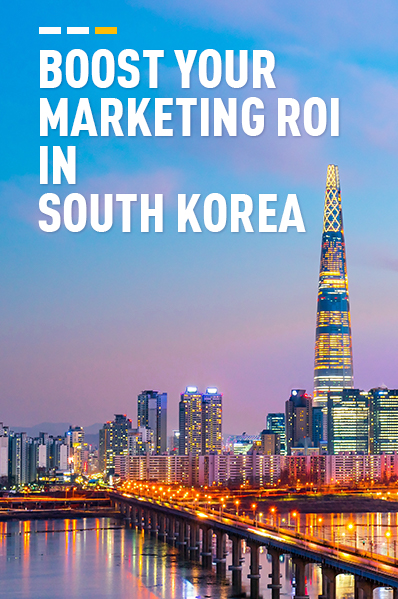 Are you looking to launch your mobile marketing campaigns in South Korea? Get in touch with the Nativex team today and we'll show you how to achieve success in this highly lucrative market.
1
CONTACT US
⟶
KakaoT instead of Uber, Melon instead of Spotify 
Even for global mobile service giants, Korea is not an easy market to crack. Platforms that enjoy popularity in other countries, such as Uber, Apple Pay, Snapchat, have not been so successful in Korea. However, social media platforms like Instagram and Facebook, as well as video platforms like YouTube and TikTok, have already become a routine part of everyday life for Koreans. More broadly speaking, local service providers have a large market share of the lifestyle industry including mobile services, delivery, and mobile payments.
The driving forces behind these trends are well-established local tech giants and unicorn startups. With most mobile services, there is plenty of competition between local tech giants and unicorn startups or simply between different startups. Even Uber, the quintessential ride-sharing service, is having difficulty competing in a market dominated by KakaoT (Kakao), T Map Taxi (SKT), and Tada (startup). The ecommerce market is no different: among Korean consumers, local unicorn startups like Coupang, 11STREET, and Wemakeprice are more popular than Amazon or Alibaba.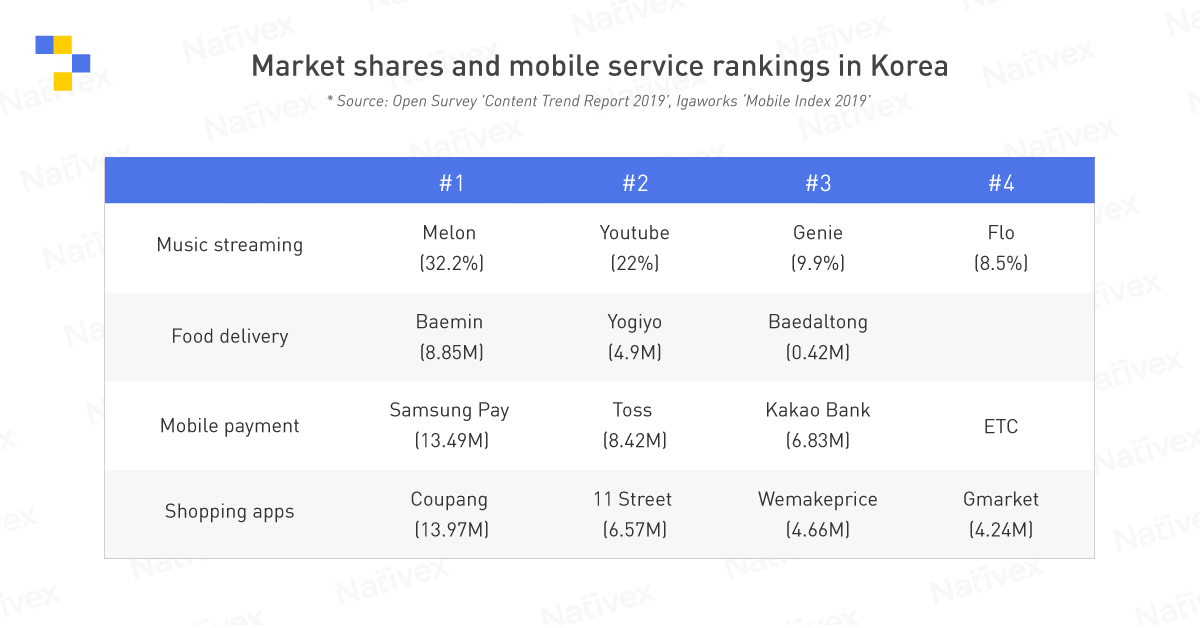 Sources: eToday, National Assembly, Nielsen Korea click (January 2018), Samjong KPMG Economic Research Institute
In no other area will the competition be as intense as it is between online platforms, especially between the "No. 1 internet portal" Naver and the "No. 1 instant messaging app" KakaoTalk. A look at the market shares in each tier of the Korean mobile ecosystem shows that these two companies compete across many different areas including instant messaging, search, news, online shopping, finance, payments, and navigation (think Google Maps). The competition between them has led to disruptive innovations across these industries where conventional businesses were holding back progress. Consequently, this made a positive impact on the entire mobile market, giving more and easier users access to higher quality services.
Every 2 out of 3 Koreans are gamers
The 2019 Korean Games White Book published by the Ministry of Culture, Sports and Tourism, and the Korea Creative Content Agency shows that Korea has the 4th largest market share of the global mobile gaming market at 9.5%. Given the populations or GDPs of the top-ranking countries, China (26.5%), Japan (16.5%), and the U.S. (14.9%), the impact that Korea has on the global gaming market is massive.
Another survey indicates that Koreans are not only great game developers but also true gamers. The 2019 Games User Survey revealed that 65.7% of all Koreans enjoy playing games and 90% of Korean gamers prefer mobile games. In terms of mobile game usage, they play an average of 94 minutes per day on weekdays and 118 minutes per day on weekends. The average Korean mobile gamer spends 57.1 minutes per game on weekdays and 73.7 minutes on weekends, implying that once they start a game, Koreans tend to commit and have quite lengthy sessions.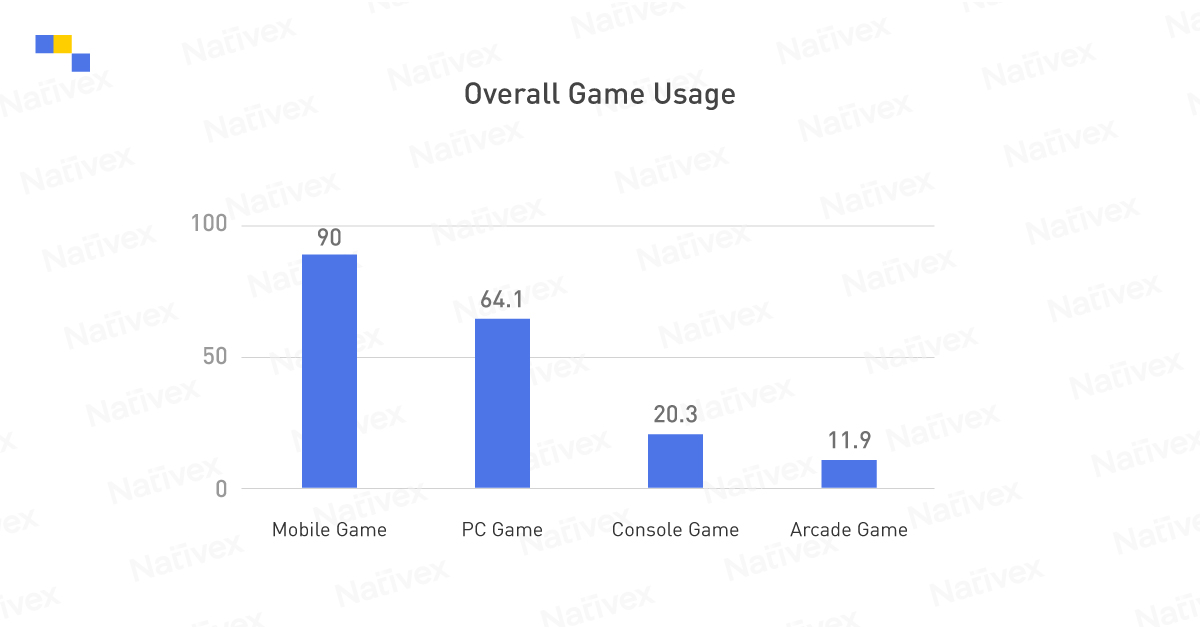 Mobile games make the "Age of Untouch" shine in 2020
in 2020, the global mobile market saw some rapid and significant changes due to COVID-19. The mobile games industry, in particular, showed some incredible growth. With the advent of the so-called "non-face-to-face" or "un-contact" era, many people started spending their home time playing games. The mobile gaming revenue estimate for the first half of 2020 is around $2.38 billion (2.843 trillion KR Won), which represents a new record and a 30% year-on-year increase compared to last year.
So what was the mobile game that Koreans loved the most in H1 2020? According to research conducted by the Korean mobile data attribution company IGA Works, Nexon's "Kart Rider Rush Plus" was the overwhelming winner, taking the No. 1 spot with 1.5 million daily active users as of July 23. Also, "Wind Country: Yan" overtook the highly popular game "Lineage 2M" to take the 2nd place on the overall rankings. Other games that performed extremely well in this period include Pmang New Matgo, Brawl Stars, and PlayerUnknown's Battlegrounds.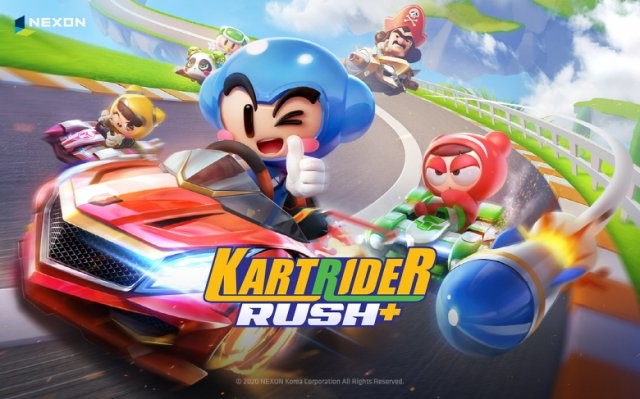 Source: Nexon
When looking at the Korean mobile games market, it is important to look at the companies behind these popular games and see how they're performing. As of June 2020, NCSoft, which owns the Lineage game series, had the highest share of mobile games revenue across Google Play, One Store, and the Apple App Store, followed by Nexon, Netmarble, and Webzen.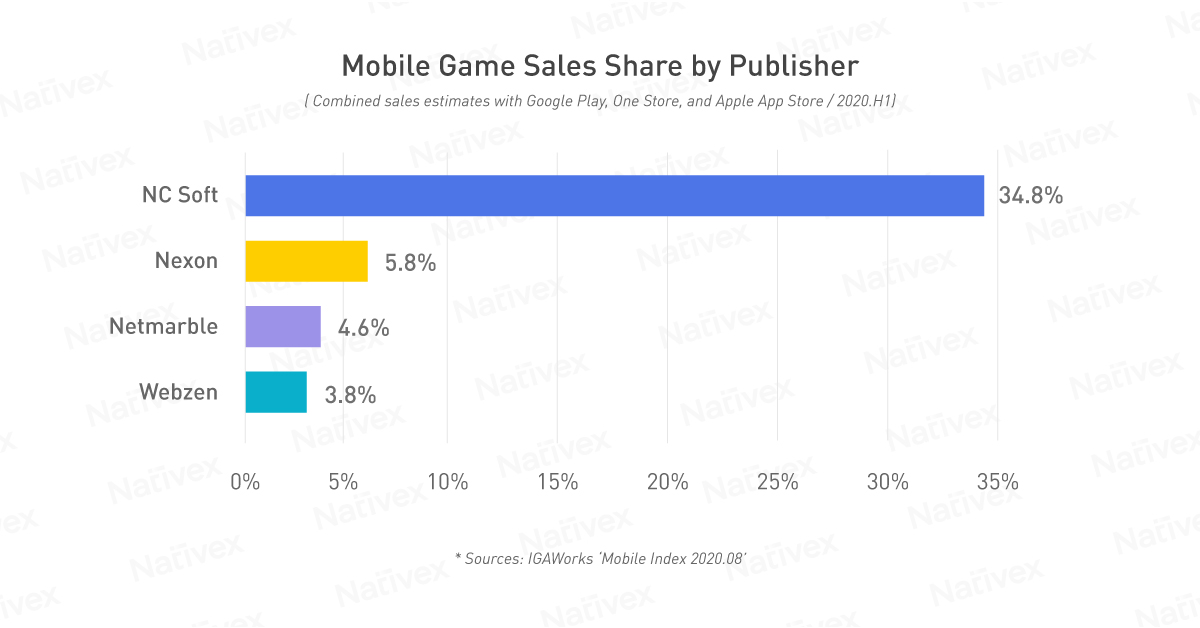 Source: IGA Works Mobile Index
The widespread adoption of high-performance mobile devices and LTE networks was what made mobile games so popular in Korea. Samsung Electronics, Korea's biggest tech corporation, has launched one new mobile device after another, and the country's three mobile operators are constantly competing with one another to develop and provide ultra-high-speed networks, allowing Koreans to enjoy their games anytime, anywhere. Now, the Korean esports industry, which is where the concept of esports started, is dominating the global esports market, helping solidify Korea's position as a leading market in the global gaming industry.
Even now, the Korean mobile ecosystem is constantly changing. One of the reasons is the COVID-19 pandemic, which made people spend more time on video streaming platforms. Netflix recently surpassed 2.72 million subscribers (March 2020), an 800% increase compared to the 340,000 subscribers it had in January 2018. At the same time, Netflix is expanding its business in Korea by partnering with major telecommunications companies like KT and LG U+.
Native OTT companies such as Naver, WATCHA, WAVVE, and Tving are also entering the IP war against the likes of YouTube and Netflix. In addition, as Korea is the world's first country to offer fully commercialized 5G services for the general population since last year, the country has plans to get more of its mobile users to migrate to this faster internet world in 2020 and beyond, thanks to affordable 5G plans and dedicated mobile devices.
If you want to be successful in a rapidly changing market, you need to have a good understanding of the mobile market trends and never stop trying new things. At Nativex, we provide our clients with a wide range of marketing services to ensure you can achieve success in mobile markets around the world, including the Korean market. If you're looking to get mobile marketing solutions and insights to achieve success, please contact the Nativex team today