We are excited to reveal our newest addition to our market insights toolbox, the Nativex Ebooks. In this new section, we will be using our expertise to give you vital information about China's mobile market and its key players, the hottest apps and how to translate their unique attributes into tangible ROI, and much more.
Chinese users looking to stay up to date with the latest news tend to use one main platform: Toutiao. Launched in 2012, Toutiao (which translates to "Headline", by the way) is China's no.1 news app. Not only that, but it's also one of the largest content discovery platforms on this market, making it an invaluable tool for marketers looking to reach China's massive online audience.
Since Toutiao is not very well-known outside of China, we decided to shine some light on this platform. Our latest ebook called A Marketer's Guide to China's No.1 News App: Toutiao should be your go-to resource for everything Toutiao related – and if you're looking to launch in China, Toutiao needs to be part of your marketing mix. So let's talk about Toutiao!
How big is Toutiao?
Toutiao is the biggest news distribution platform in China, 30% bigger than its closest competitor, Tencent News. With over 120 million users checking their news every day and more than 260 million monthly active users, Toutiao is a central news hub for China's mobile users.
The thing is, Toutiao is the ideal platform both in terms of content consumption and creation. There are over 10,000 top influencers and 1.8 million content creators on this platform, generating over 600,000 pieces of content and 5 billion views per day. And if you've read our previous ebook, you'll know that influencer marketing is huge in China.

What makes Toutiao unique?
Toutiao is more than just a news platform. While its focus may be on news distribution and aggregation, the Toutiao product has evolved over the years, adding new features and improving existing ones. So what are some of the things that make Toutiao stand out?

Toutiao is China's no.1 news distribution platform and one of the most important content discovery platforms in the market. Find out how you can use its massive reach to generate tangible results from your marketing campaigns.
1
DOWNLOAD EBOOK
⟶
Precise recommendation engine
Thanks to cutting-edge machine learning technology, the Toutiao algorithm is one of the best in the business – plus, it doesn't hurt that its parent company is ByteDance, known for its extremely powerful algorithms. Toutiao can analyze users' reading habits and generate an individually-tailored content feed that includes an optimal mix of news articles, videos, and advertising. Some users even said they "finished watching a whole movie on Toutiao" thanks to the recommendation engine that would recommend the next part of the clip they were watching.
Massive user coverage
Toutiao's incredible reach means it has audiences that fit all kinds of criteria that brands and advertisers would be looking for. From Tier 1 cities like Shanghai or Beijing to small local communities, Toutia has a massive coverage, which, combined with its strong algorithm, makes it an ideal platform for marketers looking for specific audiences.
Huge market share
Imagine your own daily routine. If you're like us, you're probably starting your day looking at your smartphone and checking the latest news – Chinese users are no different, and they start their day with Toutiao. As China's mobile users have made this habit an integral part of their daily lives, Toutiao became an indispensable tool to help them achieve that. With no suitable competitor in this space, Toutiao is and will continue to be a massive platform for China's ever-growing mobile audience.
Which app categories is Toutiao best suited for?
The good thing about Toutiao is that it can reach an extremely wide range of apps, and it does that very well. If we had to pick some of the best-performing categories though, we'd say that audiences tend to prefer food, gaming, and sports-related content. However, other categories like fashion/lifestyle, auto, and finance have been proven to be quite popular as well – a testament to Toutiao's wide range of verticals that can satisfy most advertising needs.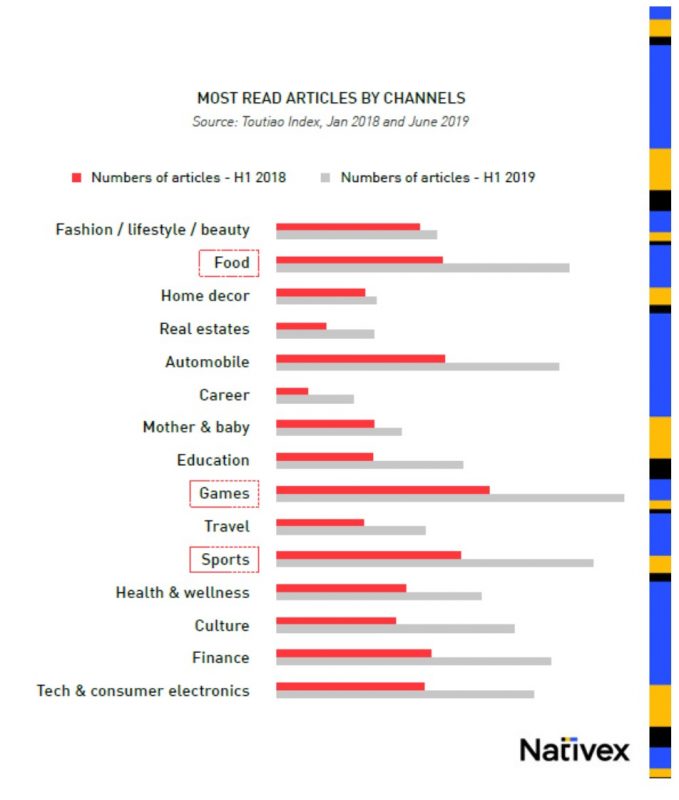 What else is in this ebook?
Our Toutiao ebook covers a lot of information that should help any advertiser reach their target audience in China using Toutiao, including:
Detailed facts & stats about the platform

A full breakdown of Toutiao ad formats

Toutiao demographics and key regions
If you're interested in achieving tangible ROI in China using the biggest news app on the market, then make sure you download our free Toutiao ebook today! 
Toutiao is China's no.1 news distribution platform and one of the most important content discovery platforms in the market. Find out how you can use its massive reach to generate tangible results from your marketing campaigns.
1
DOWNLOAD EBOOK
⟶