TikTok and other short-form video platforms are gaining popularity and shaping mobile internet trends globally, consuming a significant portion of users' leisure time. With the rise of content creators, users are more likely to engage with authentic, honest information. Therefore, influencer marketing is becoming crucial for growth as individual voices are gaining importance in attracting users.
01 Industry Insights | Influencer Marketing is on the Rise
A mobile marketing data analytics platform, Adjust, reported that 90% of people consider influencer marketing an effective tactic, and 60% believe that content generated by influencers performs better than branded posts. Influencers are perceived as more relatable, making it easier for them to earn the trust of their audience. As a result, they have a natural ability to influence their target audience's purchasing decisions.
Players' information channels and consumption habits have evolved in recent years, with influencers playing a significant role in this shift. Influencers have a greater impact on their followers, and game developers have realized that they need to adapt their user acquisition (UA) strategies to meet these changes. This will help them achieve better conversion and revenue growth, as well as target users with more precision. Influencer marketing can provide significant brand value and is also an effective method for acquiring new users by directing traffic to games and apps.
Content-driven consumption will become mainstream. Combining market trends with the selection of appropriate influencers improves the localization of a game and also links the game with content that users are interested in, which makes marketing content more effective as it can be spread in a more subtle way.
Overseas marketing for games has passed the "wild growth" stage and is starting to become more refined. Marketing strategies that focus on brand building and sales performance are becoming increasingly important in the game industry. Social media's innate emotional and social value is gradually becoming more apparent, and when done well, influencer marketing can often achieve results beyond expectations.
Content marketing is a fundamental aspect of global e-commerce. The social e-commerce model, which is based on graphics, short videos, and live streams, has created substantial growth opportunities in the global market. The sudden emergence of TikTok Shop this year is evidence of this untapped but promising market. According to statistics, the global  e-commerce content market is expected to reach 1.2 trillion USD by 2025.
Influencers take advantage of the way information is so fragmented these days by using short videos and live streams to promote products, giving audiences a better understanding of products, which tends to resonate better with consumers and generate sales. No one understands a platform's ecosystem better than influencers. They are the most knowledgeable on what each platform's users like to watch. As a result, influencer-driven content can reduce marketing costs for brands and more accurately target users' interests.
Nativex, for instance, aided Yours (also known as LoveFromYours), a niche Swiss skincare brand, in achieving success and significant growth in the US market through influencer marketing on TikTok. Nativex employed a low-cost, high-quality content strategy and utilized local influencers to promote the products by emphasizing the product features and catering to customer preferences. This helped to increase brand awareness among young female consumers. In addition, the engaging content and shorter conversion paths resulted in users making purchases quickly.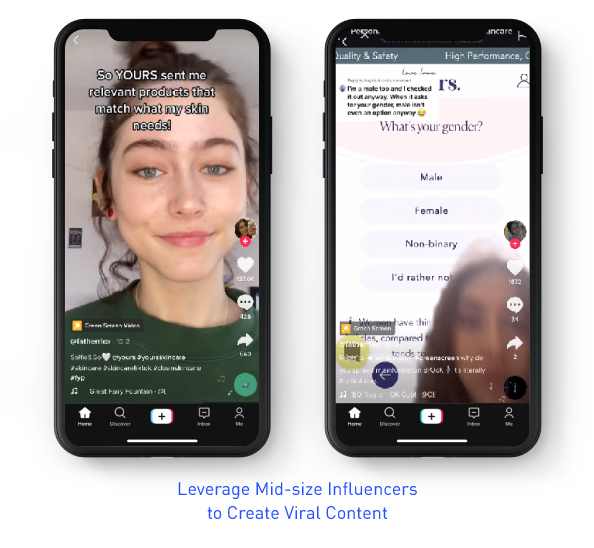 Feed-based media plays a big role in overseas media buying channels. Influencer marketing is essentially content marketing: by controlling content, you control traffic. Using good-quality, memorable content to seek out and attract potential customers can reduce customer acquisition costs.
02 Method Insights | Creating a Comprehensive Influencer Marketing Strategy
In 2022, influencer marketing emerged as a new source of growth opportunities for brands and developers, leading the industry to focus on maximizing its effects. Influencers provide an effective channel for reaching users, not only in terms of content creation and traffic promotion but also in app downloads and product purchases; they play a vital role in impacting user decisions. User engagement with the content can foster marketing enthusiasm, giving brands the opportunity to disseminate their content and increase the popularity of their products, thus forming a positive marketing cycle.
Nativex has identified three crucial factors behind the growth of influencer marketing: selecting the appropriate influencers, creating engaging content, and implementing integrated communication strategies.
2.1 Selecting the Appropriate Influencers
When it comes to balancing brand building and sales performance, it is essential for brands to not only pay attention to conversion data (such as ROI and advertising effectiveness) but also consider whether the influencer can effectively convey product information or brand messaging. Thus, it is crucial to match user profiles with the appropriate influencers.
"From influence and content maturity rating to conversion rate and cost-effectiveness, advertisers should build influencer profiles and evaluate them from all aspects to maximize the effects of influencer marketing," said Abel, Head of Overseas Influencer Marketing at Nativex. He emphasized the importance of researching an influencer's background to prevent potential PR crises by avoiding working with potentially problematic influencers.
When looking into a marketing plan, most brands or developers favor a combination strategy in which larger influencers take the lead in a campaign, supported by smaller influencers. There are currently four main tiers of influencers, which are based on the number of followers they have:
Mega-influencers: 1,000,000+ followers
Macro-influencers: 500,000 –1,000,000 followers
Mid-tier influencers: 50,000–500,000 followers
Micro-influencers: 10,000–50,000 followers
Nano-influencers: 1,000–10,000 followers
How do you choose the right influencer? Choose influencers who are relevant to your potential target groups. Your selection criteria should not just be based on the number of followers, average number of views, or impressions. Check the comments under the influencer's posts and note their followers' feedback on sponsored content to see how the audience interacts with the influencer's posts. And follower demographic information, such as age group and location, so you can gain a deeper understanding of their audience and assess their willingness to use your app.
When Nativex launched a Kwai hashtag challenge for "The Ants: Underground Kingdom" in Brazil, it helped the game reach more users than expected by focusing on mega-influencers and working with a large group of nano-influencers. Nativex utilized both ordinary users and influencers to participate in the hashtag challenge. Each group had different engagement strategies:
For general users, Nativex turned to Kwai's "template" package to make the challenge easily accessible and encourage players to be creative. Creating videos was not the only way to participate. Users could also upload photos to take part in the challenge.
For KOLs, Nativex put forward a "prize pool sharing" incentive to attract KOLs to participate. As a result, 139 influencers voluntarily contributed to the challenge by making hundreds of videos featuring trendy topics, skits, dance, drama, music, and sports.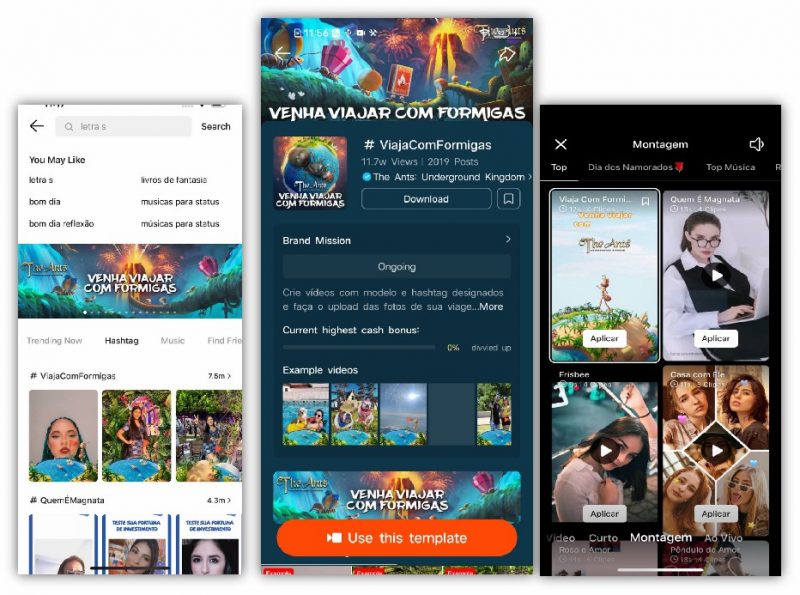 The challenge's exposure increased significantly through various ways, such as splash ads and in-feed ads, as well as a "prize pool sharing" incentive for UGC. The challenge was viewed over 220 million times in just three days and reached a peak of 410 million views. The localized creatives led to a high click-through rate of 8.6% for splash ads and a strong spillover effect of 60%.
2.2 Collaborating with Influencers on Content Creation
When marketing products overseas, brands and developers should tailor their influencer marketing strategies to the unique influencer ecosystems and cultural habits of each region or country. To create compelling content, they should combine creativity with an understanding of local culture and user-generated content. Great content is generated from a mixture of "creativity + local culture + UGC."
Co-creating content is a vital aspect of influencer marketing. By working together, influencers, who have insights into their audience's preferences and needs, and brands, who have expertise in their product concepts, can create content that accurately and effectively promotes brand awareness.
Based on years of experience, Nativex suggests the following tips for creating good content:
Content should match the influencer's original style
Engage users in the first 20% of the video
Avoid excessive product exposure
Keep the duration under 1 minute
In addition to providing influencers with creative autonomy, advertisers should also have a thorough understanding of their products, including the core selling points, target audiences, major competitors, and product differentiation. They should use this knowledge to select the appropriate KOLs. Furthermore, they need to understand the target market and take influencers' advice into account, as they are most familiar with their followers.
When creating video content, balancing the influencer's unique style and hard selling your product is essential. Nativex also recommends how it is crucial to consider both trending topics and peak internet traffic times when determining when to publish the content. With overseas influencer marketing, each market requires a different strategy, and finding a partner with a localized team can save you a lot of time and effort. Local marketing experts can use trending topics, festivals, and fashion trends in each respective country in their marketing strategies, making influencer marketing an important tool for winning over the local market. For example, the Vietnamese market is more inclined toward down-to-earth, realistic content, while the Thai market is more accustomed to plot-based or relationship-related content.
2.3 Utilize Influencer Communication Strategies
Influencer marketing is often only a part of a campaign. Using it as only a part of your entire strategy and also using offline promotions are effective ways of increasing the impact of influencers. Not only do influencers help drive revenue growth for brands, but they can also serve as an effective line of communication between brands and young consumers.
Ximoon Entertainment tailored its marketing strategies for the Japanese release of "Edge of Awakening" to effectively reach the target audience, specifically MAG (manga, anime, and game) users. These strategies included having the game's voice actors participate in live streams, hosting fan meet-ups with the voice actors, having the voice actors dub dramas, and arranging interviews with popular women's magazines. The success of these strategies is evidenced by the strong performance of the game's launch, with new users exceeding expectations, high booking conversion rates, low traffic decay rates, and high fan loyalty.
Based on Nativex's extensive experience in promoting overseas influencers, we also propose the following two measures for amplifying the effects of influencer marketing:
1. Complement influencer marketing by utilizing official accounts. Doing so enhances the impact of influencer marketing by creating a distinct personality and persona. 
2. Boost the effectiveness of promotion by combining it with auction ads. Auction ads can increase reach and exposure by utilizing influencers' influence and content quality. They are more persuasive, drive conversions, and strengthen brand awareness. 
03 Trend Predictions | Influencer Marketing Opportunities in 2023
Relying solely on media buying and plain advertisements is no longer sufficient to drive app downloads or sales. Mobile games targeting the overseas market are now placing greater emphasis on product development and content marketing, with influencer marketing playing a key role in this process. As social e-commerce evolves, influencer marketing will also become a primary strategy for cross-border merchants. In 2023, what opportunities will influencer marketing present for brands and developers?
Web 3.0 will become a major trend.

Game developers are currently thinking about how to form a virtuous cycle of professionally-generated content (PGC ) and user-generated content (UGC) for game distribution.

Influencer content and style will gradually become more diverse and evolve into more segments.

The more niche (i.e., vertical) an influencer's content is, the easier it is to grasp the core of the product. The influencer's fan profiles will also be more accurate, resulting in better ROI.

The growing importance in establishing long-term partnerships with influencers.

Influencers are given more creative freedom and inspire them to generate more diverse, innovative content, which will help brands breakthrough target group boundaries.

The "pay-for-performance" model will become the norm.

Most influencer marketing used to be a "one-time" thing where marketers would pay the influencer first and then ask them to promote products. However, this method makes it difficult to see the relationship between influencer marketing spend and overall marketing performance.

Building brand identities is becoming increasingly important to developers. By operating private traffic and establishing links between online and offline promotions, brands can cultivate quality users, address their potential needs, and develop long-term relationships with them, thus maximizing the value of public and private traffic.

About Nativex
Nativex is a leading digital marketing agency covering traffic resources across all major markets in the world. By providing high-quality user acquisition automation tools, KOL marketing services, and a wide range of creative customization capabilities, Nativex helps brands and apps around the world boost their cross-regional growth.
Contact the Nativex team today to start your journey to success!