Tiny little ants have conquered the global mobile game market over the past year. As the pioneer of ant-themed games, StarUnion, an SLG publisher, has launched The Ants: Underground Kingdom. This global hit sees ants valiantly taking over overseas markets and chalks up monthly sales of over 100 million. In addition to its forays into developed markets such as Europe, the US, and Japan, "The Ants" also looks to Brazil, which is known for its tremendous potential in gaming. The latest data suggest that Brazilian players are second only to their US counterparts in downloading the game. Behind the impressive winning strategy, Nativex is credited with masterminding a Kwai hashtag challenge for the game to cater to local players in Brazil. 
As an adventure strategy SLG game, "The Ants" gives players an immersive experience inside an ant colony, where they can build their own ant kingdom from scratch. The game simulates the ant ecosystem, with gameplay covering land reclamation and ant colony construction and management. Simply put, it provides a microcosm of those little creatures' world. For Brazilian players keen on war games and realistic graphics, "The Ants" has what it takes to shine.
What is the key to making a niche game thrive in the Brazilian market? To answer that question, Nativex launched a hashtag challenge in partnership with Kwai, a major short video platform in Brazil. This approach is built on the power of User Generated Content (UGC) to help the game go viral on social media and win over local users.
The hashtag challenge saw 450,000 UGC of various forms from online participants, including an influencer with 6 million fans. The total views exceeded 400 million, which is no mean feat for a hashtag challenge. Through creatives, themes, KOL marketing, and private traffic development, Nativex opened up a new window of opportunity for "The Ants" in the Brazilian market.
Creative Hashtag Challenge:
Combination of Topical Events and Game Features to Increase User Engagement
The #ViajaComFormigas hashtag challenge was officially launched in Brazil on June 15 under the theme of "A World Tour With The Ants". Players were presented with a gallery of global attractions to choose from, designed to inspire UGC and build awareness for the game.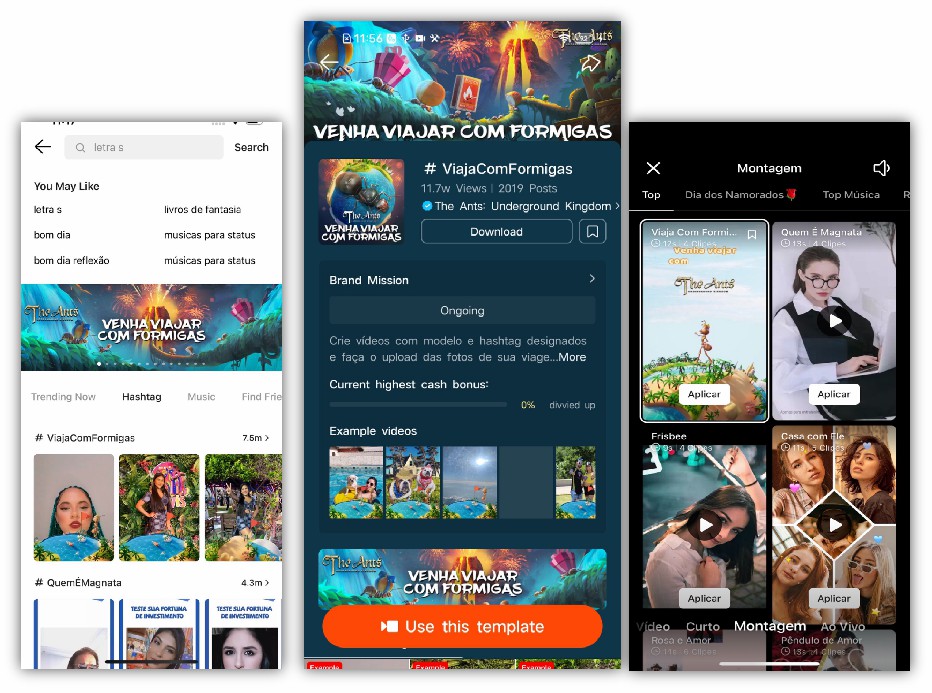 In preparation for the marketing campaigns, Nativex's South American team conducted in-depth research and analysis of popular contents on Kwai Brazil. They found that users there are particularly fond of travel-related topics and sharing travel photos. The global pandemic has stopped people from traveling, which has increased the desire. 
In response to new user demand in the post-covid era, Nativex integrated the globe-trotting desire with the game's vision to give players a unique "travel-in-game experience".
At the same time, the theme of global travel inspired and struck a chord with users in their UGC creation.
"As the world reopens, everybody is looking for new and interesting travel experiences, and our hashtag challenge was in line with the strong demand of the local population to express their longing to see the world."
Do in the Kwai Way:
Combination of Video Templates and Prize Pool to Realize Viral Marketing
The idea of a hashtag challenge was a start. But what could be done to motivate players to ensure they develop an interest in the challenge and the game itself? Thanks to their vast experience in social media marketing, Nativex's local planning team suggested that there should be tailor-made communications and promotion strategies for two different types of participants: ordinary users and influencers.
For ordinary users, Nativex turned to Kwai's "template" package to make the challenge easily accessible and encourage players to be creative. Creating videos was not the only way to participate. Users could also upload travel photos to take part in the challenge. In addition, the template services featured mesmerizing animation and camera flash effects, which helped promote the game while giving players a fun and inspirational experience.
Template Package: images of game protagonists and the game title, airplane animation, user photos, and photo ops with game characters
Nativex put forward a "prize pool sharing" incentive to attract KOLs to participate. As a result, 139 influencers voluntarily contributed to the challenge by making hundreds of videos featuring trendy topics, skits, dance, drama, music, and sports.
Our strategy was to prioritize the elite KOLs while mobilizing nano KOLs. For this hashtag challenge, we created something similar to a mass communications matrix to reach as many participants as possible.
Under its vast experience in social media marketing and knowledge of Kwai's content ecology, Nativex succeeded in helping "The Ants" reach a wider audience than had been expected.
Long-term Content Marketing:
Creating an Official Account and Building Private Traffic
Boosted by the success of the Kwai hashtag challenge, "The Ants" has grown more robust in the Brazilian market and attracted a strong army of higher-intent local users. Now that the marketing campaign works, how can the game build on its success and achieve sustainable growth in the future?
Nativex proposed a follow-up strategy to create an official account on Kwai amid the wild popularity of the hashtag challenge to build brand awareness and funnel communications with players from the public channels to the publisher's self-owned channels. In doing so, the game developer can not only reach players regularly with zero costs but also build user trust and engagement. This has amounted to an upgrade of the marketing model for "The Ants" to break through its bottleneck.
However, compared with media buying on public channels, this novel trick of investing in private traffic requires even higher-quality content. For instance, when it comes to localization in particular, game manufacturers need contents that click with local players and are compatible with the brand itself. The golden rule for companies seeking to go global is to have an international-minded team with a local touch. Nativex's Global Creative Studios –  TopWorks, which specializes in game content planning and marketing, is a case in point.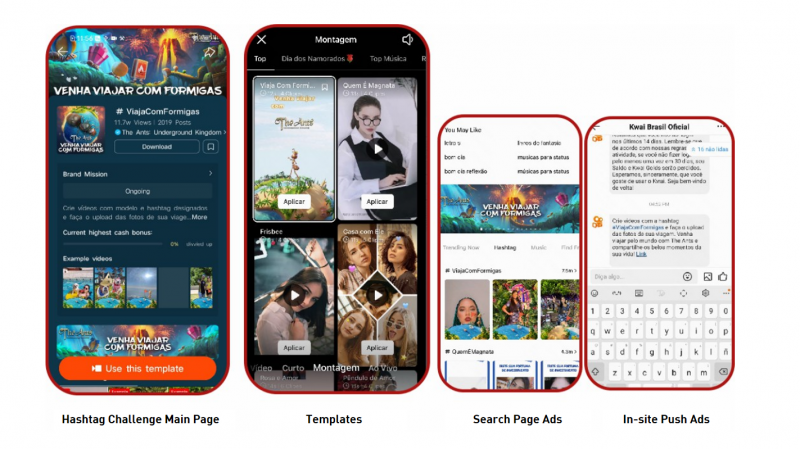 Nativex managed to exponentially drive up the views of the hashtag challenge by tapping into media buying in splash ads and news feed ads, as well as offering giveaways to UGC contributors. 
The challenge was viewed over 110,000 times on its launch day, soared to over 220 million within three days, and peaked at 410 million. Thanks to the beautifully localized creatives, the splash ads' click-through rate reached 8.6%, and their spillover effect stood at an impressive 60%.
In light of the conversion effect, while the hashtag challenge was going on in June, the number of downloads of "The Ants" in Brazil made it to No. 2 worldwide (following the US), further promoting brand awareness and the sustainable growth of the game itself.
Sharings from The Ants, Kwai, and Nativex
"We were so surprised and excited to see all those wonderful UGC and impressive data results."
The Head of Marketing of "The Ants" in Brazil applauded the hashtag challenge: "The way the ideas were presented was amazing. We saw innovation in both the theme and format of the challenge. Nativex's localization team was spot-on in making the most of the local topical events for marketing campaigns. We were so surprised and excited to see all those wonderful UGC and impressive data results. This challenge is our first step in private traffic development in Brazil, and we'll strive for a better local touch with Brazilian players."
"More advertisers are turning to emerging markets"
Zhou Meili, Head of Overseas Sales in Kwai for Business, noted: "Compared with the saturated European, American, Japanese, and Korean markets, more advertisers are turning to emerging markets. With our strong presence in South America and Southeast Asia, Kwai is committed to helping game publishers achieve a greater global reach. And in this process, we've been working closely with world-class marketing agencies such as Nativex to add momentum to their venture abroad."
"We're willing to promote the global presence of home-grown games"
Alan Xie, Vice President of Nativex, observed: "Nativex is honored to be part of the global journey of 'The Ants'. Behind the success of the Kwai hashtag challenge are our wonderful localization teams and their expertise. As a global marketing agency, Nativex has been partnering with Chinese game manufacturers to help them go global over the past decade. Our edge in localization allows us to deliver ideas that appeal to local users and promote the global presence of home-grown games."
About Nativex
Nativex is a leading digital marketing agency covering traffic resources across all major markets in the world. By providing high-quality user acquisition automation tools, KOL marketing services, and a wide range of creative customization capabilities, Nativex helps brands and apps around the world boost their cross-regional growth. As part of the Mobvista Group, Nativex has offices in 17 locations around the world and provides services to over 3,000 advertisers across more than 60 countries.
Contact the Nativex team today to start your journey to success!