Newzoo's yearly report is the source of information on the latest market trends currently shaping and driving the gaming landscape. Their forecasts and predictions are based on detailed breakdowns which you can dive into on their website.
They surveyed more than 62,500 people across 30 key countries and markets in order to gain valuable insights into three key metrics for every market: players, payers, and revenues.
The overall view is that gaming continues to rise and become mainstream. "Now more than ever, gaming is at the heart of the entertainment business," according to Peter Warman, CEO of Newzoo. "The meteoric success of gaming is too impactful for brands to ignore, with more and more huge names, including Google and Netflix, choosing to enter the fray."
It's clear that a lot of eyes are on the state of the global games market. More and more brands are seizing the opportunities of the market, creating new segments and bringing in diverse game enthusiasts. The games industry has become bigger, better and more important than ever before.
So let's stop the preamble there and dive straight into the five most important things we learned from the Global Games Market Report.
1.Gamers will spend over $150 billion on games in 2019
Global game revenues are going to surpass the $150 billion milestone this year to hit $152.1 billion. By 2022 the global games market will grow to be $196 billion strong. Every segment is showing growth proving that the games market is in a healthy state.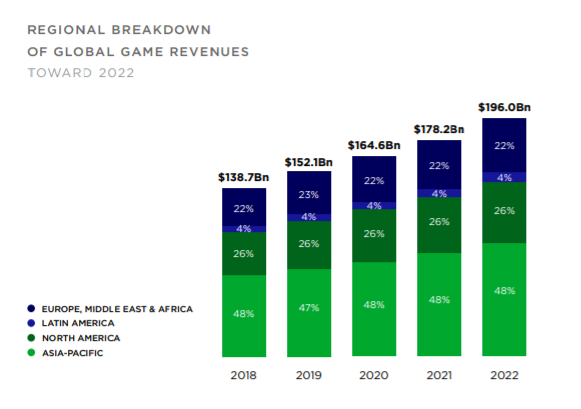 There's now more than 2.5 billion gamers around the world. The market has become so massive that separating players into "casual gamers" and "hardcore gamers" just doesn't cut it anymore. Newzoo has come up with a new gamer segmentation method that divides the player base into eight unique personas encompassing all aspects of consumer engagement.
Even though the player base might be increasingly diverse, companies still aren't. The top five companies alone accounted for 43% of global games revenues. At the top of the leaderboard is Tencent which made $19.733 million in 2018.
2.Mobile is driving industry growth
Mobile is the largest market segment in 2019. The mobile games industry makes up 45% of the global games market producing revenues of $68.5 billion. By 2022 the segment will produce revenues of $95.4 billion and account for almost half of the entire games market, bolstered mainly by emerging markets, more smartphone users and improvements in hardware and infrastructure.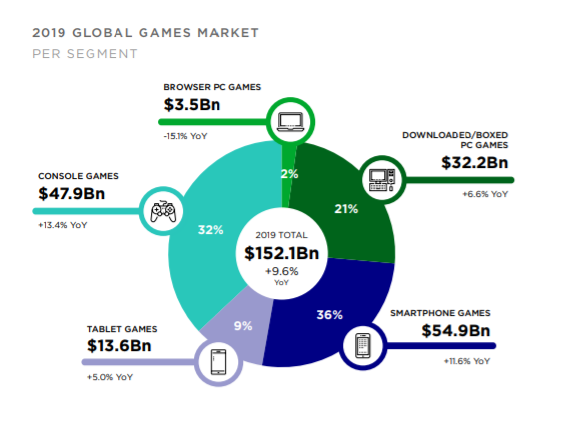 Smartphones are more popular gaming platforms than mobile accounting for 80%, or $54.9 billion, of all mobile game revenues. Tablet gaming makes the remaining $13.6 billion. Smartphones will see the most growth by 2022, when it is predicted to hit revenues of $79.7 billion alone.
3.Mobile will continue to eclipse PC revenue
The mobile market is outpacing PC market growth and steadily catching up with consoles too. By 2022 the PC market share is due to shrink as more people move to mobile while the console market holds on to their market share.
The revenues on PC browser games are decreasing at a rate of 15.1% year on year as more gamers switch to mobile games. By 2022 revenues in the browser segment will be half of what it is now. Meanwhile downloaded or boxed PC games are holding on at a growth rate of 5.4%. It seems like the driving factor behind downloaded or boxed PC games is competitive play, which will generate $32.2 billion in 2019. However, with mobile esports around the corner, we might even be seeing the end to that soon.
In the meantime, the console market will retain its current market share. With the current console generation coming to a close, the Xbox One and PlayStation 4 are enjoying high user numbers. Meanwhile, the Nintendo Switch is benefiting from the upcoming new models and is seeing a lot of success. With games-as-a-service entering the stage, the console market has a lot of potential avenues for revenue to look forward to this year. Console games revenues are expected to hit $47.9 billion this year with a 13.4% growth year on year.
4.The US is expected to be the largest gaming market
Rather controversially, Newzoo has found that the United States, not China, will be the largest gaming market by revenues this year after losing to China since 2015. The country is set to make $36.9 billion this year, driven by the growth in console game revenues. Meanwhile, China will be hitting $36.5 billion.
North America is the second-largest games market segment with a 26.1% share of global revenues. The area is set to make $39.6 billion this year and is seeing 11.7% year on year growth. By 2022 the region will maintain its position as the second-largest region by games revenue keeping its 26% share of the market.
Meanwhile, Latin America is going to be the fastest-growing games market in the world due to its improving infrastructure and increased appetite for games and esports with a growth of 10.4%.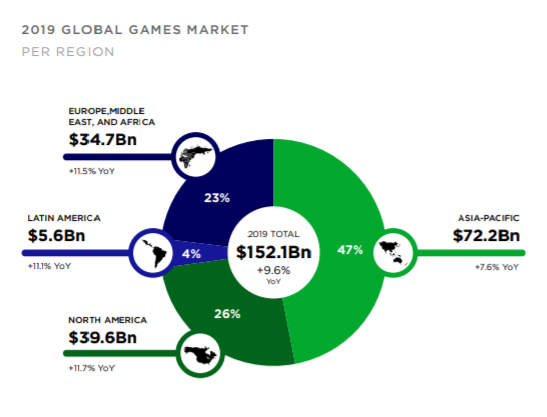 5.Asia-Pacific is the biggest region
Not all is lost for the Asian market as it still has a lot to celebrate. The Asia-Pacific region is still the largest region and it is due to generate $72.2 billion in 2019. It is growing at a rate of 7.6% year on year and accounts for 47% of total global game revenues.
As the biggest country in the region, everyone's eyes are on China's politics and regulations. The recently passed licensing freeze has had a huge impact on the region's revenue growth as the segment depends on a steady stream of new titles. New regulations which aim to reduce screen time of children is also set to eat into the country's revenues.