Short videos are delicious, bitty snippets of content and China can't get enough of them. China's short video app audience reached over half a billion people by the end of last year and they spend an average of 38 minutes a day watching short videos.
Around one in every ten Chinese people accesses Douyin, internationally known as TikTok, every day. The short video platform, like many of its kind, lets users create videos to music and share them among their social network. It was released in September 2016 and went on to become the most downloaded iOS app throughout 2018 until the present, surpassing Facebook, YouTube and Instagram.
While Douyin might be the most known app globally, there are many more apps in China that populate the short video platform market. Kuaishou, internationally known as Kwai, is considered the closest rival to Douyin and is the app of choice for the regions. It was originally launched in 2011 as a GIF maker and has gone on to have a whole 200 million users accessing it every day.
Video giants like iQiyi have been blindsided by the booming demand for short video content. In 2020 they hope to add short video functionality to its repertoire in order to take on its rivals and stay relevant. Meanwhile, Tencent quietly re-released Weishi, the only short video platform to work with the staple messaging platform, WeChat.
With a market the size of China, apps can appeal to niche communities and still find considerable success. Huoshan targets users aged 24-49 living in tier 3, 4 and 5 cities. XiGua aims at consumers of professional content funded by brands and advertisers. Billibilli is the video platform for fans of Anime, Comic and Game culture.
The short video platform market is large as much as it is diverse. We have pulled data on China's short video apps in order to better understand their differences and what makes users of each platform tick.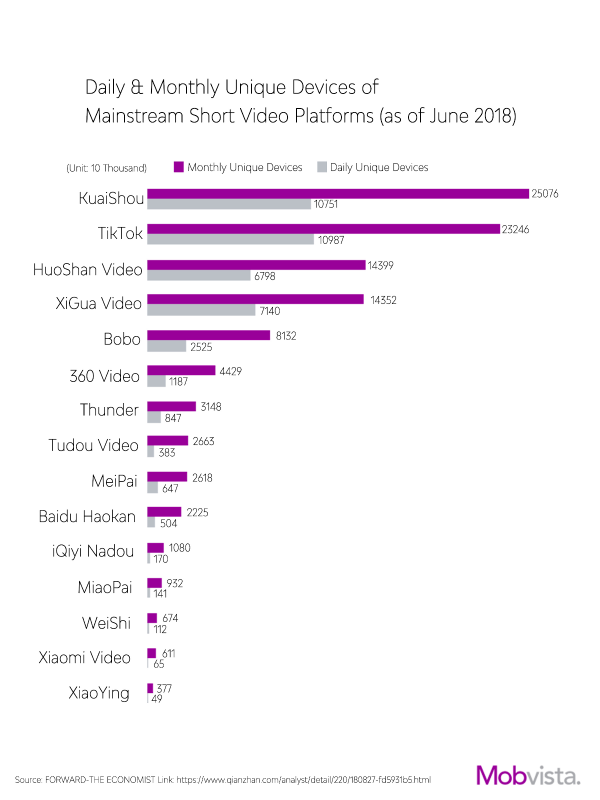 KuaiShou and Douyin are the most popular short video platforms
The top four most popular short video platforms (KuaiShou, Douyin, HuoShan and XiGua) make up 70% of the market. KuaiShou and Douyin battle it out for the top seat however each of them has taken very different paths to success.
Platforms KuaiShou and Douyin are practically identical however the branding and user appeal is very different. Douyin is the platform of choice for city dwellers, going for users in tier 1 and tier 2 cities, while KuaiShou targets those in the regions.
Having only been released in 2016, Douyin saw very rapid growth and penetration. KuaiShou, the much older platform, is not threatened, as it received investment last year from Chinese giants like Tencent, Alibaba and Baidu.
The data shows there is a divide in the short video platform market. HuoShan is an everyday platform. Videos do not have a lot of polish and instead try to capture normal people doing weirdly fascinating things. Meanwhile, XiGua focuses on slicker videos with higher production value. Videos on this platform are deemed professionally generated and are sometimes funded by brands or advertisers.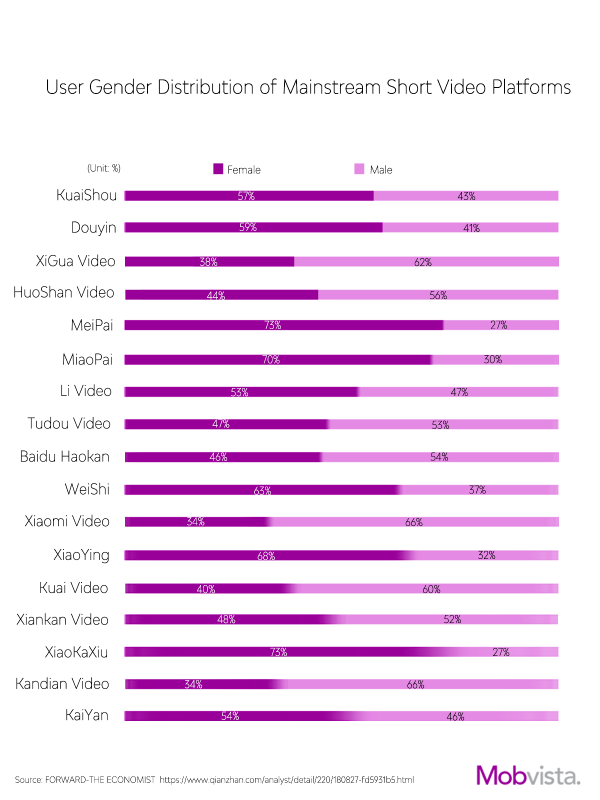 Short video platforms tend to be gender-neutral
The ratio of short video platform users and mobile users is similar. At the end of 2017, male short video users accounted for 57% of all users which is almost the same as the number of male mobile network users which accounted for 58% of all mobile use. Women made up 43% of all short video users and 42% of all mobile users.
While on average, short video apps do not skew to a particular gender, some short video platforms do cater to slightly different demographics.
The top short video platforms, Douyin and KuaiShou, tend slightly towards a female demographic with 59% and 57% respectively. These platforms can hold a nearly bottomless feed of young women making food, performing lip-syncs, comical dances or holding cute dogs. The percentage of male users on Douyin and KuaiShou is slowly growing over time.
XiGua and HuoShan skew towards a predominantly male demographic while MeiPai and MiaoPai have more female users, making them better platforms for gender-specific targeting.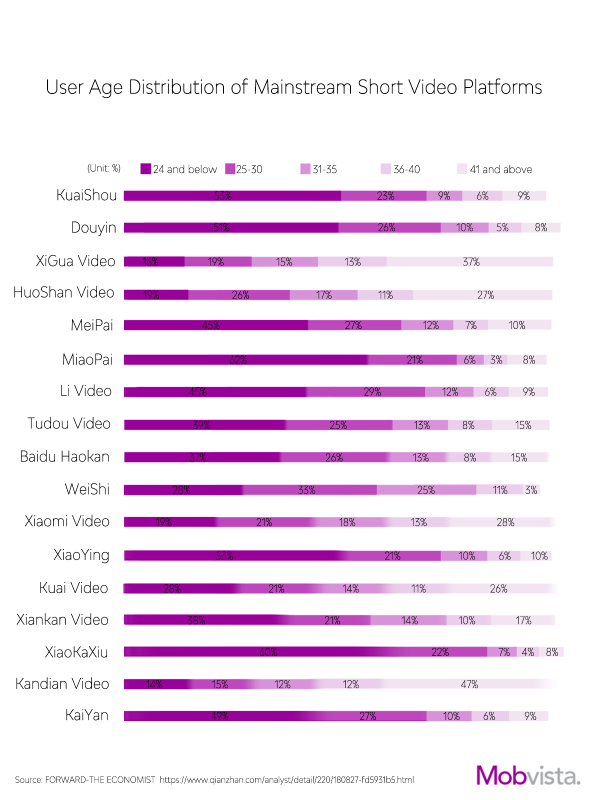 The user base tends to be younger, but there are exceptions
Short video platforms are riddled with young netizens. Users below 24 years old make up 40% of all short video platform users. Douyin and KuaiShou, the most popular of the platforms, have a predominantly young audience. Users who are 30 or younger consist of 77% and 76% of the user base respectively.
Over half of the audience on these platforms are under 24. Particularly young leaning platforms are MiaoPai and XiaoKaXiu with 62% and 60% in the under 24 category. While the overall user base might skew young, that does not mean that there aren't platforms which cater to older users.
XiGua and HuoShan have a large distribution of middle and older-aged users. A whole 37% of XiGua users are over 41 years old, while 27% of HuoShan users are in the same age bracket. More than half of all users on these platforms are over the age of 30.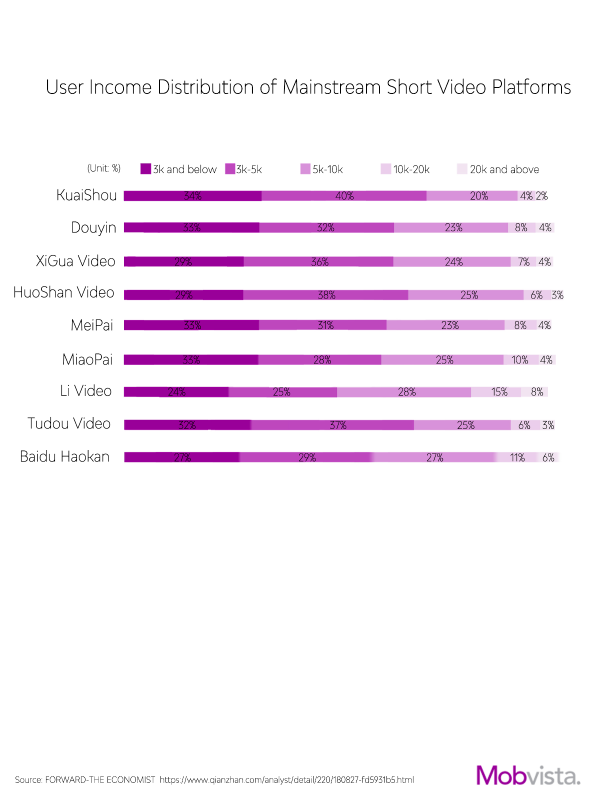 Middle-income users make up the short video user base
Middle-low income groups make up most of short video platform users. Across the nine short-form video platforms that we looked at, those with a monthly salary of less than 3k and those with 3k-5k make up over 50%-60% of the platforms' users.

Location and age demographics begin to show in the income statistics. Short video platforms are widely popular in younger generations, which explains the lower skew in income. Meanwhile, apps like Douyin which appeal to city dwellers benefit from more users who come from a slightly higher income bracket compared to KuaiShou.
Li Video holds the highest proportion of middle and high-income groups. Users with a monthly salary above 10k make up 23% of the user base. This is due to the fact that Li Video is a news-based short video platform which allows users to keep up with the latest news, attracting a higher income bracket.
As short video platform users grow up and begin to get more disposable income, it is more likely for us to see low-income groups on these platforms decrease.
Conclusion
The short video platform market is much more than just Douyin. China is the largest domestic market in the world having nearly a billion consumers in a single country. Being so vast, plenty of short video apps can live and thrive in the same market by appealing to specific regions, cultures and demographics.
Douyin and KuaiShou, though appealing to a broad demographic, are divided by city or rural dwellers. XiGua and HuoShan tend to cater to middle-aged and older men while MiaoPai is the platform for young women.
With such a diverse market, brands must think carefully about what platform holds the right audience for their social media campaign and ensure they target them appropriately for future success.