Mobvista's Mobile Sales Director & UA expert Alexander Janssens spoke at the PocketGamer Connects conference in Finland about China's mobile market and how western publishers can launch and achieve sustainable growth there. Here are the 4 main takeaways from this presentation.
1. China's mobile market is unbelievably massive
How many mobile internet users does the USA have? What about China? If you don't know the answer, don't worry, we'll tell you: there are approximately 270 million users in America, but over three times more (800+ million) users in China, making it the country with the most citizens connected to mobile internet in the world! Not only that, but over 99% of China's internet users rely on their mobile phones to access the internet, making it the country with the highest mobile internet penetration in the world – in other words, China is a mobile-first country!
Due to its huge focus on mobile, as well as its massive mobile internet population, China is an extremely attractive market for app publishers all over the world. Add to that the fact that 28% of all consumer spend on games last year came from China and you can see why many western publishers are looking to expand there.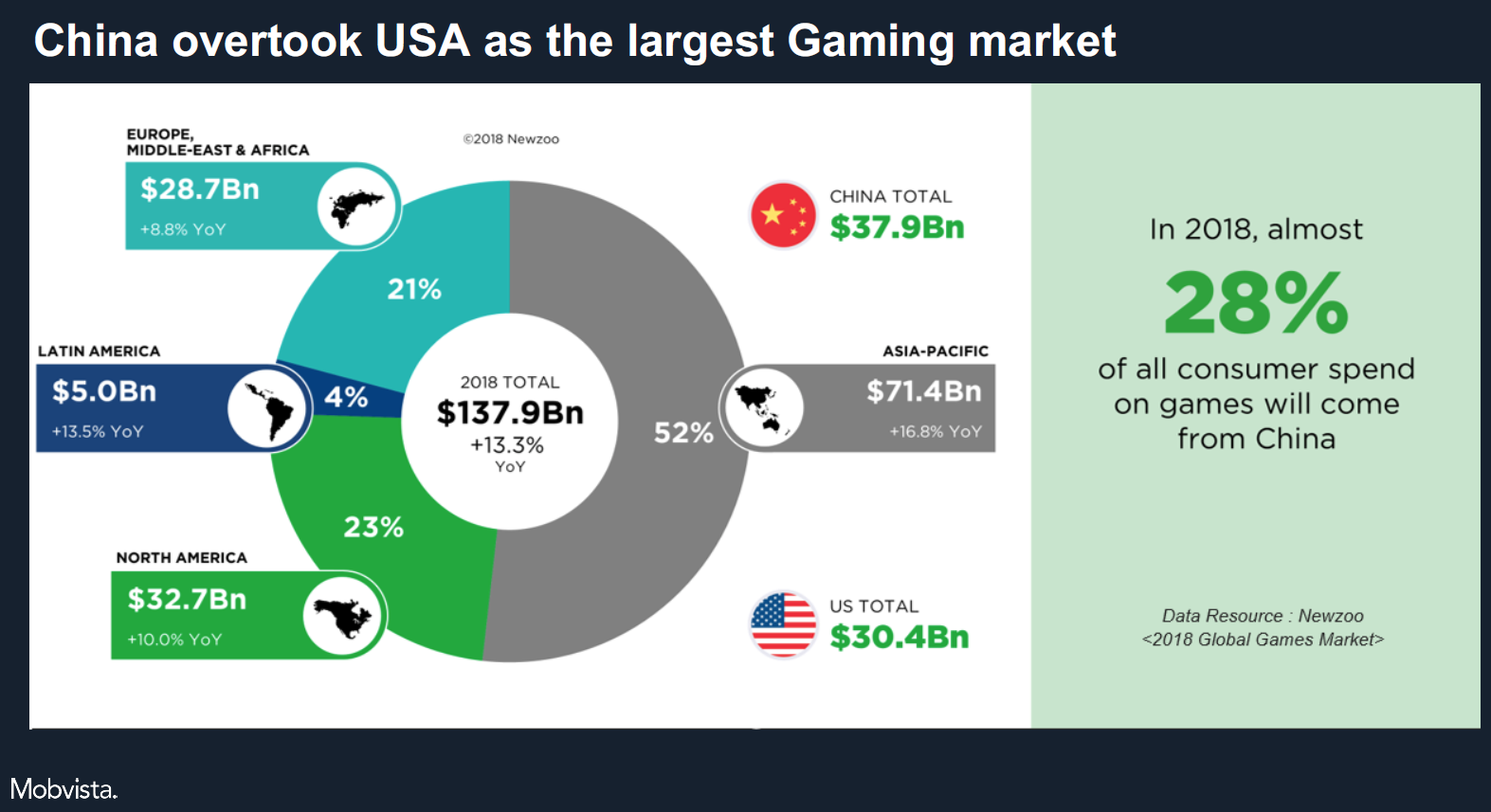 China is the world's largest gaming market, with no signs of slowing down. 




Image source: "Growing Your Games Successfully in China" presentation @ PGC Helsinki
2. Domestic internet giants dominate in China
China's mobile ecosystem is vastly different from the rest of the world. Mobile internet giants like Google, Facebook, Twitter or Snapchat are banned or blocked, which might make things complicated for publishers used to working with them in the West.
With the biggest players from the West unable to enter the Chinese market, domestic companies were able to seize the opportunity and take the largest piece of the mobile internet pie. In fact, over 75% of mobile usage time in China belongs to 4 companies:
This could be seen as good news for western publishers since they only need to work with a small number of companies to reach most of the Chinese userbase. Not only that but Mobvista is an authorized service provider for China's top media platforms – you can read more about them and how we can help you work with these platforms here: part 1 and part 2.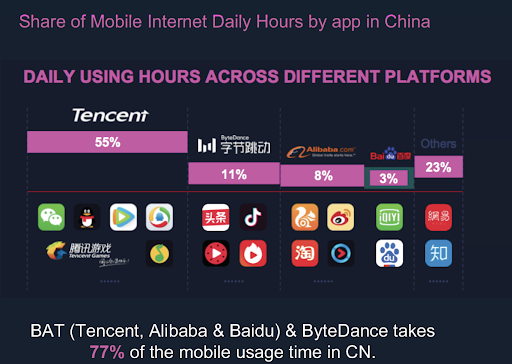 Most of China's mobile internet usage goes to these 4 tech giants, all of which are domestic.




Image source: "Growing Your Games Successfully in China" presentation @ PGC Helsinki
3. Launching in China is challenging but rewarding
Many publishers see China's mobile ecosystem as one that is quite intimidating, mainly due to the fact that it is vastly different from anything in the West:
The Android market is incredibly fragmented.

There are over 300 Android app stores in China so it's unrealistic for publishers to target the entire Android userbase.

Western tech giants are blocked in China.

Facebook, Google, Twitter, Snapchat, and many other platforms that Western publishers are used to, don't exist in China. The market is dominated by domestic players (Tencent, ByteDance, Alibaba, Baidu).

The Chinese legal system can be difficult to navigate.

Launching an app in China means complying with Chinese legal policies and getting all government approval or certification.
It's not all bad news, though. While the Chinese market might seem impenetrable, with the right partners and the right strategy, Western publishers can achieve growth at an incredible scale. There are some opportunities that are simply too good to pass:
The biggest market with a unified language and culture.

Unlike Europe or the Americas, China is a unified territory, so once you're in China you have access to over 10% of the world's iOS market and over 25% of the world's Android market.

The most mature market for mobile payments.

China has the highest mobile payment penetration rate in the world (over 81%), with Alibaba's Alipay (54%) and Tencent's WeChat (39%) accounting for most of the mobile payment transactions.

Reduced competition.

China's regulatory system, combined with the gaming approval freeze in 2018, means there is less competition for this huge market.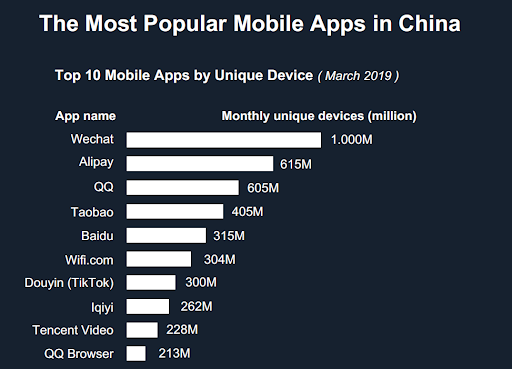 9 of the top 10 apps in China belong to the Big 4: Tencent, ByteDance, Alibaba, Baidu




Image source: "Growing Your Games Successfully in China" presentation @ PGC Helsinki
4. DO's and DONT's of launching in China
So you're ready to launch in China – what's next? We have 7 tips for you:
DO

start with the iOS market as it's a single app store

DON'T

target all Android stores (there are over 300 of them!). The top 7 Android app stores account for 85% of the market share, so target these app stores first

DO

localize your game from creative, to in-game experience, to social connections and logins (remember: Western giants like Facebook, Google or Twitter are blocked in China)

DON'T

use English in your game, make sure you use (Simplified) Chinese

DO

work with social media influencers as they are a big marketing channel in China. Partnering with them means getting your game in front of millions of their loyal followers

DON'T

launch before integrating Alipay and WeChat Pay as payment methods if you plan on using in-app purchases

DO

work with local media experts as they can help you navigate the Chinese regulatory system and get all the necessary approvals and certifications. Mobvista is an authorized ad service provider for China's top media platforms so

we can help you launch in China
Conclusion
With China's massive mobile ecosystem being radically different from any other territory in the world, it's no surprise that Western publishers have difficulty entering this massive market. The lack of familiar faces like Facebook, Google, Twitter or Snapchat, combined with the dominance of domestic players like Tencent, ByteDance, Alibaba and Baidu, means that publishers looking to launch in China must change their strategy and must find local partners to achieve success.
The good news is that the market is massive both in terms of users (over 800 million) and revenue (25% of the world's gaming revenue comes from China). And if you're looking to launch and grow in China, look no further: Mobvista is your one-stop-shop, so get in touch with us today!