Trading Desks are nothing new – in fact, the majority of large brands have used Agency Trading Desks for a number of years, primarily as a way to keep media costs down. But the agency model is far from perfect, with agencies unable to shake the suspicion that they use trading desks as a way to tie clients in and keep transparency low and margins high.
In its 2017 annual surveys of major advertisers, the World Federation of Advertisers (WFA) found that 90% of large brand advertisers using Agency Trading Desks were "reviewing and resetting contracts and business models" to gain more control and transparency over the buying process. So it's clear that there is demand from advertisers for an approach to programmatic planning and buying that has the same ability to simplify the complexities of modern advertising, while at the same time empowering brands and advertisers to have much more control over how their budgets are spent.
The Nativex Trading Desk has been created to address these complexity and transparency issues. It has been developed to connect directly to the major media platforms, using API integrations and open RTB to allow planning, buying and reporting through a single interface. You might call it a 'third-generation' trading desk, following on from the agency and independent models with an 'online media-centric' and a more connected approach that reflects the media landscape as it is today.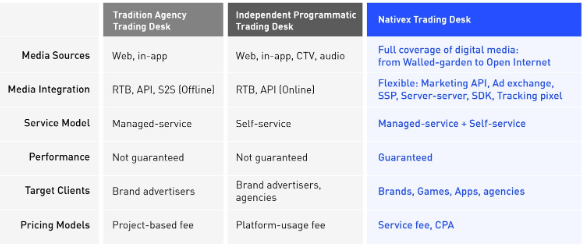 This chart shows how the Nativex Trading Desk compares to existing Agency and Independent trading desk models
Our extensive conversations with our customers, as well as research into the programmatic advertising landscape as a whole, revealed that advertisers big and small share the same challenges when it comes to creating and executing their ad campaigns. Namely, worries around transparency and trust, the ability to access inventory from major social media and internet platforms and the complexity of running campaigns at a global scale. 
As well as these big issues, many advertisers are faced with the decision to go with the existing agency trading desk model with all its issues, spend big on taking the agency function in-house, or using a hybrid model with a combination of vendors and an independent trading desk to manage it all. 
 The Nativex Trading Desk has been developed to address all of these specific issues. Let's look at them one by one.
Issue 1: Advertisers are demanding real transparency
Advertisers will always want more transparency, and we know that the current ad tech landscape doesn't really deliver this. As campaigns become more complex and advertisers look to use many different channels within a single campaign, they need tools that let them understand campaign performance and return on investment. Therefore, improving the efficiency of cross-media management and offering this kind of transparent reporting and measurement is a key benefit of the trading desk model.
Put more simply, advertisers want to know how their money is spent and what the pricing structure is for each platform. But not just the spend; they need to see the results. That's why Nativex Trading Desk uses performance-based reporting so that advertisers can easily see detailed acquisition costs, and get a much fuller picture of the Return On Ad Spend (ROAS).
Issue 2: Advertisers want a better way to access the walled gardens created by the big media platforms
The most important difference with Nativex's solution from existing trading desks is the integration of these walled garden media platforms, using their own APIs to create a cross-media planning and measurement tool. To do this requires the technology to be built from the ground-up, as each walled garden platform requires its own customised integration. We believe that the Nativex Trading Desk is the first to the market to offer this approach.
Existing trading desks sit above a Demand Side Platform (DSP) and Digital Media Platform (DMP), acting as the link between the advertiser and the underlying programmatic technology. But shifting to an API-based approach is fundamentally different, in that it requires both the right vertical technology stack, plus the ability to scale horizontally to integrate many different kinds of media into a single tool.
We are also seeing more standardisation between platforms, meaning automation becomes possible with the right tools. For example, influencer marketing has become a very important tool for reaching certain audiences but has been hugely reliant on time-consuming, manual planning – often down to dealing with influencers individually. Now, we are seeing platforms like Snap and Instagram building tools designed to allow marketers to build influencer campaigns at scale. By integrating these APIs into a trading desk model, it becomes possible to remove a lot of the difficulty in using these platforms, which in turn opens them up to many more brands and advertisers than before.
Issue 3: Advertisers need a trading desk that's truly global
The origin of the trading desk model was to vertically integrate media planning and buying, so there was no need for cross-border and international planning and buying. But today's media landscape is hugely different, and brands and publishers absolutely want to run global campaigns.
Currently, whilst programmatic traffic can be bought and sold globally, the quality and scale of the traffic depend on which networks and DSPs you are connected to. Plus, if an advertiser in the US wants to run a campaign in Korea, China or Japan, they will almost certainly need to partner with a local agency or DSP that has access to local inventory. Clearly, that's not a scalable way of working.
Looking at China's unique and massive mobile market, platforms like Facebook, Twitter, or YouTube are replaced by domestic players like WeChat, QQ, and Bilibili which is showing incredible growth. A link that connects all of these platforms and enables true cross-media management is needed.
We believe that the next generation of trading desks need to be built with global campaigns in mind, giving advertisers transparent and centralised access to media worldwide.
Issue 4: Advertisers want to pay for success – not access
The idea of 'value' is another area where the Nativex Trading Desk is looking forward, not back. Even in a landscape where programmatic campaigns come with a wealth of performance data, too much of the advertising industry still looks to outdated metrics such as CPM or views. 
The reality of modern media consumption is a lot more nuanced, and many of the most effective ad formats are built around engagement rather than consumption. For example, interactive video and rewarded video are more popular formats with consumers and far more effective than static display formats. In China, the rise of WeChat's mini-programs provides a very different acquisition tool for brands promoting mobile apps and services. The point is that the measurement offered by ad platforms needs to be able to reflect the different metrics of these formats, and the different needs of the advertiser.
In the WFA's 2019 survey of major advertisers, one of the biggest issues was advertising spend that wasn't generating clear results. Increased investment in advertising wasn't automatically improving performance, with members who felt their ad effectiveness was in decline blaming clutter (63%), the increasing ease of ad avoidance (53%), declining reach (42%) and declining trust in advertising (39%).
Nativex has built its trading desk around performance measurement, meaning that campaign objectives can be set in advance, allowing the platform to optimise against them. That means that specific goals for acquisition spend and ROAS can be transparently tracked in real-time, giving advertisers a level of control that's not an option with other trading desk approaches.
Issue 5: Advertisers should be free to choose the service model which suits them best
A big difference between using a trading desk and working directly with a DSP is the investment on the client-side. Many companies who work directly with a DSP are large enough to have an in-house ad operations team to manage the complex business of programmatic and RTB. Trading desks, on the other hand, will include a service model so that the time and expertise of building and executing your campaign is outsourced to experts.
We've already mentioned that some advertisers prefer a hybrid model, where they run the bulk of their programmatic campaigns directly, but partner with a trading desk for especially complex or important campaigns where more expertise is needed. For marketers who are struggling to integrate more channels into their campaigns (remember what we said about walled gardens?), trading desks can be an ideal option.
For advertisers and publishers looking to improve their ad campaigns, flexibility is key. Research from the IAB also backs up this shift towards a hybrid approach to programmatic advertising, balancing the use of in-housing to give more control and keep costs down, whilst using experts where needed. In its recent report into attitudes to programmatic advertising, it  concluded: "we can expect to see an increase in hybrid models in the future; 52% of advertisers cite that they are considering taking programmatic in-house in the next 12 months whilst 50% also cite they plan to use an external consultancy."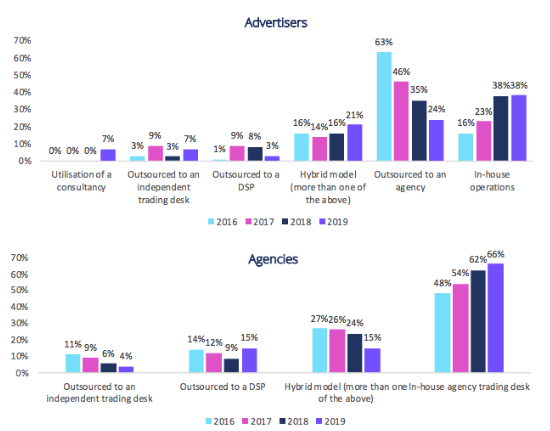 Chart from the "IAB Europe Attitudes to Programmatic Advertising Report 2019" showing the trend in programmatic operating model s chosen by advertisers and agencies
Nativex – the trading desk model for the future
With almost 70% of all advertising in 2020 set to be bought programmatically, advertisers need the right blend of expertise and technology to help them reach their goals. In launching the Nativex Trading Desk, we have tried as much as possible to address the media landscape as it is today and how it will be tomorrow. The ability to scale campaigns across 'closed' media platforms to the open Internet in the West and APAC is something that advertisers have never had before, and promises to remove many of the cost and complexity barriers that advertisers face today.
The Nativex team can help advertisers with customized cross-media buying solutions. With access to both the biggest players in the West like Facebook and Google, to the largest media platforms in China like Tencent or ByteDance, Nativex offers a one-stop shop that enables truly global campaign creation and management. If you're looking to take your advertising efforts to the next level and see tangible ROI, speak with the Nativex team today.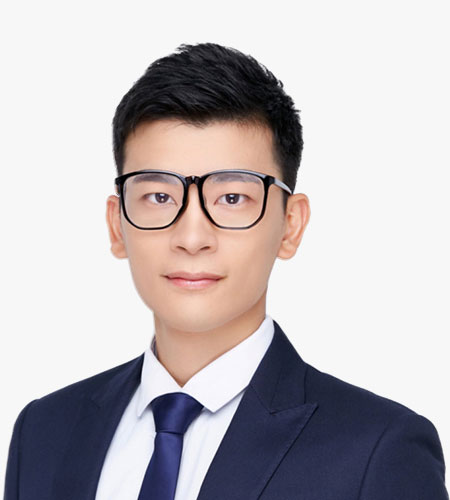 Jake Li
Vice President
Jake Li is the Vice President of Nativex and he leads the Nativex Trading Desk initiative. Since joining in 2014, Jake has helped build the global operations team and has played a crucial role in the worldwide rollout of Nativex's operational capabilities. Through the Nativex Trading Desk, Jake is building the next generation of product solutions for advertisers around the world.