In recent times, the number and purchasing power of female gamers has increased significantly across the globe. The Entertainment Software Association (ESA) has reported that in 2022, female gamers constituted almost half of the total gaming population in the United States, while the figure stood at 35% for Asia.

Moreover, female players exhibit a strong inclination toward spending on gaming equipment, loot boxes, and cosmetic items. As female gamers represent a substantial demographic and revenue source, it is imperative for developers and publishers to prioritize their needs and preferences to fully leverage this opportunity.
Consequently, the gaming industry has witnessed a surge in games tailored specifically to female audiences. These "female-oriented games" feature female protagonists and storylines that align with women's interests and aesthetics.
The category of female-oriented games has expanded considerably to include simulation, romance, and role-playing games, among others. These games prioritize engaging storylines and visually and acoustically pleasing effects to provide gamers with an immersive experience.
As the status and spending power of women continue to rise, the number of female gamers has also grown significantly. This increase in female gamers has resulted in a greater emphasis on game quality and meticulous attention to game content.
Drawing from its global expertise, Nativex has identified Europe, America, and Asia as the primary target markets for female-oriented mobile games. Role-playing, simulation, and casual games are the top three categories in those markets.
Cultural Influences on Gaming Preferences Around the Globe
In Japan, mobile games designed for female audiences often feature "cute and sweet" themes such as music, romance, and role-playing. According to iGage, LINE: Disney Tsum Tsum / LINE:ディズニー ツムツム is a popular game among female gamers in Japan, as it incorporates beloved Disney and Pixar characters. The game dominated the list of the most sought-after mobile games among Japanese women in 2022, with over 4.5 million female gamers out of a total of 6.7 million active users.
In Korea, games targeted toward female audiences are inspired by Korean pop culture. BTS Island: In the SEOM is a recent favorite among female gamers, leveraging the popularity of the K-pop group BTS to create a substantial fan base and a strong and distinctive gaming community. The game's official YouTube channel has over 650K subscribers. Its Twitter account boasts 774.9K followers, and game-related hashtags (#인더섬 #IntheSEOM #BTSIsland) consistently generate high levels of search volume and engagement.
The gaming industry in Japan and Korea still heavily emphasizes the "cute and lovely" aesthetic, with a particular focus on intricately designed and realistic visuals. Trendy makeup games entice players with personalized customization and intricate DIY settings, while popular clothing games offer an extensive array of styles ranging from luxury and sophistication to cuteness.
Japanese female gamers typically gravitate towards cute and delicate characters, while their American counterparts tend to prefer strong, independent, and adventurous characters in mobile games. This results in a diverse range of game preferences among American female gamers, with hyper-casual, role-playing, and action-adventure games being the most popular genres. American female gamers often have fragmented game times, so they prefer short, fast-paced games that cater to their emotional needs.
ASMR and makeup-related creatives have emerged as a booming trend in the US market, providing gamers with a sense of relief and fulfillment via auditory and visual triggers.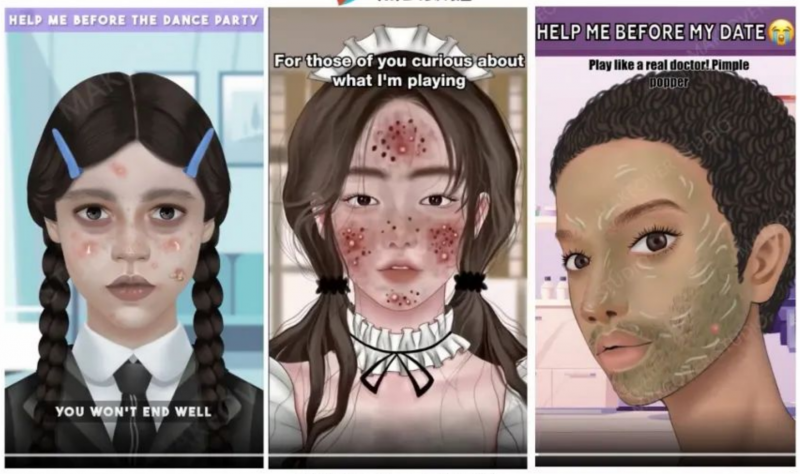 Source: More Than Data
Mobile games that offer an immersive story experience with romantic and relationship-building elements are particularly popular among European female gamers. Mystic Messenger, a romantic simulation game developed by the South Korean game developer Cheritz, has found a receptive audience among European female gamers due to its romantic elements.
European gamers tend to enjoy games with intricate storylines and complex characters. Games with themes of mystery, drama, and suspense often perform well, as they provide an immersive and engaging experience. Creatives of these games often focus on customization to trigger gamers' emotions, such as anger, sadness, confusion, and curiosity, to increase user conversion rates.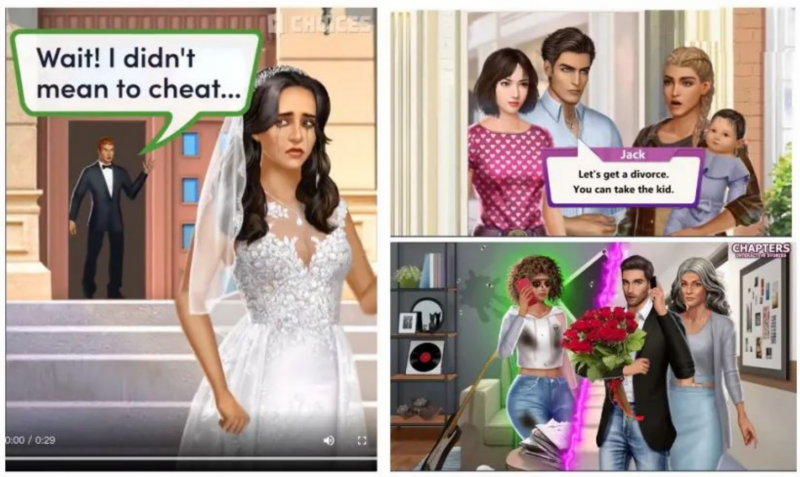 Source: More Than Data
Apart from Japan, Korea, Europe, and America, female-oriented games in the Middle East have distinctive characteristics, often centering on fashion, beauty, and socializing. They provide entertainment and a platform for women to connect and share interests. Additionally, some of these games aim to educate and empower women in areas such as health, safety, finance, and career development.
Crafting Effective Localized Creatives to Reach Female Gamers
In today's rapidly evolving world of mobile advertising, video creatives have emerged as a vital tool for engaging users and driving conversions. However, in order to effectively market mobile games to female audiences across diverse regional markets, professional advertisers must tailor their video marketing strategies to cater to local cultures and gamer preferences.
That's why having a team of seasoned professionals who possess deep local market knowledge and a nuanced understanding of cultural is absolutely essential. At TopWorks, Nativex's Creative Studio, we leverage our extensive frontline experience to provide female-oriented mobile game developers and advertisers with a variety of key creative recommendations to help them succeed in their respective target markets.
1. Leveraging Social Media to Promote Women's Empowerment in Gaming
As female gamers continue to shape their cultural identities, it is essential to acknowledge their diversity and break away from the male-dominated gaming landscape of the past.
For instance, the #WhatIdWear challenge on TikTok allowed female gamers to express themselves by showcasing their in-game character's fashion choices. This challenge has gained a massive following and positive feedback, highlighting the potential impact of engaging with female gamers in meaningful ways.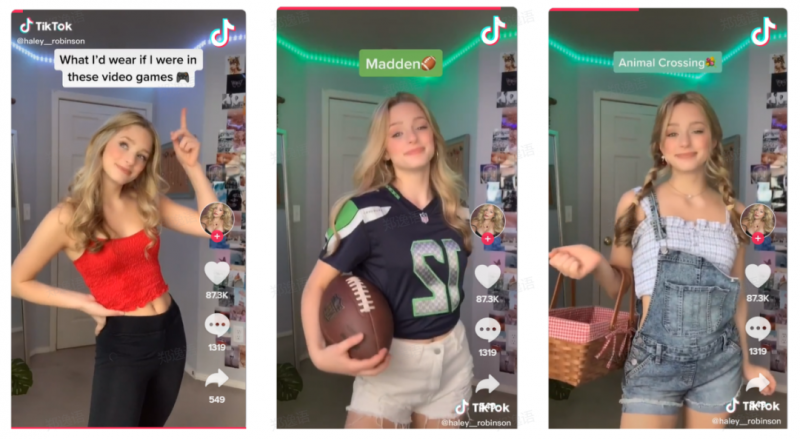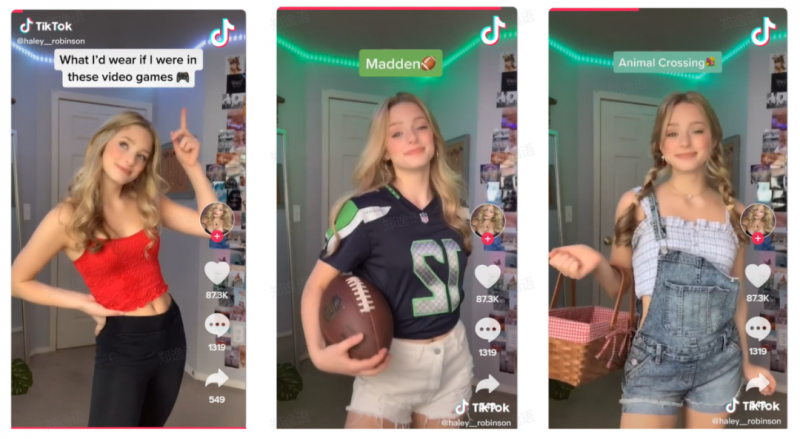 Source: TikTok
In the realm of female-oriented games, it is crucial to avoid generalizing female gamers as a singular audience and to steer clear of stereotypes that perpetuate superficial judgments based on gender. Instead, recognizing the complexities of each individual is essential. Effective use of influencers and social media platforms can provide a forum for female gamers to share their thoughts and develop a positive image of the game.
2. Fulfilling the Emotional Needs of Women Gamers with Customized Creatives
Female gamers prioritize enjoyable and engaging experiences over challenging gameplay. Therefore, when creating ad creatives to target female audiences, it's crucial to emphasize the fun and playability of the game to capture their interest.
Many ad creatives aimed at female gamers highlight the game's characters and storyline, using immersive storylines to draw gamers in and fulfil their emotional needs. Ads targeting the Japanese, Korean, and Southeast Asian markets often feature "Mary Sue"-style storylines, which involve a variety of male leads such as domineering CEOs, super idols, and sunny boys. These ads attract female gamers through the male characters' stunning looks and by showcasing sweet and romantic interactions between them and the female gamers in everyday life. Professional mobile advertisers should focus on creating ad creatives that cater to the emotional needs of female gamers and convey themes of companionship and empathy in a way that resonates with the target audience.
3. Boosting Promotion to Female Audiences with User-Generated Content and Influencer Marketing
To promote mobile games to female audiences, influencer marketing has emerged as a popular approach, with user-generated content (UGC) becoming an essential component of ad creatives for female-oriented mobile games.
Influencers with large social media followings can effectively capture gamers' attention and engagement by sharing game videos, strategies, and personal experiences. In particular, female influencers, such as professional cosplayers and fashion bloggers, have become mainstream ad creatives for promoting female-oriented mobile games.
UGC includes user-generated game content such as game guides, screenshots, and videos. This type of content is typically captured from a first-person perspective, showcasing the game's features and gameplay in a genuine and vivid way. Utilizing UGC can make ad creatives more appealing to female gamers, attracting their attention and engagement.
Creative Marketing Playbook: How can SLG Games Stand out?
With years of experience as a global mobile marketing expert, Nativex has successfully helped top game developers expand into global markets and capitalize on the growing demand.
Leveraging this expertise, Nativex has created a comprehensive creative marketing playbook tailored for the SLG category. This playbook offers valuable insights, analyses, and detailed case studies to assist SLG developers in connecting with their target audience.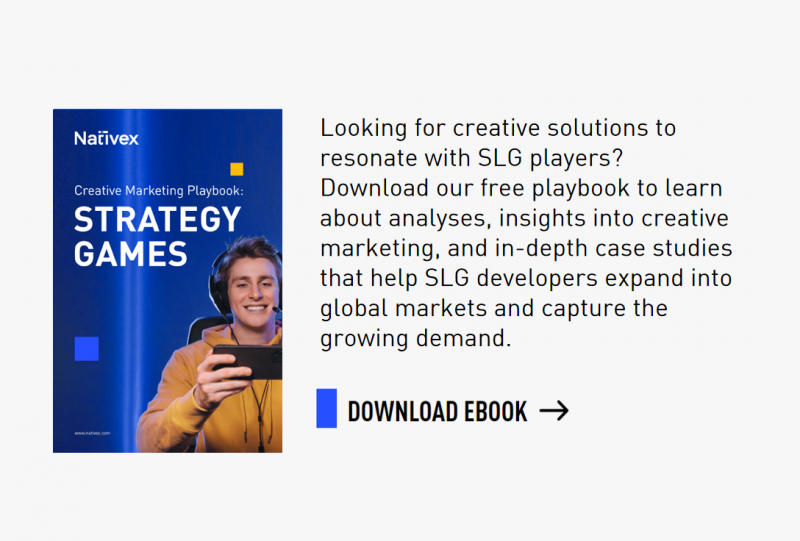 About Nativex
Nativex is a leading digital marketing agency covering traffic resources across all major markets in the world. By providing high-quality user acquisition automation tools, KOL marketing services, and a wide range of creative customization capabilities, Nativex helps brands and apps around the world boost their cross-regional growth.
Contact the Nativex team today to start your journey to success!