With the number of global smartphone users predicted to reach an astounding 6.2 billion by 2028, mobile advertising is positioned for significant growth. Android, one of the most popular operating systems with over 2.5 billion active users worldwide, is dominating the market in most countries.
With more and more users seeking cutting-edge devices with advanced performance features, smartphone manufacturers have become essential terminal media platforms. Stay ahead of the game and make OEM ads a crucial component in your mobile marketing strategy.
Diverse Distribution of OEM Ads: The Future of User Growth
As smartphones continue to be the ultimate media platform connecting users globally, Android devices dominate the global market with a 72% share (March, 2023). In countries such as Brazil, India, Indonesia, Iran, and Turkey, Android holds an impressive market share of over 85%.
Global Market Share of Android vs iOS (%)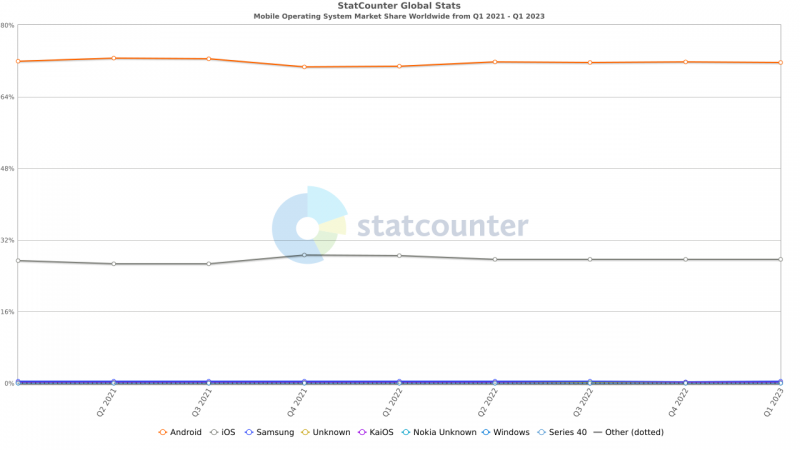 Source: statecounter
Mobile phone manufacturers are also becoming more diverse in their distribution. According to Statista, smartphone manufacturers such as Huawei, Xiaomi, OPPO, and Vivo have seen a consistent increase in their global market share since 2012. This presents a unique opportunity for advertisers to reach a wider audience through OEM ads and capitalize on the growing global mobile market.
Android Vendor Market Share in 2022 (%)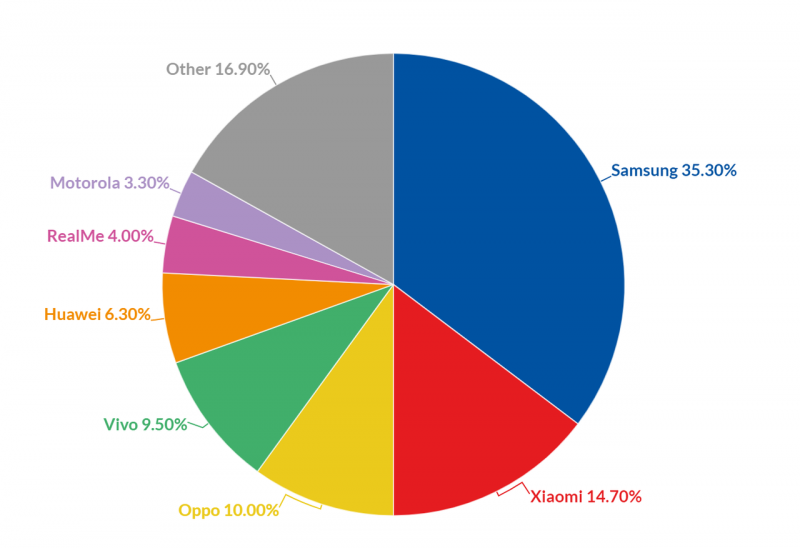 Source: AppBrain
Understanding OEM Advertising: New Opportunities for User Growth
OEM (Original Equipment Manufacturer) Advertising refers to the promotional services offered by mobile phone manufacturers, such as Huawei, Samsung, and Xiaomi, who collaborate with mobile operators and retailers to distribute their products. These companies provide their own distribution channels for paid promotions through their own platforms.
As the usage of smartphones continues to grow, users are increasingly exposed to OEM ads, creating a valuable opportunity for advertisers to drive user growth. By leveraging the support of app traffic matrices owned by these manufacturers, advertisers can target users with greater precision and cover a wider range of scenarios than single-app marketing. Don't miss out on this window of opportunity to capitalize on OEM advertising and unlock user growth for your business.
Harnessing Immersive Influence to Reach a Large User Pool
OEM advertising has been widely used in industries such as tourism, e-commerce, and gaming. By leveraging the terminal of the original manufacturer and combined with diverse advertising formats, allows brands and apps to gain more immersive and widespread user engagement.
1. Pre-installed Apps
One of the benefits of OEM advertising is the ability to leverage the pre-installation capability of smartphone manufacturers to prominently feature promoted apps on the home screen.
This enables brands to acquire high-quality users, secure premium ad placements, and generate leads. It's important to note that the key performance metric for pre-installed apps is no longer the number of acquired users but the number of qualified leads generated, which provides an efficient solution for user acquisition.
2. App Store Promotion
OEM advertising offers various app store promotion strategies that can help increase app downloads and generate better sales leads:
Recommended Apps: By recommending high-quality and frequently used apps that remain on users' phones, such as digital wallets, scanners, photo editors, and voice assistants, as native ads, brands can attract the attention of potential users and increase app downloads.

App Icon Promotion: The app icon is a crucial factor in determining user interest. OEM advertising can help brands advertise their visually attractive app icons in the app store, organically promoting them to attract previously untapped user segments.

Popular Downloads: Leveraging the "Popular Downloads" channel in OEM advertising enables brands to recommend app downloads and reach users more effectively. This also provides users with access to the latest and most popular apps, driving greater user engagement and adoption.

3. Built–In Browser and Search Engine Recommendations
Smartphones come equipped with a local browser that serves as the primary app for users to search and browse. With the built-in browser and search engine on new devices, OEM advertising can analyze user search queries and offer relevant solutions through "recommended" apps. These recommended apps are displayed directly on the user's device through the app store and OEM-owned media, enabling brands to reach a massive user base with an immersive and effective marketing strategy. By leveraging this feature of OEM advertising, brands can increase user engagement and drive greater adoption of their apps.
Achieving High ROI with OEM Ads
1. Accurately reach target audiences and boost conversion rates: Advertisers can leverage first-party data, such as user insights and consumer behavior, and combine it with mobile OEM data, such as device models and regional markets, to create tailored advertising campaigns and maximize ROI. This enables advertisers to reach target audiences more accurately and boost conversion rates.
2. Trustworthy and brand-safe ads: OEM ads are trusted by users because they trust the mobile device brand, and these ads are less intrusive than popup ads. They feel like native, trustworthy, and welcoming recommendations. This ensures brand safety and increases user engagement.
3. Highly transparent traffic for real user growth: OEM traffic is known for its high transparency and predictability, making it possible for original equipment manufacturers to provide large-scale user acquisition at a lower cost per install (CPI). This makes it easier to achieve user acquisition goals and improve ROAS.
4. Recommendation-based ads improve Lifetime Value: OEM ads' inherent recommendation style presents a chance for advertisers to establish consistent user engagement, which can improve the LTV (Lifetime value) of apps. According to Business of Apps, conversion rates for OEM-installed apps vary from 10 to 40%, and in some cases, can even reach 85%, which is significantly higher than other in-app sources. This, combined with the friendly and recommendation-based style of OEM ads, can help increase user lifetime value.
Grow Your App with OEM Marketing 
Nativex is a globally recognized digital marketing agency with a deep understanding of OEM advertising and operational expertise. The agency collaborates with renowned platforms like Petal Ads, Xiaomi, OPPO, and Vivo to deliver effective marketing campaigns to clients worldwide.
Nativex has recently received certification as a Petal Ads partner, reaffirming its position as a leading digital marketing agency for global growth.
As an advocate of Petal Ads' "all about quality" approach, Nativex has leveraged the platform's capabilities to help its clients expand into global markets with ease. By integrating top global media channels and a range of traffic sources, Nativex has been able to offer a variety of integrated marketing solutions to its clients, including user acquisition, influencer marketing, and creative services.
Through these efforts, Nativex has helped partners across a diverse range of industries, such as gaming, e-commerce, pan-entertainment, finance, and utilities, achieve rapid growth in Petal Ads over the past year.
About Nativex
Nativex is a leading digital marketing agency covering traffic resources across all major global markets. Our extensive traffic network inventory includes leading media platforms like Google, Meta, TikTok for Business, and Apple Search Ads, as well as emerging traffic sources such as Petal Ads and Kwai for Business. With a focus on user acquisition, influencer marketing, creative customization, and account management services, Nativex helps brands and apps achieve cross-regional growth worldwide.
Contact the Nativex team today to start your journey to success!