Brands only have a small window of opportunity during Southeast Asia's mid-year shopping season, and Nativex's Suki Lin examines the ways marketers can develop more effective campaigns by observing consumer behaviour.
With the boom in e-commerce in Southeast Asia during the pandemic, the mid-year shopping season is now bigger than ever. From brick-and-mortar stores to online shopping, consumers are spoilt for choice when indulging in retail therapy. As the economy enters a post-pandemic recovery, Southeast Asia's digital habits are unsurprisingly here to stay, thanks to the convenience and accessible resources to make more informed spending decisions.
Avenues for online shopping are only growing, with e-commerce expanding beyond online marketplaces to various forms of social and discovery commerce. Keeping a close eye on consumer behaviour during this short window of time will enable marketers to employ best practices in developing effective campaigns for the season.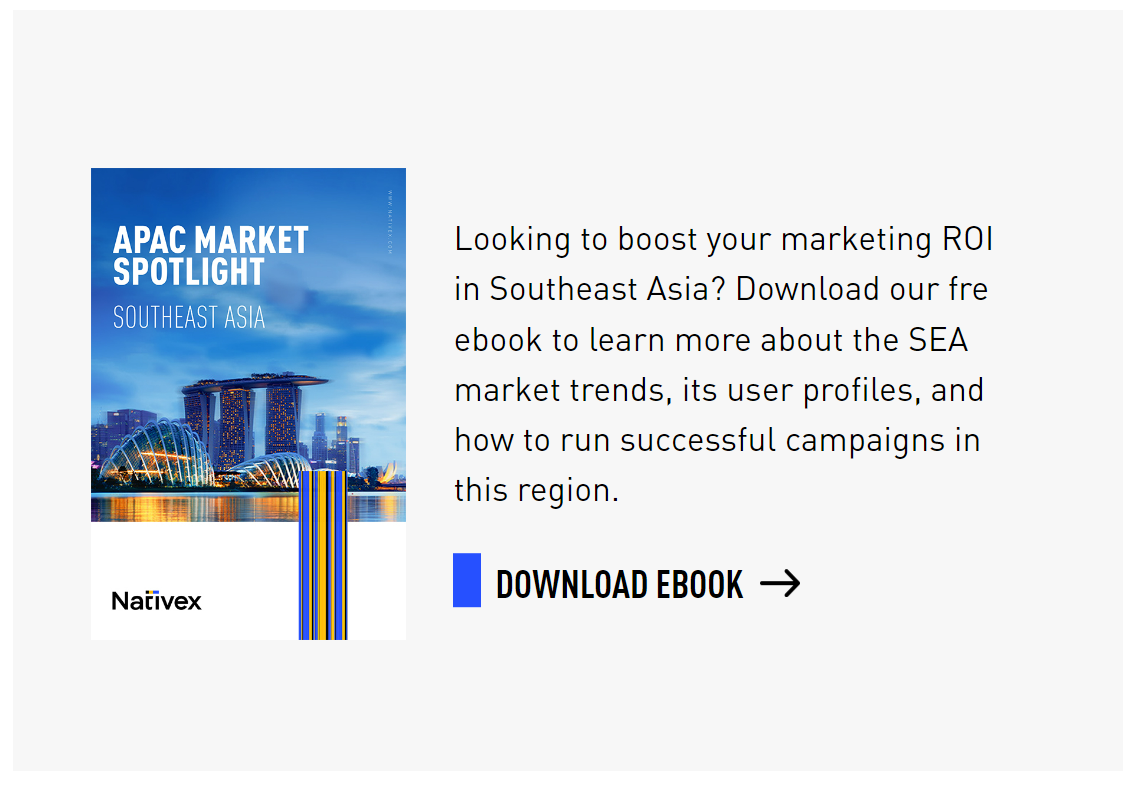 New forms of commerce driving popularity of online shopping
With emerging forms of e-commerce, the much-anticipated mid-year shopping season is getting more hype and for good reason, too. Beyond the growing number of online shopping platforms, there are also more opportunities for consumers to browse for products online. E-commerce platforms are constantly innovating and presenting new ways for consumers to explore their options and conduct product research, such as with discovery and social commerce.
Discovery commerce presents exciting opportunities for online shoppers to encounter brands they have yet to patronise. Two in three first-time buyers in Southeast Asia used social media to discover new products. Of these, nearly half are led to discovery through shopfronts on platforms like Facebook and Instagram, while 39% discover businesses through sponsored posts. It is clear that consumers in the region are generally more open to spontaneously discovering new products and brands online.
Social media has also become the prime channel for product research, more so than search engines. Research activities range from finding information, such as product reviews, to comparing options. Brands and advertisers would be missing out on a sizable customer base if they do not capitalise on social media to meet their business objectives.
Timeliness is key when running mid-year shopping campaigns
Planning window. Consumers often have a planning window in mind ahead of sales periods, where they budget their finances and conduct product research. To tap on consumer anticipation and plan for the mid-year shopping season, brands generally start promoting offers and discounts on the days leading up to the actual sales period. Not only do pre-sales promotions build up awareness, they also allow a buffer period to remarket the brands' products to existing customers, while acquiring new ones.
Re-marketing strategies. Re-marketing strategies aimed at existing customers stand a strong chance at engaging them by emphasising the benefits they can gain from the sales season, and how they can make the most of offers. Electronic direct mail or EDM blasts, for example, draw attention to seasonal or membership discounts, and promotion codes elicit a sense of brand loyalty with the consumer, thus keeping the brand in mind.
Advertisements. Beyond that, it is important to invest in advertisements to attract new customers. Brands can appeal to potential new customers through special discounts for first-time buyers, eventually making them a part of the brand's community. Subsequently, this group also becomes a target of re-marketing strategies, thereby growing a brand's customer base.
Budget allocations. It is therefore prudent to increase budget allocations to pre-event creatives, especially within 24 hours ahead of slashed prices. Driving traffic to the online shop ahead of the sales establishes maximum exposure of their content, right from the very start of the sales period. As the sales are ongoing, data monitoring is key to avoid fluctuations and inadvertent budget settings. When the sales period has come to an end, it is important to conduct thorough performance analysis and evaluate user quality to be adapted for future seasons.
Best content practices to win audience attention
Videos. Overall, videos are leading the way for product advertisements as they often present the function and operation of products in a more immersive fashion. Beyond functional video ads, videos have more room for creative marketing and storytelling. Nevertheless, photos still remain a timeless format for advertisements, especially for items like fashion apparel.
Creative content. In a mega sale as prominent as mid-year sales, creative content is essential to stand out in a mass of advertisements vying for consumer attention. Beyond promoting products and services, social media is a platform to establish sustained relationships between the consumer and the brand. Brands often leverage user-generated content and influencer engagement to establish a sense of community with their audience, which contributes towards brand loyalty. Running targeted ads also allows personalisation of product recommendations to consumers, based on the content they browse.
Data and insights. Finally, close monitoring of data and insights is the gateway to understanding audience preferences. Quantitative analytics offer an understanding of the types of content that perform well with different demographics, which helps in the creative ideation process. Localised creatives, especially in a culturally diverse region like Southeast Asia, are more likely to increase organic engagement, such as through comment sections. Such engagement in turn also allows marketers to collate further qualitative feedback at the end of the campaign.
Conclusion
Successful marketing campaigns during mid-year sales will go a long way in retaining customers during off-peak seasons.
Planning ahead and applying these strategies will ensure brands can set themselves apart from others during the time-bound mid-year shopping period and form lasting relationships with their customers.
Contact the Nativex team today to start your journey to success!
Source: WARC
If you're interested in achieving tangible ROI in Southeast Asia, then make sure you download your free copy of our ebook today!
Free Ebook: APAC Market Spotlight: Southeast Asia
Looking for more free ebooks? Then make sure to check the Nativex Ebooks section for more in-depth, quality content designed to help your marketing strategies generate visible returns.