As TikTok becomes a key social media platform for travellers, Nativex's Intan Agustina examines how travel marketers can leverage TikTok to capture mindshare and remain relevant.
The travel industry finally has much to celebrate after two years of lockdowns and border controls. With the lifting of travel restrictions and the removal of quarantine requirements, flight volumes are steadily increasing back to pre-pandemic levels.
Southeast Asia is no exception – the region is witnessing an uptick in travel activity, with countries such as Singapore and the Philippines earmarked as tourist hotspots in 2022. In places like China, research has revealed a particularly strong intention to travel, with 85% expressing a desire to travel again.
While some semblance of normalcy is returning, the preferences of travellers today have altered drastically as travel takes on a new and evolving meaning for holidaymakers everywhere.
Key Trends in Today's Travel Landscape
Sustainable travel
The preference for sustainable travel has grown stronger with the reopening of borders. Travellers are becoming more conscious of the impact they are leaving on the environment and community.
Almost seven in 10 (67%) Southeast Asian consumers would have gone out of their way to choose an environmentally friendly or sustainable travel option, citing a sense of self-responsibility as the primary motivation for this shift.
More time for research and planning
Travellers are also putting more time into research, planning and making choices when it comes to their travel itineraries. Even though travel is accelerating, tourists continue to remain cautious and are preparing to handle uncertainties that may crop up along the way.
For example, searches related to travel insurance in Malaysia increased by more than 400% and searches for all-inclusive resorts increased by 120% compared to last year.
Digital tools
Additionally, the importance of digital tools cannot be understated. More are turning to online tools and resources to organise, manage and even enjoy the travel experience.
In particular, during the discovery and research phase, digital natives are heavily influenced by online platforms, understanding more about specific travel destinations by watching long and short-form videos on social media. Even travel bookings (such as flights and hotel stays) are made online through OTAs and hospitality company websites.
TikTok, in particular, has emerged as a key social media platform in recent years that marketers cannot ignore, especially when it comes to travelling. According to TikTok's Commissioned Study for Travel, APAC, 77% of respondents were encouraged to do research on a travel destination after seeing it on TikTok.
As travel marketers adjust to the changing preferences of tourists today, how can they add TikTok to their arsenal of tools to capture mindshare and remain relevant?
Best Practices for Travel Marketers When Using TikTok
Prioritise authenticity in an increasingly digital age
Consumers are prioritising authenticity from brands today. They are also becoming more discerning than ever, which means that producing authentic and original content has become non-negotiable for companies hoping to build connections with them.
A joint study by TikTok and Nielsen revealed that when brands are able to effectively build trust and rapport with consumers who interact with them, it results in stronger engagement and helps to deepen the connection with platform users.
Conversely, brands that jump on all manner of trends to aggressively promote travel products at every possible avenue might not only fail to engage consumers but end up leaving viewers with a negative impression.
Connect with consumers at every stage of the travel journey
From deciding on a holiday destination to shortlisting attractions to visit, consumers are increasingly turning to social media to help inform their travel plans. With this in mind, travel marketers should identify customer touchpoints across all stages of the travel journey to ensure that travellers are engaging with their business, for example, from information gathering, to planning, and eventually purchase.
This is where TikTok comes in. Its user-friendly features allow it to serve as a search platform for travel inspiration and information, such as things to do and places to go. This presents an opportunity for travel marketers to develop informative ads that can provide consumers with useful tips in bite-sized formats. In this manner, brands can be involved in all stages of the travel journey and portray themselves as reliable and helpful sources of information.
Localise creatives based on data and insights
Creatives are key for a platform as visual as TikTok. Brands have to dig deep into the different cultural nuances within each market and develop a sound understanding of how travel preferences have evolved in each country. This goes beyond language-based localisation and requires a deeper understanding of demographic needs and habits.
Keeping up to date with the latest travel restrictions and guidelines can also advise the creative content and help brands personalise their creatives accordingly.
Partner with influencers to generate buzz
It is hardly surprising that TikTok has its own share of influencers who command a strong following. Influencers who break the mould of what travelling looks like can cut through the clutter of travel-related content, which will be especially important for platforms such as TikTok (with its seemingly endless streams of content). According to TikTok, 80% of TikTok users enjoy viewing travel content by creators.
On TikTok, travel influencers tend to stand out more if they have a unique take on travel. This could range from solo backpackers traversing Asia, to digital nomads living in different countries and working remotely. Partnering with such influencers can help consumers to see brands in a new light and break the mould of what travelling may look like.
With the travel industry well on its way to recovery, marketers can look to TikTok to capture this reinvigorated interest in travelling. However, they will need to be astute about how to best incorporate TikTok into their marketing strategy and effectively reach target audiences.
Travel Marketing in China 2022 – How Can Overseas Travel Advertisers Attract Chinese Tourists?
The post-pandemic travel boom in China is an opportunity for travel marketers and advertisers to recognize that the behaviors and travel preferences of consumers have evolved significantly.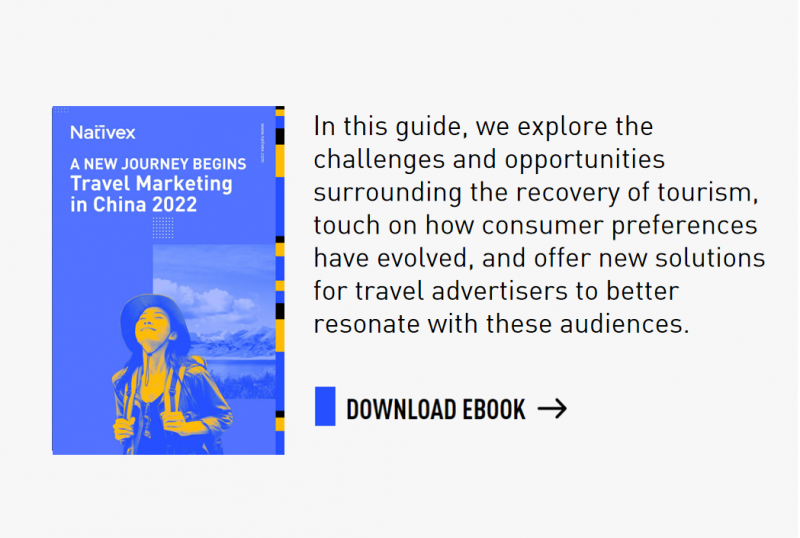 Looking for more free eBooks? Then make sure to check the Nativex Ebooks section for more in-depth, quality content designed to help your marketing strategies generate visible returns.
About Nativex
Nativex is a leading digital marketing agency covering traffic resources across all major markets in the world. By providing high-quality user acquisition automation tools, KOL marketing services, and a wide range of creative customization capabilities, Nativex helps brands and apps around the world boost their cross-regional growth. As part of the Mobvista Group, Nativex has offices in 17 locations around the world and provides services to over 3,000 advertisers across more than 60 countries.
Contact the Nativex team today to start your journey to success!
Source: WARC 
https://www.warc.cn/newsandopinion/opinion/elevating-tiktok-travel-marketing-in-a-reconnected-world/5978