Mobile games are currently in rapid development with more popular and attractive games that have launched in the past years, attracting a large number of players. According to data from Adjust, in 2021, the number of global installs of mobile games increased by 32% compared to the previous year. However, rapid growth comes with great challenges for game developers and advertisers.
We recently joined an exclusive webinar on gaming with Adjust and Payoneer, where we discussed insights into mobile marketing, and shared best practices on how game developers can accelerate success with effective strategies.
Participants:
Host: 
Khai Le, Partnerships Manager, Adjust
Speakers: 
Lily Trương, Sales Manager, Adjust

Giang Pham, Client Growth Manager, APAC, Nativex

Nghiệp Lê, Head of Business Development, Payoneer 
Gaming Market Insight  
With a total spend of $93.2B,  the mobile gaming consumer spending on gaming made up 52% of consumer spending on gaming in 2021, representing a 7.3% YoY increase. Among which, APAC is the largest mobile game region in terms of annual revenues, mobile gamers from this region contributed 64% of global mobile game revenues in 2021. Until July 2022, APAC as a whole market has occupied half of the global gaming revenue ($96 Bn).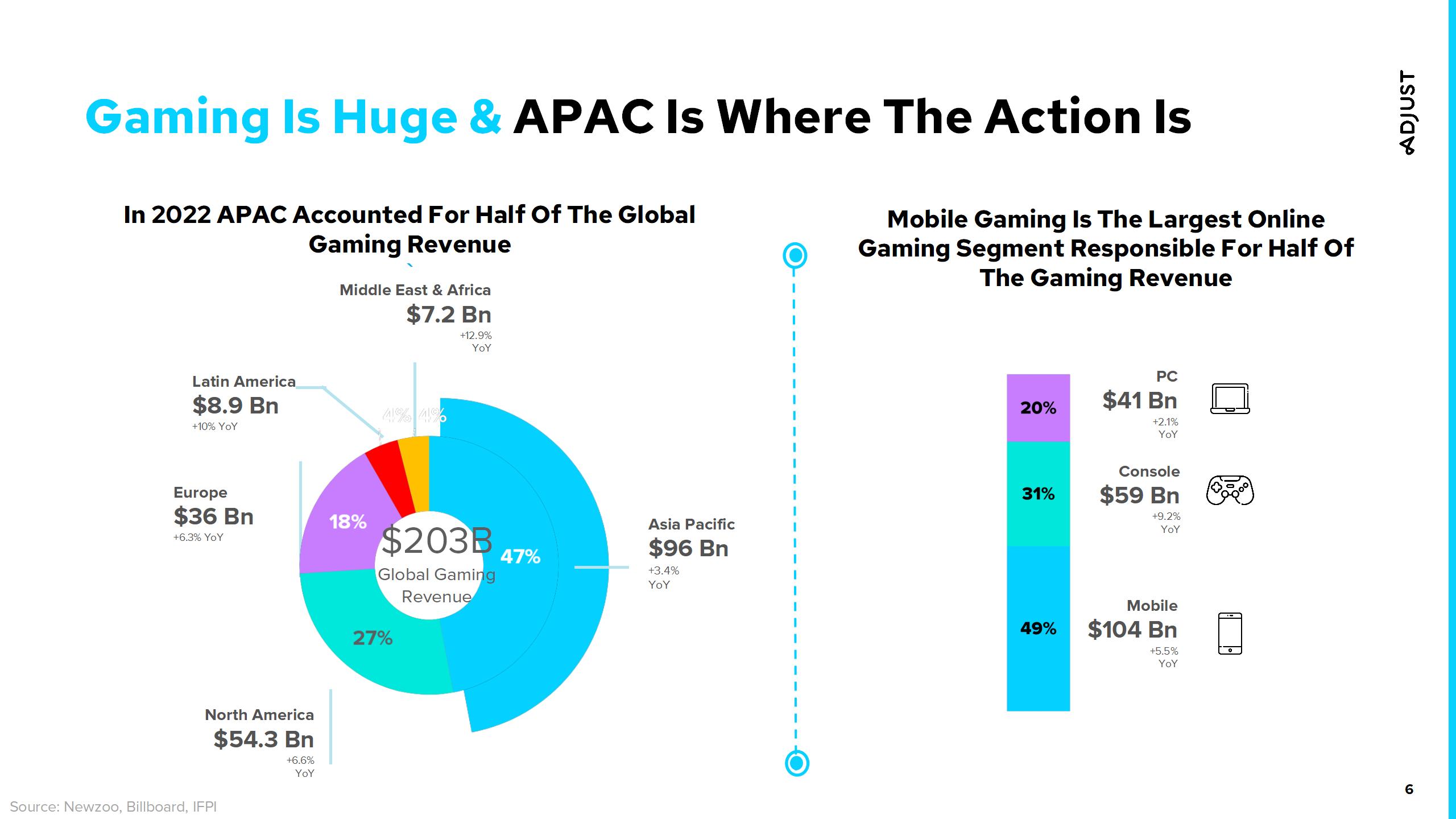 Specific to verticals, hyper-casual games make up the highest share of installs, and the three sub-verticals that owned the biggest growth in average session lengths from 2019 to 2021 are adventure games (28,8mins), strategy games (33,4 mins), and puzzle games (26,8 mins).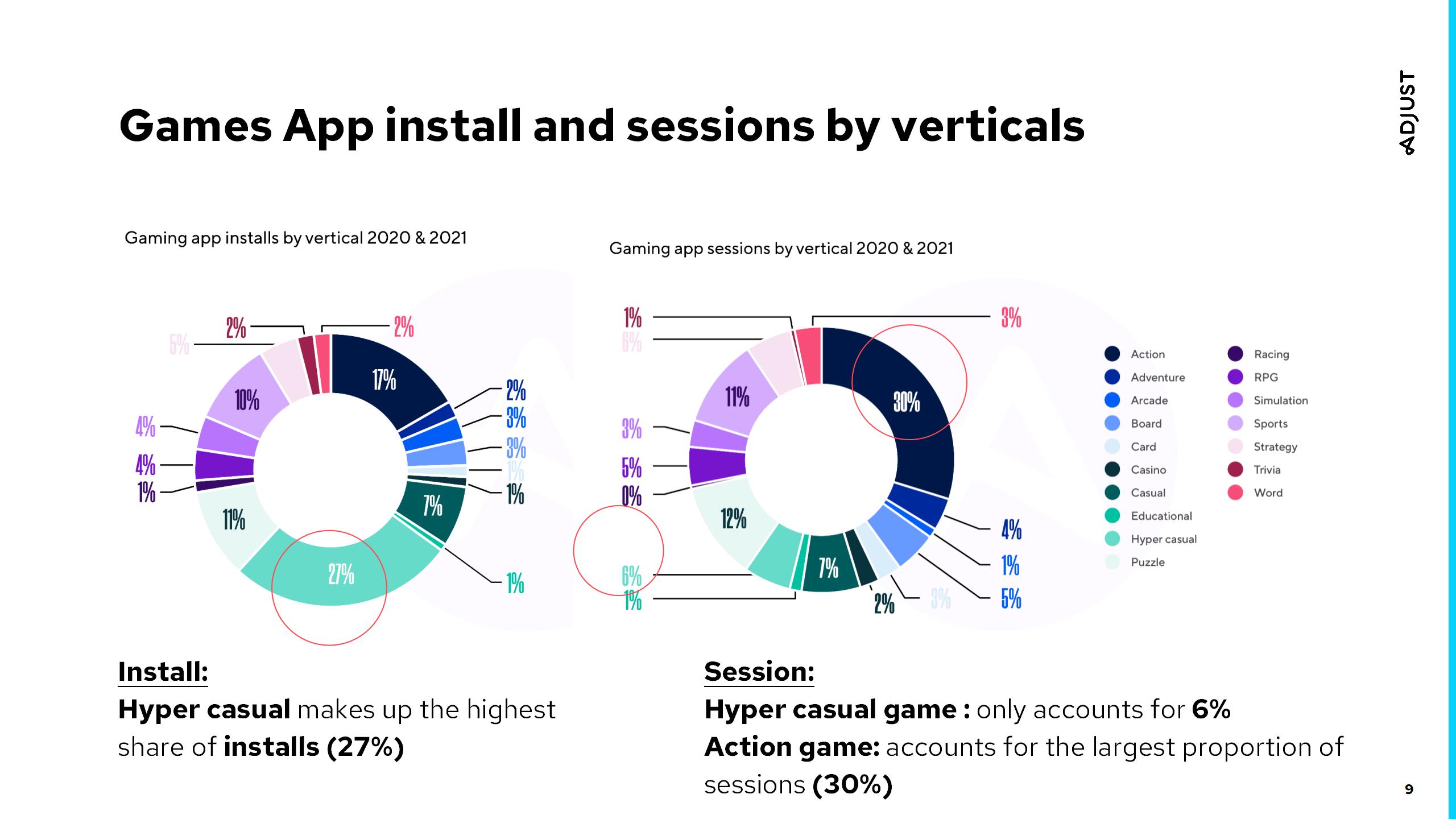 What's on Trend? 
01 Casual & Hyper-casual Games 
The transition from the pure hyper casual to the hybrid-casual. Midcore-like progressions built around a casual core create a balanced game economy that incentivizes players to return. Fast-paced gameplay lends well to in-app ads (IAA) during a break, while in-app purchases (IAP) appeal to players' desire for progression.
Retention: Retain Valuable Users. The classic hyper-casual games often struggle to retain their high volume of players. On average, mobile games reach around 20% day 7 retention. However, for hyper-casual games, the rate often falls below 10%.
Adding progressive difficulty and lite meta: 
Join Clash from Supersonic features RPG mechanics and customization. 

Tangle Master 3D from Rollic adds a petlike system on top of the puzzle gameplay. 

Another Rollic's hit High Heels even introduces a leaderboard to boost engagement and retention.
Embrace live opportunities
During the Christmas session, many hyper-casual games featured Christmas elements and

holiday game modes

. 

IP and brand injection

is another trend that's rising in the hyper-casual space. 
02 NFT Games
NFT gaming becomes one of the biggest trends in 2022. In Southeast Asia, NFTs in gaming is gaining traction in the wake of the release of Axie Infinity, a globally popular Vietnam-made NFT-based online game. In addition, NFT gaming is now attracting investment funds. There was a $4B investment in blockchain games last year, which is 5000% higher than in 2020.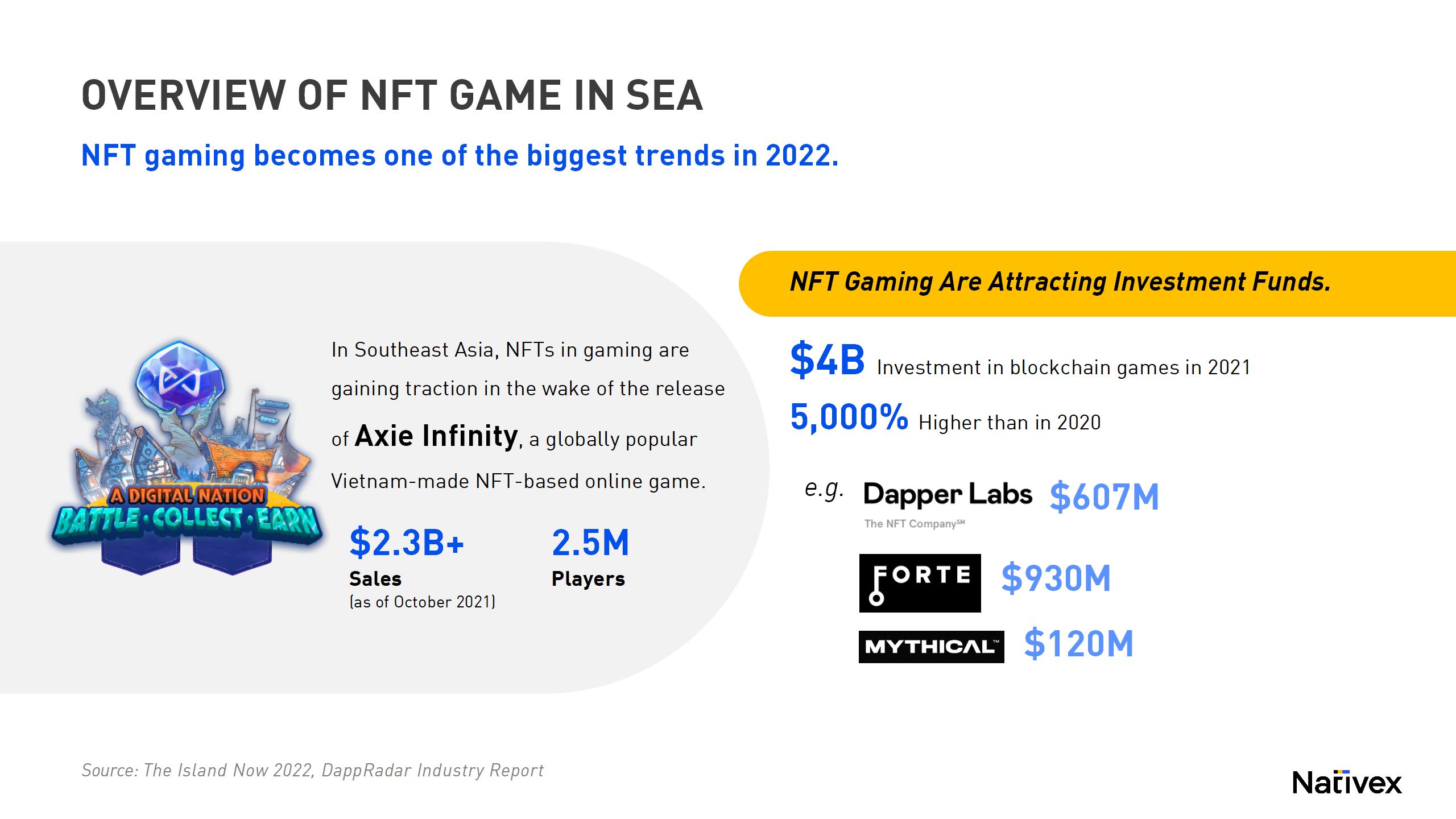 NFT gaming is well-received in SEA for its financial function. Countries in this region are showing great interest in NFT games, Indonesia, Philippines, and Vietnam are the top 10 countries driving NFT gaming traffic in 2021.  NFT gaming gained great popularity because it provided an alternative income stream, and functioned as digital wallets & borderless payments for SEA people after the pandemic, especially unbanked citizens (the number of unbanked population reached 290M in the SEA region). 
The continuous development of NFT Game projects has stimulated and opened the "play-to-earn" trend for players around the world, especially Southeast Asian game players. However, NFT games still face challenges as many platforms have not yet accepted the widespread promotion and operation of NFT games. This impacts brand awareness and the groups of users who download and play the game.
Take Your Game Marketing to the Next Level 
01 Top Media to Conquer Gamers
It's essential to effectively find and connect with your game players at every stage of their journey. Thus, the demand for omnichannel marketing is growing, Nativex is constantly looking for quality marketing platforms and becoming the official global partner (TikTok, Kwai, Mintegral) to help advertisers quickly and easily access new markets.
02 Creative Intelligence to Craft Virality 
Only by targeting your audience with appropriate content that provides them with value, will they be willing to download/engage with your game. To create attractive and convertible content, several essentials need to be considered: your audience, your game's genre, the unique selling point of your game, the delivery method of your brand message, and more. 
Influencer marketing is a major player in the gaming industry, as it is flooded with high-profile streamers, user content generators, game reviewers, and more. It's important to focus on building and increasing brand awareness through unique and relevant content created by influencers to make the brand closer to users. For example, adopt cosplay/dress-up creativity to connect gaming scenarios with real-life features to stimulate the curiosity of both gamers and potential users.
Read more about Influencer Marketing: 
TopWorks, the global creatives studio of Nativex, specializes in producing highly engaging and interactive creatives for gaming, for example, live-action short videos, playable Interactives, KOL/influencers short videos, and more. Currently, we've cooperated with more than 200 creative execution teams worldwide to successfully reach users in more than 30 countries with impactful creatives. 
Conclusion
In today's competitive gaming market, the key to success is to adopt the audiences' mindset, rather than being aggressive in the promotion. It's more valuable to provide meaningful and authentic content while keeping pace with emerging market trends and optimizing marketing strategies on performance analysis effectively. 
Nativex owns an experienced team scattered around the world with the ability to grasp market trends and high adaptability to help come up with solutions for growth and position the most quality users in each region. 
Contact the Nativex team today to start your journey to success!