We recently partnered with SIRS (Singapore Institute of Retail Studies) to co-host an exclusive webinar and invited TikTok to join, where we discussed how businesses can drive sales with an effective influencer marketing strategy.
Influencer marketing has experienced unprecedented growth in recent years and will continue to evolve as the retail landscape and consumer demands change. The increasing need for the consumption of short-form video content has led to the rise of TikTok as a new contender amongst social media giants such as Facebook and Instagram. 
With over 1 billion users, TikTok has risen to dominance as one of the top entertainment platforms in a short span of 5 years. How can businesses drive sales with an effective influencer marketing strategy on the world's fastest-growing entertainment platform?
Evolving Landscape of Influencer Marketing in Southeast Asia
Influencer marketing is one of the most dynamic and fastest-growing areas in the digital markets of the Southeast Asia region, with an estimated growth of 4 times to reach $2.59 billion by 2024. 
The growing impact of micro-influencers. Micro-influencers have a considerable impact on the purchasing decisions of consumers in the SEA region. These influencers typically have under 10,000 followers with authentic and organic content which  attracts audiences who share the same interests from a smaller community.
They are active in categories such as beauty, food, fashion, fitness, and lifestyle across the region on social media platforms, especially TikTok, which gives new brands and small retailers opportunities to grow their presence through influencer marketing on a smaller budget.
Digitally savvy consumers are shaping the landscape of the digital marketplace and are more discerning and connected. They reject many traditional ad formats and expect more innovative content, as well as new shopping experiences. 
Thus, easily digestible, immersive, and engaging short-form, mobile-friendly video content has skyrocketed in recent years, and more consumers are spending time watching video-led content formats. To reach and appeal to a wider audience, brands will need to bake short-form videos into their creative strategy and apply these best practices to produce relevant and engaging content.
How can traditional and online retailers leverage the power of entertainment in commerce?
Challenges and opportunities
There is a very high penetration of ad blocking (40.6% in 2021) in the SEA region. The growing mistrust toward advertisements that are perceived as intrusive and meaningless prompts many brands to start exploring more means and tools to gain attention. 
So what do consumers of today expect? Authenticity and joy. Different from the traditional seller-buyer transaction, consumers are now more looking for connection or resonance before buying, and brands that share mutual understandings with them are more likely to win their attention – presenting huge opportunities for brands and businesses.
What can TikTok bring to brands and consumers?
60% of users have followed brands on TikTok, while 52% of them get ideas about brands and products through searching on the platform. In addition, creativity and authenticity, huge audience exposure, and trending content across multiple scenarios and industries make TikTok a major marketing opportunity for brands and retailers.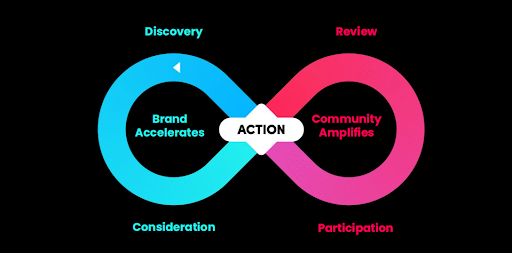 The Marketing Funnel Loop (Source: TikTok For Business)
How can brands ride the wave? Start your journey on TikTok 
Common challenges brands are facing:  
Setting marketing goals
What do you want to get out of the platform? It's hard to have a very specific answer at the very beginning, and your objectives might vary over time. However, it's still recommended to decide on a long-term goal of what you want to achieve on the platform, not just increasing brand awareness, but truly driving audience engagement.
    2. Finding the right audience
How can a brand target ensure that your audience will engage with your content? One strategy to get the right audience is hiring TikTok influencers. In addition, creative content is also an effective tool that resonates with a specific type of audience. 
    3. What makes a great creative? Is there one formula that fits all?
There is no standard for an exact number of how many, or how often one should post or create content on TikTok. However, a good player is to create videos that have a strong beginning/ value message able to keep the audience interested. 
     4. Measuring the success of the campaign
It is important to keep learning on metrics you should be tracking, where to find them, and how you can use them to your advantage.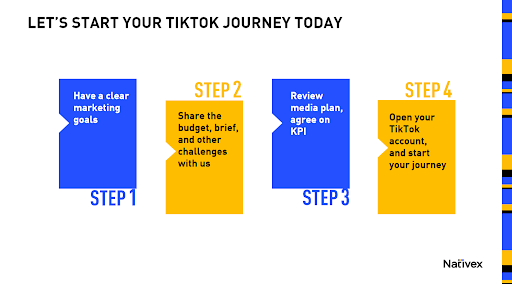 Why work with Nativex? 
As the official marketing partner of TikTok in Southeast Asia, the role of Nativex is to help bridge the gap. We understand creativity and localization are the key to success and truly resonate with its target markets. Hence, we can help clients to deliver a more holistic approach that stretches ad solutions on Tiktok and different types of content, creative, and influencer solutions! 
Contact the Nativex team today to start your business on TikTok!