Japan, the world's third-largest economy, has been a world leader for four decades. Its highly developed economy and strong consumer spending power have earned it worldwide recognition as a fertile ground for business. In contrast, Japanese people have a strong preference for goods and services which bear the label "Made in Japan". This, combined with the fact that Japanese companies are highly competitive and have been able to provide high-quality products and services, means that the Japanese market has very high barriers to entry.
Take the gaming industry for example. Japanese gamers are easy to retain and have strong spending power, making them a coveted audience by game developers around the world. On the other hand, they are highly loyal and largely stick to local games. Winning them over is no easy task.
Even so, an increasing number of overseas game developers have found success in the Japanese market. In this article, we take a fresh look at this "polarized" market and explore the opportunities it holds.
Want more mobile gaming market in Japan insights? Read this blog.
Japan's Mobile Internet Landscape
Here, we unveil Japan's mobile internet landscape, which includes: user demographics, user habits, social media platforms, and social engines.
User Demographics
Japan has 174 million internet users. This demographic represents an extremely high penetration of the internet, in which smartphones have laid the foundation for a mature mobile internet ecosystem.
In Japan, mobile phones are the dominant medium for internet access across all age groups, with 10-30-year-olds spending the longest time surfing the mobile web. iOS and Android each account for 50% of the internet user population. Apple phones are favored by the young, especially women aged 10-30.


Source: Ministry of Internal Affairs and Communication
User habits: From "consumption" to "lifestyle"
Economic and educational upheavals have resulted in notable generational differences in Japan. In particular, the Satori Generation (born 1983-2004), was born in a stable economy with lower education standards, and a shared distaste for competition.

Over the years, being single has become the new normal in Japan. As social norms have evolved more and women's employment rates increase, people have greater freedom to choose their lifestyles, and women's spending power is growing fast.
 Growth tips:
When developing marketing strategies, try to accommodate Japanese users' shift from consumption to lifestyle.

When targeting the female audience, try to appeal to their emotions.
Social media: video social networking is in vogue
YouTube, TikTok, LINE, Twitter, Facebook, Instagram, Ameba, and Mixi are among the most popular instant messaging social apps in Japan. 
Among Gen Z, LINE has the highest penetration rate at 81.4%, followed by Twitter and Instagram, both of which have penetration rates above 65%. Facebook is not as popular in Japan, with only a 9.2% penetration rate.
Meanwhile, video apps are also favored by Japanese users, with YouTube at the top with an 82.8% penetration rate, closely followed by TikTok. 
Content-wise, male users are drawn to videos with tags such as "games", "funny" and "awesome skills", while female users prefer content related to "fashion/beauty "and "recipes".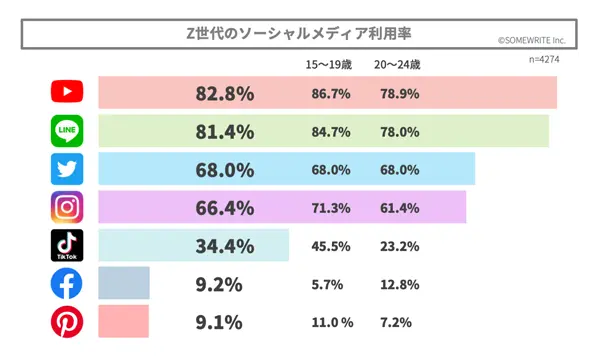 Source: SOMEWRITE
Search engines: Google overtakes Yahoo!
Google and Yahoo are two of the most used search engines in Japan. Yahoo, an internet giant with an established presence in Japan, had a head start over its competition and came to dominate the Japanese market, winning over the demanding Japanese users with its unique services such as "Yahoo! Chiebukuro" "Yahoo! Auctions."
Meanwhile, Google is capturing the hearts and minds of the young with its simple web design and excellent algorithms. According to Statista, Google claims over 70% of the mobile search engine market in Japan, while Yahoo occupies only 20% to 30% of the market.
Growth Tips:
Internet platforms vary widely in Japan. Brands/developers should select them with care and tailor marketing strategies and cadence to product characteristics and content.

For brands/developers not familiar with the landscape of the Japanese market, a good way to ensure growth is to work with a well-reputed agency that understands Japanese culture and has a strong track record of ROI.
Key Verticals: Mobile Games, Social, eCommerce
Japan has always been a key market for the gaming industry. According to Japan Mobile Game Market Insight 2021 by Sensor Tower, the Japanese mobile game market grew by 6.5% in 2021 to reach USD18.45 billion. In terms of revenues generated by foreign games, Japan remains the second-largest market behind the US. 
Specifically, RPG games are the highest-grossing genre in Japan, while simulation games enjoy the fastest growth. Japanese publishers continue to dominate the local market, but some overseas companies are fast catching up. Adventure, anime, and Pokémon are the most popular game themes in Japan.
For game companies looking to enter the Japanese market, here are a few things to consider:
The Japanese gaming industry values privacy, and players' rights and interests are well-protected.

Game localization is crucial to ensuring a seamless experience.

Collecting new characters is a big driver of in-game spending.

Social
Apart from major social media platforms, the Japanese market is also inhabited by a variety of dating apps that come in three categories: encounter, romance, and matchmaking. Together they fully satisfy the social needs of singles of all ages.
According to Sensor Tower's download statistics for the past year, Tinder is doing equally well in Japan as local Japanese dating apps Pairs and Tapple—all of them exceeded one million downloads. The Chinese app Tantan, with nearly 300,000 downloads under its belt, has also made it into the top 10 dating apps in Japan by downloads.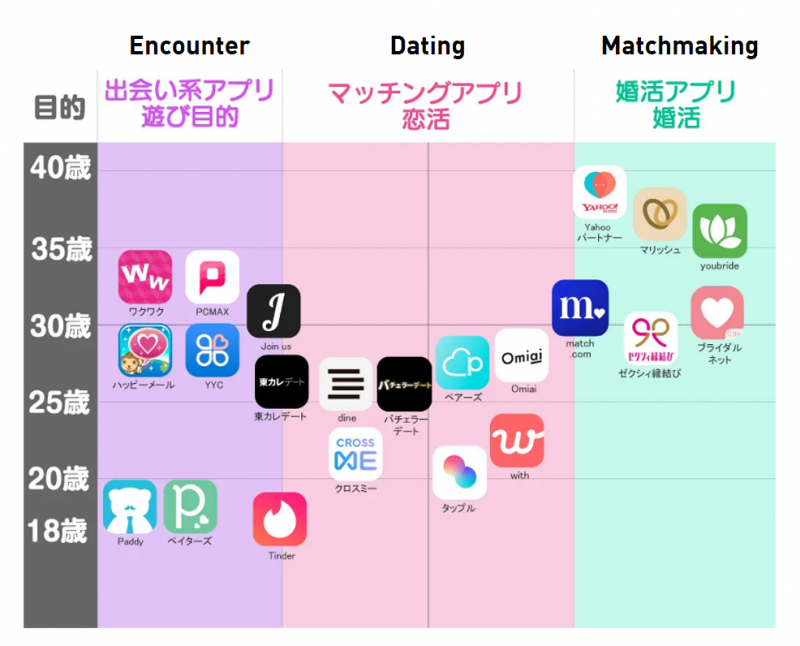 Source: https://match-app.jp/all/
E-commerce
As one of the earliest adopters of online shopping, Japan has a huge e-commerce market, dominated by three e-commerce giants: Rakuten Ichiba, Amazon, and Yahoo.
In Japan, silver surfers are just as active, if not more, compared to the younger generations, when it comes to spending. Elderly Japanese women in particular are heavy online spenders: those aged 60-69 account for 55% of the total spending across all age groups, compared to 20% for women aged 20-39.
Japanese consumers value information transparency, privacy, and shopping experience. It takes excellent service to convince them to shell out.
Growth opportunities: Ability to make good use of creatives and KOL
Ad creatives should be able to promote the right image
In Japan, there are two common ways of communicating the product image: 
Choose a celebrity with the right image and link them to the product. 

Spread positive reviews and word-of-mouth about the product.
Pictures of smiling families and shiny rooms and charts indicating steady growth are incorporated into ads to convey a positive image of the product or service.
Take for example the video ad Nativex designed for the Japanese release of YOOZOO Games' Infinity Kingdom. By portraying a student who gets admitted into the University of Tokyo with the help of games, the ad tries to dispel the negative stereotypes that games interfere with schoolwork and corrupt children — and to redefine gaming as a way to relieve exam stress.
Story-wise, the ad goes back and forth between two parallel scenes, one showing gameplay footage (resource collection, training), the other showing the student studying for the exam. This is to tell the audience how the game requires no grinding or paying, thereby dispelling the impression that SLG games are time-consuming and laborious.
The ad was the brainchild of TopWorks, Nativex's creative studio. For the visual part, the studio's Japanese team used anime to convey the sense of tension surrounding exam preparation in a visually-stunning and exciting manner.
Be Direct and to the Point
When marketing a product in Japan, it is important to be direct and to the point about the product's features and highlights. Big-character posters are a unique advertising element in Japan—they can be seen everywhere from in-store promotions to online ads.
Moreover, adding limited-time deals to an ad can make it more attractive. Surveys reveal that videos that include limited-time deals such as "Buy it for xx JPY now" or "xx% Off now" get 220% more clicks than those that don't.
Make Good Use of KOLs
Since Japanese users are partial to local products, it's a good way for foreign brands to reach them is through KOLs.
KOLs can act as a bridge between foreign brands and local users. Their diverse and creative content can help the advertiser build a bond with users in a subtle and smooth manner, thus increasing their affinity to the brand.
Take for example the KOL marketing campaign TikTok for Business and Nativex jointly ran for YOOZOO's SLG game Infinity Kingdom. The first thing Nativex's Japanese team did was fully profile the target users and, based on their media usage habits and content preferences, select KOLs according to four criteria: content, influence, willingness to cooperate, and ability to convert. This was to ensure the timely production of high-quality video creatives.
Influential KOLs combined with high-quality video creatives can help a new game quickly gain player interest even in the fiercely competitive Japanese market.
Global Talk – what local marketing experts say

Growing up spoiled by impeccable service, Japanese people have an extremely low tolerance for service imperfections. Lack of clarity and translation errors in product content and service guides can easily frustrate Japanese users, causing them to spread bad reviews on social media. So be extra careful and double-check every line of translation before launching your product.

Japan has four distinct seasons. Its people are season-conscious and ritual-minded. Valentine's Day in February, the sakura and graduation seasons from March to April, the Golden Week in May, the summer festival, and the Bon festival from July to August—are all important marketing moments in Japan. Advertisers can run campaigns at these moments based on their growth needs and deliver ads through channels that match their target audience.
Contact the Nativex team today to start your journey to success!