We previously spoke about the mobile gaming market in Japan and its wide range of opportunities for gaming advertisers. What about non-gaming brands and advertisers? Can they find success in Japan? Absolutely, and we'll tell you how. Let's see what makes Japan such a lucrative opportunity for global advertisers and how you can achieve success there.
Massive user spending power
Japan showed a 45% growth in terms of user spend in 2019, totaling close to $40 billion according to App Annie's State of Mobile 2020 report. The average time spent on mobile in Japan is also one of the highest in the world, at just under 3.5 hours, compared to around 2.7 hours in the US.
The average user spend in Japan is around $370 – to put this in perspective, that's almost 5 times more compared to the average US in-app spend. So where are Japanese mobile users spending most of their money? Besides gaming, just like any other market out there, Japanese users tend to spend a lot on in-app subscriptions, making the subscription model particularly lucrative in Japan.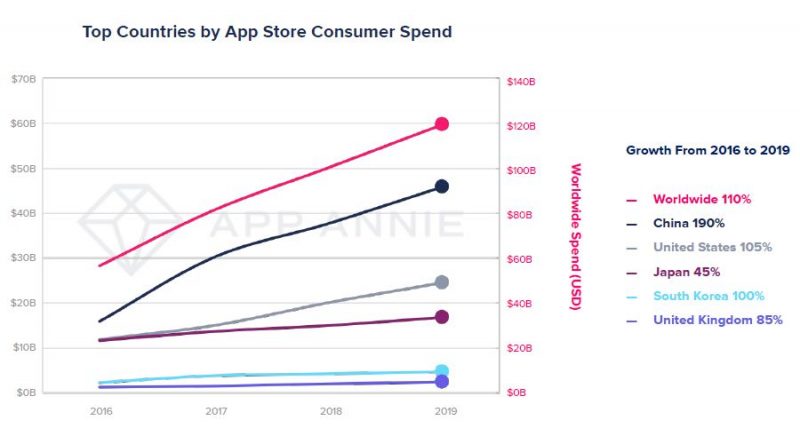 Image source: App Annie State of Mobile 2020
Non-gaming apps growing faster than gaming
For example, financial apps showed huge growth in Japan, with a 150% year-on-year growth for fintech apps. While mobile gaming is predicted to grow about 8%, non-gaming apps are looking to see 15.2% growth over the next few years, particularly fintech, shopping, and entertainment apps. In fact, fintech app PayPay was the most downloaded non-gaming app in Japan last year and is a top 3 app this year by downloads.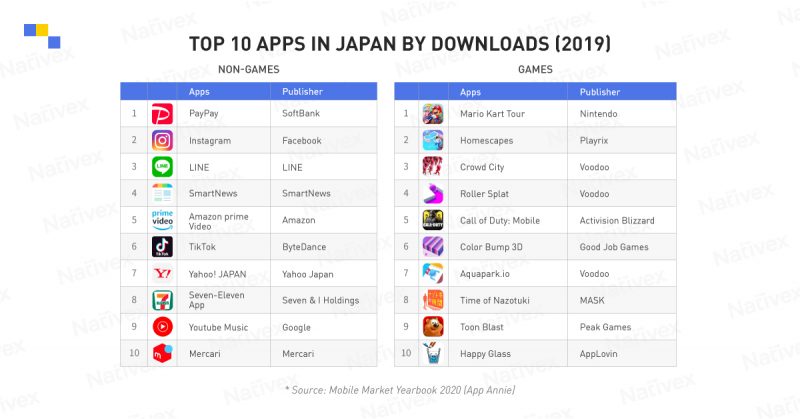 A smartphone penetration rate at around 70%, combined with some of the best technologies in the world, means that the Japanese mobile market has remarkable growth potential. Not only that, but time spent on shopping apps went up by 50% in Japan compared to last year. Add the fact that Japan is one of the earliest commercial 5G adopters and you've got the recipe for long-term mobile marketing success.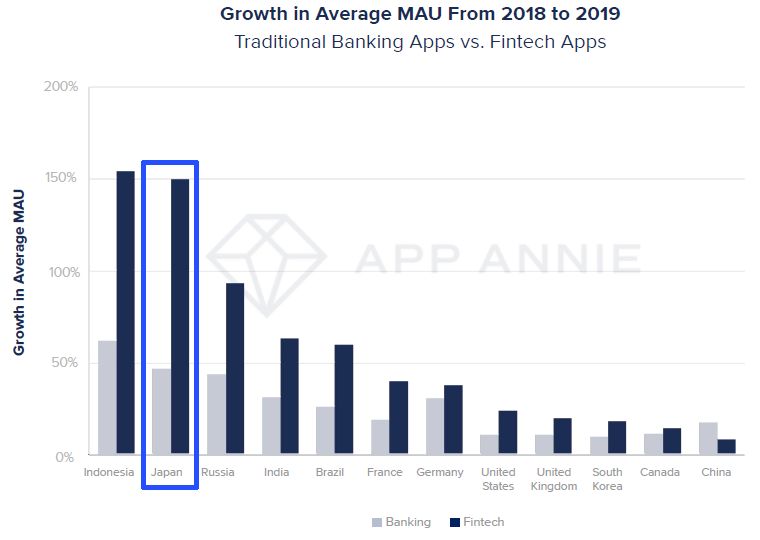 Image source: App Annie State of Mobile 2020
Japan's top platforms
If you're looking to reach your audience in Japan, one of the most important things to know is that the main platforms there don't necessarily coincide with the ones in the Western markets, for example. While the likes of Facebook and Google are arguably the biggest and most important media platforms in the West, they don't dominate the Japanese market nearly as much.
The two most popular platforms in Japan are Yahoo and LINE, with 50 and 80 million monthly active users, respectively. Yahoo Japan is an independent company, completely separate from the former Yahoo brand, and it's Japan's most popular search engine. LINE is the biggest instant messaging app in Japan (call it "the WeChat of Japan") and it has several other popular apps including LINE Manga and LINE Music.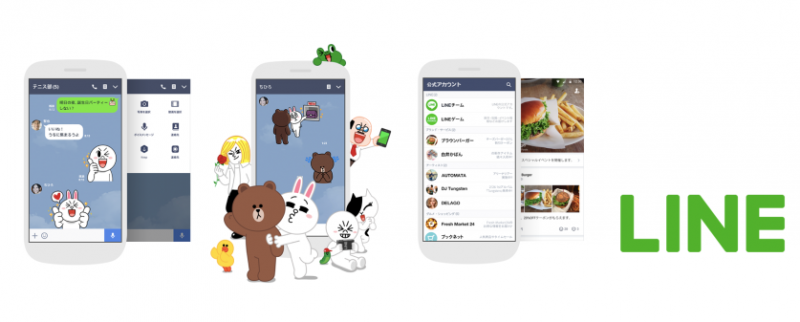 Image source: LINE
It's worth mentioning that Yahoo Japan and LINE also offer other services including e-commerce, online payments, and more. With a merger between these two planned to happen soon, they will become Japan's largest tech company, so these platforms need to be part of your marketing strategy in this market.
TikTok is another massively popular platform in Japan. Over the last couple of years, we've seen TikTok explode in popularity and Japan was one of the major markets to embrace it. In fact, we used TikTok to help Magic Tiles 3 become the most popular music game in Japan.
Other platforms worth paying attention to in Japan are Twitter and Snapchat. While not as popular as in the West, these two platforms still drive sizeable audiences and have a wide reach, making them important additions to your marketing mix.
Want more mobile gaming market in Japan insights? Read this.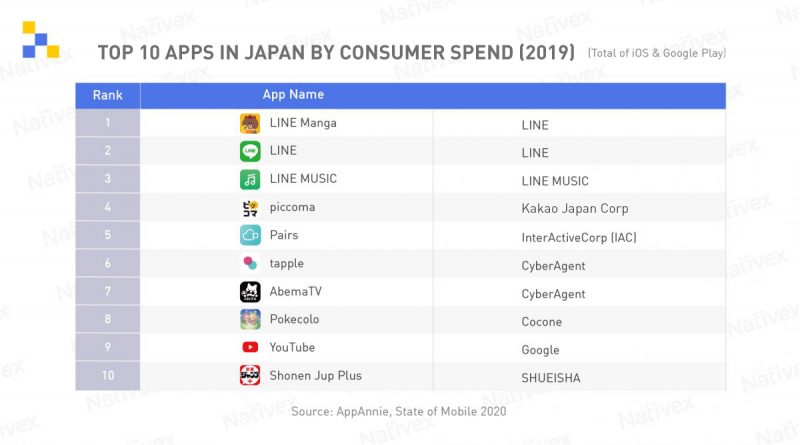 Localization is key to success in Japan
For brands and advertisers looking to enter the Japanese market, localization is crucial. Japanese culture is incredibly rich and diverse, which is one of the reasons it's gained so much popularity around the world. What this means is that you'll need to make sure your campaigns are tailored to Japan's unique culture – a small price to pay in a market with such a strong spending power.
Localization doesn't simply mean translation – a common mistake we've seen from those trying to enter the Japanese market without the right partner – it means adapting your messaging and tone of voice to your audience. Since we're all visual creatures, culturally-relevant creatives are that much more important.
This is where services provided by our new TopWorks Creative Studio comes into play. With a talented in-house team of creative experts and a wide network of talented local partners, TopWorks can create a wide range of creative ad formats that are both culturally-appropriate and results-oriented.
Here's an example where we took the original version of an ad campaign:
And tailored it to the Japanese market:
Nativex can help you reach the Japanese mobile audience
Entering a technologically advanced market like Japan might look intimidating, but it's a market full of opportunities, especially for brands and advertisers who want to be ahead of the curve. If you're looking to launch your mobile campaign in Japan, the Nativex team is here to help. Our team of experts can provide you with end-to-end mobile marketing solutions that drive tangible results and strong ROI. Contact the Nativex team today!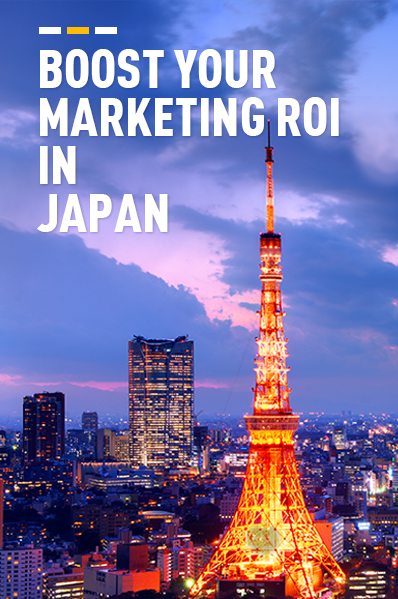 Are you looking to launch your mobile marketing campaigns in Japan? Get in touch with the Nativex team today and we'll show you how to achieve success in this highly lucrative market.
1
CONTACT US
⟶