As the largest market in Latin America, Brazil is home to 215 million people making it the sixth largest population in the world. With its sizable consumer base, rapid urbanization, diversity, and booming trade economy, Brazil has become a magnet for advertising business opportunities. Brazil has quickly become the next growth market for many Chinese companies including manufacturers such as Lenovo and Xiaomi and burgeoning tech giants Tencent and ByteDance.
So, what is the appeal and were do its opportunities lie? In this article, we take a fresh look at Brazil, a market known for its inclusiveness, and explore some promising opportunities for the mobile industry.
In this article, you will find:
Characteristics of the Brazilian market

The internet ecosystem

Popular apps

(games/social networking/eCommerce)

Insights from a local marketing expert
Brazil has quickly become a top performer amongst emerging markets. In 2021, Brazil's GDP per capita stood at $7,741, about twice that of Indonesia and four times that of India. The fast-paced urbanization also comes with a large consumer population, with more than half being high/middle-income.
In a previous Nativex Go Global event, Sun Kai, head of the global games development at Kwai for Business, observed that the north-east and south-east of Brazil contributed to more than 70% of its national GDP, making them the preferred regions for overseas ventures; another thing to note is that local customs and taboos, festivals, and content preferences are factors to be taken into consideration for companies interested in Brazil.
• Festivals: Carnival is one of the most significant Brazilian holidays. Traditional European and American holidays such as Halloween and Christmas are also widely celebrated.

• Content preferences: Millennials make up a majority of mobile users in Brazil. Female users typically prefer entertainment, fashion, and relationship-related content, while men are more into games and sports feeds.
Internet ecosystem: social and live-streaming
Brazil is the number one internet market in South America with over 160 million users and a 77% internet penetration rate. As the world's fifth largest mobile phone market, smartphone usage is expected to hit 90% by 2025.
Brazilian internet users are very social media-savvy, spending nearly 4 hours on average per day on social media platforms and using an average of more than 8 platforms per month. Of these, WhatsApp, YouTube, TikTok, Instagram, and Facebook are the most used social media platforms.

Source: Deloitte Digital Media Trends 2022; Data.ai State of Mobile Report 2022; GWI Brazil 2022; Newzoo Brazil Digital Report 2022; eMarketer Latin America Social Network Users 2022
Thanks to a young digital population, Brazilian users are receptive to new content such as live streaming. As a result, the number of hours spent in live streams in Brazil has soared, with a growth rate of 34%. That's 1.5x the global average.
It is also worth noting that Android still dominates in Brazil, claiming a 86% market share, whereas iOS only accounts for 14%. That explains why game makers in Brazil should prioritize the Android compatibility of their services.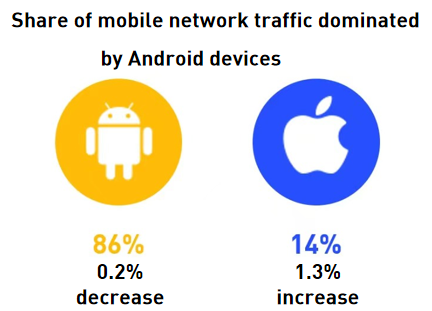 Source: Deloitte Digital Media Trends 2022; Datareportal Brazil Report 2022
Go Global Tips:

1. Internationally-minded companies are using social media channels as the main engine of development. From brand exposure to app revenue, social media services are versatile products to cater to local users.

2. As live streaming draws more fans in Brazil, influencer marketing thrives.
Through a Kwai hashtag challenge, Nativex helped Metal Revolution, a game published by YOOZOO, find success in Brazil.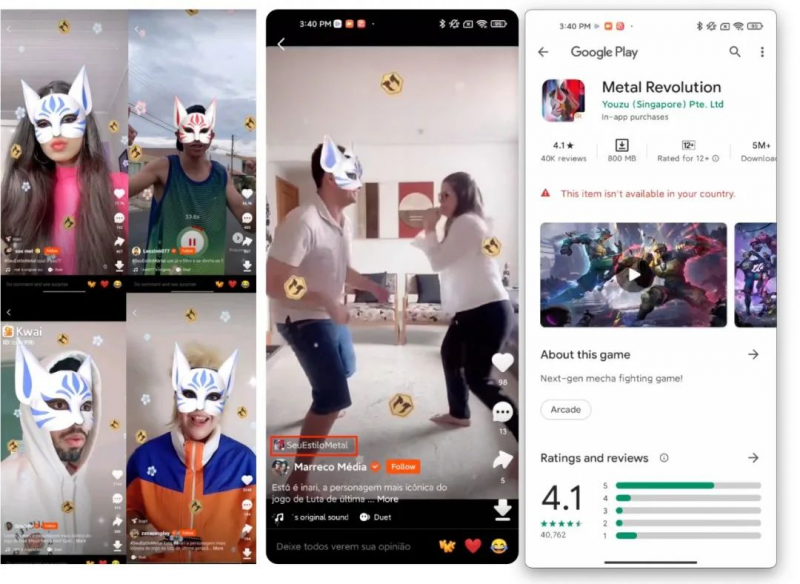 Nativex helped YOOZOO launch Metal Revolution in Brazil
Nativex laid out three main objectives of advertising: viral marketing, awareness, and content-building. Using this, they worked with Kwai to create the #SeuEstiloMetal hashtag challenge for Metal Revolution. We recruited local influencers and achieved a long-tail effect by offering quality and differentiated content. This hashtag challenge was well-received and as a result, saw 340+ million impressions and 82,000+ user-generated videos.
Apps: games, social networking, eCommerce
Games
94.7 million gamers and $2.3 billion in annual sales in Brazil have established it as one of the key players in the gaming market.
According to Mobvista's " 2022 Chinese Mobile Games Go Global White Paper", Brazil saw 4.57 billion mobile game downloads in 2021 – the third largest worldwide. In addition, Brazilian players are younger and more female-dominated than other regions, with nearly 60% of users aged between 18 to 34 and 52% female.
In terms of game genres, Brazilian users prefer competitive verticals such as midcore and hardcore games As a result of the global pandemic, games have been also become increasingly deemed more popular with non-Brazilian companies such as Free Fire, Pokémon Go, and Harry Potter: Wizards Unite all gaining a foothold in Brazil.
Popular game genres in Brazil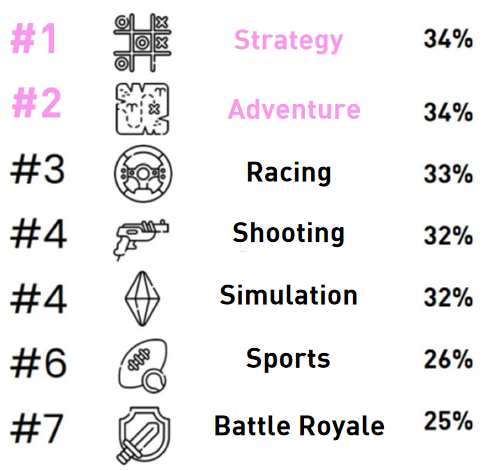 Source: Newzoo Global Gaming Market Report 2021; Newzoo consumer insights 2020
While the sheer volume of game downloads in Brazil might be impressive, its worth noting that the willingness of its users to pay for games is relatively low. Statista suggests that in 2021, 45.4% of local mobile game users in Brazil were "zero pay" users, and its overall ARPU was also well below the world average. This is due to a cumbersome payment systems. Nevertheless, payment in Brazil is gradually going digital and more user-friendly, which is bound to bring new opportunities for potential growth in its gaming market.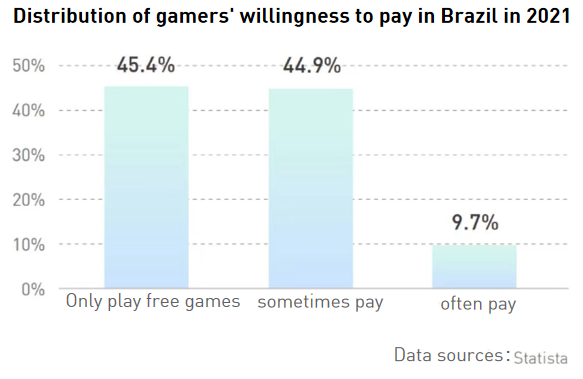 As a Portuguese-speaking nation, most Brazilians do not speak English, making game localization essential. It's also worth noting that there is also a difference between Portuguese spoken in Europe versus Portuguese spoken in Brazil.
Go Global Tips:

Game developers are increasingly aware of the benefits brought by localized creativity. According to Reyun's Creative Analysis Report – Overseas Edition, Portuguese content has significantly increased in the Brazilian market. To go global, a team that can think and act locally is a must. Through TopWorks, Nativex can provide Brazilian creative studios with expertise in premium localization services, including local characters, voiceovers, and ideas.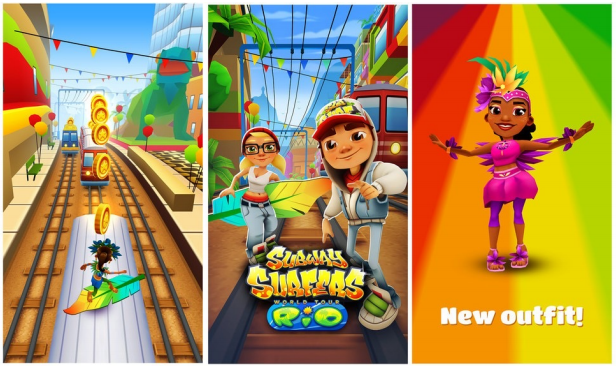 The Rio Edition of Subway Surfer
Social networking
Messaging and video apps are the most used services in Brazil. Of all the 2021 app downloads in Brazil, short-form video apps finished in the top 3. Brazilian users were also found to be inclined to pay within those apps.
Additionally, video apps and the dating app Tinder, made it to the top 5 in terms of consumer spending.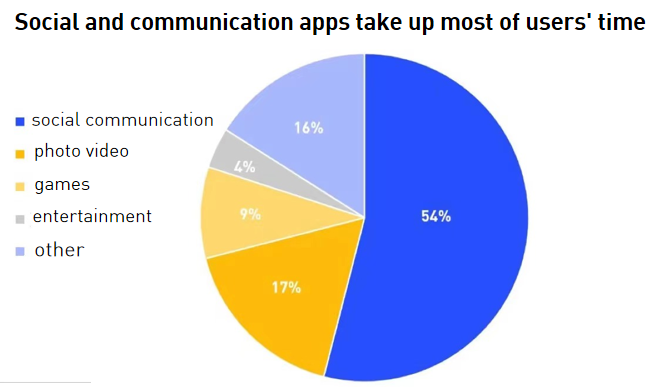 Source: Data.ai 2022; GWI 2022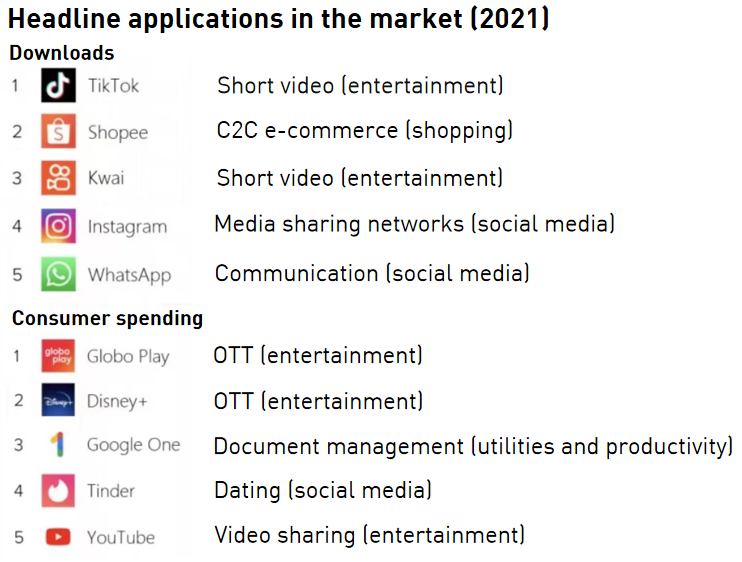 Source: Data.ai 2022, GWI 2022
In addition to entertainment and recreational apps, finance apps are also a rising star in Brazil. From 2020 to 2021, Brazil's number of downloaded fintech apps skyrocketed by 175%.
It's clear that consumers are keen to get their hands on alternatives to traditional banks. One example is a Neobank, a bank that is more easily accessible for those without a credit history and offers customized services.
eCommerce
Brazil is the largest and most developed eCommerce market in Latin America, ranking tenth worldwide in terms of sales with considerable potential for further development. By 2025, Brazil is expected to lead the world in retail eCommerce sales growth, surpassing the US and Japan.

Source: Statista 2022
More Brazilian buyers have turned to cross-border eCommerce platforms, marking a new trend in shopping habits. When it comes to payment methods, digital payments are gaining traction, with the shift most evident among GencZ users.
Insights from a local marketing expert

For companies seeking to enter the Brazilian market, localization is vital for sustainable growth. Keep in mind that localization is not only about advertising and marketing but also about the product itself. For instance, data plans are scarce, so developers should optimize their services for low bandwidth operations and mid-range devices. Take a battle royale game we worked on, for example: We decided to reduce the number of players from 100 to 50, scrap the high definition version, and streamline the game while keeping its best and core selling points.
About Nativex
Nativex is a leading digital marketing agency covering traffic resources across all major markets in the world. By providing high-quality user acquisition automation tools, KOL marketing services, and a wide range of creative customization capabilities, Nativex helps brands and apps around the world boost their cross-regional growth. As part of the Mobvista Group, Nativex has offices in 14 locations around the world and provides services to over 3,000 advertisers across more than 60 countries.
Contact the Nativex team today to start your journey to success!