As the world's biggest consumer market, the US offers tremendous opportunities for brands worldwide. The US contains above-average incomes, high openness to trade and commerce, a large population of young consumers, and outstanding levels of innovation and technology. These lay the foundation for a developed digital economy.
The US has been the most popular outbound destination since the App Store's launch in 2008. It is also the first target region for many global developers, thus serving as a model for international market expansion. However, the mobile market is growing rapidly all around the globe, which may pose questions for many mobile marketers. Is the US still the best choice for global developers today? Are there other potential growth opportunities? 
This article will focus on the following aspects:
Preview of Internet Ecology

Interpretation of Local User Profiles

List of Mobile App Competitors

(Games, E-Commerce, Web Fiction & Social Networks)

Insights From Local Marketing Experts
Internet Ecology: Over 300 Million Users, Dominated by Market Giants Across Industries
The US is the third largest Internet market in the world. As of 2021, there were more than 307 million Internet users, with a penetration rate of more than 90%. Among them, there were 233 million active social media users, with a mobile device usage time of 4 hours and 31 minutes, a year-on-year increase of 14%.
Americans spend most of their time on videos and social media.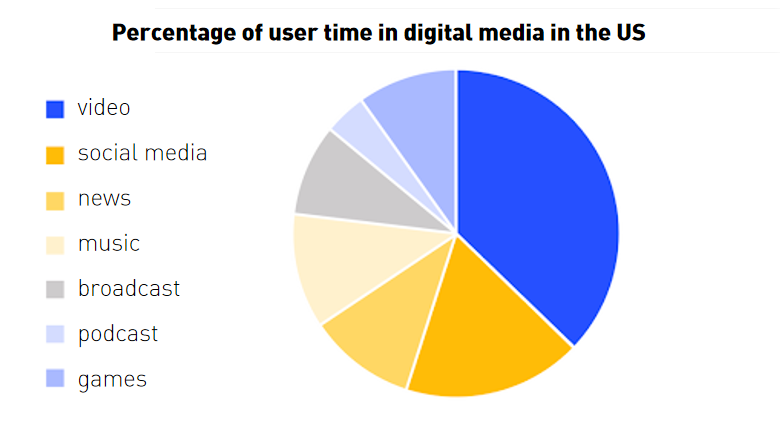 Data Sources: Statista, Edison, eMarketer
The vast digital economy has given birth to several brands familiar to people worldwide, such as Facebook, Google, Instagram, Twitter, Youtube, Snapchat, Netflix, and Amazon.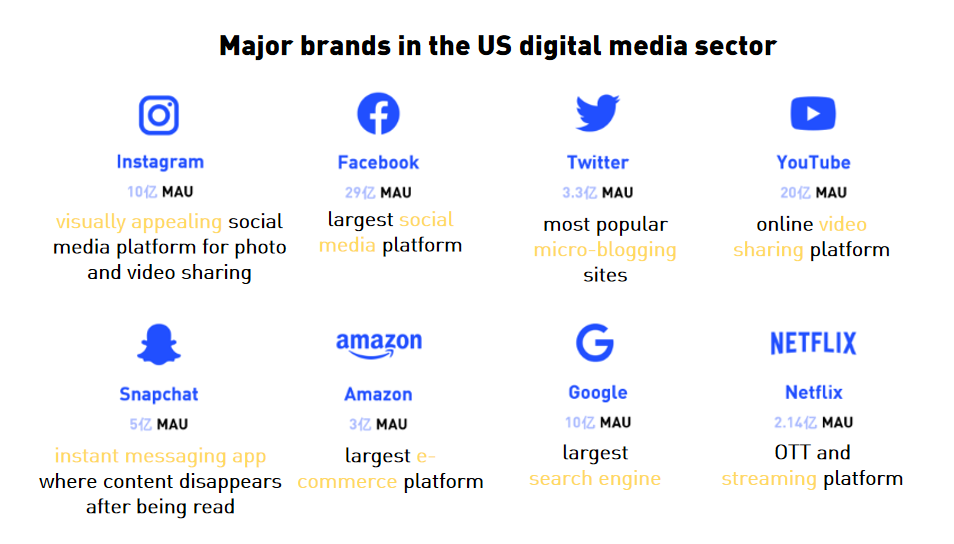 Data Source: Public Information of Each Platform
In the US, the mainstream social media platforms include Facebook, Instagram, and Twitter, while social platforms such as Snapchat and Reddit are also gaining popularity.
In terms of social media, younger generations prefer Instagram, a social media platform that focuses on photo and video sharing. On the other hand, older users are more active on Facebook, a platform where news is more easily accessible.
From the aspect of video platforms, YouTube still has massive traffic, while TikTok's user base is growing rapidly. Apart from video platforms, other entertainment apps Americans love are the streaming platform Netflix and the music platform Spotify.
Tips for Outbound Growth:
The short-form video trend is gradually emerging across all platforms. As content continues to be predominately generated on short-form video platforms, it results in evolving the platforms into search engines and the creation of different communities. Advertisers must leverage content ecology by familiarizing themselves with the platform's community and conditions to boost growth effectively.

With the wide range of digital media providing advertisers with access to users, delivering and managing ads efficiently on different media channels are a top priority. XMP cross-channel advertising tools can help outbound firms solve issues regarding efficiency and achieve refined operations.
User Profiles: Diverse, With Vast Generational Differences
The US is one of the most diverse countries in the world with extraordinarily diverse ethnic and social identities. However, most American users generally have two things in common: a constant interest and willingness to try new things; and a stronger sense of individualism, valuing independent values and beliefs.
Americans can be divided into the following age groups: Generation Z, Millennials, Generation X, and Baby Boomers.
Generation Z refers to people born between 1996 and 2012. They value uniqueness, tend to be more honest, and prefer authentic and niche content.

Millennials are those born between 1981 and 1995. This group, which accounts for about 22% of the US population, loves online shopping and has become the largest consumer group in the country.

Generation X and Baby Boomers are people born in 1965-1980 and 1946-1964, respectively. Although the former have strong spending power, they tend to be more cautious about spending, while the latter, as traditional consumers, prefer offline shopping and entertainment.
Tips for Brands and Advertisers:
Generation Z users in the US are very concerned about uniqueness. Companies planning marketing activities can attract this group more if they project inclusive values accordingly.

US millennial users are very receptive to word-of-mouth recommendations. Hence, social media and creator marketing strategies often produce great results.
Let's use the creator marketing strategy that Nativex planned for Swiss skincare brand lovefromyours as a case example. As a DTC niche brand from Switzerland, #lovefromyours faces market challenges such as low visibility and fierce competition. How can they improve their outreach to target groups, expand brand influence, influence consumers, and boost sales?
Nativex's US-based marketing team provided the brand with a creator recommendation strategy focused on creator marketing. They combined low-cost but high-quality content with localized creator marketing to build a brand reputation quickly. At the same time, they also provided a short conversion path to allow users to place orders faster.
Regarding creative content, Nativex's local creator team integrated the brand's unique skin analysis service into their creators' video content. Based on a user's selfie, they conducted a refined analysis of the user's skin condition and recommended suitable skincare products based on the results. The creators' selfie analysis and accurate skincare recommendations have attracted many non-fan users and positive interaction in the comment section, which has built a better brand reputation and brought consumers closer.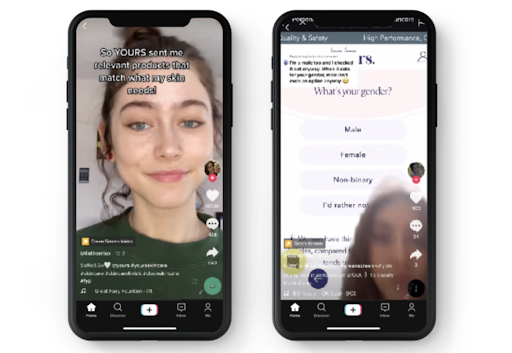 Mobile Apps: Highly Inclusive Towards Overseas Apps; Users Love Gaming & Making In-App Purchases
Americans have strong spending power. The average profit of a single app download in the US in 2021 is almost seven times that of China. This gap will likely widen in the future, which explains why many Chinese brands are targeting the US for going global.
The US market is more friendly and open to imported apps due to its inclusive user appetite and diverse cultural environment. Judging by the most downloaded and best-selling products on the US iOS App Store and Google Play, a wide variety of apps and games from different countries and regions are flourishing.
Games
American players enjoy various games, including puzzles, lottery, strategy, role-playing, and business simulation games. Data shows that elimination, strategy, and mobile gambling games have been the most profitable categories for three consecutive years. Action and hyper-casual games occupied the top two spots in terms of revenue growth.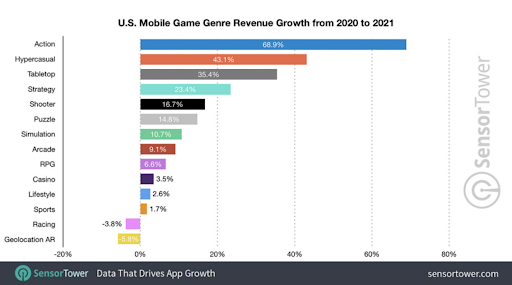 Source: Sensor Tower
Puzzle mechanics, themes, and art styles are the top three game features influencing American gamers. A survey has shown that many US gamers find realistic and cartoonish art styles more appealing, but their favorite game themes are primarily based on fictional settings.
Last year alone, the US market contributed 3.6 billion USD in revenue to the top 30 highest-grossing outbound mobile games, up 53% from 2020, making it the most profitable market globally.
E-Commerce
With the rapid rise of social commerce platforms like Facebook Marketplace and Instagram Shopping, social media is redefining how American consumers shop.
In recent years, Chinese cross-border e-commerce brands such as SHEIN and PatPat have shown tremendous market growth by succeeding in the US. Data from May 2022 indicates that SHEIN is one of the country's most downloaded apps, surpassing giants like Amazon, Instagram, and Twitter.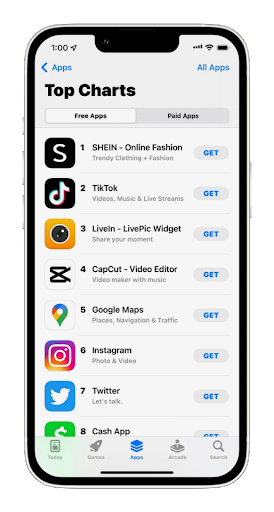 Source: Marketplace Pulse
Web Fiction & Social Networks
The pandemic has catalyzed rapid development in the web fiction industry, and the US has become a "battleground" for leading web fiction companies to expand globally. More than half of the paying users of Dreame, GoodNovel, and Webnovel, the top outbound book apps, are from the US. However, high user acquisition costs and intensifying competition allow only top companies to continue increasing their presence in the US market. In the long run, the US has a mature user market, which is more likely to bring sustainable economic benefits to vendors.
Dating apps have also sprung up during the pandemic. In addition to the established app, Tinder, there are other emerging stars like Bumble, Snack, Feels, Heart to Heart, SwoonMe, and Dive. However, most dating app users do not pay for additional features. Tinder's paying users in 2021 only accounted for 3% of its total users. Users often hop between different dating apps. As a result, fewer loyal users result in fewer earnings.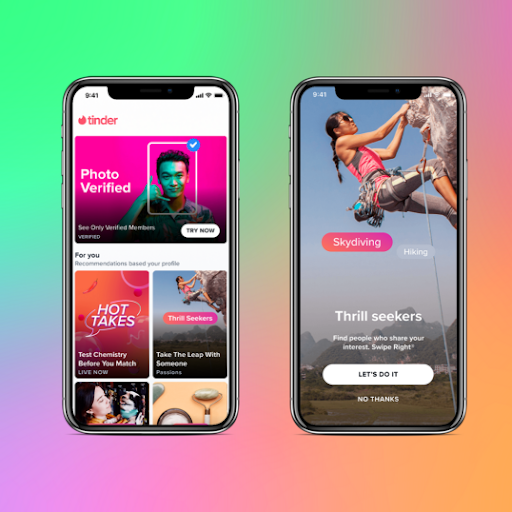 Tinder Explore
Global Talk – Insights From Local Marketing Experts

Although American users are highly inclusive, localized marketing is still essential. Poorly-written English still makes the user experience much less enjoyable. Brands and companies entering the US market are strongly advised to have a local marketing team to assist them in capturing American cultural phenomena, incorporating trends, using current jokes, and pairing them with popular music to make ad content more attractive.
At the same time, overseas vendors should learn American cultural nuances and user values to make their brand and products closer to local users. I suggest engaging in and stepping up creator marketing. The creators have strong community appeal, and users highly trust their favorite creators. You can enhance growth by combining creator profiles and ad content through creator challenges, native ads, live streaming, and so on.
The importance of a local team is not only reflected in publicity and promotions, but also in all aspects of business growth. Game developers, for example, need to be familiar with US game rating classifications. The more adult-related themes that appear in a game, the more restrictive that game is to the general public. A rating of "M" indicates an adult game that can only be sold to people aged 17 and above (18 in some cases). When designing a game for the US market, make sure to take ratings and audiences into account.
Nativex's marketing team is deeply rooted in the local market and can seamlessly communicate with local creators. Nativex can complete one-stop content planning, relationship maintenance, contract payments, and ROI assessment by selecting overseas creators that match your brand precisely, hence maximizing creator resources and achieving real growth.
Contact the Nativex team today to start your journey to success!