Welcome back to the 11th installment of XploreAPAC Pulse, your trusted source for staying up-to-date with the ever-evolving APAC region! As always, we remain committed to delivering the latest insights on mobile technology, digital marketing, and advertising in APAC, ensuring you stay ahead of the curve.
Join us once again for this recurring series and dive into the freshest perspectives on all things mobile, digital marketing, and advertising in the dynamic APAC landscape. Our flash news updates will keep your finger on the pulse of this vibrant region, providing you with invaluable knowledge to fuel your success in APAC. Let's explore together!
In the APAC region, the app market has witnessed remarkable growth, attributed to improved mobile networks and affordable smartphones, resulting in a surge from 700 million mobile internet users in 2015 to 1.29 billion in 2022. APAC leads the way in app growth with a Growth Score of 43.3, driven by factors such as the expansion of mobile access in India, where affordable smartphones and data plans are increasingly accessible. Gaming apps also play a significant role in the region's growth, dominating the app market's upward trajectory.
India's gaming industry is experiencing rapid growth, with a 12.1% increase in the number of gamers projected for 2023, reaching 444.4 million players. Mobile gaming dominates the Indian gaming landscape, commanding an impressive 96.8% market share due to factors such as affordable mobile devices, a wide variety of game titles, and increased internet accessibility. Notably, 31% of Indian mobile gamers are expected to spend money on video games in 2023, with an average revenue per paying user of $6.38, indicating substantial revenue potential in the country's free-to-play gaming market.
Capcom is strategically focusing on India's thriving mobile gaming market, which is projected to generate $868 million in revenue this year, with expectations to reach $1.6 billion by 2027. With a staggering 96.8% of India's gamers playing on mobile devices, Capcom's Chief Operating Officer, Haruhiro Tsujimoto, has set ambitious goals for the company in India. To achieve these goals, Capcom plans to invest significantly in mobile gaming capabilities and release high-quality console titles on smartphones, recognizing the pivotal role of mobile gaming in India's rapidly expanding market.
MapleStory M, launched in China on August 17, achieved exceptional success by generating over $55 million in its first 35 days in the Chinese market, contributing to the game's lifetime revenue surpassing $600 million. The game quickly climbed to the top of China's highest-grossing iPhone game chart and became a leader in mobile downloads, underscoring the strength of China as the world's largest mobile gaming market. The game's success in China also propelled it to become Tencent's top-earning mobile game by Chinese market share, accounting for 9.4% of the company's sales, highlighting its significant impact on the region.
Looking to launch your campaigns in the APAC region?
APAC's enormous mobile market presents incredible opportunities for advertisers globally. With the right partner, these opportunities can be harnessed to their fullest potential, and we are confident that we can be that partner for you. At Nativex, our cross-cultural experts have an unmatched understanding of the APAC mobile market, launching our latest XploreAPAC initiative.
As an authorized ad service provider, we have established partnerships with prominent media outlets such as TikTok, Meta, Snapchat, Twitter, Line, WeTV, KakaoTalk, and more. If you aim to expand your advertising campaigns in the world's largest mobile markets, contact the Nativex team today. We are dedicated to elevating your marketing ROI to new heights.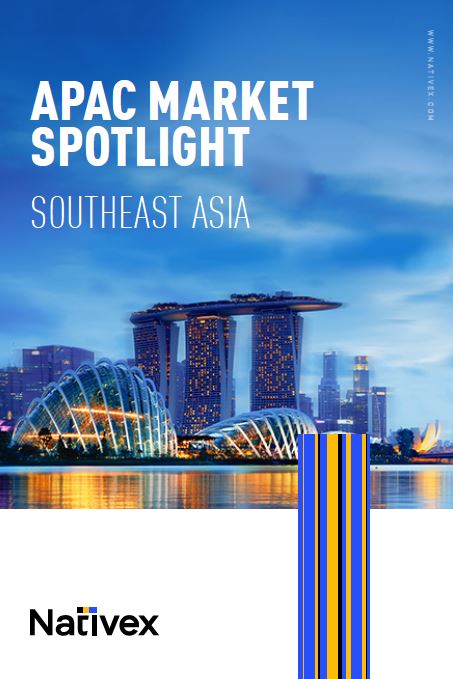 Southeast Asia is experiencing rapid growth, boasting a sizable user base, increased purchasing power, and enhanced internet infrastructure. As a result, this region has emerged as one of the most dynamic and promising areas globally. For brands and advertisers looking to capitalize on this potential, it is essential to grasp the unique factors that contribute to Southeast Asia's allure.
DOWNLOAD HERE
⟶