⟵
success story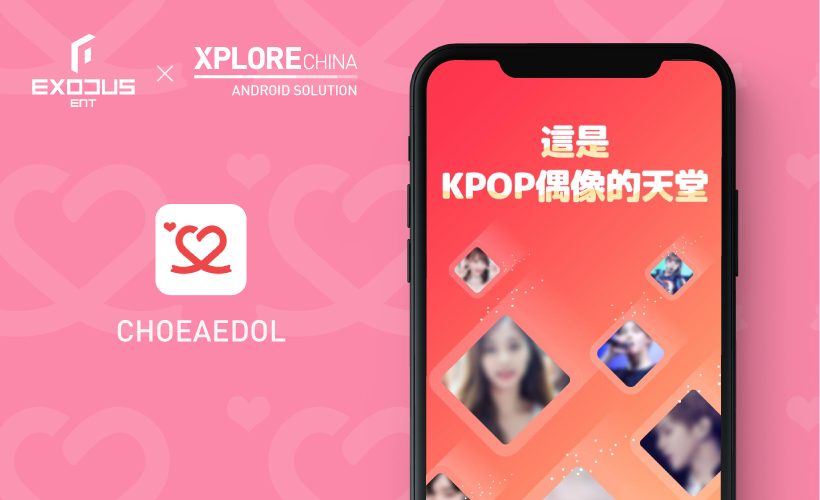 Our Android Solution Helped Popular K-Pop App Get Over 100,000 MAUs
We partnered with Korean developer ExodusEnt. to help them promote their K-pop idol app "CHOEAEDOL♡ – Kpop idol ranks" across China's massive Android market. By leveraging our strong knowledge of the fragmented Android market in China, we were able to identify the top Android stores that would generate the best ROI for this particular app. Here's how we made it happen.
ABOUT CHOEAEDOL
ExodusEnt. is a Korean developer founded in 2011. With a focus on Korean celebrity-related apps, particularly actors and K-pop stars, ExodusEnt.'s most popular app is "CHOEAEDOL♡ – Kpop idol ranks", with over 5 million downloads to date. This is an app designed for K-pop fans that helps them interact with the wider K-pop community, participate in various community events and activities, stay up to date with the latest K-pop star news, and more.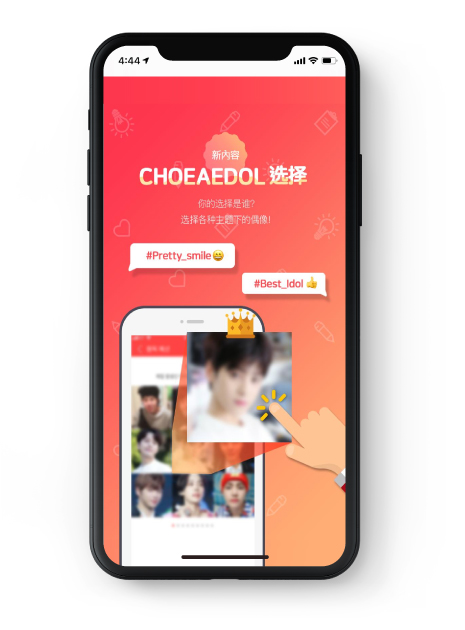 OBJECTIVES
As K-pop music has been an international music phenomenon for years now, the K-pop fan communities across the world have seen rapid growth, both in terms of volume and spend. This is particularly in China, where the fan market was estimated to be around 500 million users in 2019, with 36% of them willing to spend anywhere between RMB 100-500 ($15-$75) on their idols per month. 
With an estimated value at over RMB 100 billion ($15 billion) in 2020 and rising, ExodusEnt. saw the massive opportunities that the Chinese market had to offer, but it needed a partner to enter the fragmented Android market.
Launch in the Chinese Android market
Increase downloads and trial subscriptions
STRATEGIES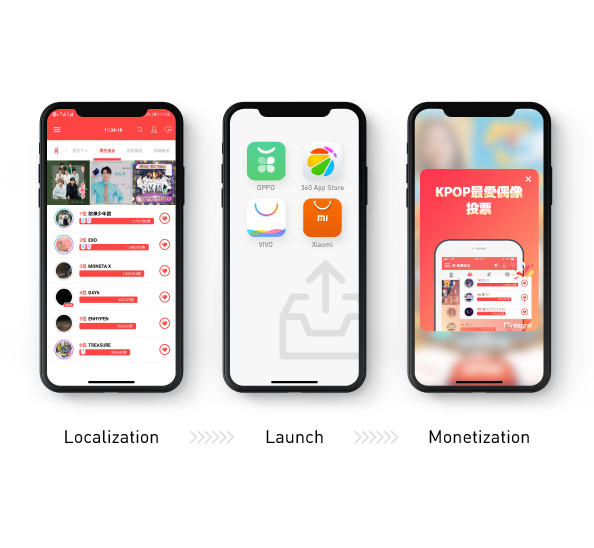 Pre-launch strategies
Localization: improving the app translation accuracy and optimizing the product to better line up with Chinese users' habits.
App Store selection & launch: running an in-depth Android app store analysis to discover the most effective launch channels, preparing the end-to-end application process for each separate Android platform.
Post-launch strategies
Monetization: running in-depth market research that focused on identifying the best monetization partner for the team's needs – in this case, Mintegral was the best-performing monetization partner for ExodusEnt. 
KEY RESULTS & ACHIEVEMENTS
Thanks to our in-depth knowledge of the Chinese Android ecosystem, we were able to pinpoint the 4 best and most efficient Android app stores for this project: OPPO App Market, VIVO App Store, Xiaomi Store, and 360 Mobile Assistant. With these 4 app stores, we were able to reach over 40% of the entire Android market in China.
Not only did we manage to successfully navigate the complex regulatory system and launch "CHOEAEDOL♡ – Kpop idol ranks" across multiple Android app stores, but we also managed to boost the number of monthly active users. At the same time, we increased the trial subscription uptake, as well as daily app usage time, and D30 retention rate.
This is what ExodusEnt. had to say about our partnership:
"We partnered with Nativex because we saw the incredible demand for K-pop content in China. Nativex helped us launch in the biggest Android app stores in China, and thanks to their expertise, we were able to scale up fast in order to reach our key objectives. The Nativex team proved to be very knowledgeable and proactive, making our cooperation a very successful one."
—— Sung Ho Han, CEO of ExodusEnt. Co., Ltd.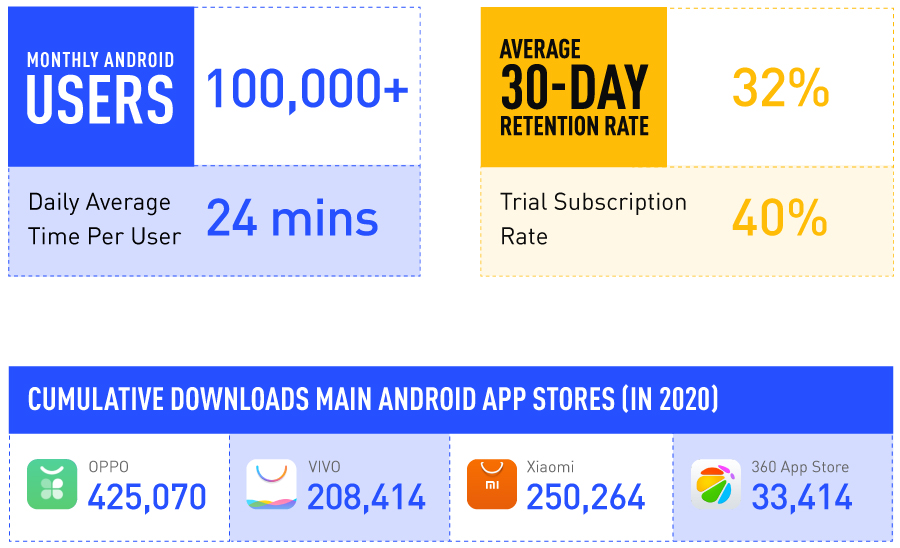 LAUNCH & GROW IN CHINA'S ANDROID MARKET
 Entering a market like China meant finding the right Android app stores, as well as the right audiences. Nativex's Android Solutions help you launch and grow on the most important Android stores in China. Get in touch today and learn more about our offerings.
Get in Touch
⟶