Welcome back to the 10th installment of XploreAPAC Pulse, your trusted source for staying up-to-date with the ever-evolving APAC region! As always, we remain committed to delivering the latest insights on mobile technology, digital marketing, and advertising in APAC, ensuring you stay ahead of the curve.
Join us once again for this recurring series and dive into the freshest perspectives on all things mobile, digital marketing, and advertising in the dynamic APAC landscape. Our flash news updates will keep your finger on the pulse of this vibrant region, providing you with invaluable knowledge to fuel your success in APAC. Let's explore together!
TikTok Shop's expansion in Southeast Asia has witnessed remarkable growth, largely attributable to the rising popularity of livestream shopping. According to a survey conducted by Cube Asia among regional shoppers, a staggering 70% of respondents identified TikTok Shop's video and live shopping capabilities as among their top three reasons for patronizing the platform. This impressive success has prompted competitors like Shopee to ramp up their investment in the same space.
Pokémon Go has launched in Hindi in the Indian market, with 800 iconic Pokémon getting renamed. This move reflects the franchise's desire to tap into India. The localization into Hindi is seen as the beginning of a long-term strategy to establish a strong presence in India. Niantic, the company behind Pokémon Go, is also looking to leverage this expansion to mitigate concerns about the game's revenue decline and capitalize on the potential of the Indian market for augmented reality gaming.
China's mobile gaming market continues to dominate, with 40 out of the top 100 mobile game publishers in August 2023 hailing from the country, including Tencent, NetEase, and miHoYo. These Chinese publishers collectively generated $2.07 billion in revenue, accounting for 39.3% of the total. Notable successes in August include the growth of titles like Crystal Core, Honkai: Star Rail, and MapleStory: Legend of Maple, reflecting China's stronghold in the global mobile gaming industry.
Japan leads the world in mobile game spending per player, boasting four times higher earnings per download than the US, according to Sensor Tower's 2023 Japan Mobile Game Market Insights. IAP in Japan has exceeded $9 billion this year, with RPGs contributing 48% of the country's mobile game revenue, followed by adventure and "Waifu-themed" genres. Despite a decline from the 2021 peak, this year marks a positive reversal, with 620 million downloads expected by the end of 2023, making Japan the third-largest mobile game market globally, with projected revenue of around $14 billion for the year.
Looking to launch your campaigns in the APAC region?
APAC's enormous mobile market presents incredible opportunities for advertisers globally. With the right partner, these opportunities can be harnessed to their fullest potential, and we are confident that we can be that partner for you. At Nativex, our cross-cultural experts have an unmatched understanding of the APAC mobile market, launching our latest XploreAPAC initiative.
As an authorized ad service provider, we have established partnerships with prominent media outlets such as TikTok, Meta, Snapchat, Twitter, Line, WeTV, KakaoTalk, and more. If you aim to expand your advertising campaigns in the world's largest mobile markets, contact the Nativex team today. We are dedicated to elevating your marketing ROI to new heights.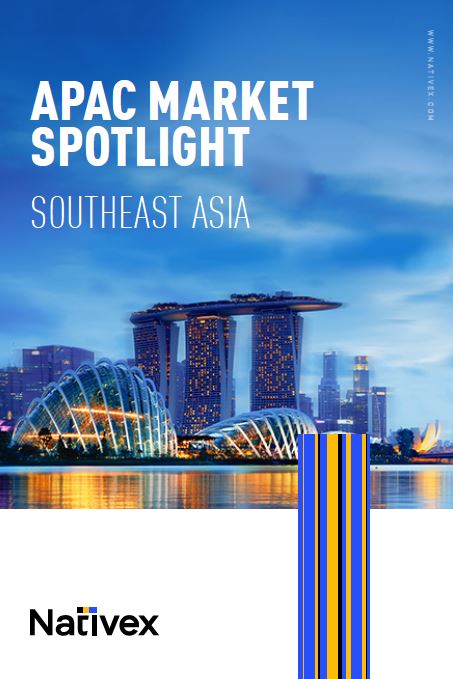 Southeast Asia is experiencing rapid growth, boasting a sizable user base, increased purchasing power, and enhanced internet infrastructure. As a result, this region has emerged as one of the most dynamic and promising areas globally. For brands and advertisers looking to capitalize on this potential, it is essential to grasp the unique factors that contribute to Southeast Asia's allure.
DOWNLOAD HERE
⟶