Decades of rapid growth has transformed China into one of the world's biggest economic powers. For a long time, China's economic growth was based on its huge manufacturing capacity and expertise; but today's China has been transformed by the long-term investment in manufacturing, education, infrastructure, and R&D that has led to the rise of companies that have become global giants. 
Table of contents:
The next phase of China's economic and social growth will hinge on the transition from investment and infrastructure to consumption-led growth, as Chinese consumers' incomes increase, and therefore their spending power. Expect to see the 'premiumisation' of everyday purchases, as more Chinese citizens become willing to spend extra for a premium level of product or service. 
This will have a huge impact on many business sectors, such as entertainment, luxury goods and the kinds of consumer-focused services that, as Western consumers, we have become used to. Already this growing consumer-led demand has helped a number of domestic companies to become some of the world's biggest brands.
This means that China continues to present an incredible opportunity to overseas advertisers. As the world's largest consumer market (population 1.4 billion and growing) there is a ready audience for any company or brand that's able to tailor their message in the right way. In this post, we'll explore some of the underlying drivers of the Chinese consumer economy.
The next decade will see consumer demand grow fastest in tier 2 & 3 cities
Unlike most other countries which at most may have a dozen major cities within their borders, China's sheer size has led to the adoption of an unofficial tier system which groups cities by a number of factors including population, infrastructure, income level and economic growth. 
Tier 1 encompasses the four biggest and most economically important cities – Shanghai, Beijing, Guangzhou and Shenzhen. These are the cities most commonly targeted by overseas companies looking to launch in China; however, there are almost 300 smaller cities with more than a million residents. Tier 2 cities – the likes of Tianjin, Chengdu, Dalian and Wenzhou – may be considered smaller, but they still boast a bigger population than cities the size of New York or London.
In a joint report between PineBridge Investments and The Economist Intelligence Unit it is predicted that some 480m Chinese consumers (more than the entire population of the US) will reach upper-middle and high-income status by 2030. It's this enormous additional spending power which will be behind the shift to consumer-led economic growth. It's these consumers who, thanks to greater disposable income, will challenge companies to differentiate their products from the competition, putting a greater emphasis on quality and convenience.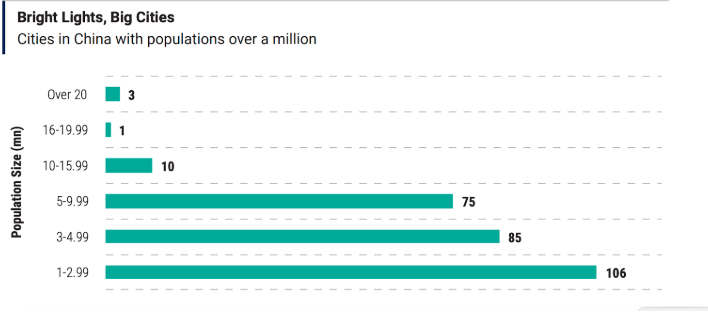 This chart from the report "China Icebergs: Forces That Could Reshape the World" shows the number of Chinese cities with populations of more than 1 million people
Beyond the economic growth in tier 2 and 3 cities, there are still many millions of Chinese consumers who are lower down the economic scale but who still make up a considerable market in their own right. These more value-conscious consumers will still make up 36% of urban households in 2030, representing more than 300 million consumers on the lookout for cheaper products.
China is the world's biggest mobile-first economy
It's widely accepted that China's economic growth is closely linked to the widespread adoption of mobile internet and smartphones, making it a mobile-first economy. According to data published by the GSMA at the end of 2019, China is forecast to have more than 1.2 billion mobile users by 2025, making up more than 80% of smartphone users across the entire APAC region. Of these users, the vast majority will be connected – and therefore users of mobile-first apps and services.
This is one of the reasons why the mobile ecosystem in China has flourished, with companies like Tencent, Alibaba, Baidu and ByteDance launching services that are used by the vast majority of Chinese consumers. For any Western brand or company looking to target Chinese users, knowing how to navigate these platforms, as well as the wider app ecosystem, has become essential.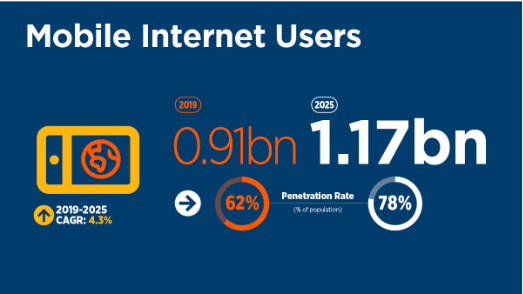 The GSMA forecasts that there will be almost 1.2 billion Chinese internet-connected smartphone users by 2025
Mats Granryd, the Director-General of the GSMA, believes that the ubiquitous use of 4G mobile internet is a key reason why China is now leading the world in the rollout of 5G. "China's mobile industry has been a key driver of economic growth, inclusion and modernisation – creating a new generation of digital consumers and transforming industry and society. After spending billions over the last decade deploying 4G networks to all corners of the country, Chinese mobile operators are now set to invest a further RMB401 billion ($58 billion) over the next two years to prepare for and begin 5G rollouts, laying the groundwork for China to become one of the world's leading 5G markets."
China is racing ahead with the launch of 5G infrastructure and services
The roll-out of 5G networks is significant not just because of the improved performance over 4G, but because of the new kinds of mobile-first services that it can support. With as much as a 100x improvement in bandwidth over existing 4G networks. This means that, for the first time, there should be no difference between fixed-line and mobile network performance. 
Already the largest mobile market in the world, China has been quick to start building 5G infrastructure. China's three largest state-owned telecom companies have announced the investment of 180 billion yuan ($25 billion) in 5G this year – more than four times their spending last year. By 2025, total investment in the 5G rollout is expected to reach almost $170 billion.
This early investment has meant that millions of Chinese consumers are already up and running with 5G-enabled smartphones. Subscriber numbers have leapt from under 10 million in December 2019 to more than 50 million as of March 2020, according to data from the Chinese government.
Of course, with close to one billion smartphone users in China, penetration of 5G technology will take time. Business Insider predicts that by 2025, 36% of mobile users will be using 5G – most likely concentrated in China's largest cities.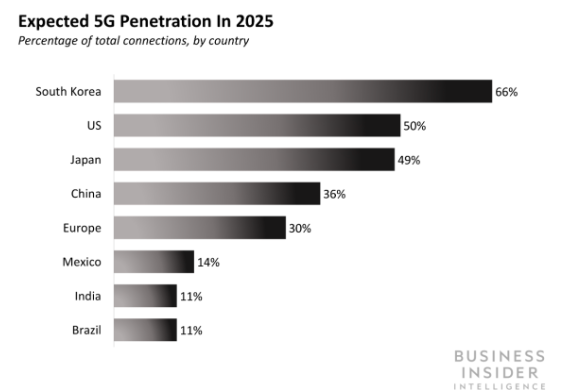 Whilst China may have the highest number of 5G users by 2025, it's size means that penetration of over 50% will take some time
Chinese firms are in a race to innovate
The growth of Chinese companies into global brands has been a feature of recent years. Tencent is now the world's largest publicly listed video games company (Nintendo is bigger, but remains privately held), while AliExpress, a version of Alibaba's eCommerce platform designed for overseas markets, is now the most popular online shopping site in Russia.
Look at most new areas of technology, and Chinese businesses are front and centre. Take the example of Artificial Intelligence; billions in funding and research support has been made available to start-ups, and the government has been vocal about the opportunity for China to become a world leader in this field.
Another example is the emerging esports industry. Active encouragement for Esports in China means that it has quickly grown to the point where Esports was officially recognised as a profession. According to a recent study of the sector – "the 2019 China Esports Talent Development Report" co-authored by Tencent – it's estimated that more than 330,000 people already work in Esports-related jobs, and special esports zones are being built in several major cities as a means of supporting local innovation.
China's sheer scale means that competition is fierce, and companies can rise and fall with incredible speed. Those companies that manage to become leaders in their fields – Alibaba in eCommerce, Xiaomi in smartphones, Tencent in entertainment apps – must constantly innovate if they are to stay at the top. It's this approach that is helping more Chinese companies than ever before to break out beyond their domestic markets and find a new, global audience.
The next big Chinese export? Social commerce
Cyber Monday has become a fixture for many US shoppers. This annual shopping event is held on the first Monday after Thanksgiving and was created as a way to promote online shopping back when retail was dominated by department stores and physical retail. Over the years it's grown beyond the US to become a part of the calendar in several countries, from the UK to India. It's an important date for retailers too, with sales in 2018 topping $7 billion in the US alone.
Not to be outdone, Alibaba – China's largest eCommerce company – created 'Singles Day' as a cynical take on Valentine's day, holding it on November 11 each year (the date 11/11 being four single digits). This has become the Chinese equivalent of Cyber Monday – the biggest online shopping day of the year. In 2018 sales reached $30.8 billion – more than three times the sales generated by Cyber Monday.
Part of what has fuelled the incredible success of Singles Day (also nicknamed Double 11) has been the combination of live streaming via social media and ecommerce into an approach that's being called 'social commerce' or 'live commerce'.
During last year's Singles Day Taobao Live – Alibaba's own combination of online shopping app and short video platform – contributed $2.86 billion in sales. According to Chinese financial services firm Everbright Securities, the live commerce market was worth 440 billion yuan (US$63 billion) in 2019, a 220% increase in 2018. Around 25% of consumers are daily users, while 71% watch a live commerce event at least once a week, according to research from iiMedia.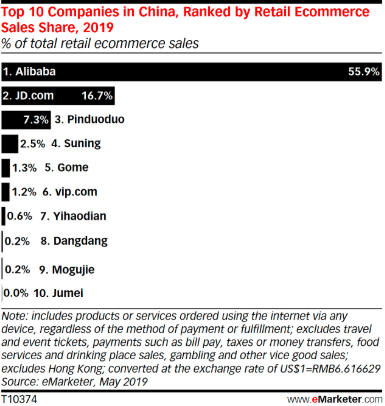 This chart from eMarketer shows the dominance of Alibaba in China's eCommerce landscape
A relative newcomer to the Chinese market is Pinduoduo. Launched in 2015, by 2017 it had gained more than 200 million users, and today boasts 135 million users every day. An incredible 73% of its users are under 35 years old – making it one of the most important places for brands looking to target this key demographic. Compared to the other popular eCommerce apps, more of Pinduoduo's users come from less wealthy cities, so it is also the most important marketing and sales channel for reaching more price-conscious consumers.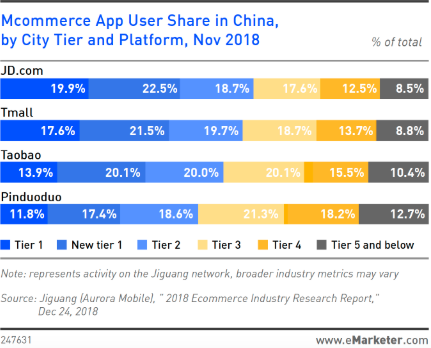 This chart based on data from eMarketer shows how Pinduoduo is the most popular eCommerce app for price-sensitive shoppers from tier 2-5 cities
Pinduoduo has been built from the ground up to use social media as part of the shopping experience. Users of the app can buy products immediately at market price or can get a lower price by inviting friends and connecting with other users to form purchasing groups. It's a very similar model to US-based Groupon, but whereas Groupon struggled to reach a critical mass of users to overcome its massive marketing spend, Pinduoduo has been able to piggyback on the almost 1 billion users of WeChat, China's most ubiquitous messaging app which happens to be owned by Tencent – the creator of Pinduoduo.
In China, eCommerce and KOL's go hand-in-hand
The rise of social media influencers has had a big effect on how products are marketed around the world. But in most Western markets influencers are seen mainly as a boost for 'softer' brand awareness, with the US and Europe requiring influencers to make it clear when they are part of a paid promotional campaign.
In markets like South Korea, Japan and China, influencers – known locally as Key Opinion leaders (KOLs) are much more sophisticated. A survey of Chinese consumers by GlobalWebIndex found that 20% of internet users in China find out about new brands and products by endorsements by celebrities or well-known individuals. The importance of KOLs is helped by the number of consumers who use social media, which has reached a staggering 95% of the population.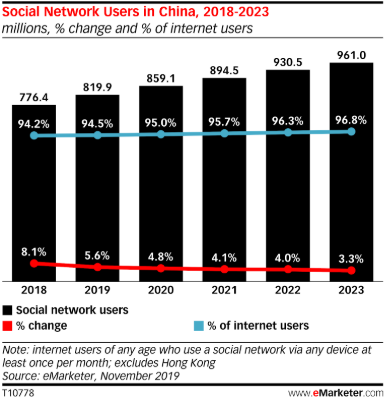 This chart from eMarketer shows more than 95% of the Chinese population use social media
Social commerce is a smart way of leveraging the big audiences that many KOL's have. Platforms like Bilibili, Kuaishou and Douyin use live streams from influencers to promote literally anything you can think of, ranging from skincare to games, home appliances etc. Alibaba says that live streaming from KOLs generated $14 billion in 2018.
Another social commerce platform making waves is Xiaohongshu. It's a social media community for reviewing purchases in incredible detail; think Travelzoo,  but for shopping aficionados. The app has 85 million monthly active users generating more than 3 billion reviews of beauty products, clothes, restaurants, and services every day. 
It's hard to understate just how effective KOL marketing can be in China. One influencer that made headlines is Li Jiaqi, a 27-year-old video blogger known as the "Lipstick King". As part of a promotion for Singles Day in 2018, during one of his live streaming, his channel sold 15,000 lipsticks in just 5 minutes.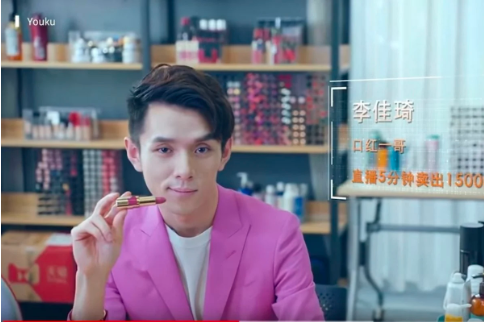 Li Jaiqi is known as "The Lipstick King", and his Singles Day promotion led to 15,000 lipsticks being sold in 5 minutes. 
The popularity of social commerce and live streaming is also evidenced by the huge growth of TikTok. In the US it overtook Facebook, Twitter, Snapchat and Instagram in 2018 to become the most downloaded social media app. Today, it is the hottest platform for brands and marketers looking to reach millennials and gen-z.
It's not surprising that every major internet media company in China is launching its social commerce platform. Search engine giant Baidu announced in May that it plans to invest more than $70 million into building its own footprint as it tries to compete with Douyin and Kuaishou.
Advertisers looking to China need to be ready for a fast-moving market
As we've seen with even this very brief look at the economic and business trends driving consumer habits in China, it remains a fast-moving and changing marketplace. The massive investments in internet infrastructure have had a double-sided effect on Chinese consumption, in that it is helping to uplift the sending power and earning potential of people living in 2nd and 3rd tier cities as well as laying a platform for local companies to continue to innovate.
With such widespread adoption of smartphones the key to reaching consumers. Smart brands will continue to focus on the apps and services people use every day – with live streaming and social media an integral part of shopping and entertainment for millions of people.
Whilst there will always be differences between the Chinese and Western markets, we would expect to see the idea of social commerce to grow as live streaming and video content becomes more widespread. We can see that TikTok is a great example of how video apps can go mainstream very quickly if they are presented in the right way, and just as in China we would expect to see more and more developers and brands teaming up with social media influencers to transform the way people discover and buy new products.
Of course, navigating all this requires expert knowledge. That's why Nativex has built close relationships with all of the key Chinese media platforms, so that we can guide our customers through every aspect of creating and delivering a campaign. Find out more or contact us at https://www.nativex.com/en/getintouch/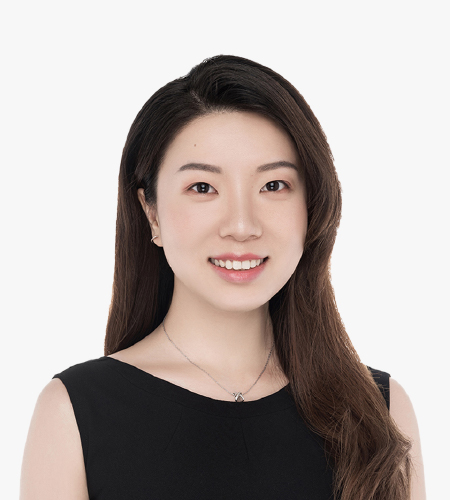 Irene Yang
Managing Director
Irene is the Managing Director of Nativex and she has been instrumental in establishing and strengthening the company's expansion in 8 key markets around the world. Since joining the company in 2014 as a Business Development Manager, Irene became the Regional Manager for the Asia & Europe markets in 2018 and has been a key performance driver in these regions.