2023 is sure to be an exciting year for mobile advertising, with new and innovative opportunities to reach consumers. We expect to see an increase in omnichannel marketing strategies that combine the power of mobile and social media with traditional channels. Advertisers will likely become more creative with their campaigns and use sophisticated targeting techniques to reach their target audiences. 
A break out year for short-form video
TikTok will emphasize features that encourage content creation. TikTok will be looking at recruiting creators, providing subsidies, and better connecting creators with brands to boost its creator economy. 
It'll be important to include features that enable direct commercialization of content creators, such as tipping, commission on ad revenue, or better creator-brand relationship mechanisms.
Commercializing the influencer ecosystem will mean further rollouts of TikTok Shop and live-streaming availability in more regions and languages. 
Marketers require advanced data analytics, and a more robust tracking/attribution model will lead to better campaign analysis. Beyond the typical self-attributing network (SAN), it would pay to have partnerships to enable view-through/click-through or influencer attribution along with brand loyalty measurement. 
As the industry becomes more privacy-centric, it only makes sense that TikTok's platform will become more scrutinized and respond with heightened compliance features. 
Finding Alternatives
While TikTok continues to be the talk of the town amongst marketers, 2023 will see the further rise of lesser-known but equally competitive short-form video apps such as Kwai and SnackVideo. Both apps are developed by Kuaishou and have already amassed massive monthly active users. The difference is that they tend to focus more on particular target markets than TikTok. 
We predict that Kwai, already a mainstay amongst mobile users in Brazil, will continue to grow and potentially dominate the market – giving way to massive advertising opportunities for brands and apps looking to break into LATAM. 
Over in APAC, TikTok will continue to dominate. However, Kuaishou's SnackVideo has a fair share of Indonesian users and will likely continue bolstering its platform – good news for advertisers, given advertising on SnackVideo is typically less expensive than TikTok. 
Now directly competing with LINE in Japan, the adoption of TikTok ad products will continue to skyrocket. Daisuke Kobayashi, CG Director Japan,  believes small to medium-sized companies will really start to take advantage of this audience in 2023. 
The Rising Costs of UA
With the rising costs of UA, it would be wise for brands and apps to ramp up their organic approach wherever possible and go back to optimizing some of the basics:  
For apps, rethink your ASO strategy

Branding is back

Rethink your retargeting 

Collaborate with influencers, such as micro-influencers, who have a high affinity (high loyalty) for the product or service.
Integrating Gaming
Yikai Li notes that TikTok stands to benefit from gaming, especially from HTML5 formats, similar to what has been seen on Douyin and originally popularized on WeChat 'mini-programs'. the built-in H5/mini program. More and more gaming advertisers in China are linking directly to WeChat's mini-programs rather than the actual App Store or Android app stores. The biggest benefit here is it helps shorten the conversion path and makes it easier for attribution. Earlier in 2022, TikTok had already been testing a feature to have its own built-in games and link ads to the HTML5 game directly. "I definitely see this developing, and it has a high potential in 2023," said Yikai Li.
Social Search
We can expect to see increased personalization of search results as algorithms become better at understanding user intent. Additionally, we can expect to see social search becoming more widely used as more and more businesses realize the potential of utilizing social media to promote their services and products.
It is a trend that has already caught traction in 2022 and is forecasted to increase dramatically in the coming years. Nativex recent byline for The Drum highlights this as "TikTok promises new opportunities for content engagement and paths to purchase, particularly when brands effectively leverage the platform's search capabilities." 
TikTok promises new opportunities for content engagement and purchasing paths, particularly when brands effectively leverage the platform's search capabilities. With this, TikTok is set to acquire more Gen Z users and funnel them into its unique product discovery ecosystem. This will siphon some users away from Google Search products. 
A Boost to mCommerce
Suki Lin, Regional Director of APAC, is doubling down on mCommerce and livestream shopping in Southeast Asia. Already, the SEA market has shown positive results for livestream shopping, and Suki thinks it is just a matter of time before social shopping becomes more widespread in the US. It's a prediction based on the mechanisms and functionality that made TikTok so popular in the first place. That is, pushing the content that the audience wants and only 'passively selling' due to the organic nature of its native content. We'll also see more traditional eCommerce giants like Amazon take note of this behavioral shift and test their approaches to social shopping and livestreaming.
eMarketer has recently reported that retail or streaming platforms with digital ad capabilities quickly gain market share. What was traditionally the realm of Meta and Google is now being tested. 
Yolanda Huang, Client Growth EMEA also sees the mCommerce trend continuing but with caveats. Yolanda notes that we'll likely see mCommerce more prevalent in certain product verticals and with less profit margin than we've seen in previous years. Regardless, with the ever-improving global mCommerce infrastructure, increasing investments, and the leading platforms entering into the game with sizable subsidies and onboarding programs, she believes there's massive potential – especially for clients that can combine all the different aspects of social shopping, something Nativex has experience with. This holistic approach to social includes both influencers and the creator economy. We will see more advertisers taking advantage of influencers and creators to sell products/apps and build lasting communities. 
Anling Chung, Director of Client Growth, also notes that another added benefit of influencer marketing is a wealth of user-generated content (UGC). People trust other people more than they trust brands, by and large, and user-generated content is a great way to engage with your customers and get their feedback. Inviting followers to participate in challenges, hosting Q&A sessions, or creating hashtag campaigns will help engage and empower your community. 
"Leveraging influencers actually means leveraging their followers' trust," states Yikai Li. "Trust is always the most important thing to build a connection, whether person to person or brand to person. I cannot think of a more efficient way for a new brand or product than influencer campaigns nowadays."
Livestreaming is unlikely to be the main revenue driver for any Western app, but platforms will undoubtedly continue ramping up their in-app capabilities. While social shopping has skyrocketed in recent years, it'll be driven by ads and the all-important organic content. Livestreaming and other marketing avenues will help close the 'infinite loop' described by TikTok – where the customer journey and buying experience can happen at any point in the traditional funnel.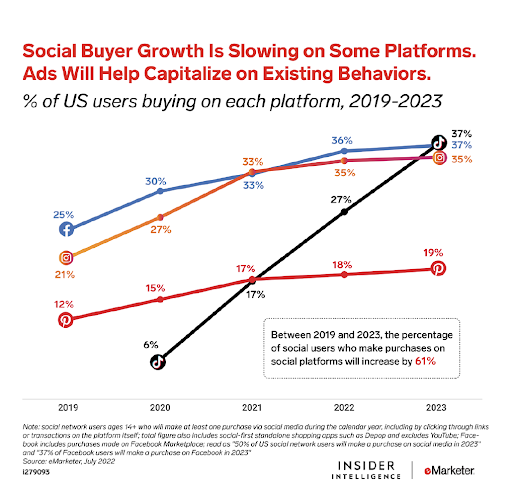 Ads Built for Engagement
Marketers need to learn to do more with less, and that means positioning creative strategy and engagement as a priority. Yolanda Huang notes that it really depends on your target audience and product. Generally speaking, video and interactive ad formats tend to have the highest engagement and conversion rates. Some things to remember for 2023: 
Product and platform preferences are changing, and, in turn, ad formats will also differ. 

More promising ad formats, e.g., CTV and in-game audio ads, are emerging into the market. 

More ad formats are being supported by different platforms, e.g., playable ads on social.

As we mentioned earlier, good old search ads will make a comeback but with more innovation. TikTok has been tested, with many younger Gen Z users searching directly on TikTok, not Google. Meta is also looking into Marketplace ads, with search being the logical place to start.
Guiding users throughout the entire customer journey will become extremely important. Despite the current headwinds facing the industry, apps and brands are being provided increasingly more innovative platform tools to help with this approach. Mcommerce advertisers should be pleased with these developments although they'll have to be extremely mindful of their creative production to ensure a consistent return on ad spend. No matter your goal, Nativex can help boost your growth and scale your advertising into 2023. To learn more, contact us today.