Due to new regulations, TikTok Shop suspended e-commerce transactions in Indonesia as of October 4th. This led to the suspension of TikTok's Product Sales advertising program and new Shop Ads campaigns. Consequently, cross-border brands and retailers faced challenges in maintaining and growing overseas sales.
Despite the dominance of e-commerce platforms like Tokopedia, Shopee, and Lazada in Indonesia's market, TikTok Shop quickly gained significant market share since its launch in 2021. With a population of over 270 million people, Indonesia stands as the second-largest TikTok market globally, boasting an impressive user base of 125 million. TikTok's immense consumer traffic continues to hold value for the e-commerce market in this region.
In response to this situation, Nativex, a marketing agency specializing in TikTok, is helping cross-border e-commerce players adapt to these changes. Recognizing the importance of strategic allocation, Nativex recommends transitioning from a single strategy to a more diversified approach.
Nurturing and Expanding Global Product Sales: Key Strategies for Long-term Success
Expanding into Other Southeast Asian Markets
Despite the suspension of TikTok Shop in Indonesia, TikTok remains a crucial entry point for converting users' interest in products. Its massive user base and traffic advantage in Southeast Asia offers undeniable growth potential. Nativex suggests expanding into other thriving TikTok e-commerce markets in the region, such as Thailand, Malaysia, and the Philippines.
Selecting the Right Products
Market demand and trends play a crucial role in determining the selection of products for sellers. Southeast Asia's diverse cultures and religious beliefs contribute to preferences and popular categories observed in each market:
Malaysia and the Philippines prioritize cost-effectiveness in their purchases:

Consumer electronics, home goods, baby products, and fashion items (especially women's clothing and accessories). Automotive accessories (

Malaysia

) and K-pop idol merchandise (

Philippines

) also show high potential.

Vietnam: Fashion, beauty, and baby products, as well as Buddhist items and jewellery accessories.

Singapore: Consumer electronics, beauty, fashion, and fitness products.
How Nativex Helped Mistine Beauty Brand Thrive in Thailand
Nativex helped Mistine, a renowned Thai beauty brand, thrive on TikTok by leveraging Thailand's massive demand for beauty products. Through tailored advertisements and collaboration with local influencers to showcase the product effects vividly, Mistine successfully attracted specific audience groups interested in fashion and skincare, including an emerging male segment. This comprehensive marketing strategy enabled Mistine to build a strong online presence, ensuring continued growth and success.
Drawing from Nativex's extensive experience, successful TikTok Shop products often possess the following characteristics:
Universal appeal: These products cater to high demand, allowing them to capture broad traffic. Think basic essentials, popular trends, and seasonal must-haves.

Proven bestsellers: Replicating successful experiences with popular products from other e-commerce platforms can give you a head start. Identify trending products and adapt them to your target audience.

Cost-competitiveness: Price is a major factor for TikTok shoppers, so make sure your products are competitively priced.

Uniqueness and novelty: TikTok users are drawn to products that stand out from the crowd. This could mean offering unique designs, innovative features, or simply a fresh take on a classic product.
Direct Traffic to DTC/Brand Official Websites
By nurturing stronger brand loyalty, direct-to-consumer (D2C) channels and official brand websites enable brands to sell products at retail prices, resulting in positive impacts on their sales performance. Additionally, TikTok serves as an excellent platform for driving traffic to your DTC or official brand website. Through engaging videos, influencer product presentations, and native ads on TikTok, users are encouraged to click through to your website, discover more about your offerings, and make purchases.
To get started, you'll need to add Pixel codes to your landing pages. These codes will associate users who view your TikTok ads with those who make purchases on your website, giving you valuable data for ad attribution and optimization. You can also use the Event API to get even more precise data signals.
Once you've added Pixel codes, it's time to set up your TikTok ad account and campaigns. Start by creating at least 10 different creative materials and updating 6 ad campaigns each week. Make sure each campaign contains at least 2-3 unique elements to avoid duplication.
To start, set your budget to the lowest setting and then gradually increase it as you see results. Aim for a daily budget of at least $50 USD for each phase of your campaign.
How to Effectively Run Your Ad Campaigns:
Start by testing on a small scale for a day, then gradually increase the budget after reaching performance targets.

Promptly pause underperforming campaigns while maintaining stable ad delivery.

Finally, when creative performance declines, try creating new campaigns until the phase ends.
The key is to select appropriate products with creatives that resonate with users and continually invest as long as the return on investment (ROI) remains positive.
Leverage Local e-Commerce Platforms
In addition to TikTok Shop, brands and retailers can leverage local e-commerce platforms like Tokopedia and Blibli, or establish their own independent websites. Redirecting TikTok traffic to these websites improves user experience, provides a higher level of page security, and increases conversion rates.
To track conversions and ROI effectively, brands and retailers can consider running ads on Google and Facebook, particularly through the Facebook Collaborative Performance Advertising Solution (CPAS).
Why You Should Implement Facebook CPAS Ads:
Facebook CPAS allows sellers to collaborate with e-commerce platforms, enhancing tracking and ROI measurement. By joining CPAS, a seller's product catalog is shared with the Facebook Ads Manager, ensuring automatic synchronization of product information and displaying discount tags in real time.
CPAS helps target relevant users accurately and enables re-engagement with visitors who have shown interest or added products to their carts but have not yet converted. CPAS influences purchase decisions and drives conversions by continuously displaying previously viewed products.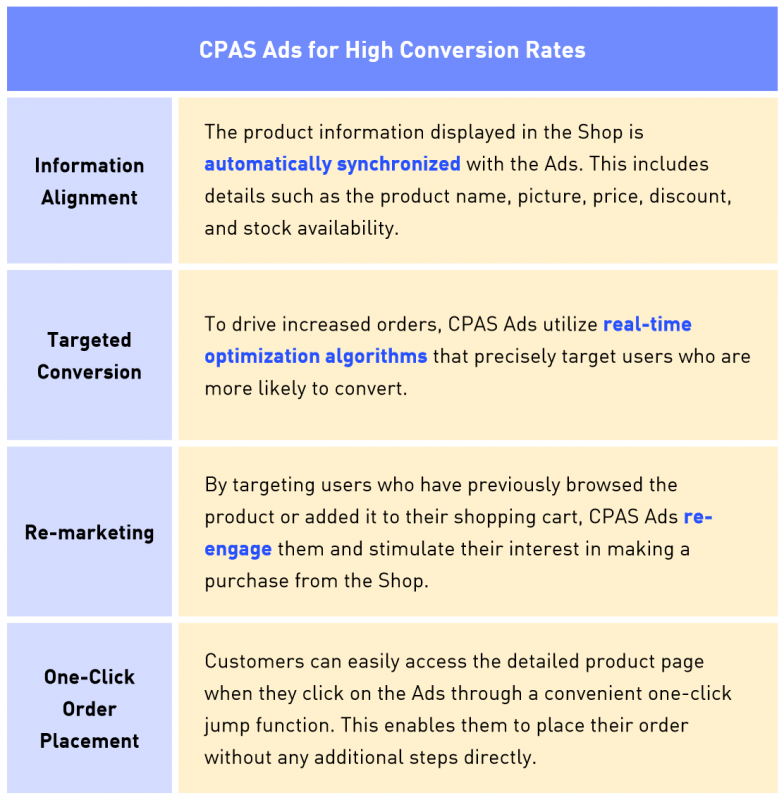 Despite the challenges posed by the closure of TikTok Shop in Indonesia, Nativex's expert advice offers practical solutions for cross-border eCommerce players. Brands and retailers can continue to capitalize on TikTok and other platforms by implementing a diversified approach that takes into account both market characteristics and channel allocation. This includes strengthening their presence on other TikTok Shops in Southeast Asia, redirecting traffic to their DTC/official brand websites, and leveraging local e-commerce platforms such as Lazada and Tokopedia.
Connect with the Nativex team to grow your eCommerce business today.