On our latest webinar featuring experts from AppsFlyer and Apptopia, we discussed the current mobile eCommerce trends, emerging apps and markets, and predictions for mobile eCommerce in Q4 and beyond.
The webinar was moderated by Nativex's very own Jacob Margossian, and the following guest speakers joined him:
Tiffany Ou, General Manager Americas, Nativex

Tony Rafetto, Customer Success Team Lead, Solutions Architect at AppsFlyer
Adam Blacker, VP Insights & Global Alliances at Apptopia
In case you missed it, the full video recording is available on the Nativex YouTube channel, but if you'd prefer to get the key takeaways, read on!
What markets/regions have seen the highest growth of eCommerce apps? 
Historically speaking, the best way to measure growth is by looking at the number of downloads. As we can see from the graph below, eCommerce and shopping apps were downloaded most in China, U.S., India, Brazil, Russia, and the U.K. These countries, combined, make up 62% of global eCommerce and shopping app downloads.
The US and UK are moved by massive organic traffic, a sign of a more mature market, while in other countries such as Brazil, most traffic comes from paid channels. In fact, aggressive user acquisition in Brazil has the country surpassing the U.S. in non-organic installs.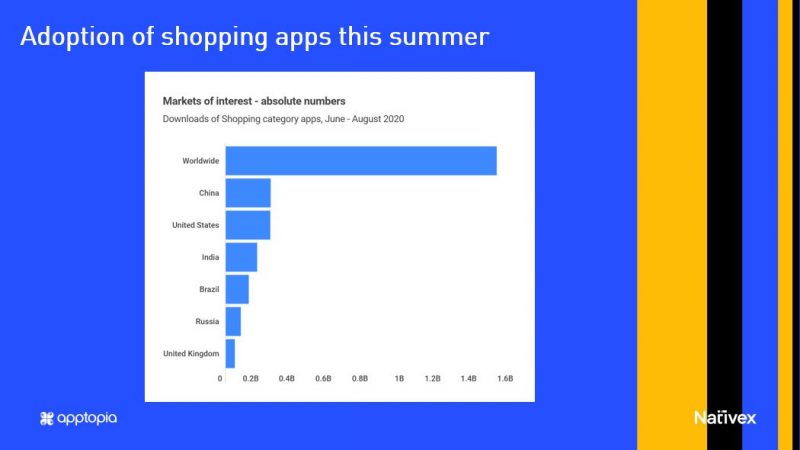 Source: "eCommerce App & Vertical Trends in 2020" webinar
Why do markets like China offer the largest opportunity?
As mentioned by Tiffany Ou and supported by Statista,  80% of Chinese users are shopping online, and the live-stream sales format is becoming more and more popular. This year's sales forecast for eCommerce in China is expected to hit $2 trillion, representing more than 50% of total global sales. 
Like China, India is another market that shows the potential for new eCommerce players. One of the main reasons for that is that people are willing to stray away from heavy-hitters like Amazon, Walmart, eBay, etc, which gives younger eCommerce players the chance to compete.  The top 50 shopping apps in those regions received a smaller percentage of downloads this year compared to last.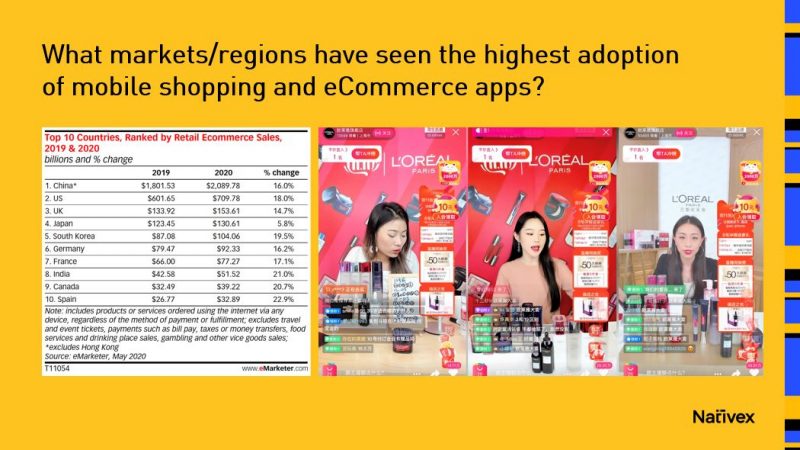 Source: "eCommerce App & Vertical Trends in 2020" webinar
What are the new verticals and trends we have seen this year in the US?
This year a new vertical that has taken over is pay installment apps such as Klarna or Affirm. Installment apps were downloaded more times than any other vertical, and their YoY growth is happening quicker than larger retailers apps: they have a high engagement rate, they allow users to purchase big-ticket items, and increase the purchasing power for the commencing holiday season. It should be noted, however, that large retailers represent the largest absolute number of users.
We have noticed one other trend that we call "window shopping," especially for fashion apps. The number of sessions for these apps has increased exponentially, but the number of purchases has not risen. On the other hand, retail is gaining volume due to this spike of in-app sessions, and pick-up orders and in-store sales have increased. Reward & savings apps saw a decline in new downloads but an increase in usage.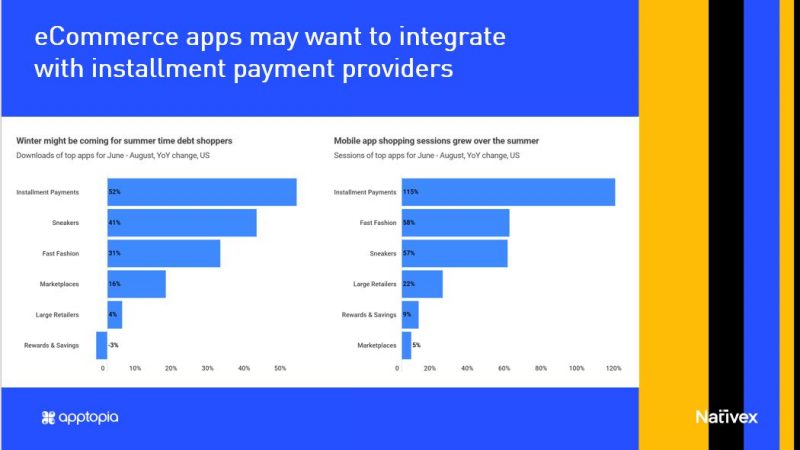 Source: "eCommerce App & Vertical Trends in 2020" webinar
What marketing strategy should eCommerce players focus on for this holiday season?
One factor why China succeeds in eCommerce is its ability to remain at the forefront of technology and marketing. This means exploring new platforms, designs, providing and using resources such as social media. Shopping and eCommerce apps should not be afraid of leveraging TikTok's unique advertising offerings.
 The pandemic accelerated eCommerce growth. We will be reaching numbers for this holiday season that were previously projected for 2022. So marketers should stay more fluid than in previous years and develop their strategy on a month-over-month basis. Start testing your creatives and benchmarks in October and build your target audience pool for retargeting later during the shopping season. People have become savvier shoppers due to the pandemic, so they will be looking for the best deals. Brand loyalty will not be as relevant, so testing and retargeting campaigns will be critical.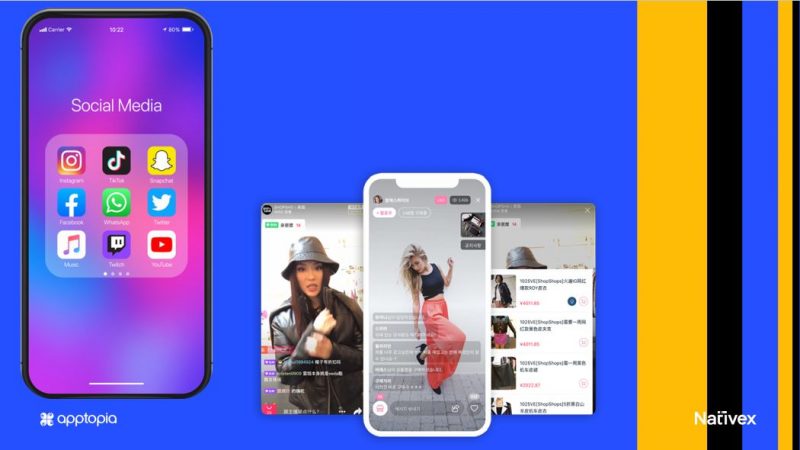 Source: "eCommerce App & Vertical Trends in 2020" webinar
What are the expectations for Q4 and 2021?
Due to the pandemic situation, older generations who never previously shopped online make the transition to mobile which, in turn, has raised the UA cost.
In order to stay ahead of the game, eCommerce and shopping apps will have to find a way to attract and retain users. That is where social media campaigns will play a big part during this holiday season. Brands that can create a whole social event or experience will likely see the most success. That is why you should focus on your creatives, don't be afraid to test different styles and update it at least once a week. Personalize your message to engage users, and leverage the power of Influencers as they play a big part in building trust with users.
If you'd like to get your campaigns to the next level just in time for the holiday season, make sure you contact the Nativex team today. Our end-to-end marketing solutions can help you achieve sustainable ROI across the world's largest mobile markets.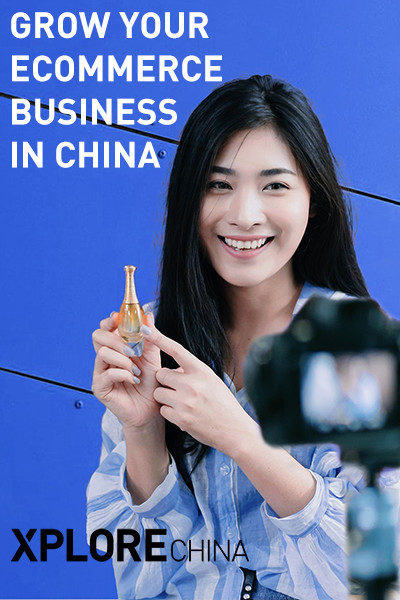 Are you looking to launch your ecommerce app or campaign in China? Get in touch with the Nativex team and we'll show you how to achieve success in the world's largest mobile market.
1
CONTACT US
⟶