The global social media industry has experienced rapid and evident growth. This growth has been particularly prominent during and after the pandemic, with a continuous increase in the adoption of online socialization and soaring user acceptance. This has led to social media, e-commerce, and mobile gaming industries growing to become the most popular avenues for overseas expansion today.
Due to the large number of participants in Europe and American markets and the high maturity level of local products, the entry barriers can be high. As a result, social media companies can choose to prioritize breakthroughs in emerging markets as their entry points.
Southeast Asia and the Middle East are hotspots for social media apps to expand overseas
Mobvista's analysis of this year's revenue performance for overseas social media apps reveals immense development potential in Southeast Asia and the Middle East.
Top Net Revenue Performers in Southeast Asia (January to April 2023)
Within Southeast Asia, the top revenue rankings are predominantly dominated by international players. Notably, TikTok has emerged as a standout performer, surpassing Tinder to secure the top position in the revenue rankings.

Many overseas social media apps have significantly impacted various sub-genres within the Southeast Asian market, encompassing short-form videos, livestreaming, voice chat, video chat, and dating. Their presence spans a diverse range of platforms catering to different aspects of social interaction.

Apart from TikTok, several other overseas social networking apps, including Bigo Live, Omi, Line, and more, have successfully solidified their presence in the Southeast Asian market. These platforms have secured notable positions in the top 20 revenue rankings, showcasing their strong competitiveness and widespread popularity in the region.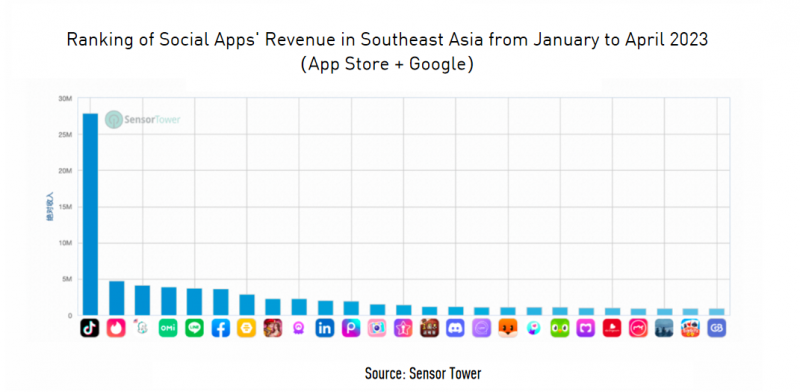 Top Net Revenue Performers in the Middle East (January to April 2023)
Voice chat apps hold significant importance in the Middle East. Apps such as Yalla, YoYo, YoHo, and SoulChill have reached the top 20 revenue rankings.

It's worth noting that Yalla Ludo, a social gaming app, has achieved an impressive second position on the revenue list in the Middle East, ranking just after TikTok. Video chat apps such as Chamet and LivU also have a certain share of revenue in the region.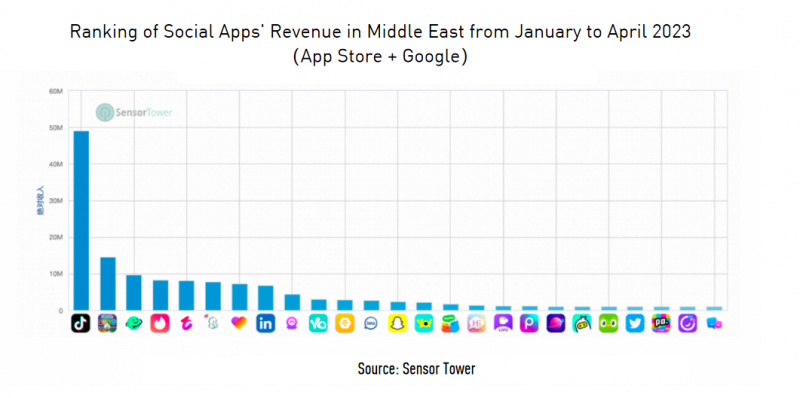 Tips for Social Media Apps Ad Creatives
Dating Apps
Key elements
In the realm of dating app advertising, several key elements have emerged as standard practices. These elements are carefully designed to capture users' attention and showcase the app's unique features. Let's explore these essential components:
Geo-Location Mapping with Real User Avatars: Many dating apps use Geo-location mapping to show users potential matches from different places. They also add real user avatars, making the whole idea of connecting with people from all over the world feel more personal and relatable.

Swipe Matching and Diverse Choices: A big feature of dating apps is swipe matching. Users can easily browse through profiles and swipe to show their interest. Advertisements often focus on the vast array of choices available, emphasizing the app's diverse and extensive user base.

Seamless Online to Offline Transitions: Successful dating apps create a sense of excitement by showing how online connections can lead to real-life experiences. Advertisements often depict romantic settings like charming dates or fun outings, highlighting the potential for meaningful connections beyond the app.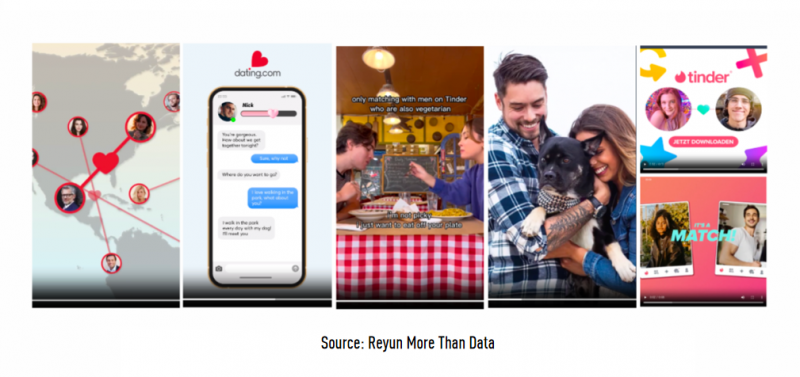 Utilizing authentic testimonials
Including real testimonials from real couples in ads adds a convincing touch of authenticity. These testimonials are usually presented in a friendly interview style, smoothly blending in with the app's main selling points. These ads become powerful and relatable by sharing the couples' experiences, such as their sweet dates, memorable proposals, and daily life together after meeting on the app. The genuine stories of these couples act as persuasive tools, motivating others to start their own journey of meaningful connections through the app.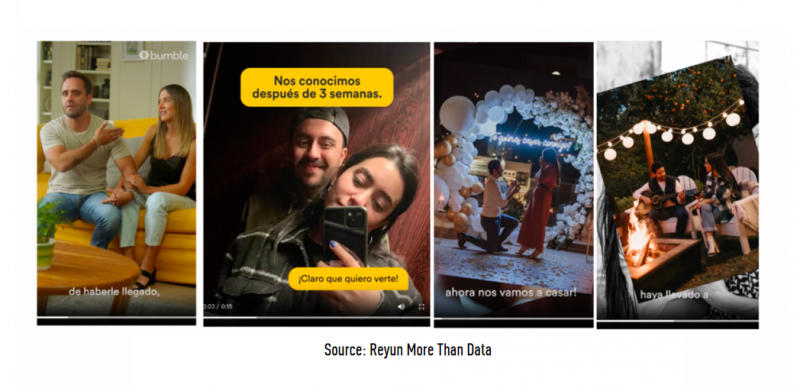 Livestreaming Apps
Showcasing talent
In the lively world of livestreaming apps, talent showcases steal the show, making up a big chunk of the content. These showcases revolve around charismatic hosts with good looks and captivating personalities, which is the heart of the ads. The ads skillfully display the hosts' personal charm, along with mesmerizing performances from talented singers and dancers. It all comes together to create an immersive and entertaining experience for the viewers.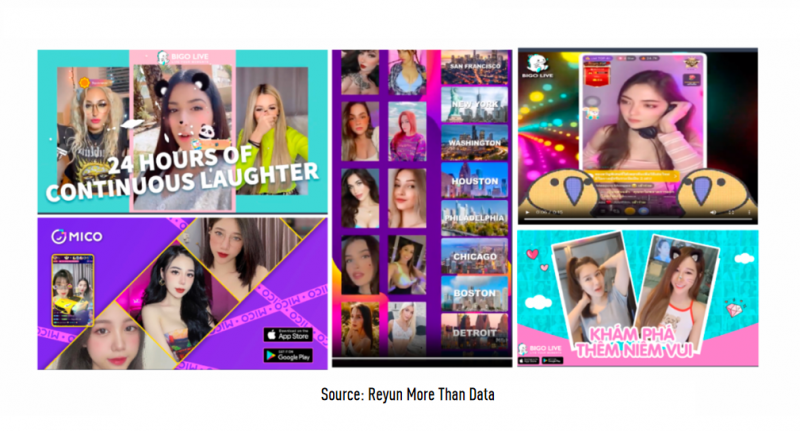 Livestreaming competitions
One exciting feature that hooks audiences is the "Livestreaming Competitions." These ads cleverly show intense face-offs between people, often in split-screen or multi-screen formats. The competition's intensity and the popularity of the participants keep viewers at the edge of their seats. In these ads, virtual gifting is a big deal, with viewers sending virtual gifts to the hosts as a show of appreciation and support. The appeal of participating in gifting increases user engagement and encourages more interactions, leading to higher conversions.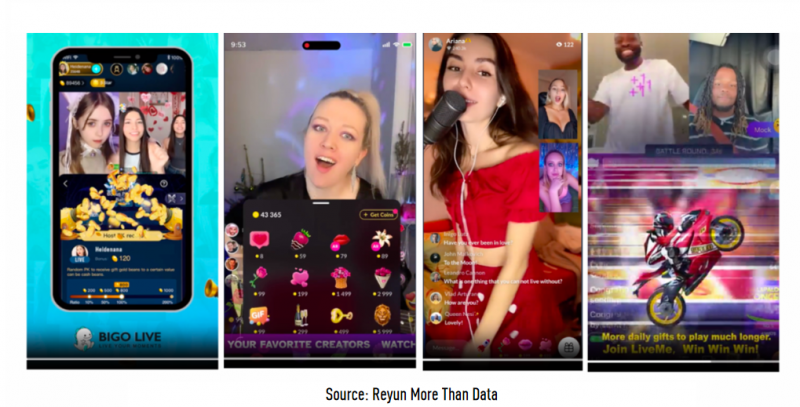 Voice Chat Apps
Innovative display of product features
Ads for voice chat apps have their own flair that sets them apart from regular social media ads. They use creative elements such as ringtone sounds and microphone icons to highlight the app's special features. By simulating incoming calls and voice messages, they show users how the app works in a fun way. They also add real-life visuals to show the importance of human connection.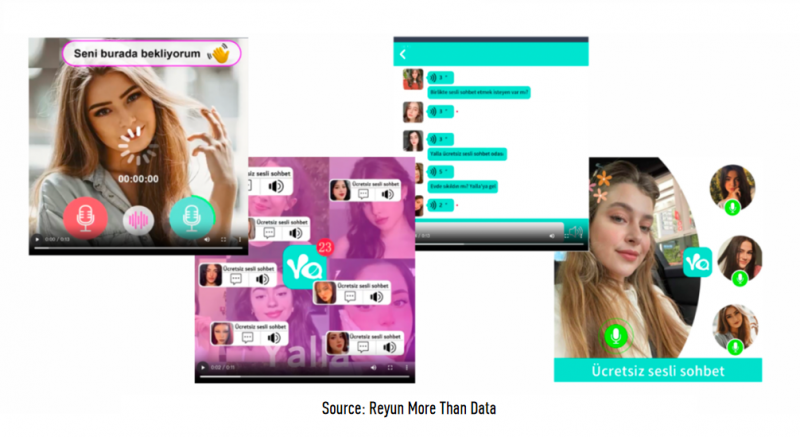 Immersive social experiences with multi-user voice interaction
One big theme in these ads is the idea of vibrant and social voice chat rooms. They highlight how popular these chat rooms are and how they bring people together. They also show how the app integrates with gaming, where users can play games while chatting, creating a lively and interactive experience for everyone involved.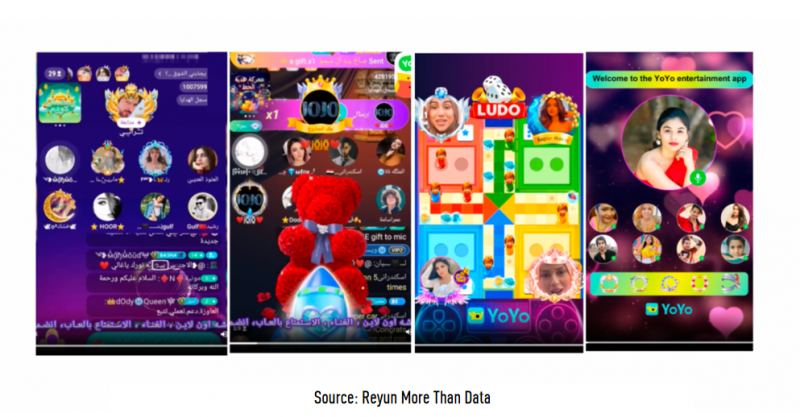 Video Chat Apps
Realistic video chat scenarios
Video chat ads are designed to be interactive and engaging, giving users a taste of the real video chat experience. They cleverly show scenes of real people engaging in video chats, giving users a taste of what the app can do. To add some fun, these ads use cool filters, beauty effects, and emojis, making the social experience enjoyable. The ads create excitement and curiosity by immersing users in these scenarios, making them want to explore the app even more.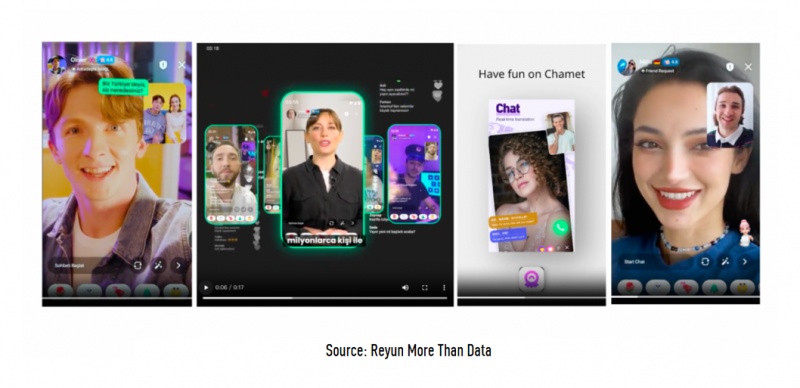 Grid view
In the ads for video chat apps, diversity takes center stage with a grid-like view. They feature real people from different backgrounds, celebrating the wide range of connections possible worldwide. This grid view aligns perfectly with the app's character, emphasizing its commitment to inclusivity and diversity.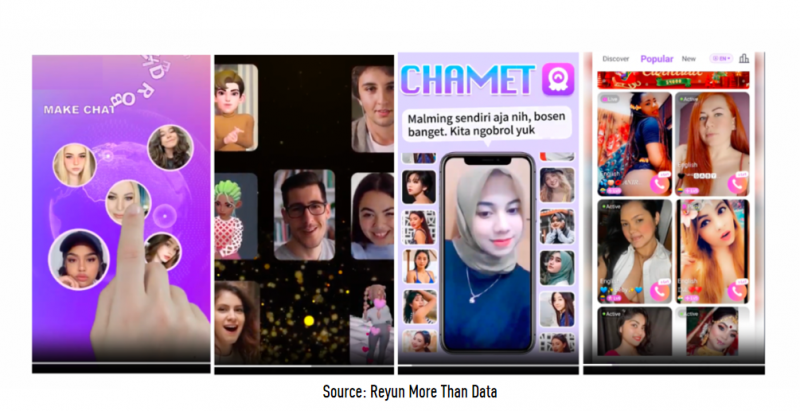 In the world of social media, things are changing fast, and audio and video ads are on the rise. They're all about inclusivity, showing different countries and cultures, which people really connect with. As social apps keep evolving, these dynamic ads keep grabbing people's attention and pushing the industry toward a more diverse and interconnected future.
Ready to take your social media app marketing to the next level? Get in touch with us now and let's create dynamic and engaging ads that will captivate your audience and drive growth for your business.
Contact us
today to get started!