Step right into the 5th installment of XploreAPAC Pulse, your go-to hub for keeping pace with the ever-evolving APAC region! This recurring series remains committed to delivering the freshest perspectives on mobile technology, digital marketing, and advertising in APAC, ensuring you stay ahead of the curve.
Join us for our recurring series and discover the latest insights on all things mobile, digital marketing, and advertising. Here you'll be able to keep your finger on the pulse of APAC with our flash news updates!
TikTok plans to invest heavily in order to sustain its growth in Southeast Asia. They aim to expand its user base and increase engagement in the region. The company's investment focuses on enhancing its content offerings, improving infrastructure, and expanding its local teams. TikTok's commitment to Southeast Asia reflects its recognition of the region's significance and its desire to capitalize on the growing market.

WeChat's mini-games are attracting an impressive 400 million users per month. WeChat, a popular messaging and social media platform in China, offers a variety of mini-games within its app. These games have gained significant traction and engagement, with a substantial user base. The success of WeChat's mini-games has caused businesses to seek opportunities for monetization and engagement for the mini-game trend.

Asia Pacific dominated the list of top 50 mobile app publishers in 2022, with 27 out of the 50 publishers coming from the region. Tencent remained the leader, while ByteDance climbed to second place due to TikTok's success. Sea Limited, housing Garena and Shopee, surpassed companies like Amazon and Microsoft. Consumers spent an average of five hours per day on mobile devices, with 70% of that time dedicated to entertainment apps, especially TikTok.

TikTok is launching "Project S" to expand its ecommerce efforts and compete with established giants like Shein and Amazon. The project includes a dedicated section called Trendy Beat within the TikTok app, showcasing ByteDance's own trending products. Unlike TikTok Shop, which allows sellers to showcase their products, Project S is more focused on direct sales of ByteDance's own wares, similar to Amazon Basics. The company aims to leverage its knowledge of viral products to acquire or create items for sale. While the project is still in the early stages, it could make TikTok a comprehensive platform for conversion, sales, and brand image.
Looking to launch your campaigns in the APAC region?
APAC's enormous mobile market presents incredible opportunities for advertisers globally. With the right partner, these opportunities can be harnessed to their fullest potential, and we are confident that we can be that partner for you. At Nativex, our cross-cultural experts have an unmatched understanding of the APAC mobile market, launching our latest XploreAPAC initiative.
As an authorized ad service provider, we have established partnerships with prominent media outlets such as TikTok, Meta, Snapchat, Twitter, Line, WeTV, KakaoTalk, and more. If you aim to expand your advertising campaigns in the world's largest mobile markets, contact the Nativex team today. We are dedicated to elevating your marketing ROI to new heights.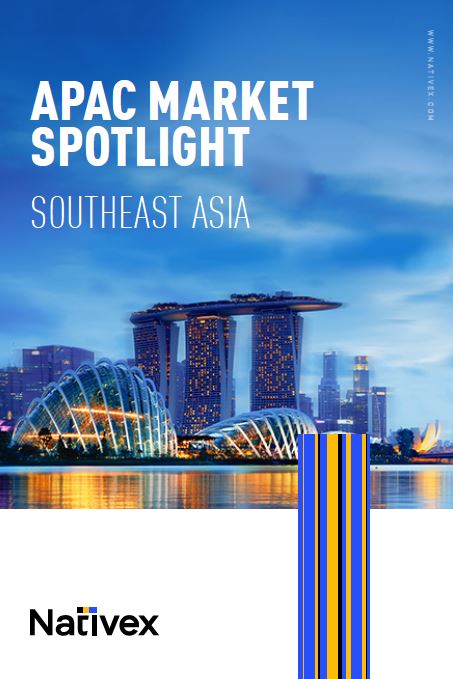 Southeast Asia is experiencing rapid growth, boasting a sizable user base, increased purchasing power, and enhanced internet infrastructure. As a result, this region has emerged as one of the most dynamic and promising areas globally. For brands and advertisers looking to capitalize on this potential, it is essential to grasp the unique factors that contribute to Southeast Asia's allure.
DOWNLOAD HERE
⟶