If the pandemic taught the ad industry anything it is that budgets are highly scrutinized and that ad spend along with ROAS is of the utmost importance. Through this, a growing need for more transparency and access to omnichannel marketing capabilities has grown at an incredible pace.
There is a demand from advertisers for a simplified approach to the complexities of media planning and buying, while at the same time brands and advertisers need more control over how their marketing budgets are spent. To solve this, a more connected approach is needed that reflects the media landscape as it is today. Agencies and demand-side platforms must value their client returns and campaign transparency above all else.
Advertisers are demanding transparency
Advertisers will always want more transparency, and we know that the current adtech landscape typically doesn't deliver this. As advertisers look to omnichannel campaigns, they need tools and services that let them understand performance, ROAS among other crucial metrics. Improving the efficiency of cross-media management and offering this completely transparent reporting and measurement is necessary for the future growth of the industry.
Advertisers want to know how their money is spent and what channel it's being spent on. This goes beyond just ad spend; they need to see tangible results. Performance-based reporting where advertisers can view detailed acquisition costs, and get a more robust picture of the ROAS is paramount to the growth of the industry at large.
Access to walled-garden media
One benefit of a trading desk is the ability to manage walled garden media via APIs to create cross-media planning and measurement KPIs. This, however, can be easier said than done as each walled garden platform requires its own customized integration.
Most trading desks on the market today sit above a DSP and data management platform, acting as the link between the advertiser and the underlying programmatic technology. However, an API-based approach requires both the right vertical technology stack, and the ability to integrate many different kinds of media into a single tool.
Advertisers global inventory
Another aspect of media buying in today's landscape is the need for cross-border international planning and buying as brands and publishers look to global markets in order to scale their business.
Whilst programmatic traffic can be bought and sold globally, the quality and scale of the traffic depend on which DSP you are connected to. If an advertiser in the US wants to run an APAC campaign in Korea, China or Japan, they will almost certainly need a local agency or DSP that has access to local inventory.
Looking at China's unique and massive mobile market, platforms like Facebook, Twitter, or TikTok are replaced by domestic players like WeChat, QQ, and Douyin. Bridging these markets is crucial for continued growth. Whether it's an agency or trading desk, building global campaigns must be front of mind.
Advertisers should pay for success – not access
The reality of modern media consumption is extremely nuanced, and many of the most effective ad formats are built around engagement rather than consumption. For example, interactive video and playable ads are more popular formats with consumers and far more effective than static display formats.
Measurement of campaign objectives should be set in advance, thus allowing the platform to optimize against them. Measurement across all these platforms is predicated on your ability to meet UA and ROAS goals and this means giving advertisers a level of control that wasn't an option in the past.
Finding a balance between in-house media buying and expert advice on markets such as China will be key to an advertiser's success. Research from the IAB shows this sentiment currently exists.
Where Nativex can help
Finding a partner that can provide a full-stack solution can be difficult, especially when factoring in global services in countries such as China where local media buying and creative services can make or break your campaign. Nativex provides a wealth of knowledge to clients through XploreChina, XMP and TopWorks to create a global solution to advertisers looking to consistently scale.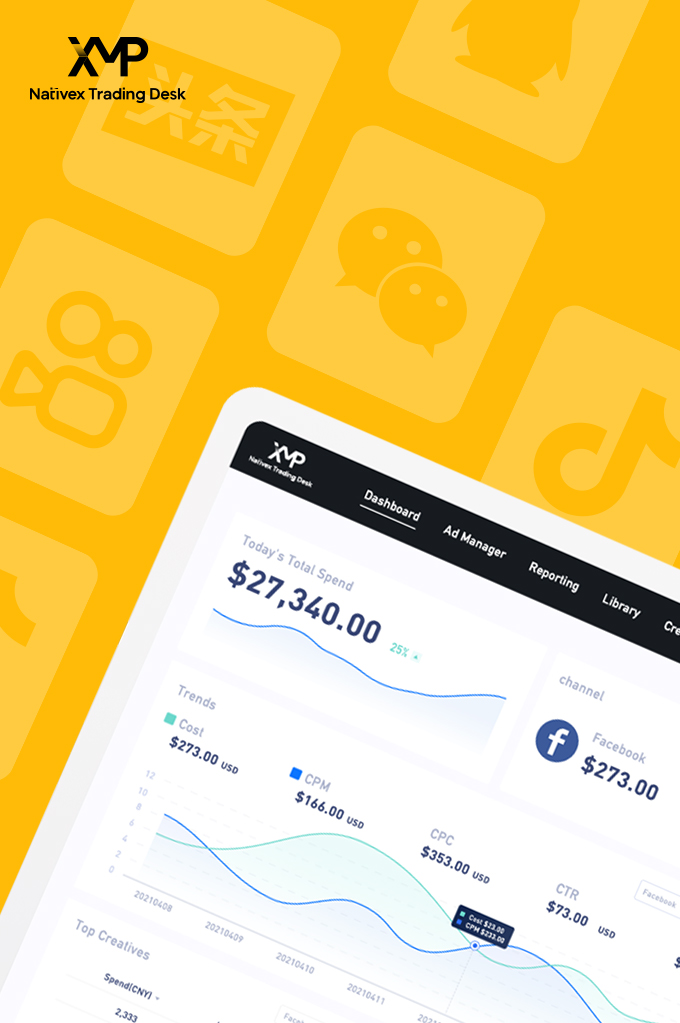 XMP is the first multi-channel media buying tool that connects top media between China and the Western markets. Sign up today and get a 30-day free trial! 
1
GET MY FREE TRIAL
⟶