China has the world's largest mobile market, making it a prime destination for global advertisers of all shapes and sizes. If we look at the last few years, the Chinese mobile ecosystem has shown incredible growth for local and global advertisers – this has been the case even more so in the last year when the COVID-19 pandemic caused major changes to the users' online habits.
However, entering the Chinese market can be quite difficult, especially if you don't have the right partners or the tools to do so. This is a massive market with its own rules and regulations, where global tech giants like Facebook, Google, or Amazon are replaced by local companies like ByteDance, Baidu, or Alibaba. So how can advertisers make their way into China's mobile market and show strong, sustainable growth in 2021 and beyond?
Introducing: XploreChina by Nativex
We've seen global advertisers' increased focus on China, as opportunities continued to grow in this market. This is why we decided to focus our efforts on rebuilding our XploreChina initiative into a one-stop mobile marketing solution designed to help brands and advertisers achieve success in the Chinese market.
As the only China-based agency equipped to offer acquisition, monetization, and creative services at scale and across multiple verticals, we believe that our revamped XploreChina initiative will help advertisers of all shapes and sizes with a wide range of customized solutions. We've improved our solutions, expanded our teams, and bolstered our partnerships, all with one goal: to offer best-in-class services for everyone looking to launch and grow in China. 
Let's take a look at our main solutions.
China Top Media solution: Your link to China's top media platforms
The China Top Media solution is your gateway to China's incredible mobile media landscape. As a certified ad service provider, we provide unparalleled reach across major media platforms including ByteDance, Tencent, Baidu, Alibaba, and Kuaishou.
To expand our media buying services and help advertisers reach hundreds of millions of users across China's top media platforms, we launched XMP, our own media buying tool. XMP is the first multi-channel media buying tool that connects top channels across China and the West.
-> Learn more about our China Top Media solution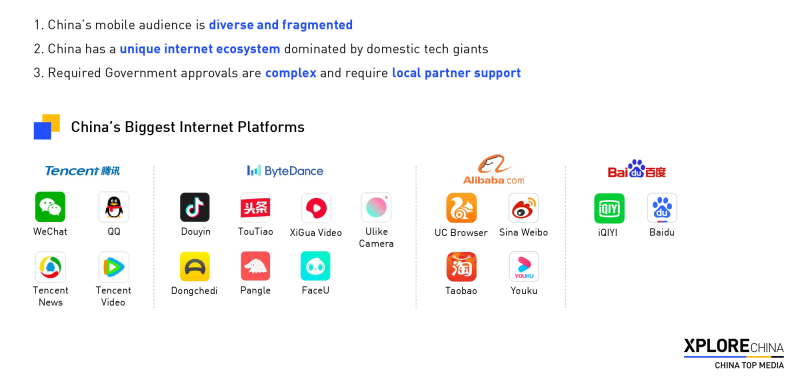 Media buying challenges and opportunities in China.
Source: XploreChina China Top Media Solution Guidebook

Android solution: your one-stop shop for Android in China
Android represents over 80% of China's mobile market and this is where our Android solution comes in. From required documentation to launching, app management, and monetization, our end-to-end implementation process ensures you get all the support you need, every step of the way.
Our solution covers over 80% of China's Android user base thanks to our partnerships with Huawei, Xiaomi, Oppo, Vivo, Tencent MyApp, Meizu, Baidu, 360, and Sogou. On top of that, our real-time Android dashboard gives you full transparency to help you monitor your progress along the way.
-> Learn more about our Android solution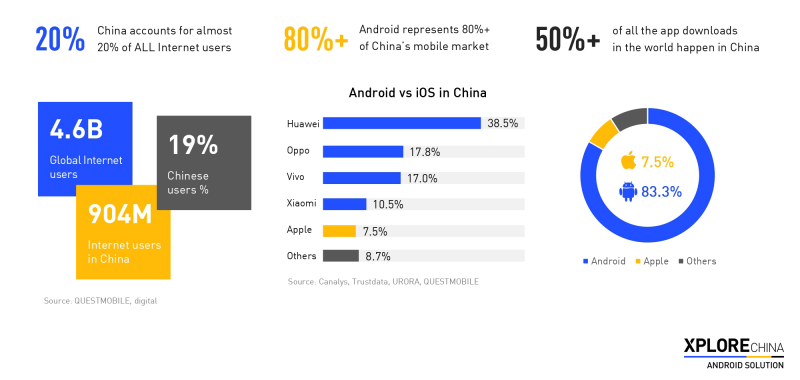 A look at China's fragmented Android market.
Source: XploreChina Android Solution Guidebook

KOL Marketing solution: your influencer marketing partner in China
Influencers, or Key Opinion Leaders (KOLs) as they are known in China, are an incredibly valuable marketing channel in the region. If you're looking to include influencers in your marketing mix, then our KOL Marketing solution is exactly what you need.
Thanks to our partnerships with over 40,000 KOLs and more than 200 KOL networks including XingTu (Douyin), Magnet (Kuaishou), and HuaHuo (Bilibili), we can provide advertisers with the right influencers for the right campaign types.
-> Learn more about our KOL Marketing solution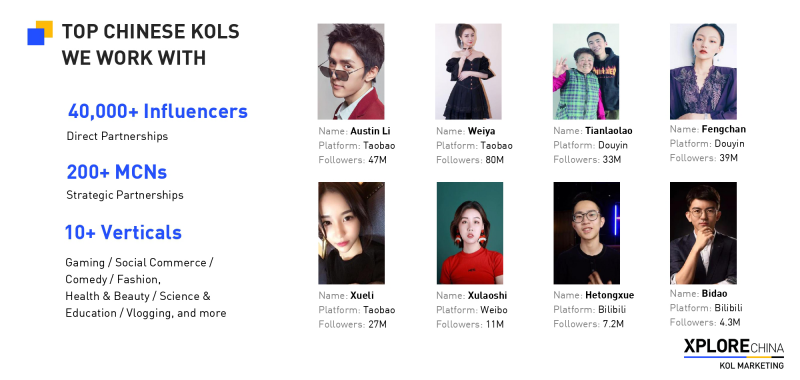 Some of the biggest KOLs we've worked with so far.
Source: XploreChina KOL Marketing Solution Guidebook

Your gateway to China's mobile market
We've worked hard to improve our services and create a one-stop shop for all your China marketing needs. To help you learn more about the Chinese market and the solutions we offer, we've created a set of free guidebooks which you can download straight from our new XploreChina section.
If you'd like to learn more about how you can find success in China's massive mobile market, get in touch with the Nativex team today!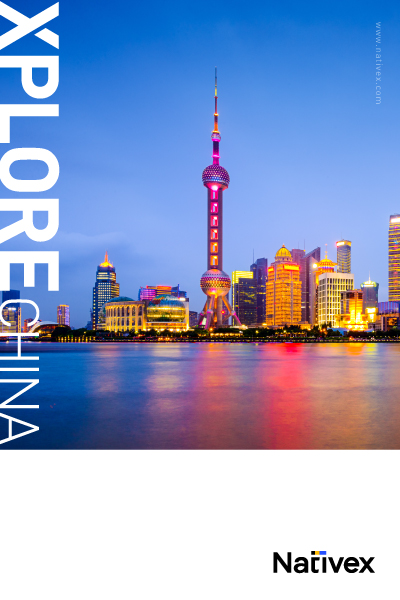 XploreChina is your one-stop mobile marketing solution designed to help you achieve success in the Chinese market.
From acquisition to monetization and creative services, we can help you at all lifecycle stages with a wide range of tools and solutions.
1
CONTACT US
⟶