In 2021, the expected growth of mobile ad spending in the Latin American region will reach approximately $7.27 billion and it will reach $10.19 billion by 2024, according to the latest data from eMarketer's 'Latin American Mobile Ad Spending 2020′ survey. Mobile will continue to drive digital ad spending growth in the region and will account for nearly three-quarters (73.7%) of ad spend this year.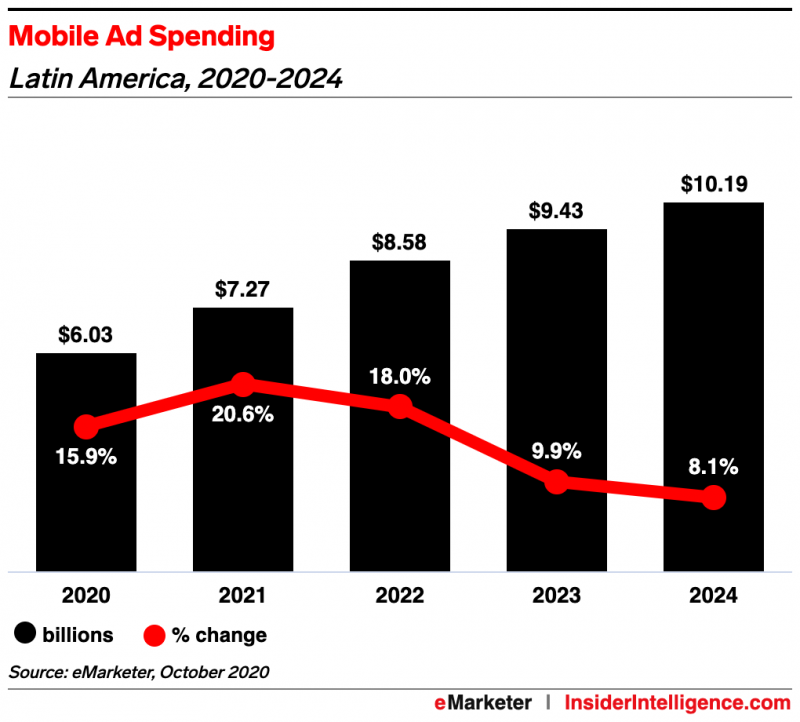 Potential of the LATAM market and why social media marketing should be front of mind
We've previously mentioned in our "Digital Advertising in Latin America" ebook that the entire region has shown great digital potential in recent years. The driving force behind these numbers has been both gaming and social media apps.
While the potential in APAC and North American mobile gaming is well-known, one market that has recently risen to powerhouse status is Latin America. This region, most notably Brazil, shows huge growth potential for advertisers. After Southeast Asia, the LATAM region is the second-fastest rising region for gaming. According to Newzoo, Latin America has a $5 billion gaming industry.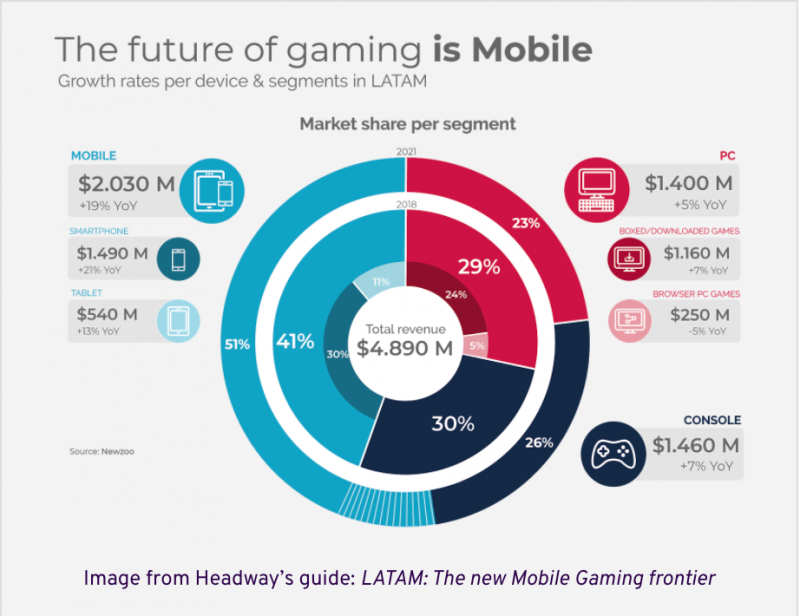 And like APAC and North America, the opportunities present in LATAM exist beyond the sheer size of the market. It's no secret that consumers in Latin America are notoriously heavy social network users; 87.1% of the region's internet users will use a social network at least once a month in 2020, more than those in any other region. 
Apps such as TikTok are taking full advantage of that love. According to eMarketer, there were 64.4 million unique visitors on TikTok across Argentina, Brazil, and Mexico in July 2020. That's up from 15.8 million in January 2020 and just 5.0 million in July 2019. Likely expedited by the pandemic, TikTok's unique visitor count in Brazil grew by more than 2,000% between July 2019 and July 2020, reaching 39.8 million.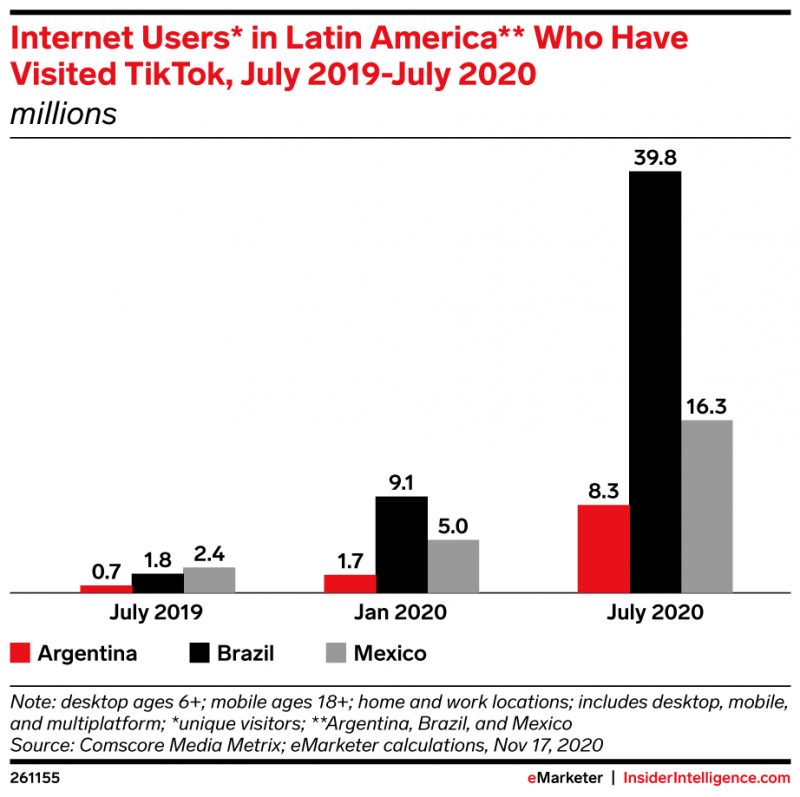 So how does TikTok fare compared to established social media in the region? With TikTok, one thing is for certain – a fresh, younger demographic with a differing digital footprint to other demographics on platforms like Facebook, for example. These younger audiences are consuming vastly more media on their mobiles compared to other devices. In rapid-growth markets such as LATAM, this is a major boon for TikTok and early advertisers looking to capture market share.
Performance-advertising is currently only available through an official whitelisted agency, Fortunately, XMP by Nativex is a certified TikTok partner.
What type of advertisers stand to benefit?
There are many success stories of how TikTok helped brands achieve marketing goals via their TikTok for Business model. For example, how TikTok and Nativex helped Dragon Storm Fantasy, an MMORPG developed by Goat Games. A fiercely addictive game, aimed at those who love the competition and teaming up with other players to become the best guild in the game.
Goat Games wanted to launch in Turkey and needed a way to increase its exposure in this market and increase the number of downloads. They've chosen to promote their latest game using one of TikTok's most effective brand awareness tool – The HashTag Challenge. The Nativex team did some research on the Turkish market to understand the types of TikTok challenges most popular there; after that helped strategize the #EjderhayaDönüş Hashtag Challenge on TikTok.
Nativex's creative team created 10+ sets of dance moves around the game's key element, the Dragon, along with the trendiest music in the market, and several special effect stickers, to boost video exposure and stimulate user-generated content creation. The challenge had a wide range of enticing prizes available (Switch consoles, Amazon gift cards, etc.) which boosted the campaign's popularity. The results couldn't be any better; 1.3 billion views, 90 million reactions, 1 million user-generated videos, 300 thousand users participated in the challenge. 
What's next?
Currently, performance-advertising is only available through an official whitelisted agency. TikTok for Business has finally arrived in the Brazilian market, so what does that mean for small and medium-sized performance advertisers? It means that in order to run high-performance ads on TikTok Brazil, advertisers need a certified media partner, and as one of the few advertising companies on its whitelist, Nativex can help your brand grow on this exciting new social platform – if you're interested, contact us today.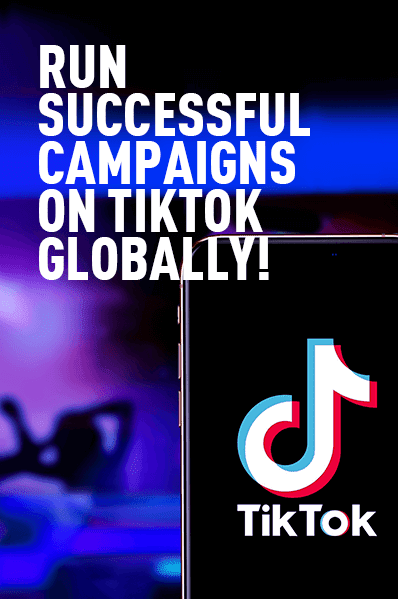 Check out our TikTok solutions here and get our exclusive TikTok guide. Get in touch with our team today to get creatives that click, and find the best strategies for your TikTok campaigns.
1
GET IN TOUCH
⟶