The 2020 Singles Day shopping festival is now officially over and what a festival it's been. We suspect that this year we'll see a massive shopping spree since the COVID-19 pandemic caused consumer spend to slow down. In fact, Nativex Americas Tiffany Ou described what will happen on Singles Day as "revenge shopping" in our eCommerce App & Vertical Trends in 2020 webinar.
While many analysts estimated this year to lead to some impressive numbers, nobody was prepared for this kind of growth. Last year's Singles Day was worth more than Black Friday, Cyber Monday, and Amazon Prime Day combined.
Let's get the biggest number out of the way: this year's Singles Day managed to hit over 490 billion yuan or $74 billion in sales, almost twice as much as last year's $38 billion which was an all-time record then. With Black Friday looking to make $11 billion in sales, this year's Singles Day is the largest shopping festival ever.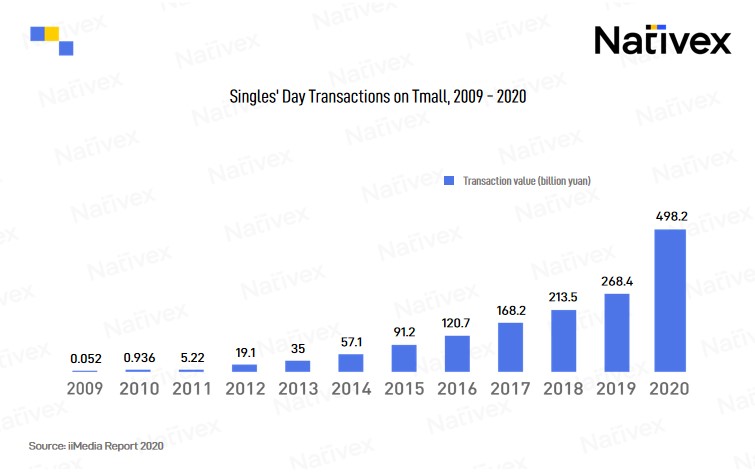 This year's Singles Day smashed all records.
A lot of interesting facts, stats, and trends came out of the 2020 Singles Day festival but let's take a look at some of the most important ones and see what they mean for the industry as a whole.
1. Media buying trend: budgets shifting to short-form video platforms
Short-form video platforms have seen significant growth thanks to advertising shifting their budgets to these platforms, making media buying tools like XMP that much more valuable for brands and advertisers looking to boost their marketing ROI.
At the same time, we noticed 3 consumer brand categories doing particularly well: beauty & personal care, food & beverages, outdoors & sportswear. This means advertisers are focusing more heavily on strong, engaging creatives – and that's where creative studios like TopWorks can help.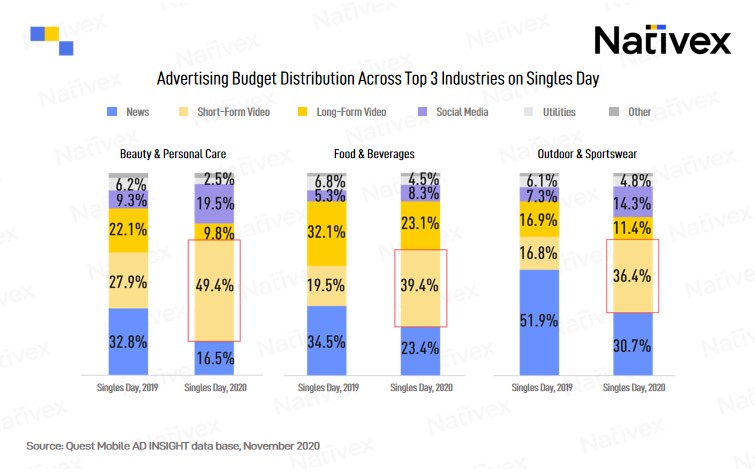 Short-form video ad budgets basically doubled across the board compared to last year
2. KOLs were a major growth engine for Singles Day in 2020
We previously mentioned how influencers or KOLs will be a driving force behind this year's Singles Day sales, and the way they made it possible was through short-form video platforms like Douyin and Kuaishou. Remember that this year's Singles Day started on November 1st and in the first two days, Viya and Li Jiaqi, two of China's most popular live streamers, managed to generate sales of 4.8 billion yuan ($719 million) and 4.3 billion yuan ($644 million) respectively.
These kinds of numbers show just how important it is to leverage the power of influencers to find success in China. We know it because we've worked with top influencers like Li Jiaqi to create and execute successful KOL campaigns at scale and we've helped popular apps like Facetune2 triple its conversion rates thanks to our KOL marketing strategies.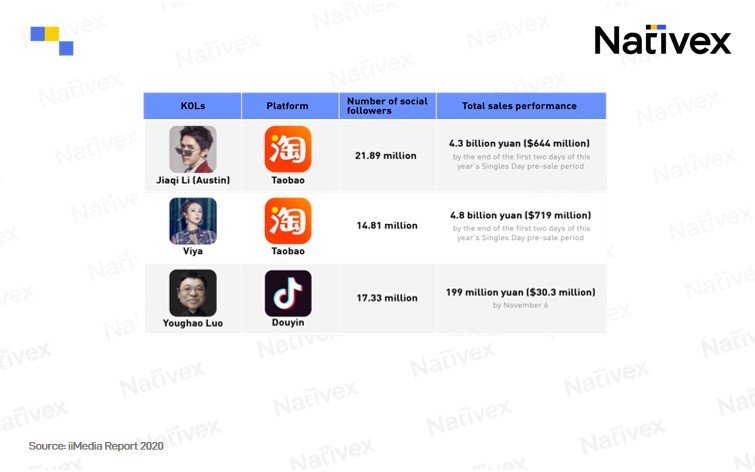 The power influencers have on e-commerce sales in China is incredible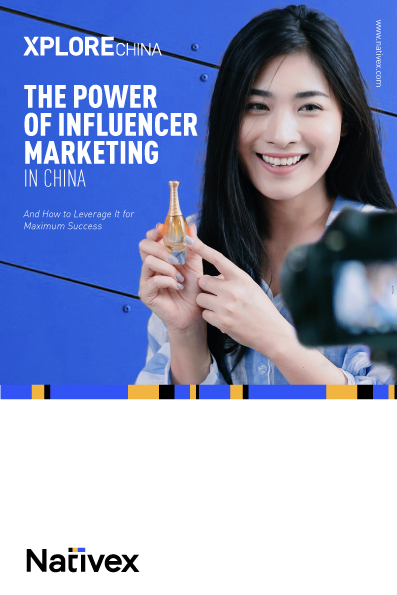 We've helped many brands and developers work with top KOLs in China to boost their marketing ROI. Download our free ebook to find out how you can use KOL Marketing to achieve success in the world's largest mobile market.
1
DOWNLOAD EBOOK
⟶
3. Consumers are becoming more rational
Another interesting trend we've noticed was a shift in spending. While shopping festivals like Singles Day, Black Friday, or Amazon Prime Day tend to see consumer electronics driving huge sales volumes, this year it wasn't the case.
Looking at advertising budget distributions, verticals like food & beverage, beauty & personal care, or outdoors & sportswear showed the most growth, in line with the new consumer spending habits who valued food and personal care above electronics this time. Clothing was another area that decreased as well, perhaps as a result of the COVID-19 pandemic which lowered the possibility of social gatherings.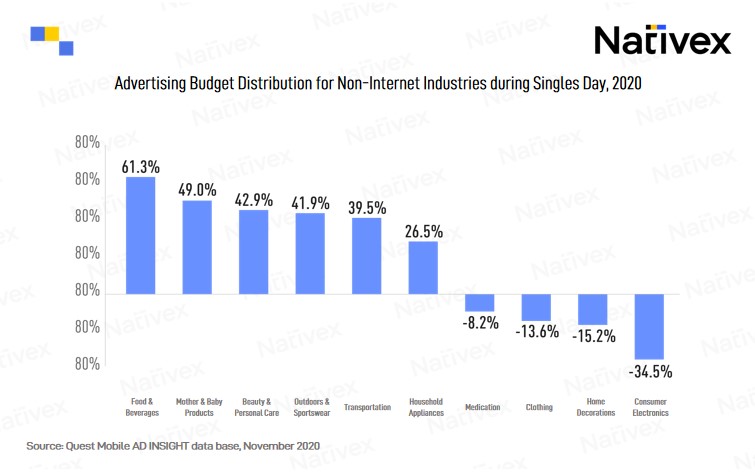 Consumer electronics were not the star of this year's Singles Day.
4. Consumer demographics distribution was quite balanced this year
Singles Day hasn't been about single people buying gifts for themselves for a long time. Instead, this shopping festival has been adopted by consumers of all shapes and sizes, regardless of age, gender, and social status.
One interesting thing we've noticed is that lower-tier cities had a very strong representation this year, with almost 60% of shoppers coming from those areas. This confirms that China's emerging consumer market is growing stronger by the year and it will be a key segment for global brands and advertisers looking to enter China's massive mobile market.
These numbers seem to be consistent with China's overall e-commerce demographics, which suggests that Singles Day mainly amplifies existing shopping habits and tendencies, rather than completely changing them. Here's what the Chinese e-commerce users look like in terms of age, gender, and spending power: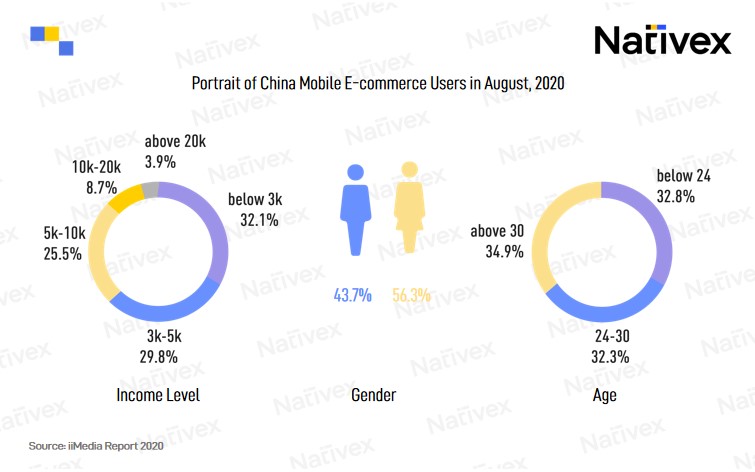 5. E-commerce live streaming is here to stay
If there's anything we learned, it's that e-commerce live streams are not a temporary trend. They're here for the long run. We mentioned how KOLs were a major growth engine for the e-commerce sector. Guess what was their most popular tool to use? That's right, live streaming.
We previously mentioned that during the Singles Day festival, popular influencers Viya and Li Jiaqi had 149 million and 162 million live stream viewers respectively, and that was only in the first couple of days. 
The popularity of e-commerce live streams on Singles Day underlines the strong trend that's been growing rapidly in the last few years in China – as of June 2020, over 10 million e-commerce live streams were launched, more than 20 million products were featured, and over 50 billion total viewers tuned in. The e-commerce live streaming market is projected to hit over 961 billion yuan or $146 billion by the end of the year.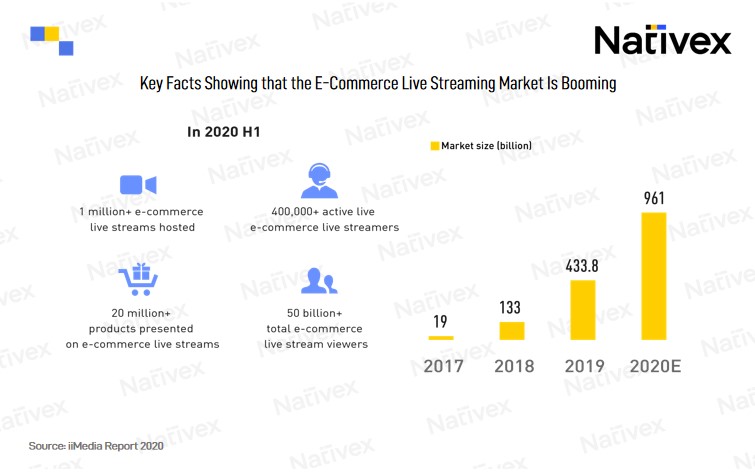 The e-commerce live streaming market is massive and looking to grow even more
Conclusion
This year's Singles Day broke all sorts of records and it was able to do so thanks to a few factors: influencers (or KOLs) leading millions of sales, short-form video platforms hosting the largest e-commerce live streaming events, and of course, the COVID-19 pandemic pausing consumer spend and leading to the so-called "revenge shopping" phenomenon.
It will be incredible to see this year's sales records broken anytime soon, but one thing is for sure: China's mobile commerce spending power is stronger than ever and this market is becoming an even better opportunity for brands and advertisers, not just in China, but around the world.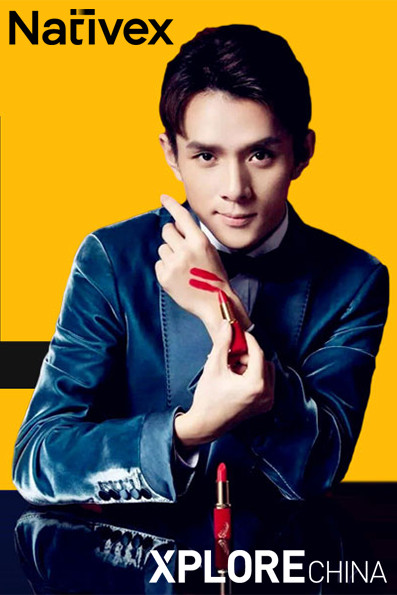 If you're looking to use influencers to achieve sustainable growth in the world's largest mobile market, contact us today and we'll create a KOL marketing strategy tailored to your budget and needs.
1
CONTACT US
⟶