Recently, Nativex hosted an online Webinar event –  "How Mid and Hardcore Games can Ride on the Wave of Global KOL Marketing" with TikTok for Business and Adjust. Oasis Games and Moonton, top multinational game developers, were invited to attend. During the event,  ideas were shared and topics discussed regarding game platforms, gameplay, performance monitoring, successful cases, and more. 
To provide a comprehensive picture of overseas KOL marketing for mid and hardcore game developers, we've collated highlights, including the overseas KOL landscape, practical guidance to global KOL marketing, live discussions among top game developers, and up-to-date game marketing strategies.
TikTok, a new gathering place for global players
TikTok is a familiar name to multinational game developers.
With over one billion MAU worldwide, is an ideal choice for game developers looking to go global—and it is increasingly so owing to its high usage frequency, strong user loyalty, and well-received content.
Players on TikTok are a highly engaged community, who are always ready to recommend a good game, compare notes, and share gameplay tips, and other video content. Fun short video content, which TikTok is uniquely known for, facilitates interaction between users and therefore opens up great opportunities for advertisers.
Short game videos are gaining traction worldwide. They have amassed large audiences in Indonesia and the United States, and are contributing to the fast growth of game-related content in Southeast Asia and Latin America. Genre-wise, action, simulation, and RPG games are most popular on TikTok.
The content comes in various shapes and sizes: game walkthrough, cosplay, secondary creation, unboxing reviews, game culture, and more.  All of which can help game developers effectively connect to global users. In the age of content, TikTok for Business, with its three-fold focus on advertising, branding, and ecosystems, is a partner of choice when it comes to pursuing marketing wins.
Overseas KOL marketing landscape
A growing number of brands are leveraging KOL marketing in their overseas push. As an entertainment platform featuring short-form videos, TikTok is a breeding ground for creative content owing to the way its content is circulated and the demographics of its users. In other words, the more creative a TikTok video is, the wider it spreads.
According to a survey this year, KOL videos have twice as high interaction rates and view-through rates as traditional ad content. That is because they are more original and authentic. The interaction between KOLs and their followers is a particularly effective driver of impressions and conversions. 
Today, most multinational game developers are asking themselves the question "how to produce localized creatives." KOL marketing offers the perfect solution—and has a proven track record of gaining exposure, content, and followers.
For brands looking to use TikTok for KOL marketing, TikTok for Business is now building an ecosystem with agencies in an attempt to make overseas KOL marketing more effective. Specifically, it is bringing KOLs and products together to provide solutions and operation services.
Regarding operation services, many advertisers new to overseas KOL marketing have the uninformed notion that a contact list of KOLs is all they need to hit the ground running. But the fact is, you also need a professional agency in every step from contacting KOLs to executing ideas to implementing the campaign. Take for example Infinity Kingdom, a war-themed SLG strategy game developed by Yoozoo Games. With the help of TikTok for Business and Nativex, the game used high-quality video content to stand out in the highly competitive Japanese market, quickly gaining the interest of local gamers.
How to make the best of KOL marketing?
How to go about KOL marketing in a new overseas market? Abel from Nativex shared a comprehensive roadmap. Speaking from years of personal experience in overseas marketing, Abel proposed three components that make up a sound overseas KOL marketing campaign: customized marketing plans, localized KOL creatives, and in-depth marketing reputation analysis.
Customized marketing plans
Abel suggested that in the early stage of KOL marketing, advertisers should develop an overall marketing plan based on the target market landscape and the product features—a plan that focuses on KOL matrix building, account operations, and alignment with auction ads.
How to pick the right KOLs? To maximize marketing ROI, Abel recommended a KOL assessment funnel that incorporates a full range of criteria—from KOLs' fit with user profile, influence, and integrity to their cost and ability to convert users.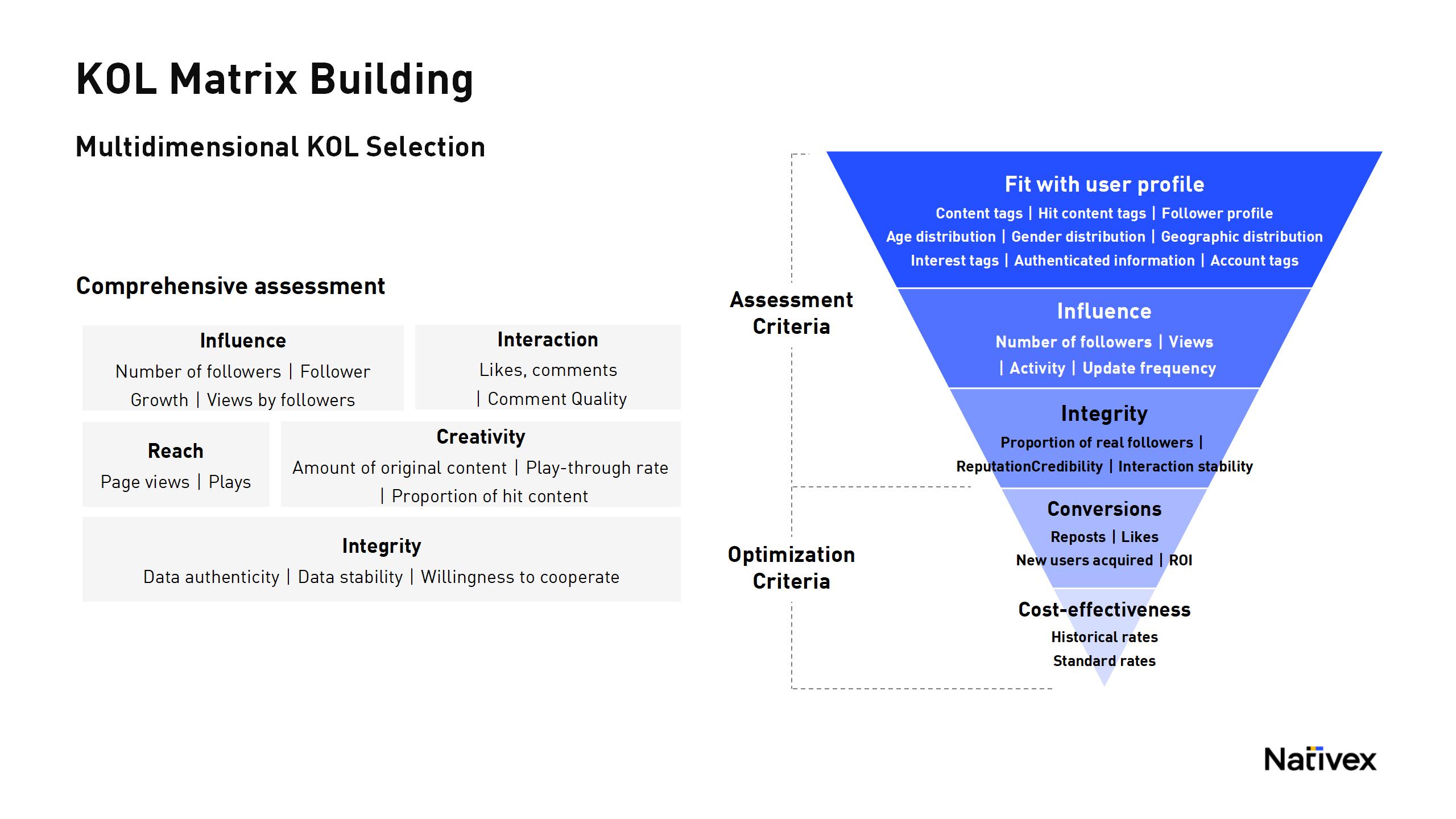 Aside from KOL selection, Abel also proposed two KOL marketing "boosters."
One is complementing KOL marketing with account operations. This can build on the results of KOL marketing to further flesh out the product's story, which helps to engage and retain players.
The other is coupling KOL marketing with auction ads. KOLs, with their strong influence and original content, can help spread your auction ads and make them more convincing, thereby driving conversions and brand awareness.
Localized creatives
A key question facing every advertiser when doing KOL marketing is how to maximize brand exposure through localized ads—or to be more specific, through localized creatives.
First of all, what counts as a good video? Abel said there are a few criteria to look at: How well the KOL delivers the content; how original the content is and how intrusive the ad looks; whether the video is released at certain marketing checkpoints and during traffic peak times. 
Based on personal experience, Abel said  that a good video should meet the following standards:
Original content;

Able to engage users within the first 20% of the duration;

Subtle advertising;

Less than 1 minute long.
In-depth marketing reputation analysis
According to Abel, it is important to conduct reputation analysis in the late stage of the KOL marketing campaign. A good reputation leads to higher user value, which in turn feeds brand growth. By co-creating content with the KOL, the game developer/publisher can shift the narrative perspective and make the ad look like KOL's personal recommendation. This, combined with the KOL's strong personal image, can further boost conversions and, for multinational game developers, in particular, can even make the product more localized.
Nativex, a digital marketing expert, who has worked with thousands of brands worldwide, stands testament to the vast potential of KOL marketing as pictured by Abel. Mastering KOL marketing helps multinational game developers stay ahead and get higher ROI on their ads.
How to gauge KOL marketing impact
Overseas KOL marketing has a lot to offer, but advertisers often question what they can gain from working with KOLs—namely the ROI on their KOL marketing campaigns. Mr. Yang Mingyu, the China solution advisor of Adjust, a globally renowned mobile marketing analytics platform, shed some light on how to gauge KOL's marketing performance.
Performance attribution is an integral part of marketing. This is especially true today when the user journey has become more complex than ever. Superficial metrics such as views, reposts, and comments are not enough to paint a full picture of the marketing impact. That is why Adjust also provides KOL marketing-exclusive data tracking services that track links and QR codes.
Mr. Yang pointed out that, in practice, advertisers need to be as granular as possible when measuring marketing performance—for example, down to every marketing level, every channel, every campaign, every ad group, and every creative. And in the case of KOL marketing, that means down to every KOL and  video. Adjust's attribution waterfall model allows advertisers to use different attribution methods for different advertising channels and also to customize attribution time. This can increase the precision of data tracking.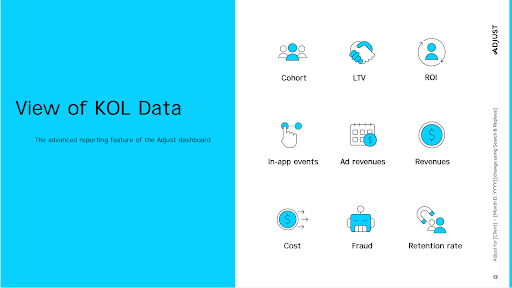 But how do you know if the converted users brought in by KOLs are your target players? This brings us to the issue of tracking user churn. You can determine the long-tail effect of KOL marketing based on the times, number, and percentage of uninstalls and then optimize your campaign accordingly.
Yang said hopefully that overseas KOL marketing is unlimited in its potential to drive growth. Also, as growth becomes more diverse, a precise, intuitive attribution platform can go a long way in helping domestic game publishers succeed overseas.
Those who succeed in overseas KOL marketing—what have they done right?
What do multinational game developers think of KOL marketing? Toward the end of the live conference, Joy, Europe brand manager of Oasis Game, Terry, Moonton's Europe & Japan project marketing director, and Alan, Nativex's vice president, discussed what successful overseas KOL marketers have done right. 
Joy, Europe brand manager, Oasis Game, believed that KOL marketing has its uncertainties. Therefore, it is important to work with an experienced, highly-professional agency. It will help you steer clear of unreliable KOLs, get the details right, set clear milestones and deadlines, and more.  All in all, more efficient communication.
About creatives, Joy thought it crucial to, first of all, understand your product—including its key selling points, target audience, main competition, and differentiators—and then choose the KOLs accordingly. Joy also pointed out the need to fully grasp your target market and respect the KOLs' advice—after all, they know their followers best.
Terry, Moonton's Europe & Japan project marketing director, also believed that a good agency can make overseas KOL marketing a lot easier and more effective. He also urged advertisers to set aside ample time for their KOL marketing projects as KOLs might have difficulty understanding their products and creatives –  it will take time to make changes and adjustments. Finally, Terry suggested that advertisers should stay attuned to the market and keep a lookout for the right KOLs, ones that can help achieve growth at a low cost.
Alan, Nativex's vice president, talked about what an agency can do for advertisers with zero experience in overseas KOL marketing and those with some experience. For the former, Nativex serves as more of a guide, one that aligns goals, offers guidance, points out pitfalls, polishes creatives, and helps with delivery. For the latter, Nativex provides a local creative team and helps deepen the collaboration with KOLs, among other value-added services that improve the efficiency and effectiveness of KOL marketing. 
Going global has become a popular strategy for game developers since overseas markets hold unlimited growth potential. As marketing channels and approaches become more diverse, game developers are no longer satisfied with simply buying traffic—they also want to raise their brand profile. KOL marketing can help them do both and achieve fast growth in overseas markets.
As a global digital marketing expert, Nativex is always ready to help its clients grow with its expertise and "Glocalization" strategy. We have made it our mission to help game developers worldwide get stronger and go global.
Contact the Nativex team today to start your KOL marketing!