The winners of the 10th annual TopDigital Innovation Marketing Awards have been officially announced on July 14, 2022.  Nativex, a global mobile marketing expert, with its glocalization strengths and all-rounded services and products that enable international growth for clients across multiple industries, successfully stood out among numerous contestants and won the TopDigital Innovation Marketing Award for "Top Agency/ Marketing Company of the Year".
Founded in 2014, the TopDigital Innovative Marketing Awards have evolved over the past decade to become the benchmark of corporate marketing innovation. The awards are judged on four major indicators: "innovation", "execution", "commercial value", and "sustainability", giving more attention to long-term value building and comprehensive internal and external performance. These four indicators coincide with Nativex's values.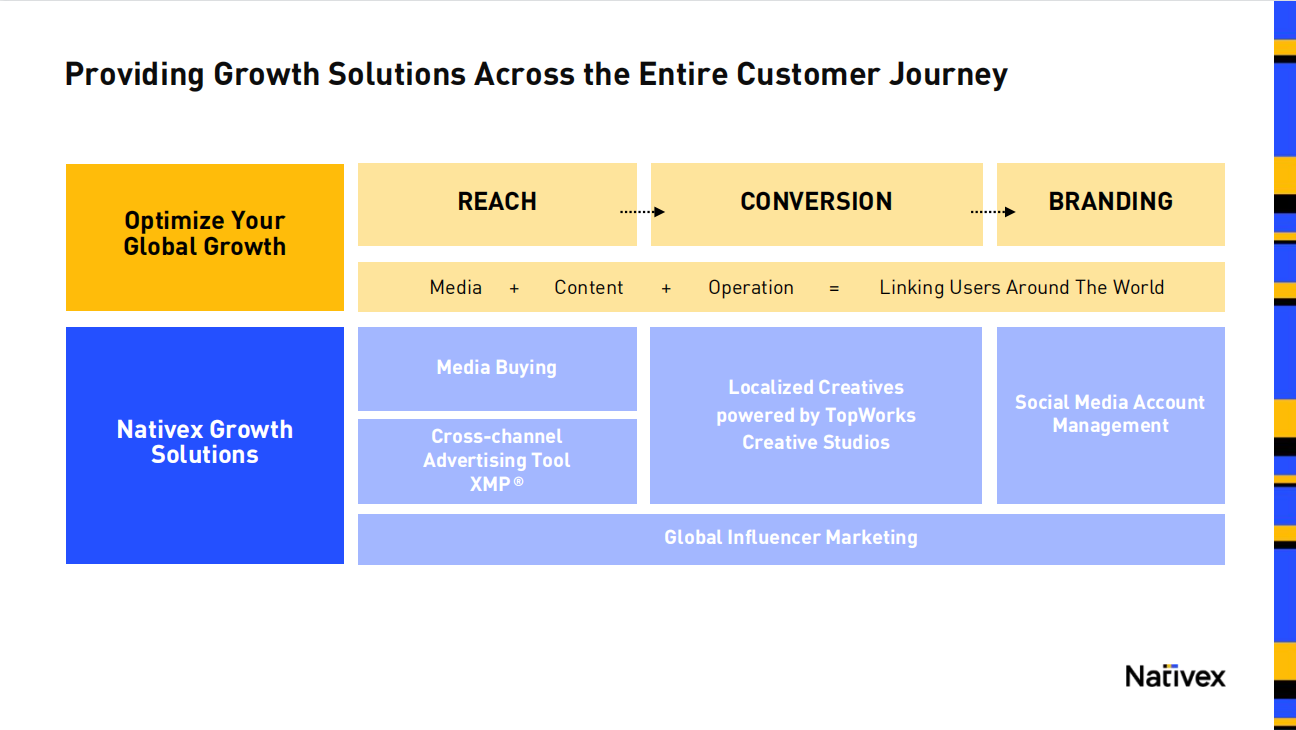 The road for Chinese companies to go outbound has become increasingly complicated in our ever-changing global market. Coupled with the recession of traffic dividends, advertisers face growth challenges in different markets – under the domination of giant manufacturers, competition in mainstream competitive markets like the gaming industry has intensified, and with the continuous advancement of technical thresholds, the difficulty of producing sought-after products in vertical markets has increased significantly.
Alan Xie, the Vice-President of Nativex, mentioned, "The times of simply chasing traffic are now a thing of the past; we have now adopted a more long-term growth model."When asked about the key to achieving growth, he answered:
"For one, the importance of branding is becoming increasingly prominent, so building brand image and awareness can effectively boost the momentum of subsequent customer acquisition growth. Advertisers are also focusing more on content, such as ad creatives and creator marketing, which are effective ways to shape brand influence.

Apart from that, performance advertising is important for continuous growth, and refined operations are an area worthy of in-depth exploration and cultivation. We will continue to deliver value to customers through our industry experience, technical capabilities, and marketing strategies."
As one of this year's award-winning companies, Nativex has been adhering to glocalization as its core strategy and continues to provide one-stop marketing services covering strategies, advertising, creatives, and technical products to clients around the globe. After years of practice, Nativex has gradually built up a comprehensive and innovative marketing matrix around the three major demands of advertisers to inform, persuade, and remind, and is committed to powering the cross-regional growth of brands and developers worldwide.
However, for most Chinese brands, their biggest obstacle overseas is "unfamiliarity": They do not understand user needs; hence they face difficulties in producing content that impresses locals. This becomes a critical roadblock to their outbound growth. Nativex is deeply rooted in the local market; thus, it can provide in-depth localized marketing services to its clients.
Using Korea's marketing of Zlongame's "Ares Chronicles" as an example, TopWorks Creative Studios, a subsidiary of Nativex, had successfully used ad creatives to open up more room for growth for "Chronicle of Infinity" through its in-depth insights into Korean players: they love classic RPG mobile game elements, have a fast-paced daily lifestyle, and have a preference for classic film culture.
In addition to localized ad creatives, efficient creator marketing can also propel outbound growth. Creator marketing can help brands reach out to people outside their usual audience through challenges, livestream marketing, and native ads, allowing products and brands to penetrate different circles accurately, and ultimately achieve massive growth.
Nativex's industry partners have great trust in its growth capabilities due to its mature performance marketing system and professional team members. Optimization strategies are continuously implemented and improved in each marketing or advertising case after rounds of research, tests, and accumulation of data feedback to achieve eye-catching results.
Technical capabilities cannot be ignored as well. With years of experience in multi-channel advertising, Nativex's self-developed cross-channel smart advertising tool XMP provides creative management, batch advertising, data analysis, AI supervision, and optimization functions through its one-stop integrated global media and programmatic advertising platform, making advertising more cost-efficient and effective. At present, XMP has cooperated with well-known developers in the industry, such as CMGE, EYEWIND, SAGI GAMES, and MiniJoy, providing efficient advertising solutions for their global growth.
Nativex will continue to improve its marketing service capabilities in the future and help more clients move into broader markets through its global perspectives and local insights.
About Nativex
Nativex is a leading digital marketing agency providing advertisers access to the world's top traffic channels. Nativex helps brands and apps worldwide through a suite of automated user acquisition tools, influencer marketing services, and creative customization capabilities. With 17 offices globally, Nativex provides exceptional services to 3,000+ clients from 60+ countries and regions worldwide. Nativex is also a brand under Mobvista, a platform with years of experience in global mobile marketing.
Contact the Nativex team today to start your journey to success!