Nativex has received certification as a Petal Ads partner, reaffirming its position as a leading digital marketing agency for global growth. This recognition builds on Nativex's prior recognition as a Petal Ads Certified Partner and highlights its cross-border one-stop advertising solution, effectively aiding advertisers in achieving global growth.
Nativex's media buying teams have been awarded "The Best Media Partner" by Petal Ads for their exceptional advertising strategies.
About Petal Ads
Petal Ads, formerly known as Huawei Ads until December 2022, is a mobile ad platform that has been working closely with advertising, media, and publishing partners since 2017 to create an expansive ads ecosystem. Together, they have built Petal Ads into a thriving marketplace that processes four billion daily ad requests and is integrated with over 360,000 global publishers, making it one of the largest mobile ad platforms in the world.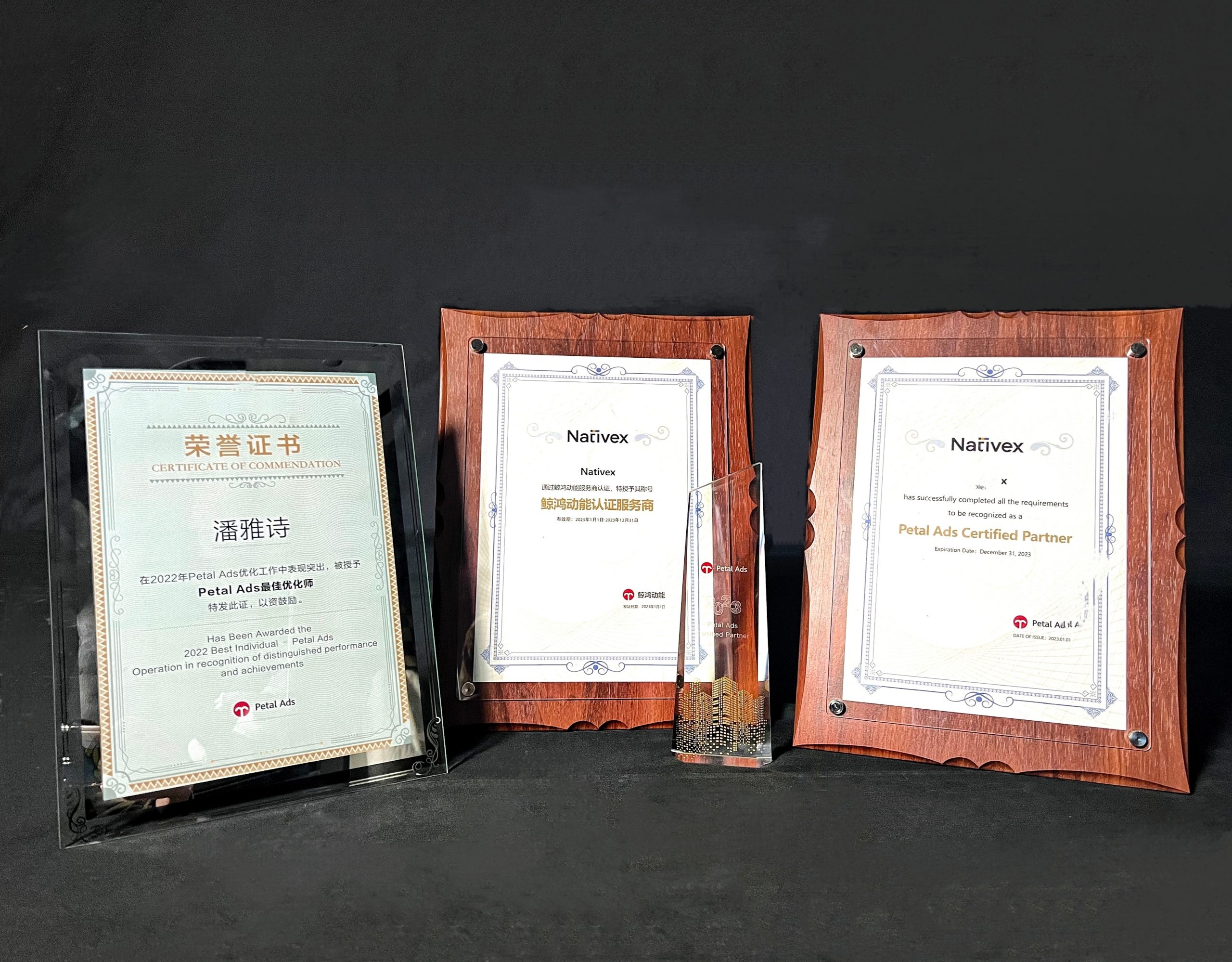 As an advocate of Petal Ads' "all about quality" approach, Nativex has leveraged the platform's capabilities to help its clients expand into global markets with ease. By integrating top global media channels and a range of traffic sources, Nativex has been able to offer a variety of integrated marketing solutions to its clients, including user acquisition, influencer marketing, and creative services.
Through these efforts, Nativex has helped partners across a diverse range of industries, such as gaming, e-commerce, pan-entertainment, finance, and utilities, achieve rapid growth in Petal Ads over the past year.
Partnership with Petal Ads enables Nativex to offer Original Equipment Manufacturer (OEM) advertising as a part of our comprehensive suite of digital marketing solutions to expand the reach and provide clients with a powerful new traffic source for user acquisition.
Taking the example of a mobile RPG game's first launch in the European market, Nativex implemented a comprehensive user acquisition strategy by leveraging full-process monitoring and resource incentives to gain maximum exposure in the local market. Nativex partnered with Petal Ads to promote the game by collaborating with local influencers, offline stores, operators, and other resources to increase brand awareness. They also held various events to encourage in-game purchases and improve the game's ROI.
Working in close collaboration with platforms such as Petal Ads, Nativex has achieved great success in assisting its clients in achieving long-term growth in the overseas market, despite the increasing difficulty of user acquisition and rising costs of effective media buying. Nativex offers a one-stop solution for advertisers looking to tap into global markets. With a range of services from account opening and advertising optimization to data review and creative to influencer marketing, Nativex provides reliable and comprehensive advertising services for its customers.
About Nativex
Nativex is a global digital marketing agency that utilizes various traffic sources to facilitate its clients' global growth. It leverages well-known platforms such as Google, Meta, TikTok for Business, and Apple Search Ads, as well as emerging platforms like Petal Ads and Kwai for Business, and medium and long-tail media channels for CPI, CPE, and CPM campaigns. Nativex offers a comprehensive one-stop solution that includes user acquisition, creative, influencer marketing, social media account agency operation, and intelligent media buying. With 17 global offices, Nativex provides excellent services to over 3000 customers in 60+ countries and is a trusted brand of Mobvista with extensive experience in global mobile marketing.
Contact the Nativex team today to start your journey to success!